Sorry this post was so long in coming. I've actually been in Pearisburg for almost 29 hours now, as I was informed upon reaching cell service land that my website was down. Well, it took most of a zero day and three support tickets to get it working again, but I think everything is back to normal now. "Now" is the middle of the night, and it looks like I'm going to have a very late one getting this written and an early morning washing clothes and a dog tomorrow.
When I uploaded the last post, I was sitting at The Barn in Atkins, finishing my lunch. I left there and moved quick trying to make it fifteen miles before the rain. It was pretty warm out, but we stopped only long enough to get a picture of this privy and torn-down shelter marking the approximate spot 1/4 of the way from Springer to Katahdin.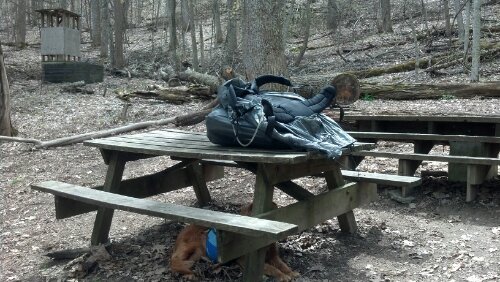 It started sprinkling at the ten mile mark. I forget who it was there with me, but we threw off our packs and erected our tents in record time, getting drenched on the whole time. Not long after we got set up, it stopped raining. Fireweed came along and hung her tent and then Heart Rock, Ebo, and Broken Pack came on and set up in the same random site. Copper and I stayed inside the tent all night, high and dry despite the on-and-off rain.
In the morning, I met them all face-to-face for the first time, since I'd only heard their voices the night before. BP and I were the last to roll out, but down by the water source, I met the voice of Spider Mac who hadn't even stirred from his tent.
Soon, we crossed a road where the trail entered a foot-wide easement through private cow pasture.


A mile later, I passed Heart Rock and Ebo who had their tents and clothes spread out by the Holston River. Just past them, I met Sherpa Chief a winter SOBO, who carried a 60 lb. pack and climbed every mountain within 3 miles of the trail. He had a timer set to go off every 20 minutes to remind him to drink 8oz. He mixed 7 oz. of maltodextrin and soy protein with every bottle of water so that he managed to consume some 500 calories a day in his liquid alone. He informed me there was some magic ahead, so we rushed another half mile to catch the peanut butter and jelly sandwiches. I managed to get one of the last ones, along with an oatmeal creme pie for both Copper and me and a store-brand cola.
We walked up a long hill from there before quickly dropping back down to Knot Maul Shelter, where we broke for an hour and I cooked lunch.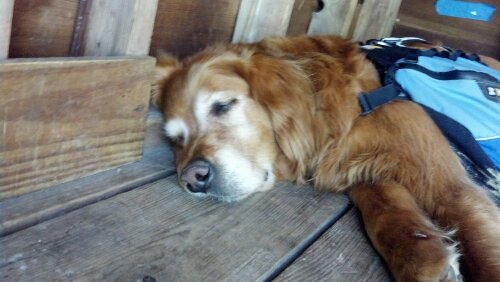 Just beyond that was Lick Creek, where I stopped to go exploring an island just downstream. I crossed over a log, but Copper decided to swim to join me there:

After that, we crossed a couple of roads before beginning our long climb up Chestnut Knob. We stopped halfway up to sit on a rock and cook and eat supper, and then continued climbing well into the night. Soon the trees gave way to a meadow but the climb continued, slow and steady. We passed a beautiful little pond with frogs croaking and peeping away that would probably have been nice to see in the day, but we kept climbing. I could barely keep up with Copper on the steady incline. We reentered the forest on a rocky road and kept going up. Finally, at the very summit of Chestnut Knob, overlooking Burke's Garden, we reached the concrete block building known as Chestnut Knob Shelter. I was surprised to find Karl and I were the only ones spending the night there.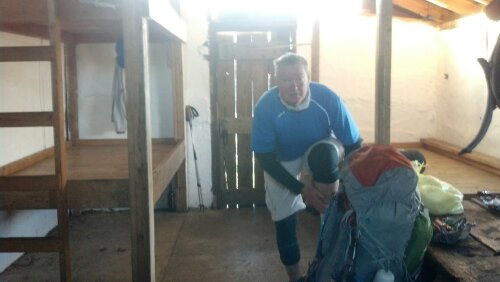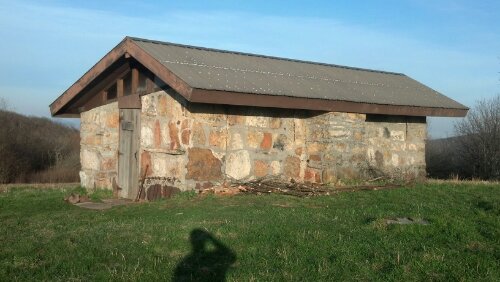 Many had stayed before us, however. I made some notes of when people I knew had stayed from the shelter log. Here's an idea of where folks I've mentioned in this blog are relative to me and where I last saw them, although it is, of course, wildly inaccurate by now (most you could add one day to and be pretty close):
Redbeard (Hot Springs), Count (Fontana Dam), Ogden Twins (now called Early Bird and Pop Tart): 18 days ahead
Sweet Brown (end of Smokies, I think): 17 days ahead
Ember, Passover (Fresh Ground's camp after Erwin), Chevy + Camaro (before Damascus, though Camaro is only a few days ahead now having to take many zeros due to tendonitis, which also took Chevy completely off the trail): 12 days ahead
Zippy, Diddo (first shelter after Hemlock Hollow): 9 days ahead
Cricket, Trixie, Roscoe (Damascus): 8 days ahead
Moxie (Damascus): 6 days ahead
Lauren (Iron Mountain Shelter): 5 days ahead
Lady Grey (Damascus): 3 days ahead
Rainbow Braid (later in this post) and Movie Star (Raccoon Branch campsite): 2 days ahead
Mudmouth, Patch, Sophie, Cody, White Flash, Hitched Hike: 1 day ahead
I made sure to get an aerial view of Burke's Garden before I left in the morning. It's a valley completely surrounded by a high ridge, which, because of its shape, earned the nickname "God's Thumbprint". It was the Vanderbilts' first choice for the site of Biltmore.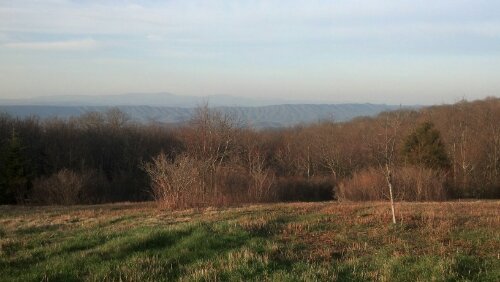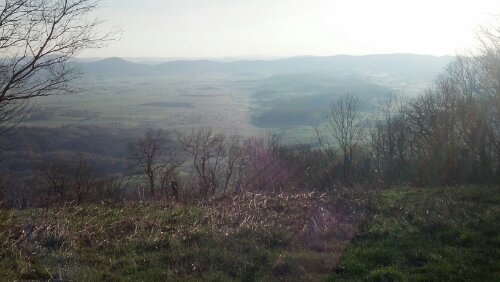 Here's a view from the sky: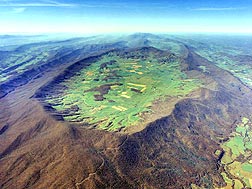 Source: visittazewellcounty.org
Of course, as nice as the valley is, the eight miles of ridge alongside it is a terrible bit of trail, along which there is no water, so you have to take on a full load before you start. It's as rocky as I've seen, and is capped off by a steep three mile descent to Jenkins Shelter (dropping some 600 feet in the first mile). I took a long break halfway at a high ridge, during which Copper hid under a bush, before speeding on to the shelter.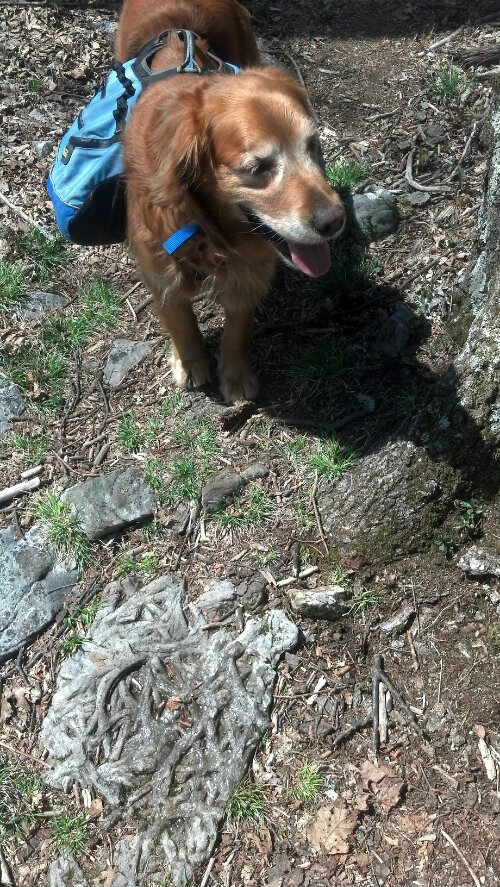 When I got to the shelter, That's Karl was already there, unable to continue into Bland because the descent had torn up his knees so badly. He could hardly walk. Seeing that continuing to Laurel Creek, as I had planned, wouldn't really buy me anything in terms of trip time to Woods Hole, I decided to stay in the shelter as well, having only done 10 miles. Several folks who came behind stopped in but continued, hoping to reach Fresh Ground's down by the road before he packed up, though it was said he was already leaving or on his way out. Later, Fireweed and Meadow Flapjack joined us, and even later came Iceman (whose knees were almost but not quite as badly injured as That's Karl's), Rabbit, and Medicine Man and Kudo (who were doing a series of 20s to make it to Pearisburg to leave to catch Kudo's girlfriend's graduation). We had six in the shelter (not counting Copper tucked in the corner) and Fireweed hammocking outside. I actually hung a bear bag here due to a sign proclaiming aggressive bear activity in the area. (A graffito noted that they were waving 9mm's and throwing gang signs.)
In the morning, folks divided up Karl's gear amongst themselves to get him safely to the road without further injuring him, while Fireweed phoned Bubba to get them a shuttle into town. I called him a bit later to add myself to the shuttle, as I had had to feed Copper tuna for breakfast since he had eaten the last of his food for supper. (I also managed to forget his bowl at the shelter, though I haven't replaced it as it was really just unnecessary weight for him to carry. He eats just as well out of a Zip-Loc bag.)
So, down at the road, Bubba was waiting, along with a man researching trail access for a thru-slack he was planning for next year, and soon Nigel (TruBrit) showed up to see if any hikers wanted to go to Fort Bastian. The latter told us the section from there to the next shelter was a breeze, but after that it became "soul-crushing", the middle gave me a PBR, and the former gave me and Karl and Fireweed a lift into Bland. After dropping That's Karl at the motel and running Fireweed to the post office, he dropped me at the Subway, where I ate lunch before running down to the Dollar General to buy some dog food. I spent about 2 hours total in Bland before Bubba picked me up and carried me back to the trailhead, from which we did ten miles up to Helvey's Mill Shelter. It was as easy as promised, and despite the constant threat of rain, there were plenty of people out and it never really dumped on us. There was also plenty of magic out. There were bottles of water and too-sweet cola at the gravel road before the US 52 crossing, and Monroe and Energizer (along with their dog, Cali) were cooking hot dogs for thru-hikers just below the I-77 crossing. I ended up not having to cook either lunch or dinner that day. Along with the better-than-it-looked weather and the easy trail, I'd call it a magical day.
Meadow Flapjack, a Kiwi whose name escapes me, Hufflepuff, Charlotte, Ice Cream, and a couple of others stayed in the shelter while another (Foxtrot?) hammocked outside. The eight of us in the six-man shelter were packed in tight and I had to use Copper as a pillow. But it did rain that night, and we were happy to stay dry.
I wasn't much looking forward to the next day, given the weather forecasts and Nigel's description of the trail, but nonetheless I intended to push 18 miles. It turned out to be quite pleasant. I spent an hour at Jenny Knob Shelter cooking lunch and exploring the half-mile-long water trail which wandered through a rhododendron grove, before Condor showed up to spend the night despite the early hour. He tends to leave before the crack of dawn and do short mileage. We passed Fireweed going southbound so that she could see Copper one more time now that I was pulling ahead and she was almost through with her section. We came through some nice old pine forest before entering more rhododendron tunnels, and then crossed the swinging bridge over Kimberling Creek. Copper had supper and I a snack while we sat inches from the creek. On the other side of the road, the beautiful walk through low shrubs and rhododendrons. We turned down a side trail to a campsite near Dismal Falls, and I set up the tent before checking out the falls just before dusk. Copper decided to move while I was taking a panorama of the falls, so we get to see the algorithm in action here: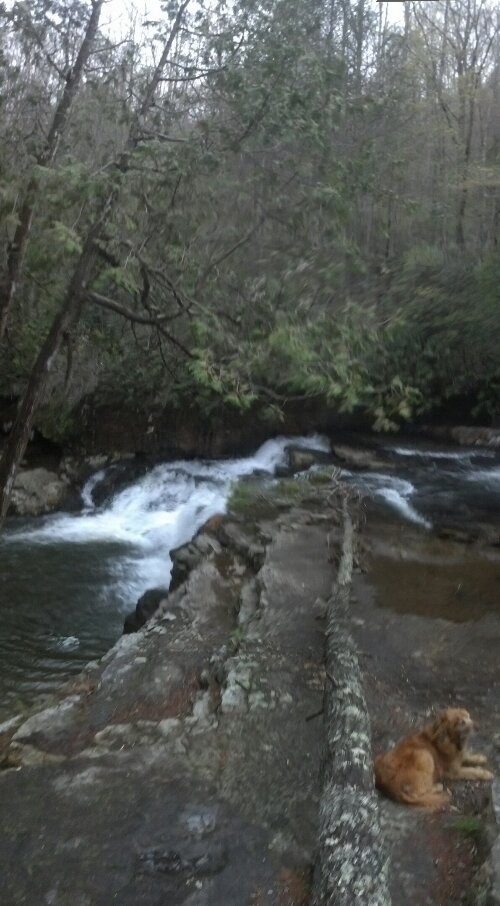 The trail was about ten times easier and more beautiful than Nigel said and the clouds never did worse than sprinkle a little bit all day. Expectations shattered.
The next day, the plan was to walk 14 miles to Woods Hole, which meant a gorgeous six-mile walk through the Dismal Creek valley, crossing some 12 or 13 streams along the way.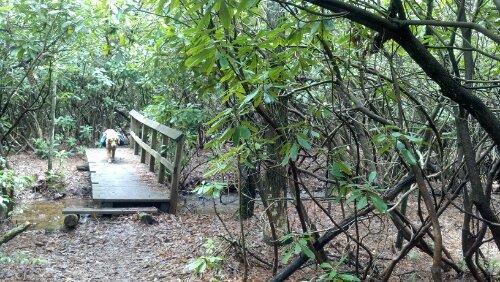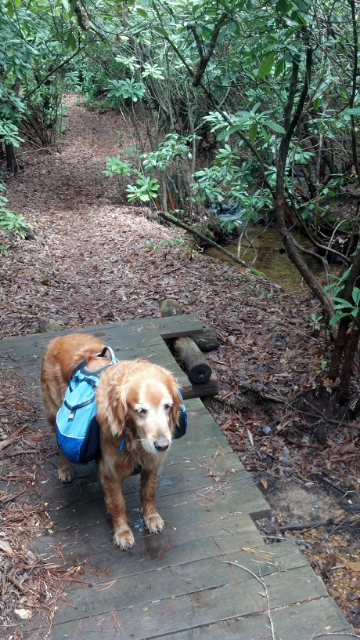 This was followed by a lunch break at Wapiti Shelter where I cooked the last meal I was carrying, and a quick 1500 ft. climb over the next two miles. The trail along the ridge wasn't that amazing, though there were occasionally some nice views.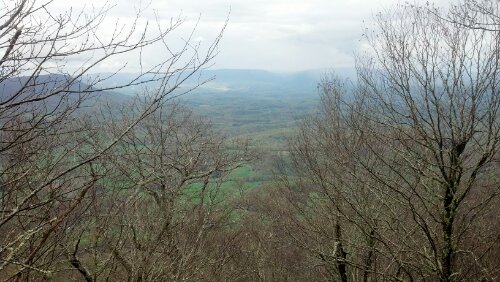 Also, there was this water trail which led to a recently torn-down house in the middle of nowhere. There was an outhouse just feet from the stream (brilliant!) and an old gas-powered fridge that seemed in surprisingly good condition.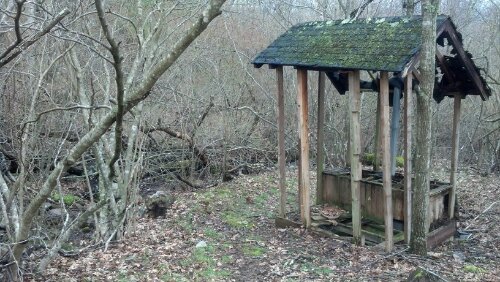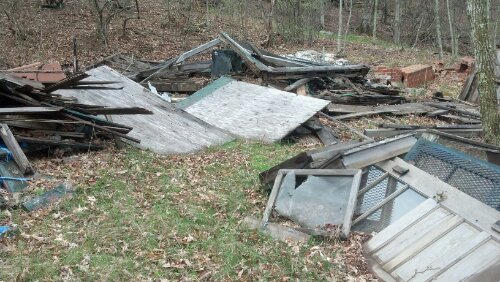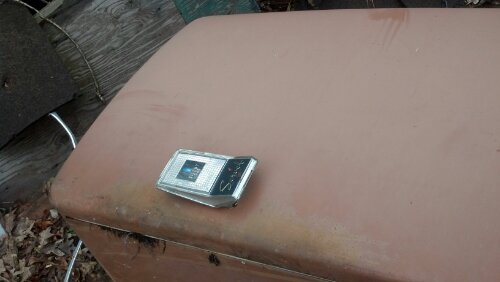 Dusk was coming on quickly as I picked my way over the last mile of rocky burnt terrain before Sugar Run Gap, and I busted my butt slipping halfway down a four-foot ledge climb, yet somehow I managed to cruise into Woods Hole just in time for the Thanks Ritual before dinner. It was salad, burger, and fries, all homemade and homegrown right down the buns. Then, a friend of the family had a birthday, so we had coconut layer cake for desert. I got my hot shower (standing in a booth behind the bunk in a pile of pebbles with only my headlamp for light) immediately after. Also, in the bunkhouse that night were Condor, Hufflepuff, Javaman, Meadow Flapjack, Animal (the Sobo with a bucket), Bee Man (a bee expert from Nevis), and several others I've forgotten.
Condor woke me up at 4:30am packing up all his stuff, so I went ahead and got up to pee and such. I didn't have anything I could be doing with shining my headlamp all over the bunkhouse while everyone was sleeping, so I ended up laying awake in the bunkhouse until some others got up. I went downstairs to chat with folks as they got up, and found that Boon and Doc had cruised in in the middle of the night and set up on the porch.
Soon, the breakfast bell was ringing. It was eggs scrambled with sausage, hash browns, toast with some honeycomb Bee Man brought from the Amish Market (Nature Way), fresh juice, and home-roasted coffee. After cleanup, MF and Hufflepuff, Javaman and I set out for town. Javaman and I were slackpacking, and the others were planning to stay in town. I had to make it back to Woods Hole though for my massage and smoothie.
More about Woods Hole in the next post. This is all I have time to write today, so I'll finish catching up when I get to Catawba.