When I left off, I was slacking into Pearisburg from Woods Hole. It was only ten miles and without a pack, I soon blew past Meadow Flapjack and Hufflepuff. Javaman was probably right on our heels, but he (and Dundee and MuFf and Puff) passed me when I stopped to read the logs at Doc's Knob Shelter and I never saw him again until town. Doc's Knob is the only shelter I've seen with an Adirondack chair: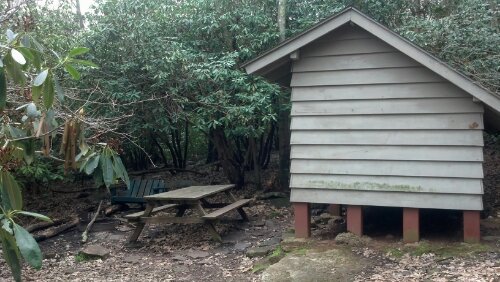 I also found an interesting graffito: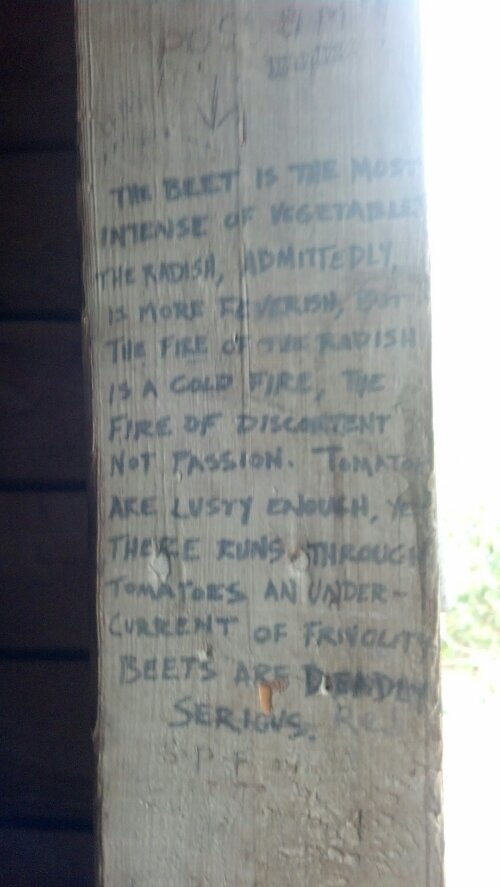 And I learned that Broken Pack had come up short of Woods Hole and ran out of food so had to skip it to run to town with nothing but a Mountain Dew for fuel: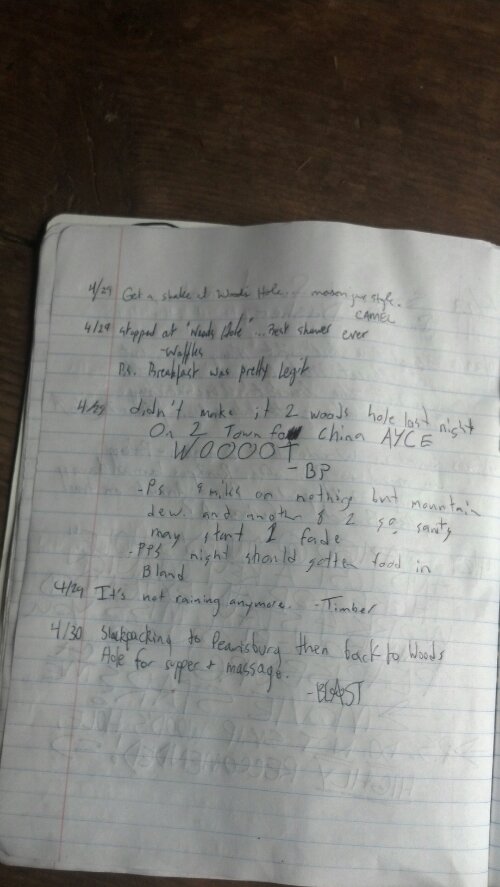 As soon as I left there, I kept moving at a solid 3 or 4 mph, pausing only to take a view or two. I caught up to Muff and Puff as we arrived at a powerline with a gorgeous view.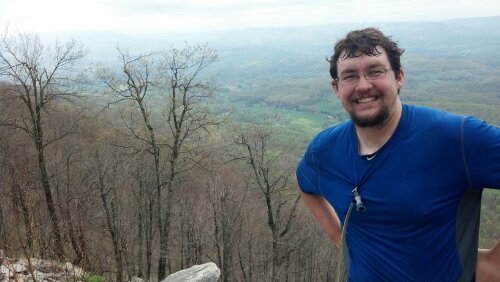 Then I chugged on ahead of them until I saw this random rock-walled sanctum beside the trail.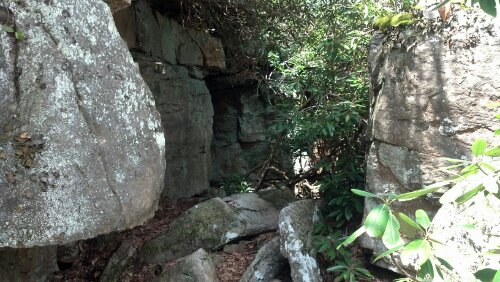 And at the back of the room was a crack. As a caver, I couldn't resist.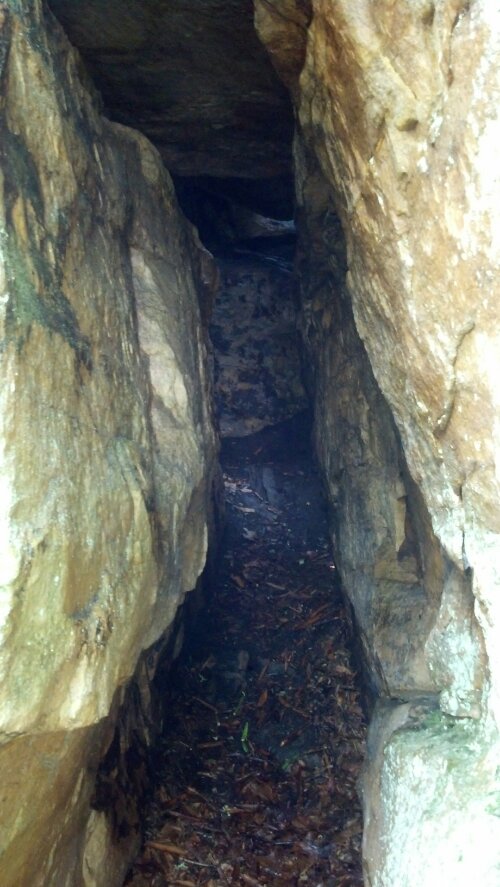 I climbed up through the ceiling of the crack with my slackpack on my butt and my poles in my hands (as it was a fairly easy climb from a caving perspective) and found myself on top of a rock near a campsite where someone had left a bunch of old trash. A broken chair and a torn jacket. But it did give me a nice perspective on the trail.

It was nice to see the dogwoods finally in bloom. I walked back to the trail the easy way and went down towards Angel's Rest just as Muff and Puff were catching up, which meant they were there to catch a picture of me from the view rock overlooking Pearisburg.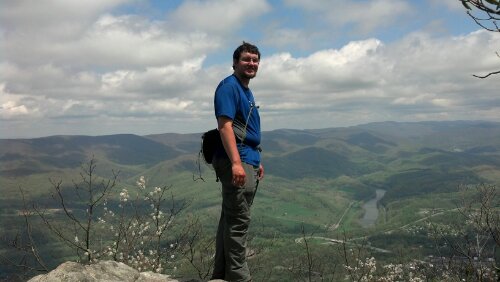 From there, we booked it down the hill all together, and I came across Cross Ave by 1:40. I kept going down to Lane St. and called Neville for pickup halfway there. That meant I had an hour to walk 2 miles, eat lunch, and pick up my package at the post office. I passed Timber and Little Engine heading out of town as I climbed the hill to I stopped in the first restaurant I came to (Pizza Plus) intending to eat the buffet but finding out it had ended four minutes earlier. I ordered a bbq chicken pizza intending to eat it in, but was out of time by the time I received it and grabbed a box and a go-cup for it and my drink. I ran out and right down the street to the Holiday Motor Lodge to ask about the likelihood of a very early check-in the following morning. It seemed possible, but I didn't get a firm confirmation until that night. Then I ran down to the post office where Javaman was already waiting, grabbed my box, and Neville pulled up within five minutes. We had a bit of a delay on the way back up to the house.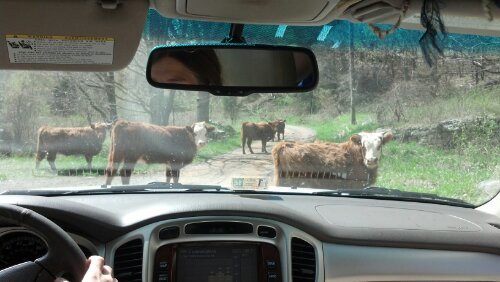 But soon I was taking a shower and a half-hour later I was getting an amazing massage. It was some strange mix of swedish, deep-tissue, and limbering exercises with a few original touches, and it cost me $50 for the hour. Then I got a dairy-free smoothie which I ended up getting for free. After that, I just had enough time to sort out most of the things in my box before the dinner bell rang. This time I spent another five minutes waxing my mustache (for there was wax in the box) and nearly missed the thanks ceremony. After feeding Copper, I sat down for another salad followed enormous burritos with every possible topping. The handmade tortillas couldn't support all the weight and easily tore.
Outside, Doc and Boon (who woke up on the porch) spent all afternoon playing fetch with Amacoua, the hostel's dog, doing their best James Earl Jones impersonations as they said "AMACOUA. YOU DELIBERATELY DISOBEYED ME." This distraction kept the dog out of Copper's food. But nonetheless, when Doc and Boon came around to settle up, planning on heading out in the evening, Neville went off on them hardcore, letting them know that their hanging out all day with no intention of staying was taking advantage of her business. She apologized the following morning at thanks that everyone had to see her overreact in that way.
I made another plan with Javaman to ride into town in the morning before breakfast, drop him off, drop Copper off with my backpack, and get a ride up to a trailhead 23 trail miles from town. After a solid night's sleep (on a much softer mattress than the previous night), we put that plan into action, and thus began my first over-20 mile day.
Just minutes from the drop-off point, I passed Patch and Sophie headed up, and then I arrived at the Captain's Place. I took pictures of Ebo and Waffles riding the zipline.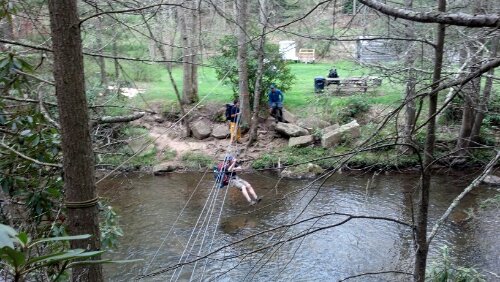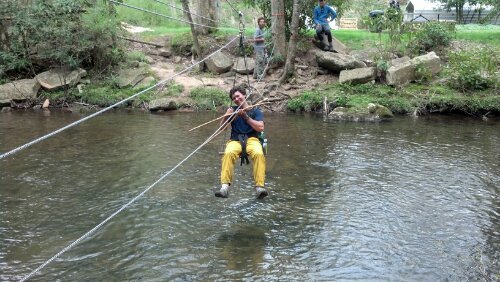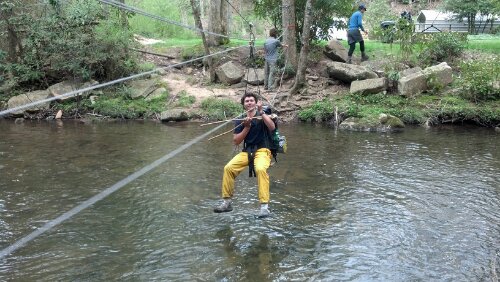 And then they took some of me as I went over to grab my free soda.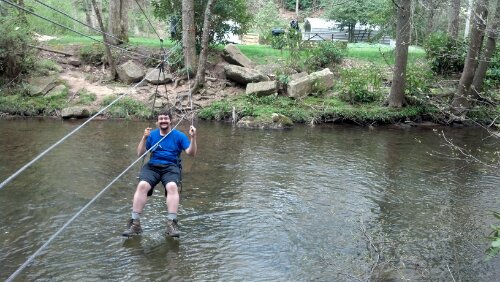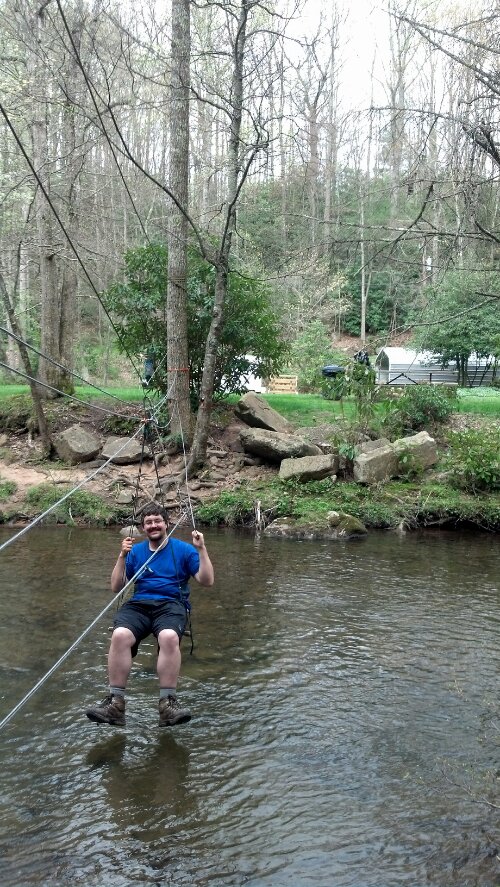 The selection was amazing. 12 different flavors, all lined up in the fridge. I had Orange-Pineapple. Ambo, having spent the night there, had his tent still set up and was tending fire until the rest of HitchedHike arrived. Truck Surfer was also just leaving, headed southbound, and I caught up to him at the next shelter south. He said he was going south from Daleville to Damascus to work at the Blue Blaze for a week before Trail Days. I never caught up to him again that day.
It was a really long and painful day, even slackpacking, but I did see a ton of people headed north. Part of the trail here follows the West Virginia border, and for a hundred miles or so, it goes along the Eastern Continental Divide. So these are my first pictures from West Virginia.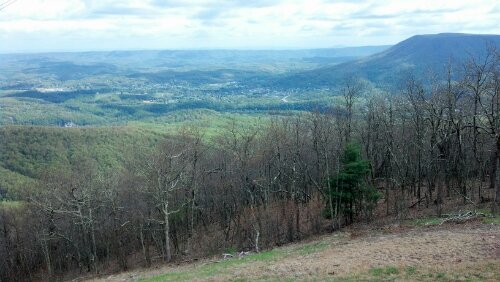 I passed Meadow Flapjack for the last time. I passed Charlotte and Ice Cream and Dundee at Rice Field Shelter where I stopped for a late-afternoon snack, and then I took off down the hill to do the last seven miles as quick as possible. Just outside of Pearisburg, I found Medicine Man and Kudo setting up tents within sight of the highway and the Shumate Bridge.
I had expected to make to the Holiday Lodge by 7pm, 10 hours after I started, based on the four-hour time the ten-mile slackpack the previous day had taken, but of course, my expectations were torn asunder. It took nearly 12 hours, and by the time I made it back, it was too late to do most of the things I wanted to do, including the Chinese buffet. Copper was desperate for some water and a walk outside. After I cleaned up a bit and let him get some business done, I walked to the Mexican restaurant across the street and celebrated with a pair of enormous 40oz. margaritas. Then I went to Food Lion for some detergent, some dog shampoo, and a cake. Why a cake? Well, not to eat immediately, that's for sure. I put it in the fridge, took a shower, set an alarm, and passed out instantly.
The next morning my poor swollen feet were only marginally improved, so I decided I deserved a zero. I went to the front desk for coffee and paid for another night, then walked to Little Nicky's bakery for some fresh donuts.
I walked Copper, then spent the morning poking and prodding at my VPS, getting my website and all the other services running again and trying to figure out what broke. I hadn't made much progress when lunch came around, but I couldn't just starve myself, so I walked across the street to the Chinese buffet. I feasted and met a whole flock of hikers that had been behind me. They told me they were in an enormous bubble, and most of them had left in mid-March, so I suppose they were the folk I'd be hiking with if I had started at Springer.
After I was full to bursting, I swung by the store again and bought a bag of razors and a box of Fudge Rounds, then returned to the grind of VPS-fixing. It was supper time by the time I figured out one of my network interfaces was down and submitted a ticket to the hosting company. I went back to the Mexican joint for a steak and a pina colada and some flan and when I got back to the room, the missing interface had reappeared, but I still was having major mysterious troubles, and it was nearly midnight when I submitted another ticket. I got most things up and running again by 1am and passed out. I had started the last blog post and accidentally published it before I went to sleep. I quickly unpublished it but forgot to delete the auto-tweets and posts, so sorry if that confused you. It was late and I was tired.
In the morning, I had a lot of tasks set for myself. I walked Copper down to Little Nicky's, which didn't open until nearly 15 minutes later than its scheduled opening time. I ate three donuts and drank a Dr. Pepper on the way back to my room.
BREAKFAST: Check.
Then, I got some change from the desk, gathered up all my laundry and tossed it in the coin washer. Back in my room, I shaved my neck and called Don to make sure he could shuttle me back to the trail in the afternoon.
LOOKING LESS LIKE CAPTAIN NECKBEARD: Check.
P
HONE CALL: Check.
I was barely beautified by the time my clothes needed to move to the dryer. As soon as that was done, I dragged Copper into the shower and gave him a Flea/Tick shampoo-down. Then, I dragged him outside to gett him from shaking off in the room and tied him to the railing.
ACQUIRING A WET DOG: Check.
Finally, I could start packing in earnest. My clothes were dry by the time I was ready for them, and after three days of sitting and doing nothing, Copper was rearing to go somewhere. But we couldn't hit the trail yet. Don wasn't coming until 2pm, and I still had a blog post to write. So I went back to Little Nicky's and ordered a Reuben. Foxtrot came in when my order was up, having ordered the same, and complained about Granite Gear for a few minutes, blowing off steam from their frustrating customer no-service. I sat outside with Copper in front of a restaurant called The Bank (built in an old bank) and wrote as fast as I could.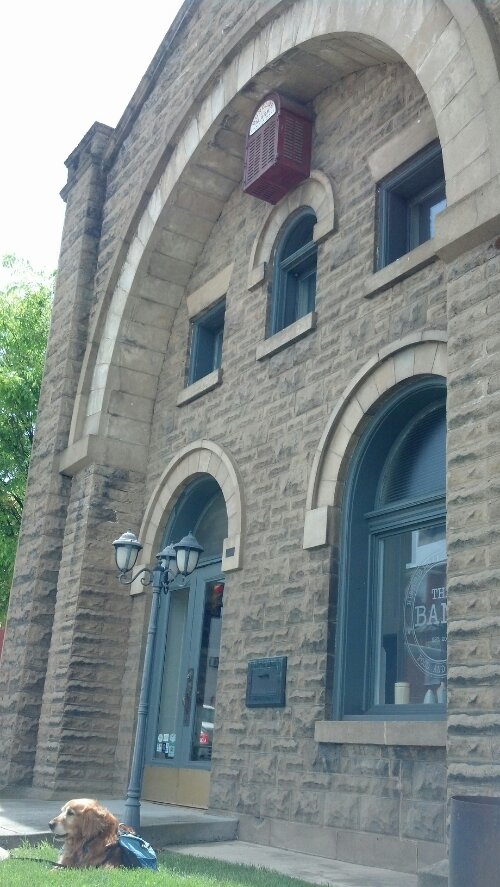 I posted the last post just about the time that Don arrived for my shuttle. On the way back to the trail we stopped in at the Captain's again, and this time I got to meet him. On the back porch (I got a root beer this time), I found Fiddlehead. He was way ahead of me for most of my trip, but he went home for a month, and came back to where I could catch up with him. After half-an-hour or so of hanging out, we got back in the shuttle, and five minutes and $27 later, I was back on the trail. It was nearly 4pm. My plan was to hike ten miles to War Spur shelter before dark. But first, I had to hike up to and over Wind Rock.

A whole bunch of kids were up from Blacksburg camped right next to it, and some came up and took some of the best pictures of me I've gotten yet.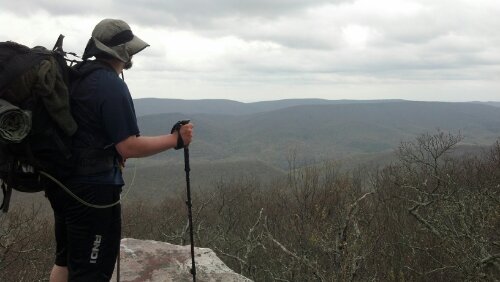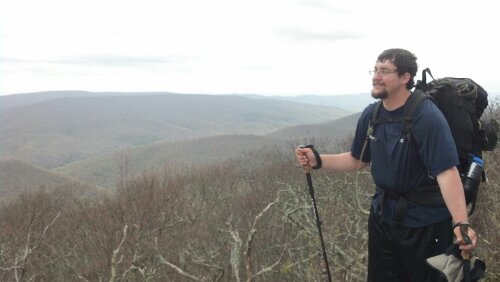 I tried to get Copper to eat since it was already 6, but he wasn't feeling particularly hungry.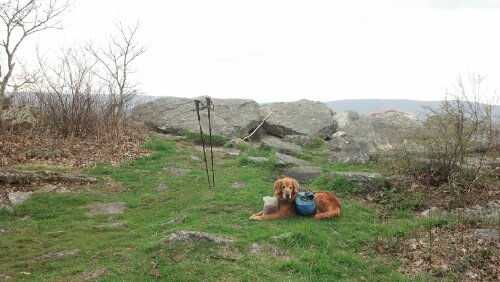 But when I got to War Spur, I was still basically on fresh legs and after my late night the night before, and knowing I was just four miles away from the 500 mile mark (and more importantly, knowing that I need to make it to Catawba by 4pm Sunday to have a shot at eating at the Homeplace), I decided to push on to the next shelter after supper. Just past the road, I passed a huge group of Virginia Tech kids getting rowdy. They insisted I take a swig of bag wine, and a beer for the trail, and then a girl randomly shoved a Toklas brownie into my hand. The wine made the first couple of miles uphill completely painless and fast. It was like I floated up the hill. Then I hit a tub of trail magic by the road, and rinsed the cigarette ash off a grape soda to power up the last half-mile, which was a wide dirt road that climbed continuously to the top of Kelly Knob at an annoying grade, climbing more than 500 feet in that distance. The ridge after that had a view of the lights from Blacksburg in the distance, and was supposed to be just a bit over a mile long, but with the freezing cold wind and my unwillingness to stop and put on a fleece because stopping makes me cold, it seemed far longer. Doc and Boon had been going to sleep on top of the ridge, but I was unsurprised to see "DOC: 1 MILE" scratched in the trail and to find them at the shelter in the morning.
I cruised in around 1am and set up my tent. In the morning, it was time to celebrate my accomplishment. 500 miles is nearly a quarter of the trail, so I brought the cake I packed in to the picnic table and ate a quarter of it for breakfast.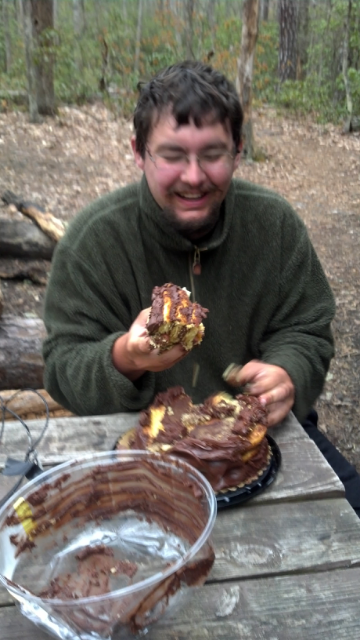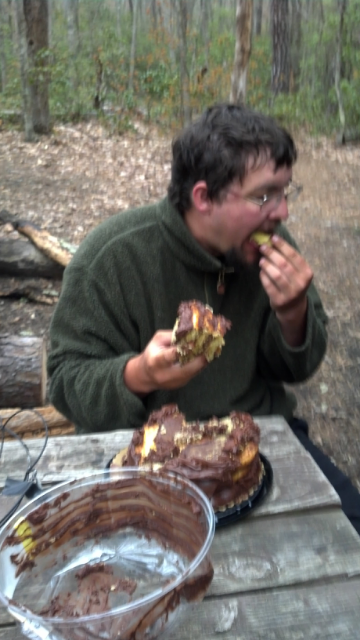 Doc and Boon, who didn't clear out at the crack of dawn like everyone else, took some cake, split the brownie (Doc told me it worked for him all morning), and even waxed their mustaches before clearing out.
The trail started out with the wandering through farmland kind of trail.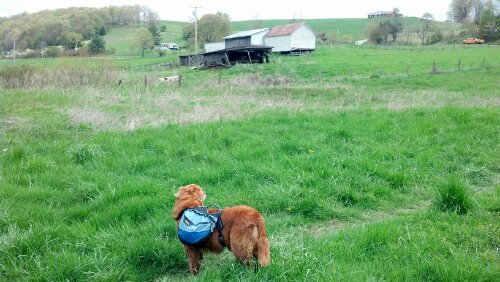 Pretty soon, it passed the Keffer Oak, the largest oak on the trail south of Harper's Ferry.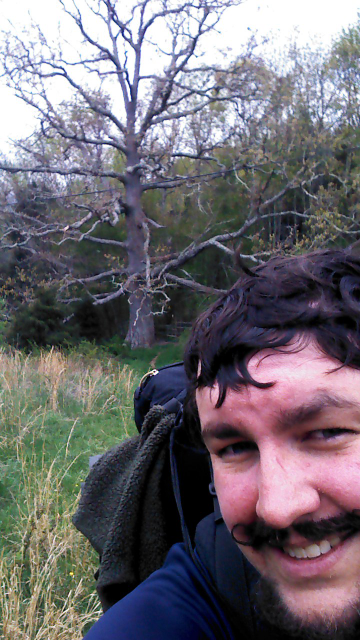 Then it climbed up on the ridge, which was a painful 750 foot climb in half a mile, but it got really easy after that, as all of the rocks had been cleared from the trail and stacked them in immense heaps.
We dropped off the ridge to go a half mile down to Sarver Hollow Shelter for lunch. Doc was already there, and so were his crumbs. I know they were his because I'd passed the trail maintenance folk moments earlier and the shelter was otherwise pristine. In fact, it was the nicest shelter I've come upon in Virginia. The picnic table was on a covered platform and the sleeping platform had skylights. Also, its distance from the trail meant it was almost never used, so graffiti was at a minimum.
As I climbed down off the ridge some five miles later, I came to a low enough elevation to see the wildflowers in bloom.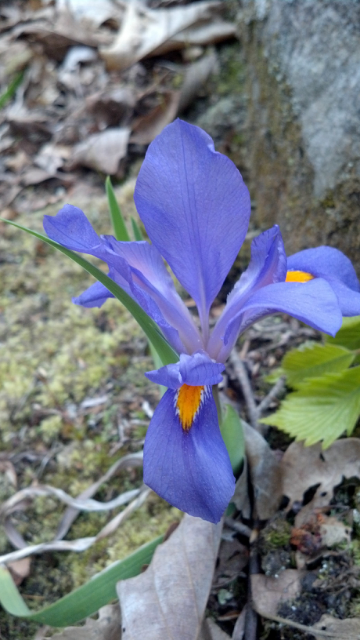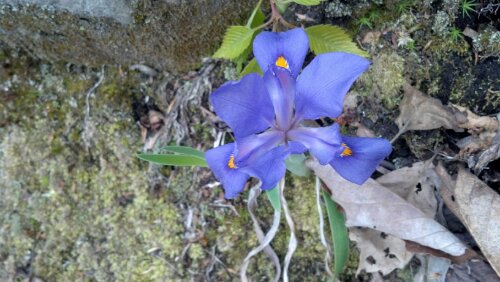 I tuned into NPR after lunch to catch the end of a live opera broadcast from the Met and after a few classic marches in the afternoon, A Prairie Home Companion came on. I came cruising into Niday Shelter just before dusk and just before the News from Lake Wobegone. I ate supper with nearly the same group of folks that had been at War Spur the previous night, but I'd only come 12 miles, and I still had 6 more miles left in me. Copper and I packed up, picked up some water as we crossed Craig Creek, then started climbing up to the ridge. There were a billion switchbacks and the climb seemed to last forever, but there was a cool show on the radio called All That Jazz which was playing some pretty interesting deep cuts and kept me distracted. Eventually, I stopped for a snack to get some energy for the rest of the hill, and the road at the top turned out to be just a few feet after that. It was a wide flat road along the top of the ridge to the Audie Murphy monument, but this time I had the gumption to put on my fleece.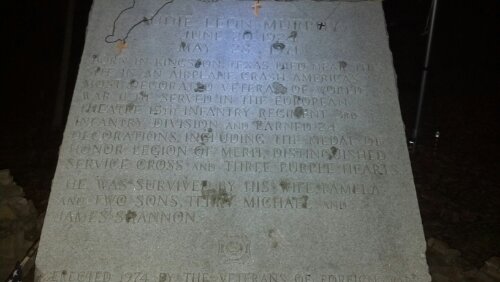 The cold wind poured across the road, so I started walking on looking for a flat place down the lee side of the hill. About two miles from the monument, the trail dropped onto a flat table and then curved away from the edge back toward the lee side of the hill. "Yes!" I said to myself, yawning and pondering my aching feet. "This is going to be a great place to camp!" And I was right. There was a great campsite just there at the back side of the flats with a fire pit and everything…conveniently marked by a large tent completely filling it. I groaned and we pushed on.
My left foot was about to fall off a mile or so later and 500 feet lower when the trail finally ran down around a spur on the lee side of the ridge, and I stopped and set up a tent right on top of a bunch of bushes. It was 2:10am by the time we were tucked in.
And that isn't the last of my late nights. Tonight is going to be one as well, especially if I don't wrap it up and post it already. I'm only a day and a half behind now, so I should save some material to write about in Daleville in two days.
(Current mileage: 531 miles. 1650 miles to go! Almost 1/4 done!)