At the end of the last, you left me loading hastily into a car at the top of Springer Mountain to immediately throw myself into a social situation in which a majority of the participants would not be hikers, something I had not done for seven months.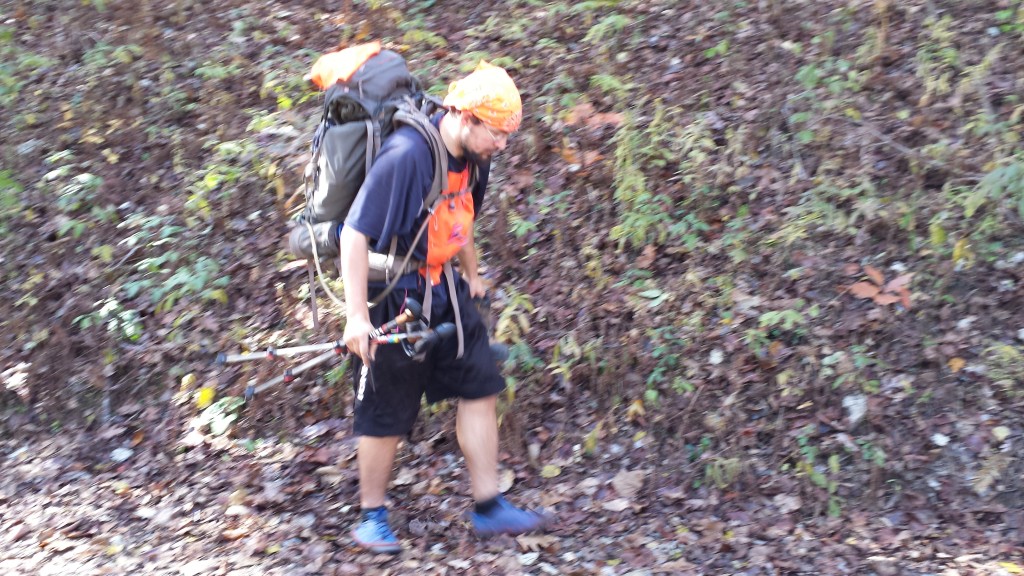 After the nearly hour-long drive back to Amicalola Falls and the cabin (in which we stopped to buy like 10 bags of boiled peanuts for the party that very few people ended up eating), I said a few quick hellos, took a picture, and headed straight for the shower. People would be arriving within the hour and I needed to be fresh and well-dressed so as not to offend.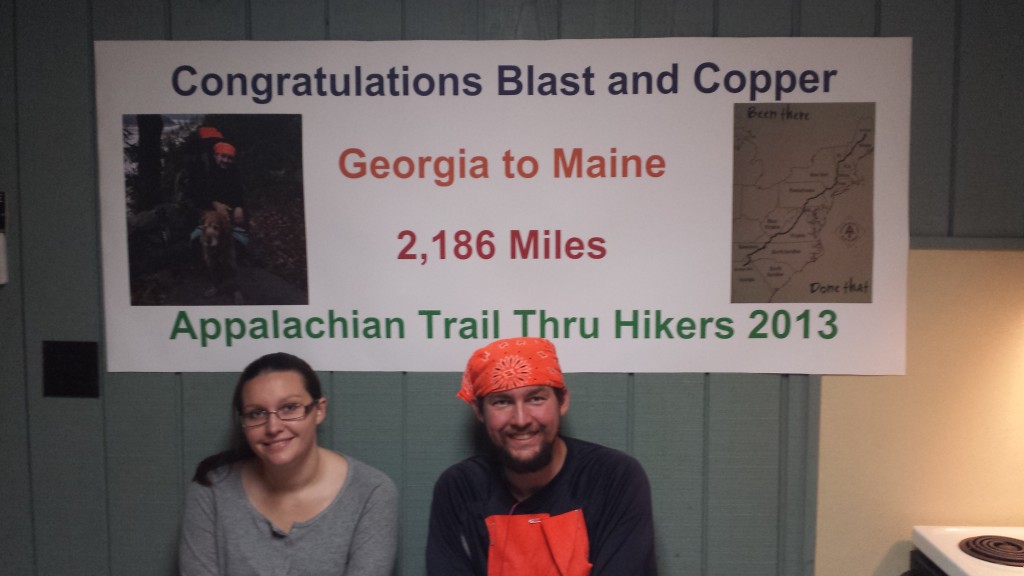 After that was a whirlwind of food and posing for photos and entertaining children and trying to interact normally with people I hadn't seen in at least a year, and for several years in some cases. (And we wouldn't be the only ones celebrating. The park was full of children and families doing some kind of fall festival event in the park, involving tractor-towed hayrides among other things.) But a picture is worth a thousand words, so fifty pictures will easily make this the longest post on this blog. Here's what happened at that party, in pictures in no particular order.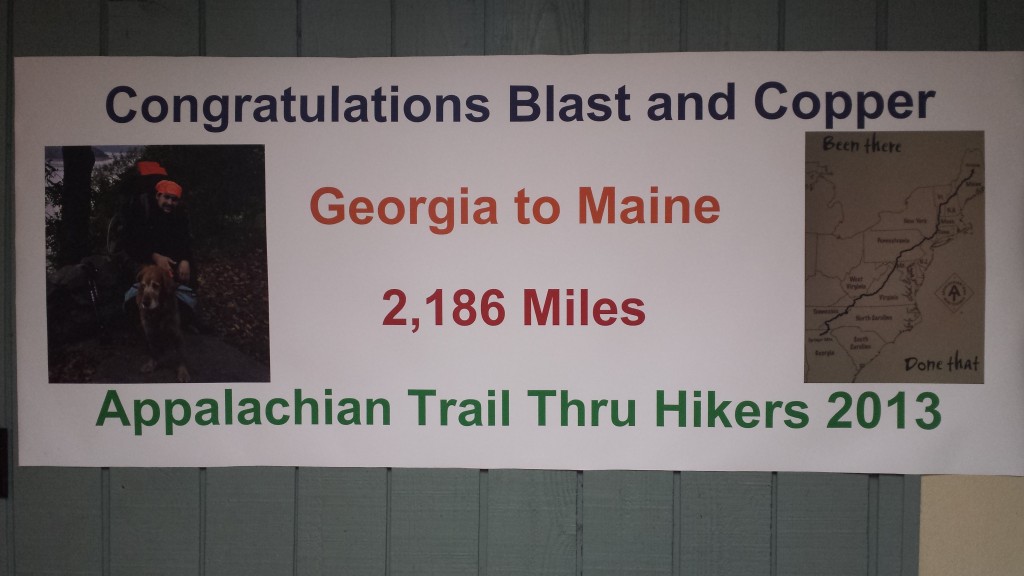 Not too long after dark, Wryen and I retired to our beds, and all those we had no room for in the cabin went out to where they would be spending the night, but all would return in the morning to help me finish the trail. The plan was that Jacob and I would hike the 7 mile approach trail after breakfast, then meet the rest of the gang who wanted to hike the last mile between the parking lot and the Springer summit. I know it's not exactly a requirement that one hike the approach trail in order to be able to say one hiked the whole trail, but so many do it anyway that I would have felt remiss not including it. Besides, it wouldn't require all that much effort, since I wasn't carrying a pack and I had company.
But first, we had to get ready to clear out of the cabin, which meant it was our last chance to get photos with the banner.
I got some snacks and water together for the hike, even though I expected it would take well less than 3 hours, and we walked right out and right up the mountain. Meanwhile, everyone else got up and got ready to drive up to meet us.
Jacob and I had no trouble making our deadline. We blew past several families going up or down the trail, talking the whole way. We arrived at the Springer summit well over a half-hour before we had to be in the parking lot, so we looked around at the people there and the view, and then I sat down to nibble on my snack, wasting time because it seemed like a better place to wait than in the parking lot. Eventually, we decided we could stall no longer, without risking people noticing that we'd already been to the summit that morning, which might ruin some of the "magic" for them, so we headed the mile down to the parking lot.
It turned out that it was easier to get lost on the way to the summit than we had anticipated, so we ended up waiting an extra half hour in the parking lot, trying to stand in the sun so we could stay warm. And then we waited another half-hour or so after that with the first few to arrive, waiting for those who had taken a wrong turn.
Finally, we had our flash mob organized and ready to take over the summit, so the hike up the hill began.
Actually, it was kind of heart to get everyone started, and people ended up taking off in groups. And Copper was the last to get the memo. We eventually had a train of people stretching back almost a quarter mile, and many of them were surprised at how rugged the trail was. Mama, who had not really recovered from stepping in the hole at Fontana Dam screwed up her foot even more on this rigorous climb.
Halfway up the hill, Evan decided he had to use the bathroom, so I turned aside with Jacob to lead them up to the Springer Mountain Shelter and its privy (since I wanted to see it anyway—surely it's the most popular shelter on the entire trail). When we returned back to the trail, most of the crowd had caught up, and everyone was wondering where Copper was. I had just assumed he was following along at the back, but no one had seen him since we started. We send Jacob to run back down the hill after him, and stood there beside the trail waiting for him, looking just like you'd expect a mob of people driving out from the city to walk a mile up a mountain together would look: out of place.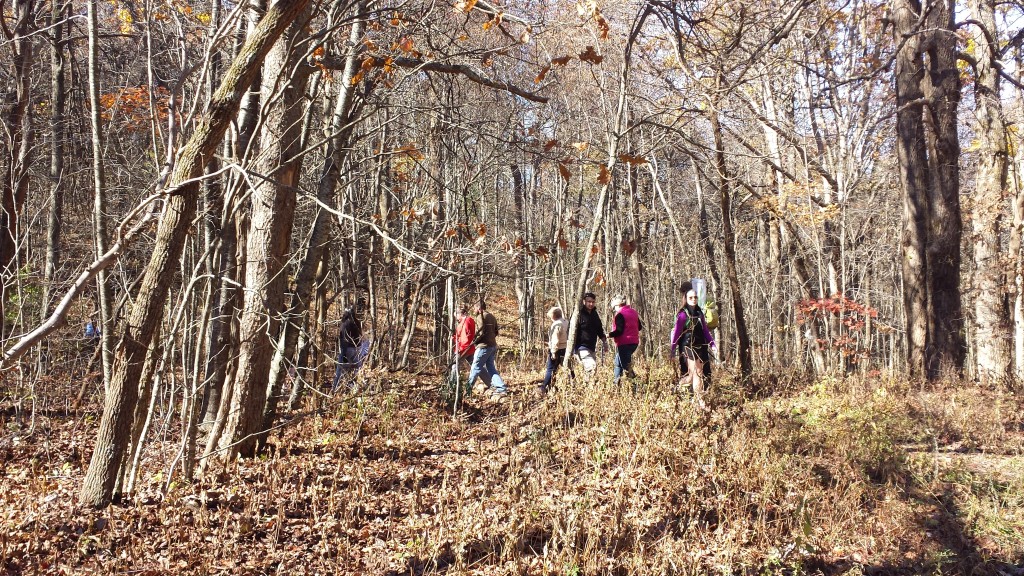 Ten minutes later, Copper came plodding up the hill behind Jacob, entirely nonplussed. Having lost track of the rest of us, he'd decided to tag along with another family, who apparently had no problem with that and were probably on the verge of adopting him on the spot.
At the summit, I was first required to go record my thru-hike completion in the log, which is tucked into a drawer underneath the plaque seen in the pictures below. I don't remember what I wrote, but it amounted to simple start and completion dates with my usual trail name signature.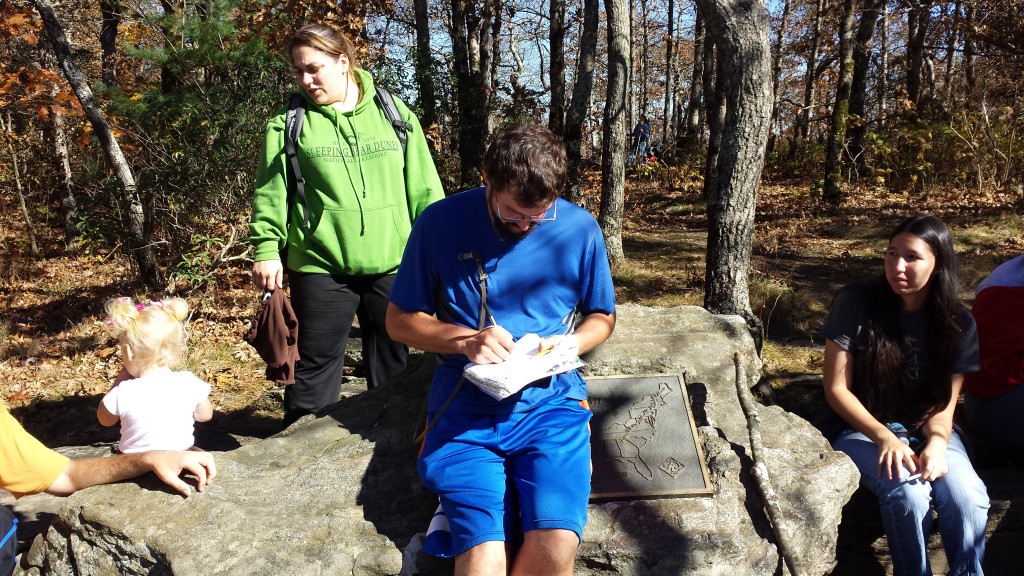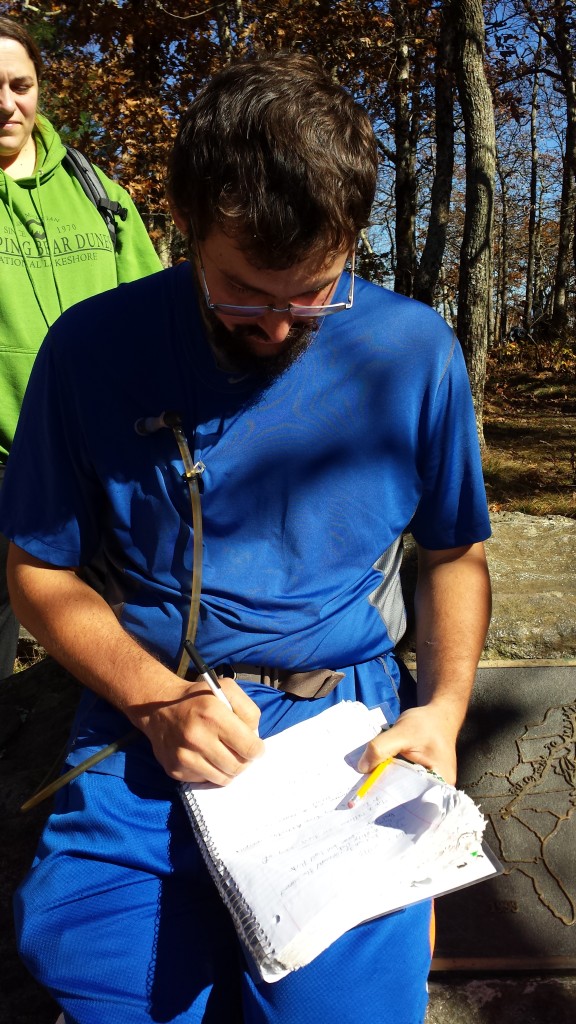 By then, everyone had caught up, the champagne was poured, Wryen video-skyped Zack and Kristyn out in CA, and I was handed the last cake. It was quite the chore to finish, as it was the first time I have ever eaten an entire cake in one sitting. (You'll recall that I ate a proportional amount of cake at each of the other quartiles, however.) Here I am trying to finish it off at last:
In the end, Copper had to help, but I guess he deserved a little something for all that trouble he endured.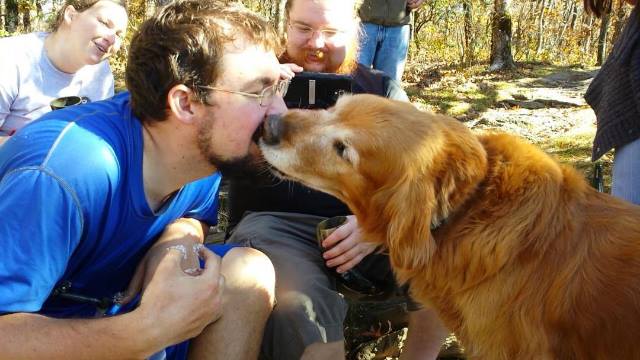 This was, of course, soon followed by a rousing attempt at singing the Georgia Tech Fight Song….
And, yeah there was generally a lot of carousing and photo-taking, and happy noise on the summit of Springer. Copper, of course, continued to look entirely nonplussed, except when it came to meeting the other dog….
After all the champagne was drunk and all the pictures were taken, it was time to return to the cars and say goodbyes for the long drive home. The young folks and I all came down fairly quickly, but it took quite a while for everyone to get down. Mama, unfortunately, was still suffering knee issues from stepping in the hole at Fontana Lodge (I told you to remember that fact!), and the hike worsened them such that she had to crutch her way back down on a trekking pole, making her the last one back. As a result of favoring that leg, she developed foot problems which eventually required professional attention, and the treatment took nearly six months to conclude. Although this whole combination of mishaps looks like blind luck to me, I guess the message might be: get your hiking in while you're young, and do everything you can to protect your joints. There are probably several messages I'm missing as well.
And then we all went home. And then I went back to work a couple of days later, just enough time to buy new pants that fit my new smaller size. It took me at least a month to get back into the swing of things, though eventually I got used to waking up late and not drinking protein powder.
Since then, I've gained most of the weight I lost back, lost most of the fitness I'd gained, and I have not been hiking (except for the seven miles around Stone Mountain a handful of times) since.
I've also spent a large portion of my free time writing this blog. To make it clear exactly how much effort has gone into it, here are some facts: Since last December, I've worked on this blog for 168 hours. Yes, that's an entire week of hours. I'm guessing the amount of time put into before then was roughly half that, though it's hard to say. There are over 209,000 words contained in 57 posts to this blog. That's almost half the length of George R.R. Martin's fantasy epic A Dance with Dragons and longer than any novel in the Lord of the Rings trilogy. (I sure hope my prose isn't as tedious as Tolkien's, though I can't help but fear it is.)
So, now you're probably asking yourself, "Self, now that this story is over, what will become of this massive body of work, and what will happen to the blog?" Well, I guess the jury's still out on whether this story will ever be published in paper form, largely because I realize that it would take an immense amount of form to transform it for the printed medium. It's not just a matter of reading it all through looking for grammar mistakes. It means editing for content, reducing the dependence on visual storytelling (it's expensive to print lots of photos and impossible to print video—so far), and lots of other edity things that just take time. (But if someone else is willing to do all these things for me, hey, have at it!)
As to the second question: this blog will remain here as long as I can keep it here, hopefully not as a static artifact, but as a place to continue the conversation around hiking. Not just a place to document hiking trips (including any future long-distance hiking trips I do), but also information of more broad interest to the hiking community. As an example, I plan to be adding a couple of posts in the next weeks concerning my thoughts on various hostels along the A.T. and my favorite hiking gear. It certainly will not be updated as often as it has been until now (excepting that whole period from last August to last December—my apologies), and the posts will be far more bite-sized. More the length of this post (2172 words) than my longest post (12,344 words—I should add a word to that page, shouldn't I?).
I should also note that within a month after I make this post, this blog will move from the the root domain (rutteric.com) to a subdomain (probably 3tireddogs.rutteric.com), and a proper home page/portal will take its place (and will link to it, of course). I will reconfigure this wordpress installation for multisite, and add another blog for other topics that I find interesting (mostly math, education, computing theory, magic tricks, software, esoteric programming languages, etc.). It will be targeted (I hope) to a much less niche community than this blog, though I know I can't go as far as calling it "popular".
Anyway, that's it. Hope you enjoyed the ride. To my regular commenters: Mama, Brenda, Sushi, thanks for your support! To those who followed for a while until I tapered off last year: thanks for your interest, and I'm glad you found your way back here again! To everyone who physically supported me on my hike: Mama, Daddy, Renea, and everyone to whom I sent thank you cards, I really appreciate it, and I would love to reconnect with those of you I only met briefly. Just leave a comment with your email and I will get in touch!
To everyone whose photos I posted here without permission: you'll notice that I linked every such picture back to the root domain of its source. If you'd like me to link elsewhere, please comment and let me know, and if you'd like me to take down the image, I will do so at the first complaint! My violation of your copyright here (if indeed it was so—it seems to me that my usage here would easily pass the requirements of the balancing test for Fair Use) was a matter of expediency, as I was in a hurry to get these posts published, and not of disrespect. In fact, I hope that I increased your traffic and awareness of your name with this blog. To those who would like to use any of the photos I have published here for the first time, feel free to do so without asking. You may consider them to be covered by a CC-BY-NC-ND license, and may attribute them to rutteric.com, and provide a link to this website if possible. This license applies only to the images; I will retain all rights to the text.
THE END