…And we're back!
After about 2 weeks, I'd managed to complete about 70 miles of the "real" Whites. That averages to about five miles per day. Even two months before, when I'd spent half of every day swimming in lakes, I was averaging better than that. And I still had 45 left to go before the Maine border. And I can tell you now: my average didn't improve much at all for the remainder of it. When it comes to arduous hiking, there's nothing like the Whites anywhere on the eastern seaboard.
I had set myself up on the edge of the road and the parking lot so I could try to bum rides from hikers leaving or entering the woods. It didn't take super long to find a couple in a van headed towards Gorham on the way out of state and home. They took me to Gorham, and I explained that actually I was trying to get to the Lodge just on the eastern end of town near the A.T. They were perfectly happy to carry me that far, even though it was well out of their way.
Eventually (eons later), an older couple in a van picked me up, indicating that they were hikers themselves and very amenable to giving them a lift when they get the chance. They drove me right to the doorstep of the Lodge, even though it was much farther than I expected, way past the far end of town.
Many folks were already there, some of which I recognized. I think Uke may have been there (whom I may not have mentioned I met at Hikers Welcome Hostel). I know Pop Tart was there with Milla Dog. I spent the first twenty minutes in the garage, before ever going in to introduce myself, unpacking things, dumping dirty, wet clothes into the dirty clothes bin, and finding suitable things to wear in the box-of-borrowables. Before I'd even gotten thoroughly settled, someone came out and said he was doing a shuttle run into town, so I jumped on it. So did pretty much everyone else at the hostel. We all piled into the SUV. Most of them wanted to go to Wal-Mart. I wanted to go to a sporting goods store for new boots. Either way, it was a shuttle run the likes of which I had not seen since Uncle Johnny's in Erwin.
They dropped me at the one sporting goods store that was open while they ran to Wal-Mart. Well, it wasn't really a sporting goods store. It was a clothing store targeted at hunters and professionals. After some deliberation, I picked out a pair of boots by Carolina Shoe. They had no high-quality hiking name brands to choose from; they mostly sold work boots. Comfort was the only thing they had going for them; those boots would barely last 100 miles. I'd avoid them if I were you. I also bought a pair of new trekking poles, as I'd just snapped the tip off of one of mine in the Presidentials. They were hollow aluminum in two sections, and I would find that they wobbled a lot when I put any kind of weight on them.
I stood outside with my box waiting for them for 15 minutes, and we stopped at the post office on the way back so I could pick up the package I had shipped there and the package I'd asked Steph to ship there. (She never did ship it.) My package was food for the trail, which is why I didn't need to go to Wal-Mart. Back at the hostel, everyone gathered in the den to watch a movie while the hikers running the place that day made soup to sell and baked goods. I feel like I must have eaten some of it, because I don't remember cooking anything. I do remember eating a lot off leftover snacks that people had bought and left, including beer. Maybe that's all I ate.
I spent a good bit of that night on the shared computer downloading new stories to my mp3 player, and then, eventually, up in my little alcove bed in an upper bedroom chatting on my phone while an older gentleman slept in a bunk feet away, totally worn out. Boring, I know, but it's just what I needed: time for my toes to heal up.
As a result of being up so late, I woke up pretty late the next morning, while they were already brewing up the second pot of coffee. It wasn't hard to get up, though, with the smell of sausage wafting up through the house. I got my portion of the provided breakfast, but I missed out on the morning's shuttle run. I put together a box for my old boots to send home, and needed to go to the post office to mail it. They kept saying they would go eventually, so I spent most of the morning just sitting around and waiting, watching more movies in the den. At some point, I received a call from hikers I did not know asking where I was and why I'd left Copper at Chet's, implying that I was a terrible owner and had abandoned him. I told him I'd told Chet all about Copper, but they said Chet had no idea who Copper belonged to. I said I had left him a bag of food, but they said it had started going moldy. I said there was nothing I could do about it at the moment, because I was too far away, but I'd be back in a few days. They sounded unconvinced. We both hung up confused and unsatisfied.
Early in the afternoon, someone decided they could spare the time to run to the post office, and so finally I got my last town errand taken care of. I was already packed, so within a few minutes of getting back to the lodge, I shouldered my pack and walked down to the southbound trailhead.
What I found there was a white pickup truck, the tailgate covered with the signatures of thru-hikers I recognized. Luckily, I'd found a Sharpie in one of the huts which I'd been carrying with me, so I stopped to add my own. I signed near Cricket (whom I met in Erwin) and took a picture. The picture got corrupted, but thankfully, the truck's owner also took a picture, which he has kindly provided for me to publish here:
If you look above the handle, you'll see Crazy Frogg. To the left, in blue, you'll see my BLAST. Other names you'll recognize from this blog are Nickelodeon (south of Erwin), Glover (south of Glasgow, VA), Puddin' and PaddyCakes (opposite corners of the tailgate, but traveling together—north of Shenandoahs), Ocean Spray (south of Red Barn Restaurant in VA), Cody Coyote (over and over again), Rocky (Overmountain Shelter), Uke (right here on this page), and, of course, Chet.
Having made my mark in the hikerspace, I headed on up into the woods to enter the Northernmost range of the Whites. I didn't have far to go—I was only going as far as the first shelter­ (Rattle River). The trail in followed a creek the whole way, level and sloping slightly upward like an ancient roadbed. I hardly noticed I'd walked at all by the time I reached it. It was only about 4pm. Even so, I wasn't the first one there, and I was far from the last. We had four in the shelter, and several more in tents later. One was a crazy winter southbounder dressed up in camo and sporting a fancy Louisiana accent. I don't know what possesses people to attempt their first thru-hike that way. Another was a guy in the military. When I told him I'd sent my filter home to save weight on the last part of my hike and then run out of iodine pills, he lent gave me a few packs of the chemical treatment he used, and that apparently everyone had used while he'd served in Afghanistan. They just had to be mixed with your water for a couple of minutes, and then the precipitate strained out through your bandanna. Quick and easy, he said. The straining part took me most of an hour, however, because the tight weave of my bandanna actually holds water. I had to make a depression by poking the bandanna into my water bottle, fill it up, then force the water through by sealing my mouth against it and blowing to raise the pressure behind the water. Repeat ad nauseum. I assume the resulting water was very clean, however. I don't remember using the other two treatments at any point.
The folks that arrived after dark—well after I'd cooked and laid out my bed—were quite energetic. I'd not met any of them before, don't remember their trail names, and talked to some of them again exactly once (as a few more were Southbounders). I started in on one of the new books I'd downloaded and fell asleep not very long after sunset.
The next morning seemed bright and clear and I was eager to get started. I had been staring at my pocket map as I went to bed, trying to plan my day, and studied it again in the privy that morning. I had some idea of what was to come.
The trail from the road to the shelter, paved with blood-red leaves, had been a leisurely slow climb with nearly no effort required, but that kind of trail petered out immediately south of the shelter, where the Rattle River Trail immediately climbed up onto the ridgeline towards the summit of Mt. Moriah, climbing some 1700 feet in a mile before joining the Kenduskeag Trail. The trail then becomes vaguely more level until it joins the Carter-Moriah Trail in the swag adjacent to the summit of Mt. Moriah. Since I had 13 miles planned in the Whites, I chose to forgo the steep boulder-back trail to the summit of Moriah, expecting the views not to be particularly amazing anyway. Instead I descended into the col separating Moriah and Carter. This allowed me to pass through an open area where I got one clear view, though the clouds were quickly approaching. They fell upon me pretty soon after, beginning to coat me with mist as I arrived at the side trail to Imp Campsite, where I found two of the guys who'd stayed near the shelter the previous night stopped for a snack. I stopped to put on my raincoat and chat, but it was, in fact, lunch time, and it looked like a good place to stop, out of the wind. But they'd taken the only worthwhile sitting spots, so I shouldered my pack and took the 0.2 mi side trail to the Imp Campsite Shelter. I sat in there for about an hour fixing and eating lunch.
While there, I turned on my phone to check the weather for the rest o the day and the weather in the valley, and happened to receive a call in that short window. It was Miss Janet, who happened to be at Chet's, also worried about Copper. She was far more reassuring about his state than the hikers that had called were. She indicated that Chet had entirely forgotten who had left Copper with him, likely because the painkillers affected his memory, but that Copper was having a fine time hanging out in the hostel with all the hikers and would be taken care of until I got back.
I don't recall anyone coming down there while I was there, but I met an older gentleman on the trail out as I was leaving, and he scolded me for not summiting Moriah, as he felt it was basically the best view in the Northern Presidentials that everyone passes up. I felt a bit disappointed, but not enough to add four miles to my hike going back to bag it. I headed on up toward the top of Carter.
Two miles later, at the top of Middle Carter Peak, I was looking down onto a sea of clouds, seeing only the tops of distant peaks. This was the first time I'd seen this peculiar sight on this trip, but it wouldn't be the last. And later, I'd actually have the time and the situation to take a few pictures. This time, occasional clouds would come boiling over the peak every few minutes and coat me in a fresh layer of mist. I had five miles of ridgeline to go before I slept, and it was already edging on towards late afternoon.
A bit about the trail in this range: when you're in the alpine zone, you're either walking on rock, on bog bridges above mud, on roots above mud, on mud, on the edges of puddles, skipping from rock to rock in puddles. At one point in this range, I can remember the trail coming down off a rock slab straight into a puddle two feet deep, ten feet long, five feet wide and surrounded closely by scrub trees, with no bog bridge to cross it. Somehow, I managed to bypass it without getting my feet wet, presumably by tiptoeing along the edges, poking my toes around looking for stable rocks hidden below the surface. But I had been moving pretty fast, and it took me several minutes to manage that.
Working my way down Carter and up Carter Dome was nothing short of work the whole way. Five miles of paying attention to my steps and my story, the disappearing sun and nothing else. No other humans. The sun was all but gone as I reached the top of Carter Dome, and I had to stop and pull out my headlamp for the descent. There was no way to even think about attempting the "trail" that led down in Carter Notch, dropping 1000 feet in just the last half-mile, without having a light. Sometimes even the light left me baffled, as the trail just fell off of ledges and into cracks, and any evidence it continued was beyond the range of my light and far too low anyway. For long moments, I felt like those kids on the cover of the Shel Silverstein Book. There was only one constant: far below me, floating in black, empty space, were the tiny glowing lights of the windows in Carter Hut. I could watch them recede before my approach for the entire last hour of my descent.
Eventually, the trail became a rock staircase winding sheer vertically down into the Notch until it suddenly leveled out at the bottom. There is nothing gradual about Carter Notch; someone took an immense knife to the Northern Presidential Ridge. The trail turns left and winds its way along the edges of two lakes which seem beautiful even in the dark, making me look forward to leaving the next morning as eagerly as I looked forward to getting in out of the cold and wet and making supper. And as soon as I saw the sign above the door, I knew that I was welcome.
I could tell right away upon entering that Carter Notch was the oldest hut I'd seen in the Whites. All of the others looked spacious and modern and well-organized, but the dining hall on this one was tiny and cramped. It was hardly bigger than the adjacent kitchen. Everyone had already gone to bed except for the one hut kid that had volunteered to hold down the fort until the fall season caretaker (also known as the same head manager who'd distributed the apple moonshine at Lakes of the Clouds) arrived. He had pushed all the benches and tables against the wall and set up a ping-pong table in the middle of the room, but I'd missed out on the games, and now he was content to sit and cycle through five riffs on his acoustic guitar. If he hadn't freely admitted to having smoked one immediately before my arrival, I would have known it anyway. The whole place smelled like popcorn, which he'd just popped on the stove.
I divested myself of my wet gear, and started pulling out my food. We talked about anything and everything (that didn't require more than a minute-long train of thought) while I made some hot chocolate to warm up (all the huts seem to provide hot chocolate powder and Tang for free—try the two together!) and boiled water for supper on the stove. When I finally settled my hunger, it was getting nigh on towards midnight, so I asked about sleeping arrangements. He said that since the Hut was no longer operating at full service, I could throw my sleeping bag down on any empty bed in one of the bunk buildings behind the main building. I was too lazy to carry my bag out into the cold again, so I just pulled out everything I'd need for sleeping, put my coat and headlamp back on, and trotted out into the dark and cold again.
Once I found one of the buildings (which looked far newer and in better shape than the main lodge) and climbed up on the porch, I had to shine my light briefly through the door into each of the rooms to find an empty bunk. I found out later I woke someone up this way, but I was being as brief as possible with my glances, trying to avoid just that. I was lucky to find an entire bunk room completely empty, so I could take my time and make a bit of noise as I prepared my bed without disturbing anyone. There were nets suspended above the beds to hold any small items you might want near you and each bed had its own light, plus the beds were only stacked two-high. All in all, if I had to recommend a hut to stay at in the Whites, I'd pick Carter Notch. The location is certainly the best.
As a result of getting to bed so late and having a room entirely to myself, I slept well past dawn the next morning. A couple of the others were down in the lodge when I came down there to make breakfast. They all seemed rather cold. I myself was bundled up as much as possible just to get from the bunk house to the lodge, and again to get back to the bathrooms after breakfast. Thankfully, by the time (and the last of the rest) were finally leaving, it had warmed up slightly. I left just before the hut kid, who'd be hiking down to his car for a holiday at home that very morning. I caught it on the one day that one could have the run of the place for free.
The lakes in front of the hut were just as amazing in the daylight as I hoped they be. I stopped to stare for a moment or two before starting the long climb straight back up onto the ridge of Wildcat Mountain, as steeply and as quickly as I had descended.
It wasn't exactly a nice day for a hike in the Whites. It was foggy and cold and coming out into the open was a sure way to freeze, as the cold wind was roaring over the ridge. It was nothing like this at ground level, of course. Even down in Carter Notch, it seemed like a nice normal cloudy day, but as soon as I came out into the clearing at the top of the Wildcat Mountain ski lift, I knew that the mountaintops have a climate all their own.
I had been walking non-stop since leaving, so it was time for a lunch break. I hunkered down in the lee of the tiny ski lodge and fixed some food up. I did wander about and check out the area. There were signs to read and I could see the tops of the ski trails on the leeward side of the ridge, as well as some sort of broken-down concrete foundation, but there was no getting inside the lodge, which appeared to be brimming with interesting equipment. But mostly I stayed hunkered out of the wind. It wouldn't take you but a minute of receiving the full brunt of it before you were chilled to the bone.
The rest of Wildcat's peaks were pretty uninteresting. Perhaps there would have been a view on one or more of them if I hadn't been walking in clouds, but making you miss out on views is just Nature's way of suggesting you visit again sometime.
To make a long day short, eventually I started descending again, thousands of feet down to Pinkham Notch. Most of the descent was slow and easy, but the last thousand feet or so was a descent of another cliff somewhat reminiscent of Webster Cliffs. From the top, and at intervals coming down, I could spot the Joe Dodge Lodge, the "headquarters" or "hub" of the Appalachian Mountain Club. But when I reached level ground, I wasn't at the road, or the parking lot. Indeed, I had a mile to go on level ground.
The trail rediscovers the "Lost Pond", and the trail to the north of the pond (compass south) is a short preview of Mahoosuc Notch: giant boulders and a trail that winds aimlessly around over and through them. It levels out again in a grassy clearing north (trail south) of the pond, and here I passed an older couple out for an afternoon stroll to see the ponds. I warned them about the trail further ahead, but they indicated they'd just turn around and go back the way they come once they reached the pond. I can't say I blame them; Lost Pond is easy to get to and well worth seeing.
My plan for Pinkham Notch was to first find some easy hot food and then either to figure out how to take the AMC Shuttle back to Franconia Notch or hitch a ride (or several) back to Lincoln, but fortune smiled upon me and simplified the whole affair. I emerged onto the road from the trail in the early afternoon, crossed to the parking lot, wondering where the restaurant was so I could get a solid meal, and spotted out of the corner of my eye a familiar looking truck. Yep, it was Shadowfax, and this time I got to meet its owner. "I signed your truck!" I shouted at him. I introduced myself to Shepherd and he to me, and quickly had arranged myself a ride all the way back to Chet's Place. "I was planning to go back and see him sometime anyway," he said.
During the hour-long ride, I learned that Shepherd was, in fact, a thru-hiker, but once he arrived in the north, he'd picked up his truck, Shadowfax, and carried it around with him. In fact, he'd reached Katahdin in August with Cricket and Pancakes (Trixie/Yayblaze) (though Roscoe had had to be left at home). But, every time throughout his hike, even to the present moment, he'd come within a hundred miles of a contra dance, he'd taken off for it. I think he even spent a week at a dance camp of some sort in the previous month. He had come back to New Hampshire to hike Mt. Washington with Rooster (or DaRoosta as he sometimes referred to himself, Rooster being a somewhat common trail name). And so I had met him just as he had finished that. We also talked a lot about how amazing the forests looked and what a gorgeous afternoon it was. I expressed a desire to return and hike the less popular southern parts of the Whites: there were a ton of short peaks that looked beautiful and out-of-the-way, though visible from the highway. We also passed through a lot of small towns, as we were taking the smaller roads to the south of the Whites, and he indicated he'd like to stop and take pictures of some of the sights, such as an old locomotive, with his fancy DSLR.
Eventually, we arrived back at Chet's to find that the place was nearly abandoned, though Chet was as accommodating as . The hiking season was over for Lincoln. There was maybe one other guy there that night. Other than that, it was just Shepherd and I and Copper spending the night there. I took advantage of the facilities to wash some clothes (and myself).
But first, since I'd found Shepherd before I found the cafeteria, I was starving. We got a tip from Chet on where to have dinner: the Woodstock Inn Station in North Woodstock. No sooner had we dropped our stuff than we were back in the truck and driving to the little town on the other side of the highway. We got a high-top table together near the entrance inside the old train-station-sawn-in-half-and-turned-restaurant, with the bar on one side and a wall of entertaining signs on the other, and stained wood in every direction. The draw for me was the Thru Hiker Double Rye IPA. Of course, they claimed to be out of it. (Nonetheless, it was available a week or so later when my parents stopped in.) I went with the Scottish Ale instead, and maybe also a glass of the famed Pig's Ear award-winning brown ale. I don't quite remember what I ate, but I'm thinking it was a burger or sandwich. Quite possibly the Train Wreck turkey sandwich. You can see the menu here. After we got full up and back to Chet's we had plenty of downtime to recover, so I laid down and did almost nothing until it was time to sleep.
The next morning, I thanked Chet profusely for taking care of Copper, and left a considerable remuneration in the tip jar (to cover, also, the cost of food Chet had provided) before loading Copper in the back of the truck and heading out to the store.
Shepherd had to rearrange his truck, and was happy to do it while I did some shopping. I went in the sporting goods store as soon as it opened. The first time I'd come there, several weeks before, I'd bought what I had intended to be a long sleeved undershirt to go with my long underwear, but I had discovered (on top of Mt. Wolf when I tried to put it on to combat the dropping temperature) was actually pants. My second time in Lincoln, I had returned to swap it for a shirt. Now, I had to swap it for one that was actually the right size. To their credit, they never gave me the slightest trouble for swapping items out. I'd recommend the place to anyone hiking in the area.
I also needed to prepare more breakfast drink mix and get a few more snacks, so I left Shepherd with Copper in the parking space and ran over to the Price Chopper. I didn't have to buy any protein mix, though, as Shepherd had some leftover whey protein he never drank that he was willing to give up. While I was doing all this, in addition to repacking his truck, Shepherd took a picture of Copper hanging out in his truck. In fact, you've already seen part of that picture, so let's zoom out and see the rest of it: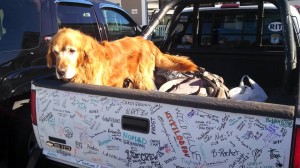 Once we had everything together, we were back on the road to Pinkham Notch, the same hour-long trip we'd come the day before. We passed a ski resort where I informed Shepherd that I'd heard on the radio was having a Scotland festival, with all the bagpipes and tartan and dancing and everything. I was a little sad I was going to be up in the Presidentials when it was going on, but this late in the season I had to put hiking first if I ever wanted to get done.
We didn't stop to take photos this time either, so again it took about an hour, and then he was dropping Copper and me off at Pinkham Notch. Before I could get started hiking, though, I had to do some repair work. I needed to sew a patch over the hole that was forming on Copper's pack, using the leftover fabric I'd gotten back at Hemlock Hollow when I was repairing my now-defunct magnet pouch. Yes, I carried a scrap of fabric that far. Of course, cutting the fabric and the thread required me to get out my trusty Leatherman Style CS, which I left on the table when done with it. I tied Copper up then and went inside the store at the visitor's center to a) see if they had any winter gear worth having at a reasonable price (of course not) b) just see what the place was like (the first Joe Dodge Lodge was built way back at the beginning of the 20th Century, and has always been a welcoming place for hikers and skiiers, keeping the motto "Our latchstring is always out." for that entire time) and c) to find some new plastic bags to sort Copper's food into. This latter was a great success, as I managed to get several of the leftover bags that the store received shirts in, which, with some tape to patch up the holes they all had in them, made fine water-resistant dog food carrying bags. Having fully prepared Copper for a visit to the presidential range, we began a speedy hike up an easy trail back into the mountains. My knife didn't realize we were leaving and stayed behind on the table. I hope whoever found it gets as much use of it as I did.
The trail up started as a very wide road (the Old Jackson Road to be precise) paved with dead leaves and scattered with cobble. Really easy walking, which meant  plenty of tourists, many of whom wanted to meet him and ask me the questions which I had written on his pack but which he had rubbed off during his last excursion in the Whites. Around a mile in, we passed a side trail with the best name of any side trail connecting to the AT: George's Gorge Trail. Soon after crossing the Mt. Washington Auto Road, we came to a side trail to "Lowe's Bald Spot", a low peak which I had spotted on the 3D topo map in the visitor center. With a name like that, on such a beautiful day, there was no way it wouldn't be a good view, so we went. The whole side trail is pretty much picking a path up an occasionally-steep rock face with some ledges and patches of shrubs and trees growing on and around it. A fairly popular one too, as there were five or more others, plus dogs, that climbed while or after we did. But it did deliver on its promise. From the tip, all of Mt. Washington was visible, and everything from there north to Mt. Madison. The only obstruction was the occasional cloud slamming into the side of the range and breaking over it. Such clear weather meant good cell reception, so I took advantage of the location to call Renea to talk about the trail and random things. Sorry, purists, for temporarily spoiling the spirit of wildness.
By the time I was done with the call, it was early afternoon, time to do the last two miles to the Osgood Tentsite. It was the part of the trail that the guide warns has sparse markings: they are trying to preserve the spirit of wildness in the Great Gulf Wilderness through sparser use of blazes. And on top of that, it's a pretty confusing section of trail, too. Yet, it's absolutely gorgeous terrain.
We got a little bit lost, of course. At one point, the trail crossed a span of the west branch Peabody River with an enormous suspension bridge, a lavish construction to find in what was supposed to be "wilderness". (Copper needed a little guidance to find his way up onto the bridge, but didn't bat an eye at walking across.) Immediately after crossing, we came to a faded carved sign, and I went the direction it seemed to indicate. We ended up at an unnamed "primitive" campsite, that had a bear box and not much else, which wasn't on either of my profile map landmark lists. Since it's unusual for it to leave off any officially-established campsites, I figured I must have missed a turn at the last sign post, but I was in such a state of doubt, that I left Copper tied to my pack, to save him walking in case I was wrong, and went back about 0.1 miles to the sign. Poking around it, I found a trail that doubled back a bit and then went straight down hill, parallel to and running the opposite direction of the way I'd originally come from. For some reason, the way forward had been backward and I'd gone forward instead. I felt a little sympathy for Daenerys Targaryon in that moment. I went back to fetch my dog and my pack.
Shortly after the second (rock-hoppable) stream crossing, the trail turned steeply up the spine of a ridge and onto the Osgood Cut-Off, a mostly level side trail that wraps its way around to the Osgood Ridge Trail, following a contour line of the Mt. Madison's topography. A half-mile later and we were at the campsite.
There were already a good number of people there, and more came in after my arrival. There was a guy and a girl thru-hiking together, who were already tending a fire. I dropped my pack and Copper's on a tent platform and headed down to join them and cook and feed Copper. There was also a large group of thru-hikers who showed up later, all guys, whom I had met before at Chet's but forgotten. I don't remember their names, but I think they were being supported on their hike by Iceman, who had run off around this time and taken his car with their gear in it with them. They all camped together on or in the woods near one platform near the front of the tentsite.
Who knows what we talked about that evening. Probably the weather. The guys never joined us by the fire, but when I discovered a cache of left-behind microbrews in the bearbox, I did take some down to share with them. (I drank two myself before sleeping, of course.) But as soon as the sun got serious about going away, they went off to bed on their tent platform. I stayed by the fire. In fact, I pulled out my tent's ground cloth, threw my sleeping bag on top of it, and draped my rainfly over that, and slept under the stars on the one flat patch of ground out there, not four feet from the fire, with Copper lying next to my head. Although I surely woke up at some point in the night worried about rain, it never did, and I woke up the next morning dew-covered by with a much better night's sleep that I could ever have achieved on a tent platform. Seriously, screw tent platforms.
It didn't take too long to pack up in the morning, but I seemed to be in not too much of a hurry. The guy and girl left long before Copper and I did. But I was still ready to go by the time last of that group of guys decided to come out of his tent. They were headed north, and had nothing but a downhill run to civilization to look forward to. Copper and I had 2500 feet of mountain to climb in the next two miles. I drank the last beer from the bear box before we hit the trail. One thing I discovered months before: if you're in decent shape (high metabolism), a bit of alcohol does wonders for climbing hills. (To be fair, beer is probably not the best choice–those bubbles).
The trail opens up above treeline quite quickly, and very soon it becomes quite a lot of work. Once again, I had to wander all over the mountainside looking for paths that Copper could use. A few times that morning, I had to lift him onto a ledge. By the time we arrived at the top of Mt. Madison, I was ready to take some pictures and Copper just wanted to sit down for a bit. You'll probably remember a picture like this one:

Cellphone service was so good on the ceiling of the world that I uploaded it right then.
I was glad that Copper was getting to see the Presidential Range on such a beautiful day, but it was clear that it was very tiring for him. It was time for a real break.
Walking back down to Madison Spring Hut, this is the state I found it in: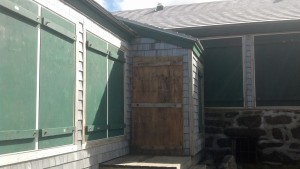 It was totally closed up, but there were plenty of people around, and water was coming out of the side of the pump that supplied the hut's water. So we stopped for lunch, sitting on one of the benches on the patio, in the sun and in the lee of the ever-present wind. I ate and watched the clouds speed over the peaks and out over the valley: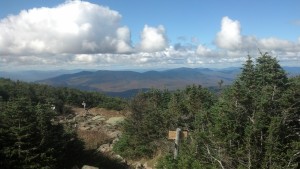 A couple I met at the top of Madison came down and chatted with us before heading down into the valley.
But it was time to see the sight I came all this way back to see: the top of Mt. Adams on a sunny day. But even after filling up on water, Copper was clearly flagging, so I decided to choose my route so as to reduce the amount of walking for him: we'd take the AT back up to Thunderstorm Junction. I'd go up to the summit on my own, then we take the Airline Trail back down into the valley. Most of this trail was really easy, as it was either downhill or expertly leveled by professionals. I figured Copper would have no trouble. However, the trail up started out with a really jumbled section before settling down into the easy part. But Copper wasn't happy about the uneven terrain and wouldn't stay on the straight and narrow. He headed way off trail to avoid it, but ended up making it harder for himself. I had to go off trail myself and lead him step by step by to the trail, driving him forward.
But we were climbing easily again a few minutes later. I tried to put wax on his paws, but I had been using his water bowl to block up the gaping hole in the side of his pack, and at some point in the day, it had fallen out and let the can fall through with it. Somewhere on the mountain that day, I believe I had lost my pocket profile map as well. Oh well, it was clear we weren't going to make to town that night anyway, so Copper had very little walking left to do. When we got up to Thunderstorm Junction, I took off both our packs, made Copper lay down next to the large cairn, and firmly ordered him to stay. I probably should have tied him up.
Next, I ran quickly up the short piece of trail to the top of Mt. Adams. It was clear that this piece of trail would be impassible for Copper, as it was many ledges and rocks that were taller than he is, but without my pack on, it was relatively easy for me, and I was on top in a few moments. I figured Copper would quickly get stuck if he tried to follow, and he'd be somewhere nearby waiting for a hand from me. What with no obstructions above treeline, even if he wandered a bit, he'd be easy to find.
There was one other couple there already taking pictures. We three were the only ones there leaning into the wind facing that amazing late afternoon view. Quite a contrast with the five minute queue to get a photo at the Washington Summit. They were able to take my photo almost as soon as I arrived.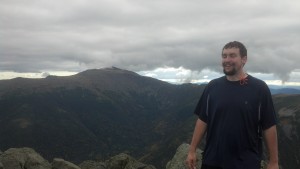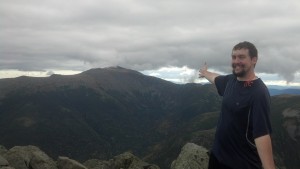 I was so captivated, I entirely forgot my commitment to run up and down before Copper got worried. Once I got my act together, I came back down as quickly as I'd gone up, but Copper was already gone. I spent the next 20 minutes checking all the trails up to the Adams summit, yelling his name as loud as I could into the wind, figuring he'd probably come looking for me, and gotten a bit farther than I expected, somewhere just out of view of the col around Thunderstorm Junction. I found him about halfway to the summit and a quarter of the way around it toward the opposite side, far from any trails. I have no idea how he managed to get that far, but I had to help him several times find a path back down to Thunderstorm Junction.
I loaded us up again and hit the Airline Trail straight down the side of Adams towards the RMC Gray Knob cabin. It starts out really easy, and then heads into a wall: an apparent hand over hand climb straight up onto Adams 4 (Abigail Adams). It looked utterly pointless, and hauling Copper bodily over it looked like way more work than I was willing to tackle so late in the day. I figured we could go around the peak and find the trail on the other side. My bad.
A quarter of the way around the peak, the rocks run out. There's no where to walk except in the bushes, which are really mats of tiny evergreens about a foot thick. It is not easy to walk in, probably even without a pack. The way forward got ever more difficult, especially in terms of finding any sort place that Copper could walk at all. He kept giving up, just laying down on a bush. I would pick him up and shove him forward. After the fifth time, I realized he just was not going to be able to move forward. Even if I could coerce him forward and back to the trail, he was going to have a hard time moving forward for the rest of the evening. The sun was very nearly gone and the temperature was already dropping fast.
So I came up with a plan. I knew the RMC caretaker stayed in the Gray Knob cabin, where we were headed. I would go ahead down the hill to the cabin as quickly as I could, dump out my pack, and get him to accompany me back up to the spot where I had left Copper. Then, I could load Copper into the pack and carry him down to the cabin on my back, with the caretaker to light the way, show me the dangerous places to step and catch me if I fall.
This plan worked out pretty much exactly as I describe it here. I memorized the spot where Copper was lying, marked several landmarks near the trail to see where to turn off, strapped on my headlamp, and headed downhill as quickly as possible. The trail was fairly treacherous in plans, with loose rocks strewn across it, and several two foot ledges to step down, but I made it to the cabin in about 10 minutes.
The caretaker was there as expected, a young guy who was perfectly willing to help me enact my plan, especially since I was planning to spend the night with him. I quickly emptied my pack all over one of the tables in the cabin, put my pack back on, and, five minutes later, we were headed back up the trail. It took about 10 minutes again to climb the same section of trail with no pack weight, chatting all the way, mostly about his job.
Copper ended up being a lot easier to find than I expected. Our lights caught his eyes before we even reached the spot where I had rejoined the trail. While I had been gone, he'd managed to move as far a large flat rock slab overlooking the trail, presumably so he'd be able to see me when I returned.
We found a path over to where he sat, and I quickly divested him of his pack, which the caretaker would carry down. I managed, with some great effort, to stuff him in the main compartment of my pack, which was quite the accomplishment even with my capacious Baltoro 75. This was primarily because he didn't much want to go in. Every time I managed to get a paw tucked inside, he push it out again. Eventually, I got him all the way in, though it was a tight fight, and cinched the top just up to his neck so he could see out but couldn't get his legs out or fidget while I was walking.
The hardest part was getting the pack on my back. I had to stand Copper on his butt to get the pack upright, crouch to put it on, then stand up while the caretaker lifted and balanced me. Once I was stable, we worked our way back on to the trail and started the long descent. It certainly did not take ten minutes to go back down. We had plenty of time to chat, but this time, it was frequently about how awkward it is to walk down a mountain with ninety pounds on your back. In Backwoods Ethics, there's a chapter about backpackers, including a description of a hiker that notoriously always went out for weeks carrying everything and the kitchen sink. One chapter ends with a story of him digging through his pack to find exactly the right size nut to repair someone's tent or the like. He carried complete sets of tools and parts in there!
He must have had thighs like Hercules, because I felt like the clumsiest person on the face of the planet for that half-hour. What made it worse was that Copper's position in the pack placed him leaning away from me, pressing straight into my butt. Fortunately, I came down wrong off of step-down and would have take one of those I-wish-I-had-LifeAlert-right-now spills had not the caretaker caught me at the last moment. I say "fortunate" because tipping over and stumbling so hard somehow adjusted Copper in the pack so he was pressed up against me more, which made me considerably less clumsy for the rest of the walk down.
The Randolph Mountain Club (the organization most recently tasked with maintaining a section of the AT, and possibly that with the shortest section of the AT) maintains  a system of trails below Mt. Adams in the Northern Presidentials, along with four cabins for hikers and skiers. They aren't quite as fancy as the huts, but they cost considerably less, require no reservations, and (some) are open year round. The man who was escorting me back to Gray Knob was the caretaker for all four of them, and tasked with touring them each night to maintain them and collect the fees. When we finally got back inside the cabin, I put Copper on the floor and pulled the bag off of him, fed him, and blew up my sleeping mat for him to sleep on instead of the cold wooden floor, before starting cooking my own dinner. After dinner, I sat at the dining room table eating Starburst (the best trail candy ever!) and read a scrapbook about the Watermans, particularly Guy Waterman, and the manner of his suicide. In addition to Laura's newspaper article on the subject, it contained a number of their short works and photos, including a collection of vignettes about  life in rural Vermont. At a very advanced edge, well after having seen their books succeed, Guy climbed up into the Whites on a winter's day and stayed there, exposed to the cold and elements, until he died in his favorite place on earth. it was something he'd considered doing or tried many times before, but this last time, he was fully resolved.
Everyone was long past asleep and it was getting on towards midnight when I finally climbed the stairs to my mattress in the loft, positioned as far from the other guest's so as not to wake him. I didn't even listen to the radio that night. I laid down, and a moment later, was awakened by the light of day. The other guest was already stirring and getting ready to go down. It had gotten considerably cooler in the loft. I put off rolling off my mattress and sliding out of my sleeping bag as long as possible, but eventually I got up the gumption to go make Copper his breakfast.
It was pretty chilly outside the cabin when I went down to the privy that morning. The cabin is right on the edge of the Alpine Zone and not quite out of the wind, and it was the wind that cut. Once I was between the privy walls, it was more bearable.
It took me forever to get myself back together that morning. I was in no hurry anyway, nor did I wish to hurry Copper after his hellish day, but I had also left all my stuff all over the table all night, and I had to totally repack my pack. Just getting completely dressed felt like more of a chore than usual. I left the cash for my stay in the box as the caretaker had to go run down to some other cabins and left before I'd finished getting ready. Then it was back out onto the trail and down the mountain to Appalachia again. The Air Line was somewhat less scenic than the one I'd taken on my previous descent to Route 2, but I was so eager to get below the fog and into civilization, I hardly paid any attention to the scenery anyway. I paid attention to the terrain for a few moments right at the beginning of the descent, when I slipped on a patch of rolling pebbles and landed unharmed but directly on top of one of my trekking poles, snapping it in half at a weak point in the top section. Total lifetime of that pole: 6 hiking days. Total refunds available: zero. It was about what I expected. They just don't make durable trekking poles.
Mostly, I stopped several times to try to get texts through to my mom. It was on this day that I expected my parents to have finished their tour of Vermont, Connecticut, Massachusetts, etc. and be in the Gorham area. When I finally got a call through, I found out they were nowhere near, and would not be for three more days. So, no chance of them picking me up at the trailhead that day. I'd have to hitch in myself and spend a few more days hiking until they could come around.
Despite being a lovely day, it was nowhere near a weekend, so traffic to the parking lot was much less than usual. I was dependent on the road. I stuck out a hand and aimed my busted trekking pole in the direction of Gorham, and faced my longest wait for a hitch of my entire trek. At this point, it had become really easy to figure out who wasn't even going to notice me there or give me a second glance. Solo women or families with children were obviously not going to offer rides, but to some extent, it's possible to guess just based on the type and condition of the vehicle, even before you can see who is inside. It's nice to be able to tell, as it means you can put down your arm for a few minutes until the next, better prospect comes around.
I was standing beside the highway for at least a half-hour before a tiny, ratty old Toyota pulled up and offered to take me to Gorham, if I could squeeze all my gear into the back. The guy was pretty young, kind of cynical, busy, not like the type of person that usually picks up hitchhikers at all. I don't even remember what we talked about, but he left me at the main highway intersection in the middle of Gorham, the far opposite end of town from the White Mountains Lodge.
Well, I was starving, and I could see a Chinese buffet from where Copper and I stood, so I started walking that way, figuring I could sort out a hitch to the lodge afterwards. Then, since I knew Copper was in no shape to keep hiking after his ordeal the previous day, I could call the dog sitter whose number I'd spotted in the post office the last time I'd been in Gorham. Of course, things don't often go exactly according to plan on the trail, and this particular plan was supplanted almost instantaneously. A big truck pulled off right in front of me and a stout middle-aged lady yelled to me out the window.
"You need a ride? Some place to stay?"
"Well, not really…I was actually going to go get something to eat."
"And what were you planning to do with the dog?"
"He'd just wait for me outside."
"Does the dog need a place to stay? I'd be happy to let him stay with me."
"Well, okay, I'd be willing to entertain the idea if I could see where he'd be staying."
"Oh, it's no problem. We've got a little yard and a couple of dogs. Get in, we'll go see it."
Those are probably not the exact words, but it was literally about ten sentences exchanged before Copper was offered a place to stay while I spent a few more days hiking. I have no idea how she spotted Copper and decide he needed a place to stay and was ready to offer all fast enough to turn off and accost me before I'd even realized she was there. I don't think I've ever had opportunity knock so insistently.
Miriam drove us back to her tiny trailer home in a close-packed neighborhood on the outskirts of Gorham. It looked by no means neat or healthy inside, but the yard looked suitable for Copper and the dogs seemed friendly enough, so I felt comfortable enough letting him spend a few days there. Then, for some reason, we left Copper there and walked over to meet her neighbor (and, I think, landlord), who had lounge chairs behind his (two-story Victorian) house across the street. Miriam brought us out beers and we just sat and acted like old friends for a few minutes. Then, she ran off to take her dogs back or see to her husband or something, leaving me there alone for a few minutes. I checked my email. When she came back, we got back in her truck so she could carry me back to the Chinese buffet. On the way, she offered me some pot in a "Oh, I would have offered before, but I forgot; it's the neighborly thing to do." sort of way. Of course, I declined.
There was more than enough for any hiker available at the buffet. But I saw no other hikers and ate alone. One more piece of evidence that I had fallen off the caboose of the AT train. After I'd stuffed myself silly, it was time to hitch a ride back east to the lodge.
I walked outside and straight across the main road, found a spot where a tree could give me enough shade to read my cellphone if I needed to, and hitched another ride. This time it took much much longer. I didn't expect it to, really. I figured on the main drag in a trail town would be a great place to hitch a ride (especially since I'd gotten one before I could even walk twenty feet when I first arrived in town), but apparently all the people in the town are coming through from somewhere else on their way to somewhere else and want little to nothing to do with hiker trash, even for a few minutes. Without a cute dog, I am nothing.
The sun was out in full force that day. It wasn't New-York-in-July hot, but it was enough that I wanted to stand in the shade and be able to use my phone. But I was afraid I wouldn't be seen by the passing motorists if I was in shadow, and also, I figured looking miserable would only improve my pathos. Finally, some twenty minutes later, some kind soul took pity and I made it back to the lodge, and could finally get a shower.
But before I did that, I scavenged some pieces of broken and abandoned trekking poles in the garage to rebuild mine. Turns out using the bottom third section of the "new" Black Diamond Alpine Carbon poles, with their reinforced tips, with the top two-thirds of the "old" Alpine Carbon poles results in just about the most stable and durable trekking pole available for the weight.
Finally, I washed off two and a half days of trail funk, took a tour of the house (there are a lot more rooms than I'd seen my first visit, and a lot of beds) and claimed a bed, alone, in the same room I'd stayed in before. I had nothing to get, so it was nothing but chill the rest of that night. I was finally in the last town in New Hampshire for good, and the last two weeks had been nothing but hopping back and forth between Lincoln and Gorham. I arrived in Hanover just before Labor Day, and managed to cover 150 of New Hampshire's miles by the end of September. In that same time, I could do 2/3 of the 500 miles in Virginia in worse hiking shape. In other words, 1 NH mile is worth about 2.2 VA miles.
But I knew the trail in Southern Maine would be even harder, and I would be there in two more days.