I am now 370 miles into my hike and have between five and six times that much to go from here, so hurray for being more than 1/6 done! Also, I have my trail legs now and the weather is finally perfect for hiking. I am also about 80 miles into VA and all I can say is: wow. Privies everywhere!
It was 8pm by the time I posted last and headed out of Damascus. It was almost dark, so as soon as the AT crossed the road and went upstairs, I pulled out my headlamp. We probably walked 5 miles before arriving at a stream where another trail crossed and a tiny stony campsite with barely enough space for my tent. I couldn't stake it out properly, but Comet had said not to expect rain and indeed it was a clear night the whole time we hiked, and the temperatures were perfect. So I left the rainfly off to get the cool air flowing through, put Copper inside, and went right to sleep.
Copper woke me at 3am and I soon heard why. Thunder! Lightning! It was a huge electrical storm. But Copper and Stevie Nicks both seemed to think it would rain, so I stumbled outside barefoot and put the rainfly on. Of course, I couldn't stake it out right either because of the stones and the fact that I was stumbling around barefoot in the dark while the stakes were inside.

Sure enough, about 3am, the skies opened up with a torrent, and I was soon being rained on inside the tent. I learned where all the leaks were, but the inside of my bag stayed largely dry, so I slept just fine. I covered Copper with the Tyvek so he could stay dry too.
When I awoke in the morning, the rain had abated so I went out in slippers to do my business. I couldn't go far off the trail (the intersecting one) due to the thick rhododendron, but I was lucky enough to be finished and decent by the time some day hikers went by.
We went back to the stream and the campsite and I told Copper to go get some water, and went back to the tent. Then, the thunder started again, and Copper hadn't come back up. Some more day hikers came by and hadn't seen him. The rain started again. I huddled in the tent mostly staying dry and wondering whether Copper was finding a way to stay dry wherever he'd gone. I hoped the rain would let up soon so I could find him and finish packing up.
He didn't come along by the time the rain let up, so I put together my slackpack, shut the tent door, and started walking back to Damascus, calling for Copper for the first two miles. I heard no sound of him. When I got back to Damascus, I hired a shuttle from SunDog Outfitters, though they had sent home their driver for a lack of people who wanted to ride the Creeper in the rain. They picked a random clerk to drive it and I went to get a sandwich at Subway.
A few minutes later, I came back and rode a van back to Straight Branch where I had left my tent. The driver, who said he didn't get out much, decided to follow me up the trail to my camp just for the fun of it. It turned out to be much farther to camp along the AT than I was expecting, but I sent him back to move the van as sound as I reached the tent. I packed it up, quick, dirty, and wet, then hiked straight down the Feathercamp Branch Trail to the road. (Renea: this trail was the sign you spotted from the Creeper at Straight Branch) The van was waiting and he (Tim?) drove me to the Town Hall (who gave me the number for Animal Control) and then the Hikers Inn, where I checked into a top bunk in the bunkhouse.
I sat around the hiker table a bit and shared some of Chef's IPAs (two different six packs!) and soon the first Trans-Am bikers of the year showed up at the Inn. We had a brief discussion of who had a harder time of it (the hikers won) before everyone dispersed for supper.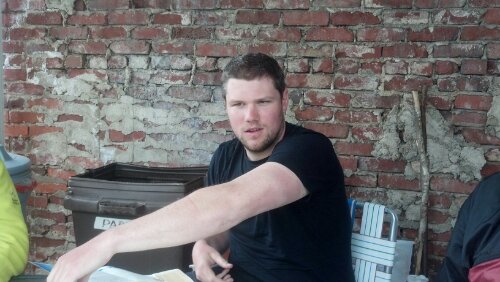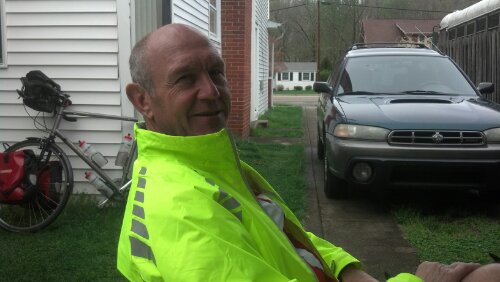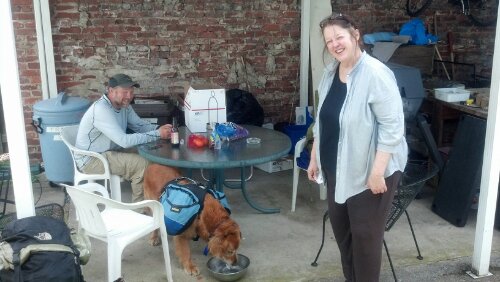 I headed down to the Blue Blaze for AYCE spaghetti night. I ordered a beer (Wolf Hills Creeper Trail Amber) and the dinner and sat down with Timber, Ambassador, Little Engine and Heartburns. We chatted and watched videos on youtube. I learned that the seismic bouncy ball that had kept me up at night with wonder on the IMT was a ruffed grouse calling for a mate.

After two bowls of spaghetti, I was fit to be rolled out the door. I had to turn down another espresso brownie.
I went back to the Inn straight to bed from there. Everyone else but Chef was out and about still, and Chef was pretty wasted. I went to sleep pretty quickly.
I woke up at 4:30am and took a shower then went back to bed and slept 'til 8. And then I played on the internet 'til nine, when I got up and went to breakfast at the Dairy King. Country ham, grits, eggs poorly scrambled, biscuits and gravy, and then afterwards…a strawberry shake just for kicks. The shake was better than a DQ or Sonic shake easily but everything else was just passable. Then I went back to the bunkhouse and just sat for a bit when suddenly the phone rang! Unlisted number!
Yep, some local couple had found Copper running down 58, pulled over and he came right up to them. They gave him some water but before he'd climb in their car he had to go jump in the creek. They were waiting with him outside of SunDog. I had planned to go for a slackpack while waiting for Copper to turn up, but as soon as I got word, I told Lee (Leigh?) I wasn't going to stay a second night and left to pick him up immediately. Unfortunately, I neglected to write down their names or take their picture, but I did give them my card, so if they'll comment on this post, I'll give them due credit. I stopped in SunDog to schedule another shuttle back to Straight Branch and took him back to the Inn. While I took my tent and sleeping bag out to the line to clean and dry and moved my pile of things (including the laundry Lee did for me) several of the folks, including Meadow Flapjack and Lee and the guy (whose name I no longer recall though I've seen him several times) with the German Shepherd Sophie, doted on Copper. Lee seemed determined to annoy me by continually using feminine pronouns for Copper despite the fact he clearly has most of a boy dog's parts.
By the time everything was clean and dry and packed, it was past the time SunDog's last scheduled shuttle was leaving, so I called up Mt. Rogers Outfitters for a ride. It was a dollar more expensive but they left as soon as I could walk over there. I was walking down the trail from Straight Branch by 2:30.
My plan was to stop at the Creeper Cafe in Taylors Valley for a late last chance hot lunch before climbing up into the mountains, since the side trail down to the Creeper and from there into Taylors Valley is only about a half mile in total. Unfortunately, as a pair of cyclists on the Creeper informed me, until Memorial Day, the Cafe only opens on weekends, so I threw up my hands in defeat and walked back up the hill.
And I do mean hill. The climb up Straight Mountain is not particularly steep, but it is not particularly interesting either, and it has about fifteen switchbacks (caution: slight exaggeration). Every time you think you're getting somewhere, you turn around and head the other direction and get yet another, higher bird's-eye view of Taylors Valley.
At Saunders Shelter, where I stopped for lunch, I found a Bavarian named Karl, the Hitched Hike crew (Ambo, Timber and Little Engine). The latter were just leaving, but I complained that every time I wanted to start moving, so did my bowels, and ran for the privy.
By the time I returned to the shelter, Yard Sale and Mudmouth had arrived and were giving Copper his usual special treatment. Mudmouth seemed especially fond of Copper and dogs in general. I left soon thereafter, around 5pm, hoping to make it to Lost Mountain Shelter just 6.5 miles away before dark.
Of course, my bowels still weren't cooperating and I to drop off the trail before I even made it to the top of the next peak. When I was packing up and climbing up fifteen minutes later, Yard Sale and Mudmouth were passing me.
Right after that, we came to a pond that the trail looped around, and of course Copper had to go for a swim, but he didn't stay long enough to take a picture in the water this time.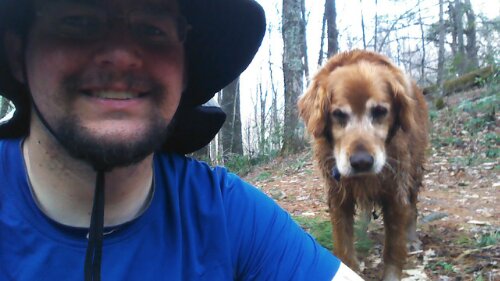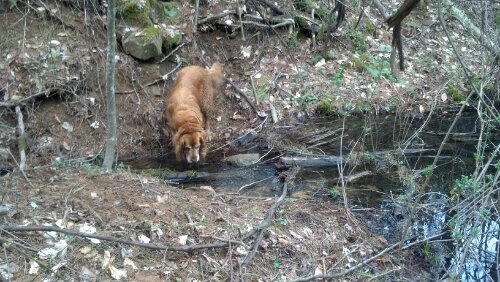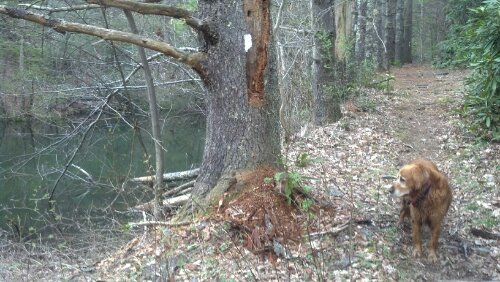 Soon the trail dropped back onto the Creeper again, and followed it for a half-mile or so. I couldn't help but write a song about it.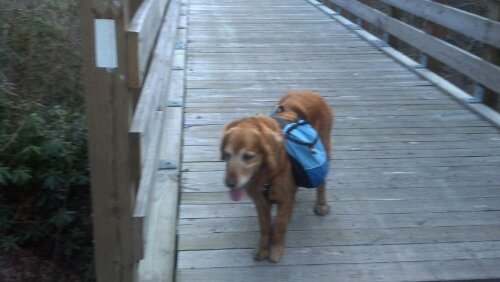 The final version goes like this:
Who's that keeping to the Creeper as he capers?
It's Copper. This is Copper's Creeper caper.
Keep on creeping, Copper!
No stopping!
Or sleeping on the Creeper 'cause no per-
son likes a Creeper stopper, Copper!
It was already dusk by the time we left the Creeper and turned into the woods, but we still had almost two miles to go. I didn't feel like stopping to get out my headlamp, so eventually we were walking by the light of the surprisingly bright crescent moon until we saw the flicker of firelight in the distance. A crowd was gathered around the fire at the shelter as Ambo picked away on his six-string.
The shelter was full, so Hitched Hike, Yard Sale, Mudmouth, Copper and I were all tenting out in the rain. Or so I expected. Despite the clear sky, it was supposed to rain, so I set up my tent in full water-shedding mode before cooking supper.
It turned out to only be a few sprinkles in the night, and it was merely cloudy and threatening when I packed my tent up the next morning. I was packed up and headed out by the time Hitched Hike even awoke. It didn't take long for the type of forest to change completely into something ancient-seeming and ethereally beautiful.

The weather held all morning, always threatening to rain with a few sprinkles before letting up again, though it was very windy as we came over Buzzard Rock.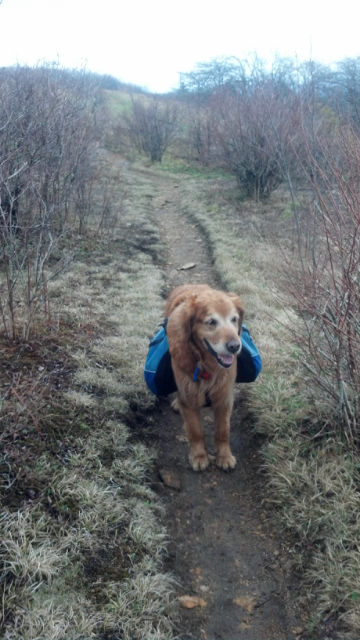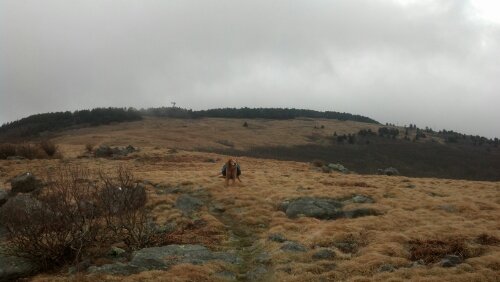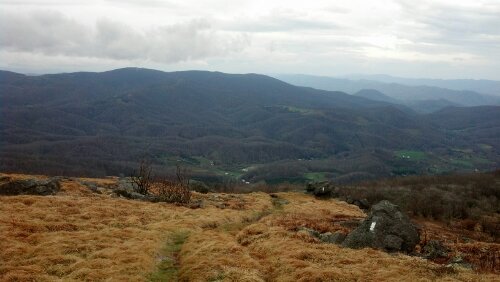 When we came to Elk Gardens, I was pleasantly surprised to find a fancy concrete platform long-drop privy right by the road. I took advantage of the situation, but when I came back out, it was raining in earnest. I still had a four mile slog up Mt. Rogers to Thomas Knob Shelter. This is where I found out what it meant to have huge cracks worn through the leather of my boots. It was only 3pm when I arrived, but already the entire upper story was full, staked out by Steak and Shake, Yard Sale, Mudmouth, Lady Grey and others. I took up a spot on the bottom and soon after Hitched Hike arrived and filled the remaining three spots on the ground floor.
Outside the shelter was no patio. Just a picnic table sitting out in the rain amidst a jumble of boulders separated by puddles and a spiderweb of clotheslines.
I met Clockwork when he offered to tie my Packa up at the end of one of those lines. He and his dog Arlo were out for his birthday weekend and he was giving out trail magic. He went back to his tarp while I changed and hung up my wet clothes all over, sat down to cook. About this time, the wind picked up and Copper jumped up into the shelter of his own accord. And this is how I found out Ambassador was a dog-hater. ("I like dogs," he said, "I just don't like them near me." Uh-huh. I'm putting him solidly in the category of people who call every dog they see "Fido". This is dog-haterese for "I'm totally not doggist! Some of my good friends are canine!") I gave him my towel to clean the mud off of his footprint and got Cody Coyote (who had passed me on Buzzard Rock and whom I had recognized immediately despite never having met him before) to retie Copper to the picnic so he couldn't reach the shelter.
Then Clockwork came back and passed around the Wild Turkey, and set up his mp3 player and speaker on shuffle to improve the party atmosphere. He tossed out an entire box of Fig Newtons as well.
When it was time to sleep, I retrieved Copper from the picnic table and tied him around the leg of the shelter so he could lay just inside the shelter and no further, but Ambo seemed ready to balk at him even being that close and Clockwork was ready to give me a lecture on dog etiquette even though Copper wouldn't be able to touch anyone's stuff. So I put my Tyvek on the ground over the mud and put my fleece on Copper with the leash so short he couldn't reach the shelter door. He ended up curling up on a rock behind another rock for a windbreak.
As it got darker the wind picked up and got colder until it seemed like the Coors Light train was rushing past the doorstep. I got up several times to check whether Copper was shivering and whether the wind had torn down the clotheslines and swept my raincoat away. Eventually, Mudmouth came down and hauled Copper bodily up into the shelter and woke me by dropping him next to me.
"Can he sleep here?" she asked, leaving him within inches of Ambo's footprint.
"Yeah," I answered, too groggy to think the situation through.
"I was just so worried about him," she said, the gale force winds roaring over her voice as they tried to tear the tin roof from the shelter. I hauled myself up and dragged Copper up onto my mat so he'd be away from Ambo and I could hang my legs over him for warmth. An hour later, uncomfortable, I dragged him up to the wall to serve as a pillow and get him further out of the wind.
But there was nothing I could do to keep him warm for real. He has no sleeping bag, and they tell me it got down to 14°F that night. Or 18°F depending on who you asked.
Either way, it was far too cold to get out of the sleeping bag in the morning when everyone was leaving. We took far too long to do everything that could be done from inside it. It was noon when Copper and I went down to collect water and probably past one when we went up to the summit of Mt. Rogers ahead of Hitched Hike, Clockwork and Arlo. Fireweed, who had just arrived, agreed to watch our things at the shelter while we went up. We all took some pictures, but these may be the only pictures I have of Clockwork.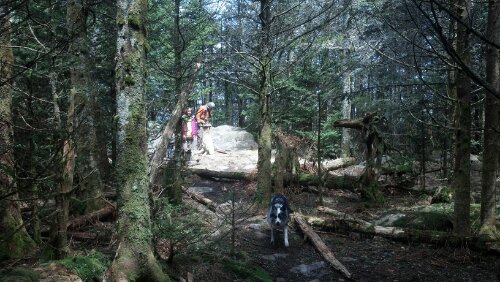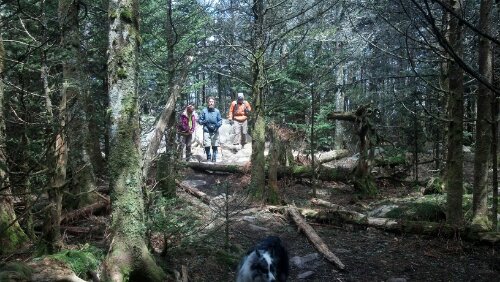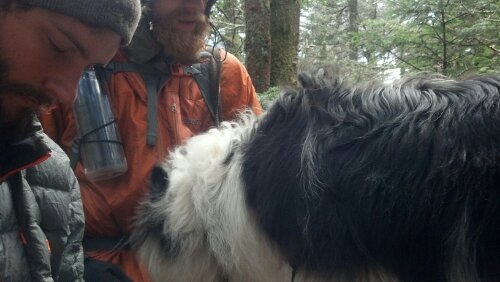 Since it was 4/20, he also spent a few minutes making sure that Mt. Rogers earned its title as the highest point in Virginia.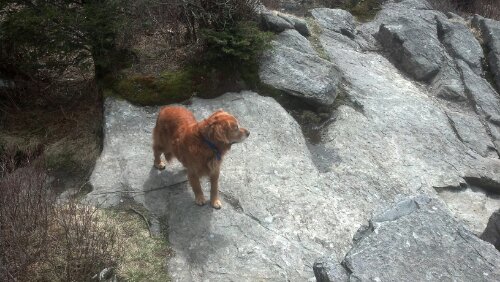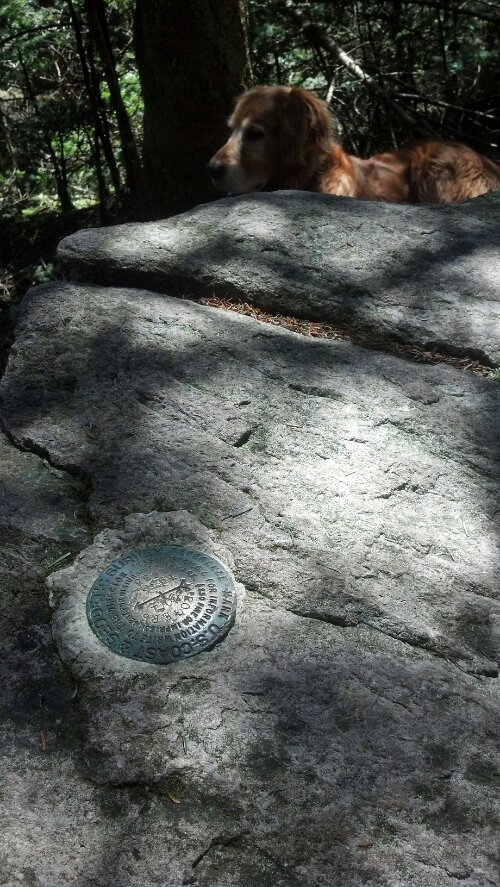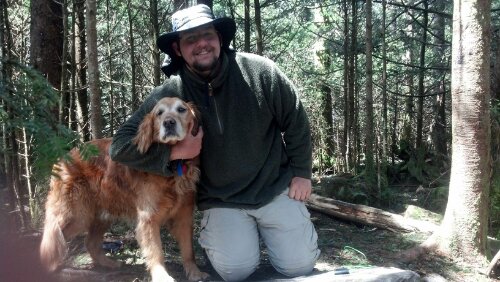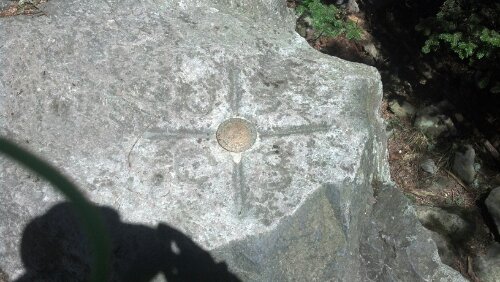 Meanwhile, back at the shelter, a certain someone had returned to her favorite hang-out spot (according to the shelter log). Our first of the day!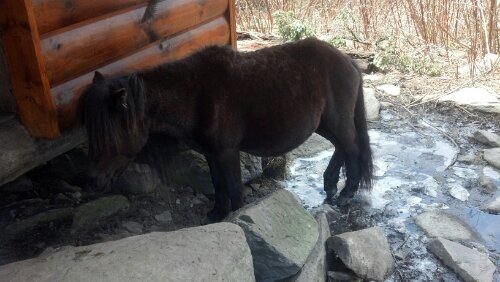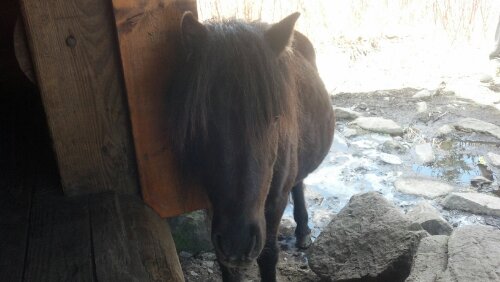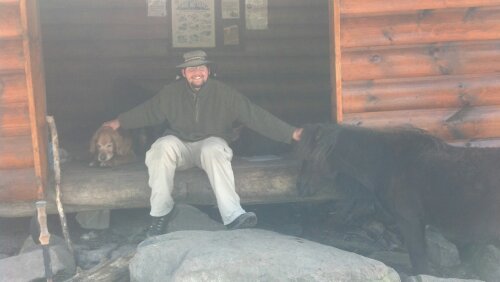 Clockwork had said several times that this would be the most amazing day we've had on the trail, and when I finally got us packed and ready for the trail, I quickly became glad that Copper had set me back a day by running off. Otherwise, I would have done this section of trail in the pouring rain. As it was, the weather was cool and clear: perfect hiking weather. And the scenery was just as beautiful as promised.



On the other hand, when from the time I got out of the sleeping bag to the time I came back down from the mountain and packed up, I had easily seen a hundred people on the trail and around the shelter. It was a Saturday, and every hiker in Virginia had called all their friends and boy scout troops and dragged them up to the highlands.
Nonetheless, the scenery did not fade in beauty for the number of people in it. Years ago, the Mount Rogers area and Wilburn Ridge were completely logged, and the cleared area was soon occupied by farmers grazing their cattle in the highlands. When the USFS bought the land and the cattle were moved out, they found that the land, which everyone thought was absolutely beautiful just the way it was, soon went to seed and would shortly be covered with forests again, so in the 1960s, they introduced the Highland Pony, a hearty breed who would keep the grasslands in check while still being able to survive the harsh winters.
Just a couple of miles from the shelter the trail went through a fissure called the Fatman Squeeze. Copper, less adventurous than I, routed around it on a bypass trail and met me coming out the other side.
Wanting to get in at least a few miles on such a nice day despite my late start, I rushed ahead and passed most of the other groups out on the trail. It didn't take long to arrive at Massie Gap, where I was first surprised by two ponies suddenly galloping out of the woods in chase, but soon discovered an entire herd that liked to hang around there and enough people feeding them to encourage them to continue. After taking a video, I moved on.

Copper and I stopped in at Wise Shelter, just five miles from Thomas Knob, for an early supper, where a group of boy scouts were set up in hammocks. I hung out with them and their troop leaders as I cooked, and slowly a whole slew of thru-hikers filtered in, including Sophie and her owner and friends, and many I never met. One had carried a cake and frosting from Damascus to celebrate 500 miles (as Wise Shelter is near the 500 mark from Springer, though only about 334 for me) and I frosted his cake for him before moving on.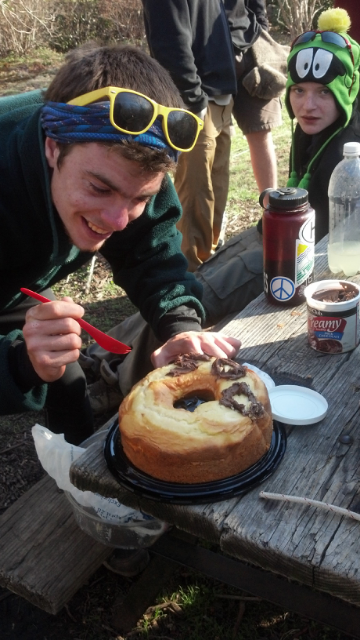 I would have felt guilty only going five miles on such a nice day. Besides, the area around the shelter was like Woodstock with the number of tents going up around it, despite the rules against tenting in the park. The park boundary was just a few hundred yards away and even more tents were going up on the other side. We passed several more busy campsites in the woods over the next couple of miles. A very popular weekender retreat, it seems.
Just 3 miles from the park was the Scales livestock corral, where farmers used to gather their cattle to weigh and sell, having learned that cattle lost a lot of weight walking down the mountain to the city. The Highland Pony Association still probably uses it for their annual pony roundup. But mostly it's a large fenced area dotted with fire pits and a two-sided long drop concrete floor privy building in the corner. I stopped to take advantage of this latter, thanking Virginia for putting privies anywhere and everywhere. (Back in Damascus, Meadow Flapjack explained to the Trans-Am cyclists that a toilet seat is really all that separates mankind from the animals.)
Afterwards, seeing there was still a bit more daylight to be had, I went a mile or so more, passing a nice campsite occupied by Chris who was going south and didn't seem to particularly care for company to find a nice spot next to a spring and suffused with a wild onion smell. I think the final mileage for the day came out to right around 11 miles counting the slackpack to the summit of Mt. Rogers, which is an acceptable distance. But it became unacceptably far when it struck me that I'd left Copper's leash lying in the mud tied to Thomas Knob's corner post where Mudmouth had dropped it in the middle of the night. It wasn't hard to decide to leave it there, figuring I could get a new leash at the Wal-Mart in Marion (which I did, and it is identical to the one I left except for being thinner and lighter and less handmade, all of which works in Copper's favor, since he's the one has to carry it).
In the morning, I awoke to the sound of my phone alarm going off. It had somehow turned itself on in the night and was now at 10% where it had said 65% the night before. I quickly turned it off and tried to charge it, but my mobile battery appeared to be drained too. I set it out to catch some of rising sun's feeble rays before beginning packing, moving it several times to brighter spots as I did so. I listened to the last side of A Storm of Swords as I packed, and, not having downloaded A Feast For Crows in a readable format, I wondered what I would "read" or listen to on the trail.
Of course, preoccupied with this consideration, I walked off without the battery. I was on the other side of Pine Mountain going down, about 1.5 miles and a Break of Reality album into my day when it hit me that I'd left it there in the sun in the campsite. I found a memorable spot to drop off the trail and stash my pack and Copper's, and no sooner had I started back up the hill than I met Fireweed headed down the hill. She offered to take Copper to the next shelter and wait for me there so he didn't have to walk the extra 3 miles, but he refused to go anywhere except where I was going, and without a leash, who could insist otherwise? However, it was an easy trip back over Pine Mountain without a pack, because, as you may or may not know, taking off your pack turns you instantly into a fleet, light-footed gazelle. I practically ran the whole way, easily pulling off the round trip in half an hour, though I had to pass person-by-person through yet another boy scout troop on the way back down. I got to stop and talk to the same troop in the Old Orchard Shelter which was just down the hill. I stopped in for a snack but soon moved on.
At the road at Fox Creek, the boy scouts loaded up for the drive to their local Bojangles, and I spied a line of porta-potties in a roadside campground just down the street. It was a very nice walk-in campground with both tent sites and posts to tie up horses or hang hammocks from. I made use of the large plastic facility (with TP included) before pressing on. I passed a woman near the Iron Mountain Trail crossing who'd already done over 20 miles that day (it was about 2:30). She looked about 60, and I was fairly impressed, though she was carrying little weight and had started at 7am. Next stop was the Hurricane Mountain Shelter, where Hitched Hike were talking with Fireweed. Fireweed is a retired SINK from Anchorage and Little Engine especially seemed quite certain they would show up on her doorstep someday and go flying in her Cessna.
When they left, I chatted with Fireweed for a while as I cooked my early supper/late lunch. She was most interested in getting a picture with Copper to share with her friends, but she also had to read for me the pine tree jokes Hitched Hike had left in the shelter log.
Q: What's a pine tree's favorite drug?
A: Heroin (because it requires a needle)
Q: What's a pine tree's hobby?
A: Sewing (same reason)
Q: How much beer does a pine tree drink?
A: A pine-t
Q: How does a pine tree eat its ice cream?
A: In a cone.
This is how I learned that Hitched Hike are terrible people. I found a book in this shelter too, and packed it out on impulse, thinking it might occupy my nights like ASOIAF has been doing. It's called Brandenburg, and so far it seems melodramatic and poorly written.
Very little happened between here and the next road, where I stopped to give Copper his supper, but just up the hill I found Fireweed in the woods having already set up her hammock. She seemed to think I couldn't make it to Trimpi Shelter by dark and that Copper didn't want to go on anyway, but Copper seemed just fine to go on to me and I didn't particularly care if we stopped short.
We ended up dropping off the trail at a saddle on Raccoon Mountain, passing a campsite where Rainbow Braid and Movie Star had set up and continuing down to the real campsite, which had two springs, a fire pit with benches around it, a picnic table and a privy. I set up the tent on a nearly-flat clearing under a pair of rhododendrons.
In the morning, I cleared out about exactly the same time as Movie Star and made it the 2.5 miles down to Trimpi Shelter by exactly the time HitchedHike was rolling out from there. I stayed right behind them the whole way down the hill. I caught up when they stopped in a pasture to call up a starving-looking blue hound puppy running stray. They gave it some tuna and tied a rope around its neck to lead it to town.
At the bottom of the pasture was a semi-permanent trail magic emplacement from the Valley View Baptist Church, and Movie Star and several others were already enjoying it. Little Engine didn't stay long. She nearly ran ahead. I almost caught her once but she kept that puppy moving. Ambo flew past me on a long uphill, and Timber came trailing behind when Cop and I had stopped for a snack. After that hill, the trail became smooth and nearly level dropping down to follow a stream and then climbing slowly out to Partnership Shelter and the Visitor's Center. I arrived around 2pm, setting a new speed record of 13 miles in 5 hours. Everyone was there setting up tents and whatnot, while Little Engine waited in front of the Visitor's Center for Animal Control. Most folks were planning to take the $.50 shuttle to Marion, but the rangers told me they wouldn't carry a dog. I got a soda from the machine and went outside and found a lady coming in for some maps and she told me to ask her friend for a ride. It was 7 miles out of their way, but they took Copper and me all the way to the Econo-Lodge in Marion. Thanks, Brenda and Sheila!
After checking in and showering thoroughly, I walked to the My Puerto Mexican restaurant and had a T-Bone and enough beer and margarita to put a buzz on. I swung by the Wal-Mart on the way back for Copper's supper and some cosmetic necessories. On the way I found a little piece of American history:
I had intended to finish writing this post that night but there's so much work to be done in town that you don't feel like working during your downtime too. I ended up watching most of The Transporter and an episode of A Game Of Thrones while I washed all my clothes in the bathtub instead.
In the morning, I went and grabbed a poor excuse for a continental breakfast in the lobby, walked Copper a little, hung out some still-damp laundry on a fence and went back to Wal-Mart and Ingles for my food, then returned by 11am. That meant a mad rush to repackage the food and pack up before the noon check-out time. I got a call and it ended up taking until 12:05, but the manager didn't care. We walked up to Sonic for a burger and a shake, and while we sat eating, Twilight, Umble, and Ocean Spray showed up for some of the same. We discussed splitting a cab, but I soon wandered off to find a power outlet and an ATM. I came back to get the dog and told them to meet me in McDonald's if they wanted to taxi. Turns out the $.50 shuttle picks up at McDonald's if you want it to, so I had to take a taxi alone.
About the time the cab arrives, I realize I don't have my hat and I don't know where I left it. I ask the cabbie if we can swing by the hotel (a half-mile down the road and on the way) long enough to ask them if they had my hat, and he said that that would be an additional four dollars. I was outraged, but I was too flustered to think of calling ahead or insisting on walking there and figured my hat was worth more than $4, so I agreed with many loud complaints.
After I was back at the Visitor's Center and thoroughly ripped off, I asked the rangers if they'd seen a hat, and they had. Turns out I'd left it on the vending machine. Pity for them, since I would have bought a souvenir cap from them if they hadn't found it.
I sat down in the corner and worked on this blog for the half-hour or so before the center closed, and then I packed up and moved on. It was slow going because Copper doesn't move quickly when carrying a full load of food. I decided to try out the radio receiver on my mp3 player, and the first station that came up was the local NPR. I listened to the news and the weather, a discussion of internet in developing countries, a business report, and a long interview with Matthew McConaughey. I passed Fireweed (who complained that I wasn't going Copper's speed) and soon found myself at an overlook with the sun just beginning to set. I decided to eat supper here (I'd brought some pulled pork sandwiches from town) and sit for a half-hour watching the sun set.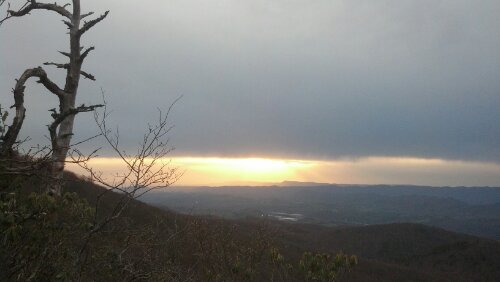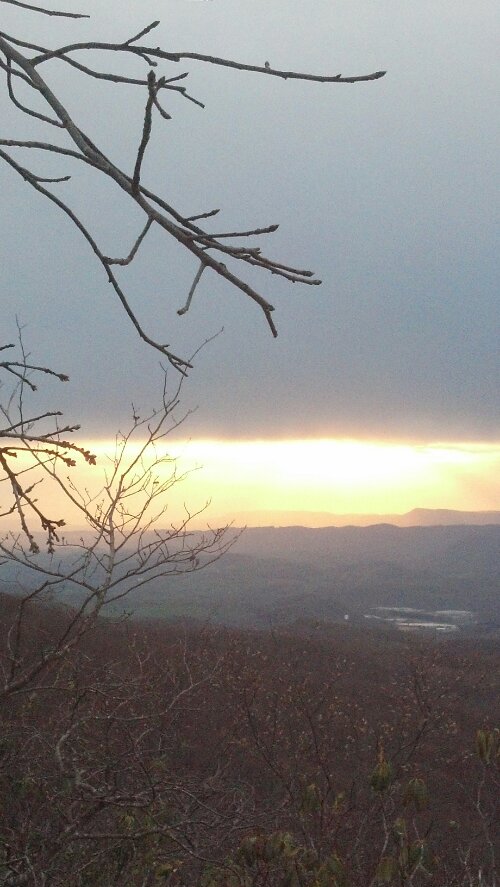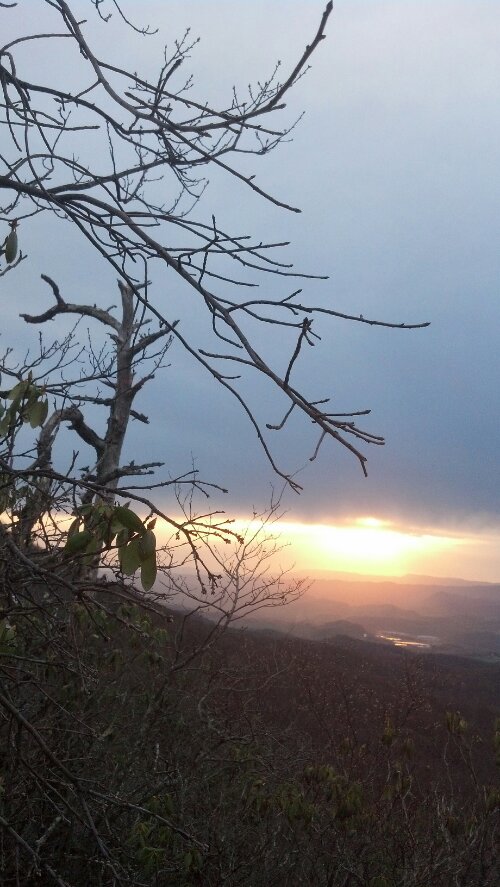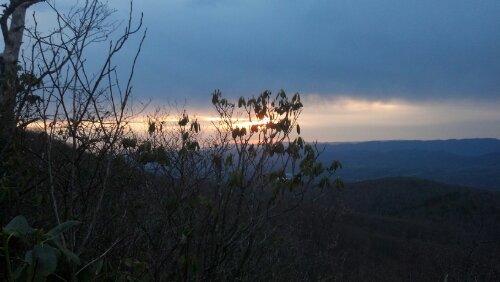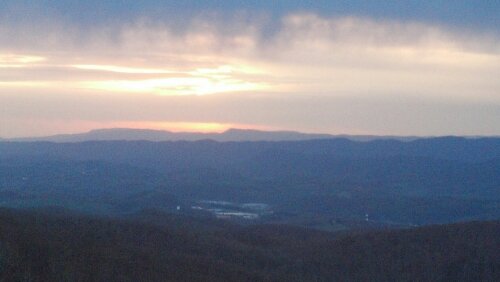 That meant walking down to the shelter (less than a mile) in the dim dusk light, which would have been fine if their weren't a rock staircase with its heart set of breaking my ankles. I stopped to consider it for a moment, then stepped down onto the first step gently. The leaves hid the edge of a rock, so my foot immediately buckled and I slammed down instantly onto the hard rocks. Or, in Umble terms: I stumbled on the stair, tumbled down onto the rocks, mumbled something unkind about the rock's mother, fumbled around to make sure all my limbs were still attached, bumbled my way to my feet and the bottom of the stairs, and grumbled all the way down to the shelter at the bitter taste of my humble pie.
Umble was at the shelter of course, along with her sister Twilight and nerdy friend Ocean Spray. Karl was also there tending a healthy little fire. It looked like everyone was finished with supper, so after a little joke-telling and talk of food (Fun fact: The average hiker thinks about food at least once every 7 minutes!), everyone was drifting off. I dragged Copper up into the shelter and put my fleece on him, even though it only getting down into the forties.
This morning was beautiful, and I was up and out of camp first. The four miles into Atkins was easy and mostly flat. At one point I passed an "1890 farm" and a schoolhouse looking about that old down the street from a museum. I'm finishing this post from a restaurant just off the trail called The Barn, famous for its 1lb. Hiker Burger. I had breakfast here (so I won't be able to pack in the full pound unfortunately) and they gave Copper a tray of bread with beef gravy. As soon as this is posted, I'm jumping back on the trail. It's supposed to get blazing hot this afternoon before the thunderstorms start around 4pm. I wonder if the rain will be welcome by that point.
Next post most likely from Pearisburg. Over and out.