So, when I left off writing two weeks ago, I was in Palmerton, PA, June 1st. I woke up in the Jail House Hostel fairly early, and immediately crossed the street for the laundromat to put a load in. Then, I got into the diner with a line of other hikers (Rolling R and the Aussies were there) to get breakfast. Although, I planned to be in town most of the day, I was still hungry early and all slept out.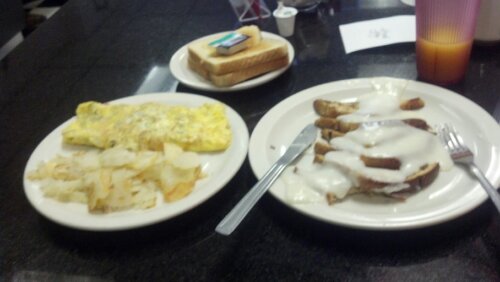 In addition to laundry, I went down to the Harvest grocery store to get a cake and they gave me a free apple to go with it (as with all hikers who shop there). I went to the pharmacy for health essentials and to the Chinese restaurant for lunch. I went to the library and read the beginning of A Dance with Dragons since Wryen never sent me that one chapter. At some point, it started pouring rain, and at some point a man came into the hostel to talk to another hiker, and I overheard him saying that they allow hikers to stay a second day if they came in Sunday. A bit intimidated by what I'd heard about the climb out of Palmerton and deciding it might be dangerous in the rain, I just unilaterally decided to spend another night in the hostel. I finished the Visit to Hell book and went down to the Palmerton Hotel for a cocktail, a beer, and a soda. I don't even remember what I ate. Probably wings or a burger or something. I bought a bottle of bug spray which was 27% DEET to combat the prophesied mosquitoes of New Jersey, and made the terrible mistake of leaving my can of Lotrimin Jock Itch Spray, my chafing treatment, because I hadn't needed to use it in a while. This was like, as Justice Ginsburg put it, putting up my umbrella because I wasn't getting wet, or as Colbert put it, removing the dam because the riverbed was dry. Whichever metaphor you pick, it was a bad decision.
The next morning I had breakfast at the diner again, packed up, and walked out of town. This time, I got to see the other end of town up close, as there was no one to give me a ride. I turned down a road adjacent to the highway which leads to the Winter Trail, and is only accessible from town on weekdays because a landfill or factory or something has a gate across the bridge. I had to squeeze past a dumptruck and between some barriers to get to the trail. And half of the trail was swamped, ankle deep at times. My socks were macerating by the time I reached the Superfund Detour trailhead proper.
The ridge above Palmerton was, until just a few decades ago, the site of a massive zinc mining operation. (You can look down from the ridge and see the remains of the plant.) It is now the home of a massive EPA remediation project, trying to reintroduce a variety of plants and animals to the area. For the foreseeable future, however, it will be completely deforested.
The AT climbs straight up the rock pile left over from all that mining, which basically meant that I had to put up my trekking poles as soon as I got above the trees and use my hands to get over several ledges and short climbs. In other words, it would have been a chore to do with Copper. Without him, it was a joy. A fun climb with continuous unimpeded views for miles out of Palmerton.




Also, the blackberries were absolutely thriving in this area. I stopped time and again to wade through some tall grass for better access to the blackberry bushes.
A mile or two past where the Superfund Detour rejoined the old AT, I stopped in a small grove of pines and hung my hammock, expecting another storm to come through, and storm it did that afternoon. When it died down again in the evening, I packed up and hiked a few more miles to Delp's Spring, where I hung my hammock, then rehung my hammock because I'd not picked a sturdy enough limb the first time, then made supper just in time for the sun to set. I managed 10 miles that day.
The next day I got up pretty early, walked down to the spring to fetch some water, and quickly covered the 6 miles to Leroy Smith shelter, where a number of folk were waiting. This shelter was just barely past my own personal halfway mileage point and I had to stop in and eat half the cake I packed out. A few people were there, including an old sectioner I never met again with an unestablished trail name, Abe, and Two Ducks. Lady arrived while I was eating, but only Abe and the sectioner shared the remaining half. Apparently, folk don't like to eat cookies-and-creme cake when they are hiking. I left the remainder for anyone else who would come through that evening.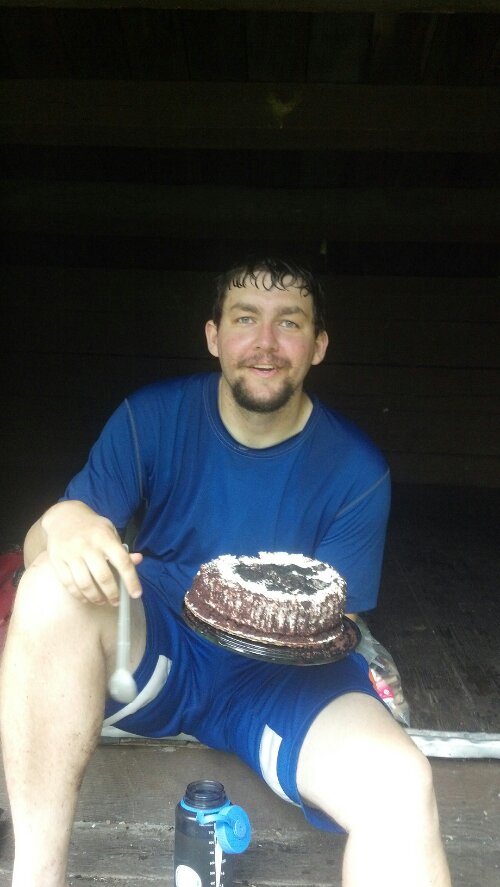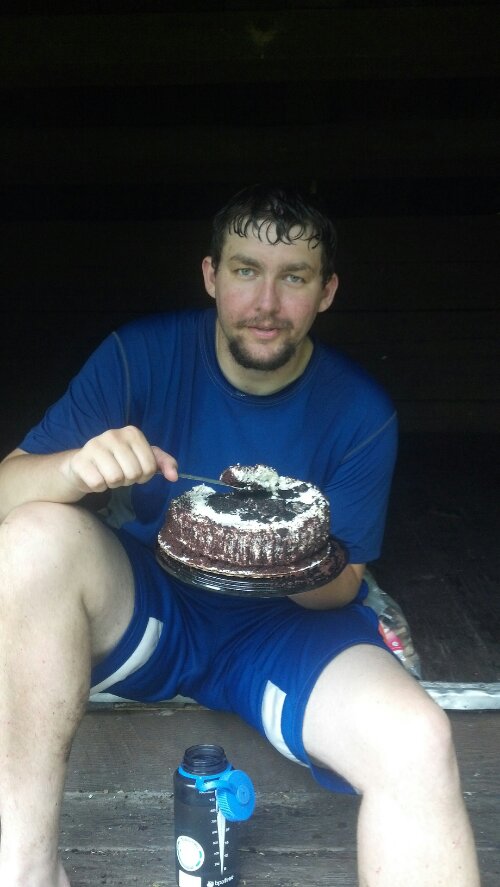 Then, feeling the rising temperature, I hurried the last four miles into Wind Gap. I was chased the last mile by another guy (Monkey or something like that) who was like the wind himself. We chatted as we did the road walk under the highway, and he said some things very revealing about the hiker spirit. He explained that he'd already done 26 miles that day, which I, at first, took to be the total miles he was planning to do, but no, he was planning to do 36 miles, as in, get on the trail again from the road and do another 10 miles, despite it being almost four o'clock already. I asked him if he did that kind of mileage everyday, and he said, "No, I normally just do 20-25 a day. I'm only a little bit sadistic." I almost corrected him, but then I realized that sadistic actually was the right word for the way hikers feel about their bodies. They almost universally operate under a dualistic paradigm, treating their bodies as slaves to be pushed and pushed further, no matter how much it groans and complains. And the body responds by adapting and becoming tougher, leaner, harder, though perhaps not healthier. Indeed, illness of one sort or another is rampant among hikers. It's almost enough to give some insight into the life of primitive man, depending upon the kindness of the blind idiot goddess Mother Nature to keep them healthy and fed. Almost, but not quite.
Because when he turned back into the woods, I kept walking the road right into Wind Gap, and right into The Beer Stein, a bar known to hikers as "that place where you can camp and then make yourself a huge fancy breakfast in the morning. It's also popular among the locals as "that place that makes cheap, delicious tacos on Wednesday nights". I got myself a beer and an amazing salad, and one of those tacos. I sat in there for hours as the sky got cloudier and more locals came and went, charging my phone and looking at the internet. One guy who could control the jukebox from his tablet came over to talk about plants for a while, and then Lady showed up and shared my table for a bit. Just before dark, I went out to the woods adjacent to the property to find a place to hang my hammock, and when that was done, I returned to the bar, where Bottle Cap and Fun Size had arrived and were now eating. I ate some of their leftovers and drank another beer. It was fully dark by the time I got to bed.
I awoke before the bar opened in the morning, and Bottle Cap, Fun Size, and Lady were still there, though they had already packed, and were seated on the patio planning their day. The plan was to hike all the way to Delaware Water Gap that day, about 16 miles of hiking, and stay at the Church of the Mountain Hiker Hostel. I adopted that as my own plan, but the bar opened before I could get my hammock down and packed. I went in with the others before the others, and received a tour from the proprietor of the kitchen and food storage area. By the time the others came in, I had gathered most of the ingredients for a proper breakfast burrito (my way!). As Lady is a vegetarian, they set about preparing a sort of huevos rancheros.
We enjoyed our self-prepared meals with coffee and orange juice while watching reruns of the Colbert Report's coverage of the Supreme Court's Voting Rights decision, and gave our dishes to the employees who were filtering in to wash (at the proprietor's insistence). The others headed up to the trail almost immediately, and I had to finish packing, which I did alongside a man welding a new safety rail for the wheelchair ramp. Finally, I walked back up the hill out of town and got back on the trail.
The last 16 miles of Pennsylvania were hardly interesting. I caught up to Fun Size and Bottle Cap at a spring, where they were eating last night's leftover burritos, and got some water. They left before me and beat me to Delaware Water Gap by hours. Wolf Rocks was a pretty view, but it wasn't hairy trail. In fact, none of that section was particularly annoying compared to the rest of Pennsylvania.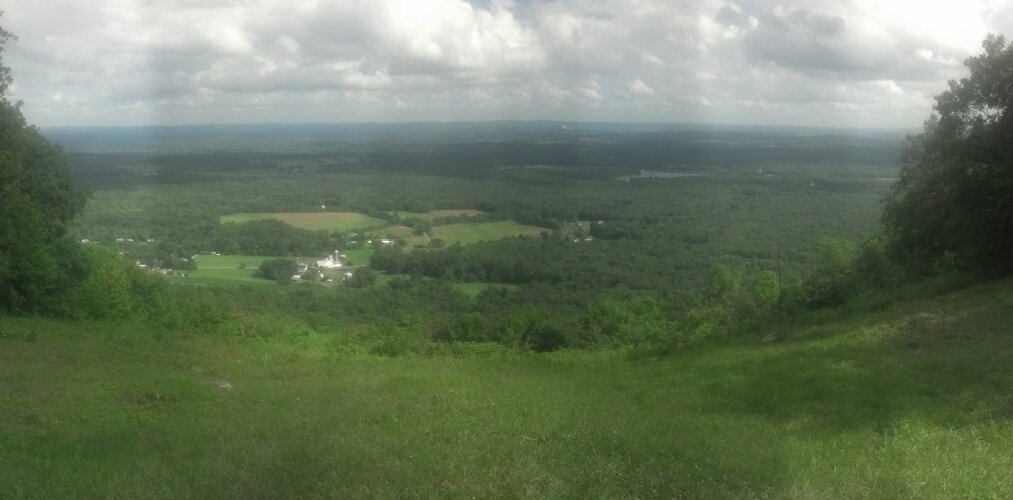 It was already starting to get dimmer by the time I reached the top of Mt. Minsi, and my shorts had been so soaked through with sweat and really never given a chance to dry from all the rainy, humid weather, that the chafing was coming back. I walked down the back of Mt. Minsi pulling my shorts up into my crotch to numb the pain with one hand. Splashing water from a stream on it only made it burn more. I couldn't stop moving, despite the pain. I was entirely focused on making it to the hostel so I could get dry and stop walking.
Everyone was already there when I arrived, and had been for hours, but there was on old guy there sitting at a picnic table who says he's going to drive into East Stroudsburg to see the fireworks for $2. I barely had enough time to drop my bag and claim a bunk before we had to go.
We went to the WalMart, and I picked up another bottle of Lotrimin to replace the one I dropped in Palmerton, after which it was almost time for the show to start. He drove me to the other end of the parking lot and told me to climb the embankment and go to the bridge, and that he would park the car and come find me on the bridge.
I climbed up the embankment and sat in the middle of a large number of Latino families. I watched half the show here, then decided that I might be able to see better if I got a bit closer and had fewer people in the way. I watched the finale from the bridge, and then sat there on the bridge for half an hour. The man never came around.


Now, of course, I hadn't eaten since lunch, some 7 hours ago, and I was in actual pain regarding the lack of food in me. I gave up and walked down to Arby's. I got them to give me whatever was ready already and could be served up fastest. Turned out to be a roast beef sandwich and fries. I called a taxi while I ate, and then my phone died.
Two hours later, the cab not having yet arrived, I got an employee who was about to go home to call them on her phone, and they said it would be yet another half-hour. I was falling asleep on the bench in the Arby's when they finally showed up.
Despite the fireworks-related price increase, he agreed to take no more than all of my remaining cash–a bit over 11 bucks–in exchange for the trip back to the hostel. When I showed up, everyone was already in bed, but they all woke up at my entrance and exclaimed their worry and relief, having heard from the man who'd returned without me that I was missing. He had been waiting in the parking lot, in a spot that I had never seen or known, without either of us having the other's phone number, and despite the fact that he said he'd find me on the bridge, for the entire half-hour I'd waited for him. It goes without saying that I never paid him $2 for the trip.
The next day, I went down to the one diner in town for breakfast, then went up to the post office to get a package (the socks and stuff sac that I bought in Hamburg and had shipped from Duncannon when I left them in the van) and send another (enough cash to cover the postage on the package I received), then to the outfitter to get a Platypus water bag to replace the leaky bag that came with my Sawyer filter. Then, I encountered the whole gang walking down the street: Fun Size, Bottle Cap, Lady, Abe, and Two Ducks. So, expecting they had found a way to go see a movie in E. Stroudsburg as they had been discussing. When we reached the gas station at the end of the road, I went in to get a powerade, feeling a bit dehydrated. It was buy one get one half-off, so I got two. When I went out, the rest of the group had vanished, so I started walking back up the street and called Abe, who I'd had the foresight to ask for a phone number. Turns out they were in the river trip and shuttle service across the street, and had already acquired a van into town for $4 each. I paid and we got in. First, back to the hostel to drop some stuff off and pick some stuff, and then to the Stroudsburg mall. I watched "This Is The End" with Two Ducks and Lady, while Bottle Cap and Fun Size watched "Monsters University" and Abe watched "The Lone Ranger" by himself. Afterward, we ate lunch in the food court and called the shuttle back. We never really explored the mall, though I did attempt to find a new water-proof case for my phone, since the one I picked up at Harper's Ferry was falling apart and not responding to glue. Not enough time or selection. We went back to the hostel.
Later that night, I walked down to the Sycamore Grill for dinner. I watched Jeopardy and the first episode of Siberia on the TV above the bar, and listened to a lone guitarist butcher pop hits like Alex Clare's "Too Close" (not enough wubwub). It was getting dark by the time I got back to the hostel, but we ended up chilling in the common room for hours, looking at what Fun Size and Bottle Cap had gotten in the mail. Neither Lady nor Fun Size could eat fish so the peanut butter with Omega 3's from sardine oil went to me. Score!
The next morning, I was not the first to get up, but I definitely left town well before those of us who went to the mall. As soon as I got over the bridge, and through the water gap's recreation area and back to the real trail, I had to cover myself in bug spray and put on my headnet because of the mosquitos, and I suddenly had to go to the bathroom. The porta-potty placed there was not only full but disgusting, so I decided to hold it for the 3 miles of hill-climbing to the backpacker's campsite, where there was a privy. I can't always make it that long, but this time I was able.


After a brief stop there, I was at Sunfish Pond, a beautiful little natural glacier-scoured lake at the top of the ridge. Swimming was not allowed, but I did read it was so acidic that only hardy-but-useless fish like sunnies could survive it.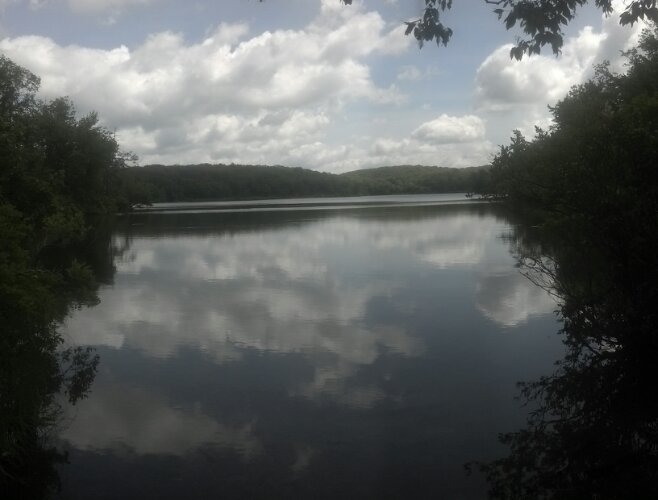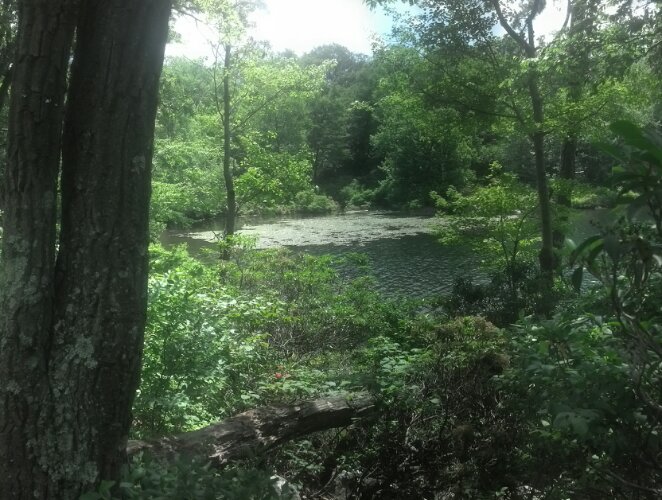 Not long after turning away from the pond, I arrived at the road crossing for the Mohican Outdoor Center, where I stopped in for a sandwich. The MOC is an AMC-operated property that was once a Boy Scout camp.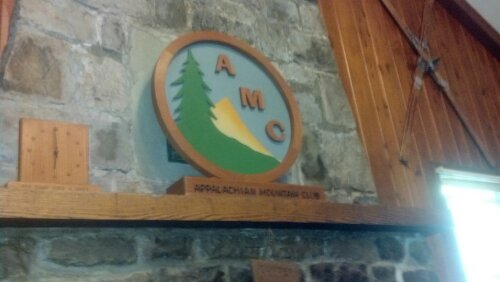 They told me how to get to the camp's swimming pond, and I spent the entire day there, five solid hours of swimming. The pond and the camp was overrun with twentysomethings, a summit of door-to-door environmental/political canvassers, which were fun to be around and swim with but largely insular. I interacted more with the few other folk who were just visiting. For instance, these guys who showed me a new game: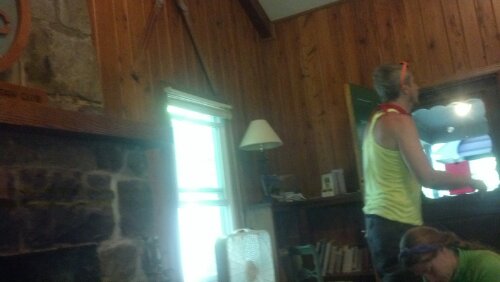 When I finally dressed and returned to the main building, they were making a meal for a small group, a reunioning family. For $17, I was able to buy into the meal (as they always make enough extra for a few people to buy in). It was veggie soup, pasta primavera, and bread, plus subtly-flavored water. Dessert was a pile of mixed berries with cream.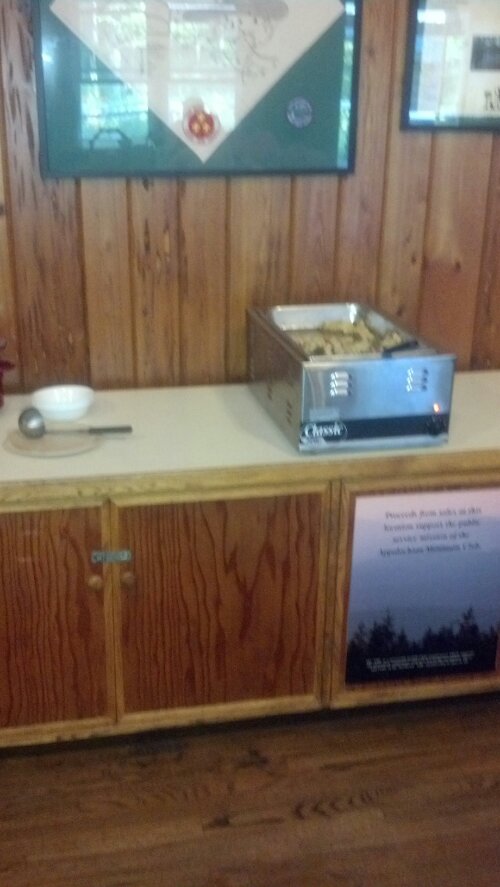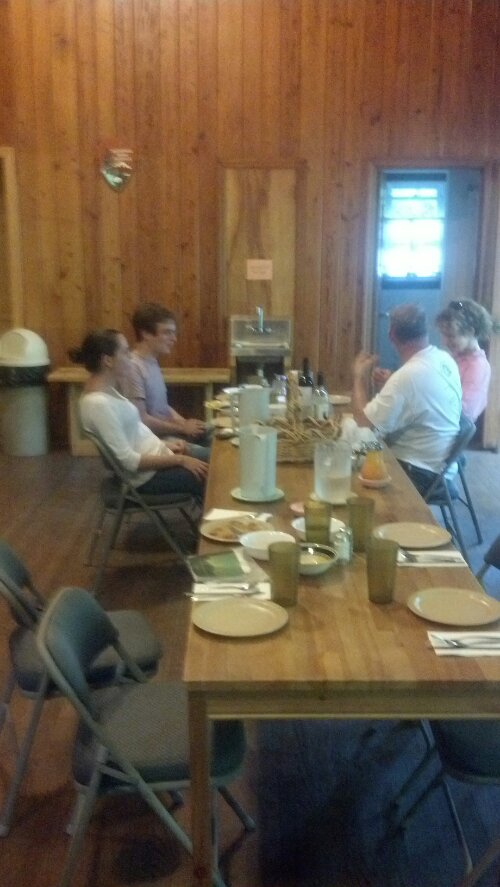 After supper, I packed up and headed up the trail, hoping to make it to Catfish lookout tower in time for sunset. There were a surprising number of people just sitting up on the ridge when I got up there, and they had most of them seen a bear just ahead of me, which I never saw. The two miles was too far to make in the time between supper and sunset, and it was nearly dark by the time I reached the tower.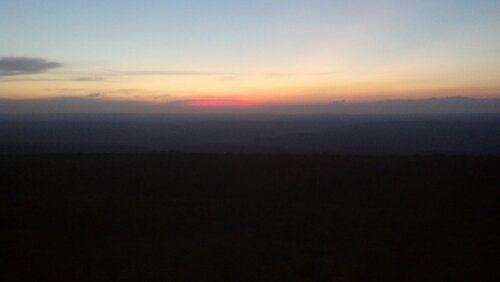 There were three other dudes there already, out for a short weekend section hike, friends from close to Newark. Once I had my hammock hung from the tower's legs, we chatted until the mosquitos got too annoying to bear. One guy climbed up to sleep on the third platform and the rest of us got inside our proper bug protection. And that was my first day in New Jersey.