Since the trail came out onto Depot St. in Dalton just feet away from a hardware store (L.P. Adams) which was known to provide alcohol/oz. to hikers, I thought I'd try to see if they had any propane canisters, since my cans were feeling a bit light. Of course they didn't have it.
So I headed down Depot St. until I arrived at some promising-looking town food. A chain of businesses was built right into an old, old depot, one of which looked to have some good beer and pub grub (Mill Town Tavern). I tied Copper to a bench out front and filled his bowl with water, then claimed the window seat just inside so I could watch him and my backpack while I ate and charged my phone. I was finished with my meal by the time I saw the two from the shelter arrive, having had a number of issues getting to town. I believe I was leaving by the time they decided to grab some lunch there too.
I'd finished the audiobooks I'd downloaded in Great Barrington within 2 days, and had spent the entire previous day listening to NPR. Every time the local news came on, they ran a story about upcoming laws requiring businesses to upgrade to more energy-efficient refrigerators over the upcoming years. This piece featured a sound bite from John Kelly of Kelly's Package Store Inc. in Dalton, MA. When I heard the story, I decided since I was going to be in Dalton, I should drop in to Mr. Kelly's store and say "Hi!" So that's where I went next.
It was quite possibly one of the most impressive liquor stores I'd seen in months, and incredibly convenient to the trail. More than I would have expected from a town as small as Dalton. Most impressive of all was the fact that they had Dogfish Head's 120-Minute IPA in stock. Yes, they were charging $12/bottle (when it's ostensibly only $8-9 in more urban areas, according to the Internet), but the truth is, I've literally never seen a bottle of the stuff anywhere and I've always wanted to try it. So, of course I bought it. (Spoiler Alert: At 120IBUs and 15%ABV, it's the second-strongest IPA I've ever sampled, and amazingly flavorful.)
As I was checking out (and adding a treat for Copper to my purchase–the first time I've ever bought dog biscuits from a package store), I asked whether John was around, and was informed he was "right over there," so I went to meet him.
"I heard you on the radio. On NPR."
"What was it about?"
"Something about installing efficient refrigerators."
"Did I sound like I knew what I was talking about?"
"Sure. Seemed sane to me."
"Yeah, some kid came in here and asked to interview me and asked all kinds of crazy questions. I had no idea what it was about."
I loaded the beer into Copper's backpack and went next door to the post office. I had shipped some food here from Kent a couple of weeks before and forgot what it was going to be. Also, I needed to refund Jone the postage costs for overnighting my replacement cellphone to me. Finally, I needed to stop carrying two phones around, and ship the broken one back to the warranty center.
All in all, this took me about 40 minutes, most of which was spent in the grass under a tree sorting through the contents of my food box, which seemed to contain about 1 part regular trail food to 1 part Twizzlers. I believe I packed most of it, but ended up still having enough left over I could ship some to Manchester Center, VT.
From there, we walked a bit further into Dalton, to the Dalton Free Public Library. As I mentioned above, I was in need of more audiobooks. It only took until about closing time to get a few more days worth. I then had to walk back into the middle of town, get on High St. And follow it up into the woods. I made it as far as where the trail turns into the woods before I had to get my headlamp out, which means about a mile of roadwalking. (Dalton probably contains the second longest roadwalk on the trail, after Duncannon, PA.)
From there, it was only around three miles to Crystal Mountain Campsite, which I powered through by cranking up another Dresden story and drowning out the night. At some point, I vaguely thought I heard voices in the night, but I get audio illusions like that all the time when audiobooking, and guessed it was probably more birds. I found out the next morning it was Damselfly and The Voice and other trying to get my attention from their stealth hammock nest.
When I arrived at Crystal Campsite, Zeke and another had set up a blazing huge fire on one side, while Painless and daughter had a smaller one on the other side. It seemed the former were about to go to bed, while the latter wanted to chat for a while. Being in the same mood myself, I hung my hammock near the latter campsite. Finally set up, with Copper fed and medicated, I finally got to crack open the beer, and try to make a dent in my blueberries. In fact, I had nothing but blueberries and beer for supper. I finished the bag. It's amazing how filling two pounds of blueberries can be. Who would have thought? At some point someone else came around and hung a hammock next to mine, but went straight to bed and didn't chat with us.
In the morning, I got myself fed and packed while Painless tried to make pancakes in the fire. They mostly came out burnt or deformed, which is about the best I've ever been able to do without teflon too. Some of them they improved slightly by the end, and by the addition of the blueberry juice left over for the purpose from the previous night's binge.
When I left, it seemed that Zeke and Co. were still asleep, and showing all signs of staying in bed until midday. But soon after we pulled out onto the trail (somewhere out on the Cobbles), The Voice came up behind me moving pretty quick, so we had a good chat about whether people who skip sections of the trail should claim to be thru-hikers, the fact that the warrior hikers had skipped significant portions of the trail, the benefits of thru-hiking to the newly reintegrated veteran, and the downsides of the warrior hikers' media attention and grueling meeting/press schedule. We arrived in Cheshire in around an hour, not really noticing anything around us as we went.
We both agreed that we were starving when we arrived, but The Voice was a bit worried about having enough cash for it. I said I'd cover the price of a meal and drink at the Cobble View Pub and Pizzeria, and he could go ahead while I checked out the AT Outfitter for propane. We dropped our bags at the Great Cheese Press statue (and I tied Copper up to it) and made our way down the one street to the one intersection that makes up the tiny town of Cheshire.
The funny thing about Cheshire is that many of the houses are well over a hundred years old, and half of them have served as the town's post office at one point or another. As you walk down the main street, you can learn the entire history of the town in the form of "U.S. Post Office 1882-1887" signs. You may also notice the A.T. Outfitter is just someone's garage that is also a bike repair shop, and that is closed (unless you're very lucky).
I caught up to The Voice and we entered the Cobble View Pub together.
As we came in the door, a woman was walking toward the door with a sign, matching the one she'd already hung on the other door. She looked absolutely miserable.
"I was just about to close the place. I have to go to the hospital. My father just died."
"Oh, I'm so sorry. That's okay. We were looking forward to eating here, but it's not like we're in desparate need of food. We can just go on."
"Maybe I can just make you some sandwiches to go? Want a soda?"
"Well, thank you, that's so kind of you, but we'd be holding you up…"
"It's okay. Here's a menu."
And that's how we got sandwiches made by a crying woman. That's dedication. She locked the store up behind us.
Well, even though she gave us a bit of Coke while we were waiting on the sandwiches, after wolfing down the sandwich, I still wanted a cold Coke for the trail. After asking at a yard sale about it, I found out the only place was a gas station a mile down the highway. I walked all the way out there to get a bottle of Coke from a gas station which had built a new convenience store and was clearing out inventory from the old one in preparation for its demolition.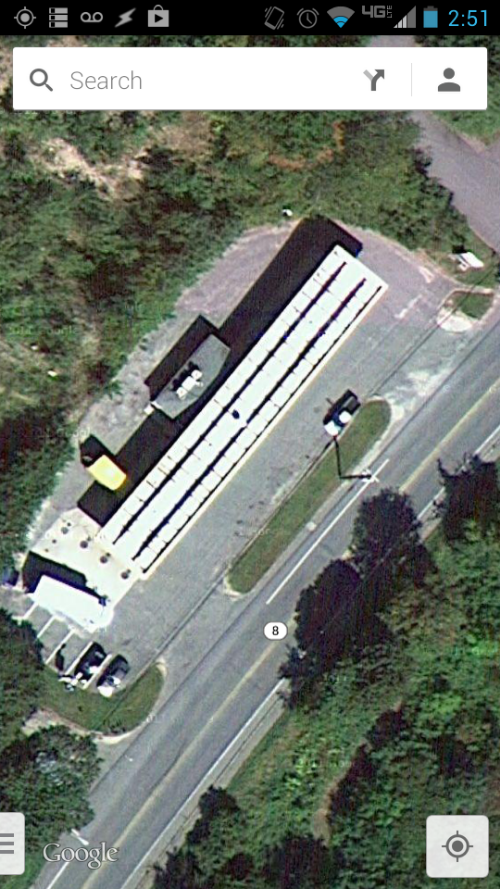 There was almost nothing in there. But I got what I walked a mile out of the way for, and I went back to the statue of the Cheshire Cheese to check on Copper.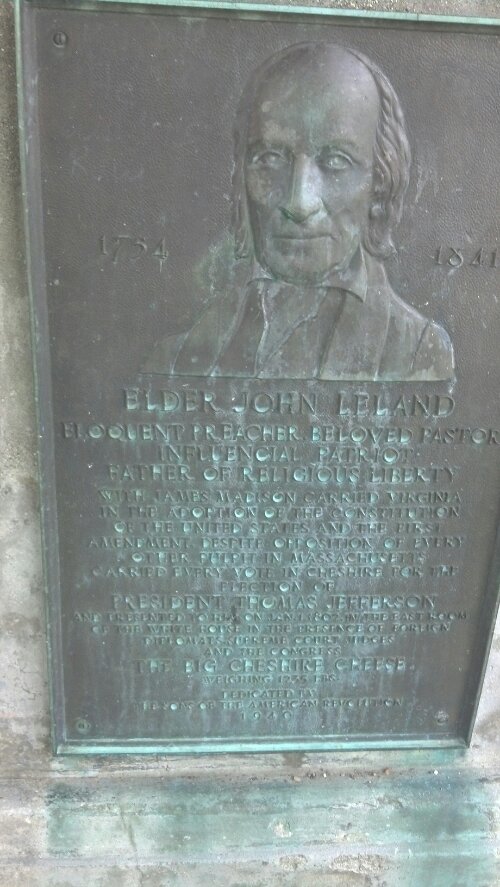 The statue was in the shape of a giant concrete cheese press, like the one that would have been used to make the cheese described on the plaque above. I imagine it is the only interesting thing about Cheshire in all of American history.
When I arrived back, The Voice, of course, was long gone (which is fine since he'd had enough cash on hand to buy his own sandwich anyway), planning to reach Williamstown by that night, and Damselfly and others were just arriving in town. As soon as I'd downed the Coke, I turned down School St. and walked into the corn field behind the old schoolhouse on my way to the highway crossing the marks the beginning of the climb up Mt. Greylock (which also happens to be the same highway I walked down to get to the gas station, which means I'd probably already have been at the top if I'd picked up my pack and my dog before chasing after delicious, cold Cokes).
The peak of Mt. Greylock is the highest point in Massachusetts and of the Taconic range. and it is famed for its inspiration of several of America's literary greats. Herman Melville chose to buy a homestead, "Arrowhead," within view of it, and is said to have been reminded by the image of it covered in snow of the back of a sperm whale surfacing for air, which helped lead him to imagine Moby Dick's titular character. Even before I reached its peak, I was at the highest elevation I'd seen since Virginia. It was inspiring even to me to think I was finally above 3000 feet again, and furthermore, and that this would be a regular occurence over the next 600 miles, with frequent 4000 foot climbs to come throughout New Hampshire in Maine. To put it colloquially, I was totally stoked.
Soon, though, I was exposed to the reality of Mass's highest point. The closer I got to the top, the more people I saw, the more roads I crossed, the more cars I passed. I recall having to wait a minute or so for an entire family to clear out just to get these pictures: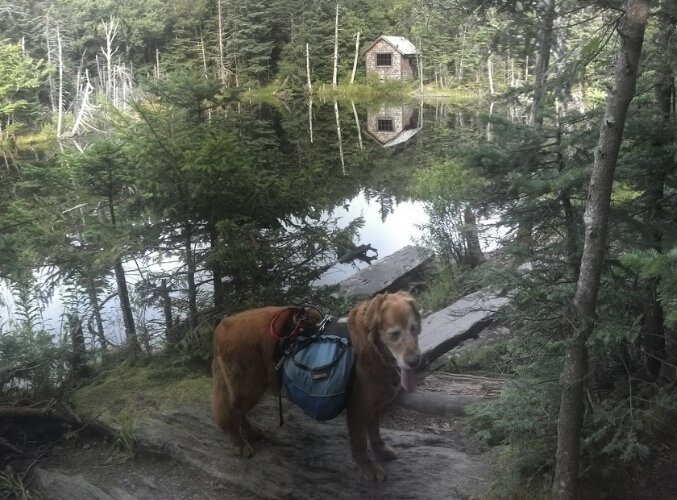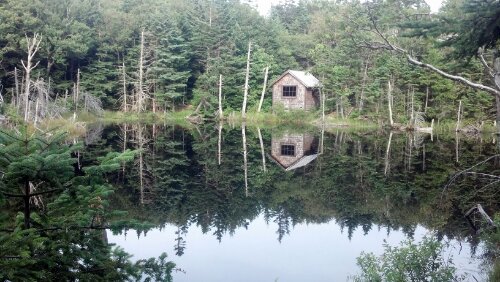 As I approached the Veteran's Monument at the peak, I saw the crowds spread out before me. Immediately, I was approached by a tourist asking about hiking the trail and wanting to talk about his hiking. He even followed me around for a bit.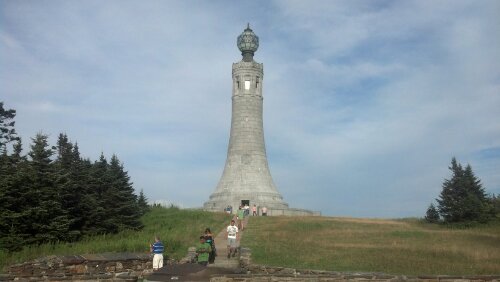 Though I was as cheerful and polite as I could be without encouraging him to continue to try to converse with me, I was amazed at the amount of umbrage I was able to call forth. I had just spent four or five hours climbing this mountain, just me and my dog, and here were.all these people, just standing around gawking, on my Appalachian Trail, expecting me to switch on my social interaction mode in the blink of an eye. They didn't earn their presence here. They just drove up. If they had earned it, they would be hikers, and they would know that a hiker deserves a moment of silence and time alone to enjoy such an impressive view. And they wouldn't be such a crowd. They'd be a family.

Needless to say, I found myself thankful I'd summited Clingman's Dome before the roads opened. I thoroughly enjoyed that summit, even despite the wind and cold. Greylock, as impressive as it was, just wanted me to get back on the trail and down into the woods where the other people like me lived. Away from this barbarian invasion that I was powerless to fight off.
Everyone else there seemed to be having a good time, however.
I left with speed, moving as quick as I could, hoping to get to the next shelter 3 miles away by dark or near it.
It was dark by the time I reached the road crossing before it, and I still had most of a half-mile most of a mile off trail once I reached the Money Brook Trail intersection. The Wilbur Clearing Campsite was packed out with Scouts as I came down to it, but there was still plenty of room in the shelter, as the scouts and leaders stayed well out of it (as they should). I even tucked Copper into the shelter near my feet. Six had arrived there as well, though he had elected to hang his hammock up the hill from the shelter.
Nonetheless, he is such an early riser that even with having to repack his hammock, he managed to leave at the same hour as me (and earlier than pretty much every single other camper in the site). My goal was modest. I had heard about a very interesting concert at Mass MoCA when I was listening to NPR, and it seemed like something right up my alley. From the stories I had heard, I was the only person left on the trail who hadn't managed at least one concert on the trail. The people who went to trail days got to hear the concerts there, plus there was that bluegrass festival in Virginia. Well, it was only 3 miles to the road crossing between Williamstown and North Adams, so I'd have plenty of time to make it to the concert that afternoon.
Indeed, I made it down to the road by 10am or 11am at the latest. It took quite a while to catch a ride, though. People traveling past that particular sidewalk were apparently uninterested in transporting a smelly dog. Finally some very nice man in a pickup picked me up and drove me into North Adams. There were two hotels nearish Mass MoCA. One of them, The Porches, was very expensive, so he took me by the Holiday Inn. They didn't allow dogs. So, he drove me all the way back to the Howard Johnson in Williamstown. Which didn't allow dogs. But they made a reservation for me at their sister hotel, the Cozy Corner Motel, where he finally dropped me off. I don't know his name or how to get in touch with him, but I'm very thankful he found me a place to stay that August morning.
Since it was so early, I had to wait outside for about a half-hour before my room was ready. The proprietor was an Indian guy who apparently lived in the motel with his wife and young daughter. It was certainly a low-end hotel, but they appeared to be doing their best with it. For instance, I noticed the heat was on in my room, and we had a bunch of confusion about how that could be happening, as they'd heard the same from other guests, but the main heat control switch was firmly in the off position. They called in a professional to arrive later that day and get it resolved.
Once I had my room, I hopped online and reserved a ticket for the show for 3pm that afternoon. That meant I had about three hours to get there. However, it was several miles away in a different town. So, I went ahead and left. The road adjacent to the motel went through a neighborhood before following the North side of the Hoosic River into the heart of North Adams. I set off down it, waving at every car that went by, but the trend of that morning was repeated: I had walked halfway to North Adams before a young lady took pity and carried me the rest of the way to Mass MoCA.
Well, I was still an hour or so early for the show, so I walked about two minutes down the street to the brewhaha cafe, where I got an excellent sandwich and spent the remaining time blogging.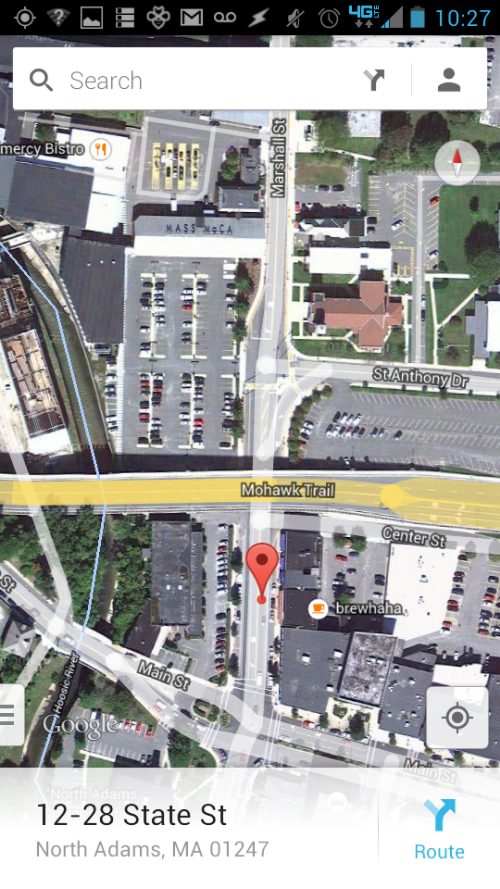 I was stopped in my tracks upon crossing under the freeway, because, like you might expect for a Museum of Contemporary Art, they had an installation. There was a speaker on each side of the street and a microphone up top on the road. Somewhere between were some electronics which electronically filtered to cars going by before belching them into the echoing acoustics of the under-bridge area ("Troll Zone"). The result was a captivating slightly-more-static version of Paul Lansky's "Night Traffic". (The installation, by Bruce Odland and Sam Auinger, is called "Harmonic Bridge", fittingly enough.)
Finally, it was time for the show. As I went through the lobby and out into the courtyard amphitheatre area, the hostess informed me not to focus too much on getting a good seat right off, because the group being a marching band, wasn't too huge on staying in one place anyway. Apparently, there would be a tour of the Mass MoCA campus involved.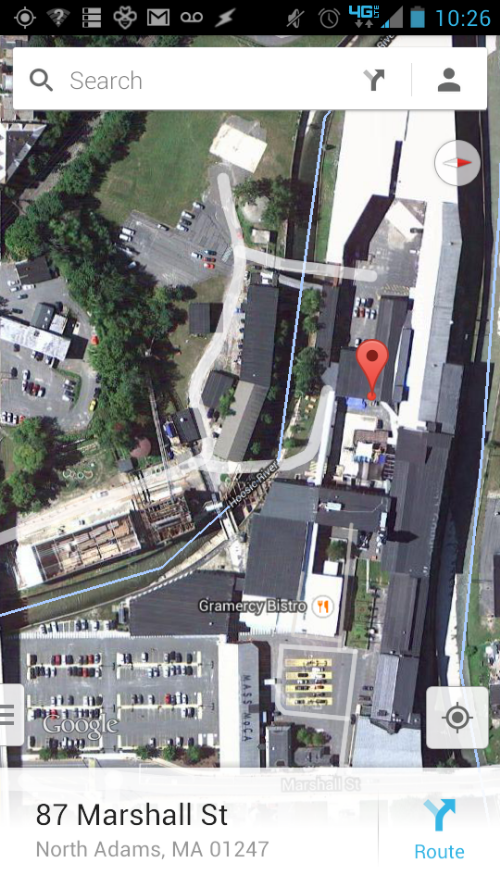 As you can see from the photo, Mass MoCA is a converted factory built on both sides of the Hoosic River. The pin marks the amphitheatre area, but the band entered–in the middle of a song–across the bridge below and to the left of the pin. You can see how that progressed in this video:

After this song, they all looked at the audience and started screaming and running as if the audience were a horde of zombies. Without any sort of instruction, we collectively decided to chase the band down. They reassembled on the lawn in the top left corner of the above picture, where the cheerleaders stood guard at the edge of the parking lot to stop anyone trying to get close to the band. When everyone finally caught up, they did a cheer. (I had a recording of this too, but I made the mistake of deleting it before it finished uploading while in Maine, and despite my desperate measures, the data got corrupted before I could undelete it.) It went something like this:
Memorylessness! (clap clap)
Memorylessness! (clap clap)
Memorylessness! (clap clap)
I forget!

Memorylessness! (clap clap)
Memorylessness! (clap clap)
Memorylessness! (clap clap)
I forgot!

The time it was when I showed up
Does not predict when she showed up
The time it was when I showed up
Does not predict when you showed up

Memorylessness! (clap clap)
Memorylessness! (clap clap)
Memorylessness! (clap clap)
I forget!

Memorylessness! (clap clap)
Memorylessness! (clap clap)
Memorylessness! (clap clap)
I don't recall!

The time it was when she showed up
Does not predict when he showed up
The time it was when you showed up
Does not predict when you showed up
The distribution remains the same for everyone!
Probably!

Memorylessness…(etc.)
My only objection to this is that the arrival process of a crowd of people chasing down a marching band is nothing like a Poisson process. (If this does not make sense to you, reading up on Poisson processes and exponential distributions on wikipedia will make the above cheer make a lot more sense.)
At the end of the next song they led us to another area winding through it, hiding around us playing a walking song (or sometimes two songs at once..it's hard to describe). They formed into a circle there, and after another song, ushered everyone together inside the circle and formed around us, doing the next song in surround sound. Finally, they led us back to the stage, and I could sit down.
The rest of the show was more conventional, or at least as conventional as a stage full of band geeks led by a tubist can be while interpunctuating their songs with cheers explaining which names are verbs (Sue, Mark, Rob) or almost verbs (Phil, Doug, Mary), or wondering what algebraic variables think about. It became somewhat less enjoyable due to the considerable volume they created rousing a redoubtable swarm of flying ants, which meant those of us who elected to remain near the stage spend a large portion of the show stomping and clapping…but not to the music. I probably killed some thirty of the buggers one at a time.
After the show, I explored the gift shop a bit and found a wonderful kid's book called Press Here which I would recommend to any parent. Out in the parking lot, some guy had shown up with a strange truck that was a mobile kinetic art installation, which featured a rope and pulled that allowed one to move around a cargo net full of lamps on a piano dolly back and forth on a curved platform. (Yeah, that description doesn't really do it justice as a work of art or a work of sheer insanity.) His son was peddling around in the cockpit of a hand-built pencil.
Resisting the temptation to engage a person who clearly had way too much time on his hands, I walked across the street and and bought a few bags of groceries, including something I could eat for supper once I got back to my room.
I asked Google how to get to the hotel, as I was now lost, and started walking, arms full of groceries. I'd barely made it 4 blocks when a minivan pulls up beside me and I recognize the motel owner behind the steering wheel, who recognizes me and offers me a ride since we're going the same place anyway. He's got his wife and two daughters in the car, leaving no empty seats since the back row is removed, but allows me to sprawl on the floor in the cargo area with all my bags.
I return to my room and spend an otherwise uneventful evening in, which is a rare enough occurrence on the trail to be enjoyable despite the overactive heating system.
The next morning, I decide to hit up the Williams College Library on my way back to the trail, so after partaking of the continental breakfast, I load up my pack and Copper's, drop my room key in the lobby, and start roadwalking. It's about a 40 minute walk through neighborhoods, but the campus is lovely. And I think it is the only place I've ever seen a prime-numbered speed limit other than 5.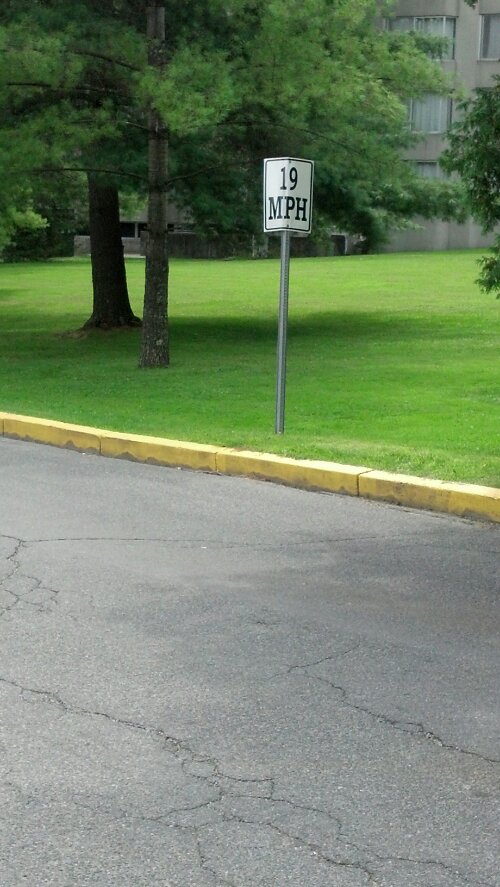 I tie Copper up outside the Sawyer Library with some water and go right inside. They have a computer center and seem to be happy to let anyone use it. So, I download a few audiobooks and chat for a few minutes, then headed out to get some lunch. There's a quirky little sandwich shop on the main shopping corridor where all the sandwiches are named after people (presumably the people who invented them). They have some tables and benches outside where Copper could sit with me, so I left my phone inside charging and watched Copper entertain the passersby as I ate.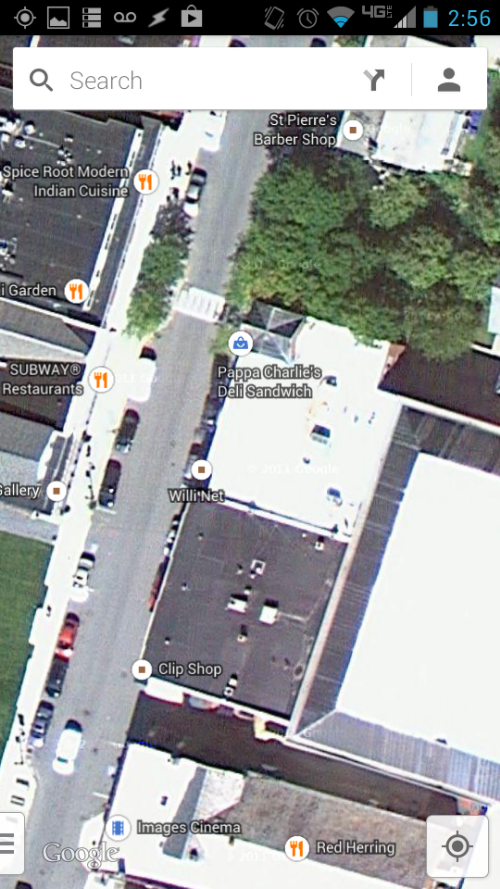 From there, I walked down to the cafe at the end of the street, which was fiercely protective of its power outlets for a cafe, and confined them all to a room in the back. I tied Copper up outside the window with my back and went inside to do a little blogging.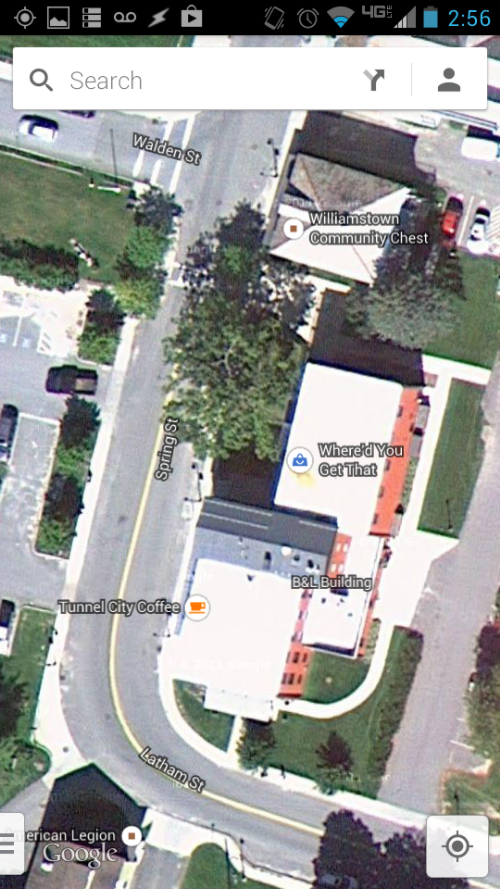 At some point, I left him there while I walked up the street to a shop ("Where'd You Get That?") that sold only games and novelties and silly cards, whereas I wanted Thank You cards. I tried another shop further up and found something suitable. Across the street was a small sporting goods store called Nature's Closet where I was able to obtain a new pair of lightweight nylon socks (as I had worn holes into a pair I had been wearing) and that can of propane I'd been searching for since back in Dalton. Back at the cafe, I wrote up two cards and mailed them, one for Nessie and one for Vicki, enclosing enough cash to hopefully assuage some of the monetary expenses they had accrued on my behalf.
Having accomplished this around the time the cafe was closing, I moved Copper and all my gear up the street to a bar (Purple Pub) with plenty of outdoor seating. I was there earlier than everyone else, but I was ready for some good food and beer, and Copper was ready to eat as well, since he'd been doing nothing but sitting around and waiting on me all day.
So, I sat outside eating and drinking on a warm summer day. It felt like the mood a German biergarten might feel, or like The Independent in Boston, but with fewer people and less for me to worry about. I was alone at first, but of course, soon patrons started arriving from all over, and many of them wanted to talk to the Appalachian Trail hiker. Unlike on top of Greylock, I was in a social mood, and since I didn't have very far to go into the woods before I had a place to camp, I wasn't worried about leaving immediately.
At some point, a trio showed from various far flung meeting for a one-time thing in Williamstown. They had brought a deck-building game called Dominion with them, which I hadn't played in ages, so I asked to play and soon I was sitting at their table with the cards in my hand. As I recall, I won the game. After we paid our checks, I caught a ride with them, tucked tight in the back of their sedan with Copper in my lap. They dropped me at the corner where I hitched a ride the previous day, and I crossed the Hoosic for the last time as the sun finally finished setting.
Of course, the trail doesn't enter the woods right away. There's a bit of a road walk on the north side of the river (along the same road that brought me to North Adams and Mass MoCA the day previous). I happened to be passing a house where a man was talking on the phone, and he stopped me. He insisted it was far too late to be going into the woods. He wanted to give Copper treats and both of us a Coke. Copper got to meet their dogs. I insisted I knew what I was doing and that we were both fully fed, but we still ended up staying there for half an hour in the dark talking, and I had to accept a popsicle before I was allowed to go on into the woods.
It was only a mile to the Sherman Brook Campsite, and it was easy walking. I wasn't yet in Vermont like I was hoping to be, but it was much later than I had expected, so we stopped and I set up the hammock and we went straight to sleep.
The next morning, I cleared out at a reasonably early hour and headed on up the hill to the Vermont border and the head of the famous Long Trail, the first long-distance hiking trail in the U.S.
Next time: I meet lots of new people, catch up to some old people, and start climbing real mountains again. Also, I wake someone up with a sunrise weather report, visit a monster independent book store, and find a Dr. Seuss poem in a very unlikely place. See you next week!