Despite the lateness of the hour, we still had plenty of light left, and once we finally hit the trail, we moved fast. I didn't expect to go very far, just perhaps to Brassie Brook Shelter. Copper was just a week out from being unable to stand up on his own, after all. When we stopped in at Brassie Brook Shelter, there was plenty of daylight and energy left, so I decided to move on after a snack, especially when one other fast-moving Nobo I hadn't met (well, obviously, seeing as how I'd fallen behind by a week) stopped in for a moment and decided he'd move on. Even though I left slightly before him and basically moved as quickly as I could to reach the top of Bear Mountain, he passed me moving twice as fast somewhere on the steep rocky slopes. I redoubled my speed and chased him to the top, where we stopped next to an enormous rock pile in the shape of a frustum. Years and years ago, when it was still a complete pyramid, it looked like this: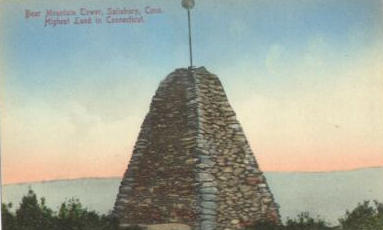 I was somewhat excited to be here, as it was only worthwhile mountain on the trail in Connecticut, and the first time the trail went above two thousand feet since Shenandoah NP in Virginia, or, in other words, the first time in over two months.
From there it was only less than half an hour going straight downhill to Sages Ravine. Due to the weather (rain was on the way) and the dying light when I arrived, I couldn't see the overwhelming beauty that all other sources describe. To me it looked like a campsite popular enough to require a caretaker. I found a good spot for a hammock way up the side of the ravine, and went ahead and set up, then Copper and I joined the caretaker to share some berry soda and a wee bit of Jack Daniels while I cooked underneath the tarp that protected his tent to be out of the rain. We talked about the job and the book he was reading (Backwoods Ethics by Guy and Laura Waterman–more about this in a couple of months) while the light slowly faded. Eventually, I carried my food bag back up through the rain to the bear box, and Copper and I turned in for the night.
It rained all night and late into the following morning, and I drowsed half-awake in my hammock for several hours, refusing to get up until it stopped. I packed quickly and left, but the caretaker had already gone to visit some other campsite. I was one of the last to leave. I spent some time collecting water at the creek/spring at the bottom of the ravine, further putting off the steep climb up Mt. Everett. But when I did go, I went with celerity.
The rain didn't make it any less warm, just more humid, and the mosquitos and flies that had been so annoying down by the creek were hard-pressed to keep up with me, so I stuffed my head net in my pocket to give my head a chance to evaporate some sweat. An hour later, I came back down the other side soaking wet from the fog and sweat. The sun was out in full now, but some of my clothes had gotten a touch wet from the rain the previous night, so I unpacked and spread out on the picnic table there. There was another guy there whom I vaguely recognized and who vaguely recognized me. It turned out he was one of the leaders of the wilderness school and they were still out hiking with the same group of boys I'd met before. He was waiting on a resupply delivery, which soon arrived in the form of another leader driving an SUV. They informed me that all that boys that were still in the program were down at the Glen Brook Shelter making lunch. I got them to agree to drive out some trash for me.
When things were more dry, I packed up and headed down the trail. Just before I reached the Glen Brook Shelter, I realized Copper wasn't behind me. I turned around and hiked all the way back to the parking lot. I found him resting happily in the shade underneath the wilderness school's resupply vehicle. I convinced him to follow me, and headed back down the trail again.
This time I made it somewhat past the shelter, before I realized my headnet had disappeared entirely. I dropped my pack and poles beside the the trail and hiked back up to the parking lot to search the area around the picnic table. It wasn't there, so I hiked a bit back up the mountain until I ran into another couple of hikers who said they hadn't seen it. I followed them back down (witnessing one of them doing and amazing whirling flying avoidance-of-falling that almost could have been done by a stuntman) and gathered up Copper (who again had chosen not to follow me) and headed off further down the trail during the hottest part of the day.
After having walked this mile or so of trail four times already, I was ready for another break, so we back to my pack, picked it up, and hiked it back a little bit to the Glen Brook Shelter. By now, the boys were packing up after lunch and getting ready to hike back up to the parking lot to join their other leaders. One kid had a metal shovel strapped to his backpack, and managed to whack the leader in the face quite firmly as he swung it over his shoulder. After they briefly reintroduced themselves to Copper, whom they certainly remembered, and I showed them some bits of iron ore which my magnet pouch had picked up, we headed down to the shelter, where I made some lunch and some blue Mio.
Coming back up the hill from the shelter, I got a mite lost and wandered around a bit trying to find the shelter, but Copper didn't seem to care whether we found the trail or not. I did eventually, of course, and soon after we started walking again, we caught up to a pair of spirited young ladies, probably about 18 years old, who had aspirations of hiking the whole AT themselves one day. We hiked a bit faster than they, but we all arrived together at the Jug End overlook, where we took each other's pictures.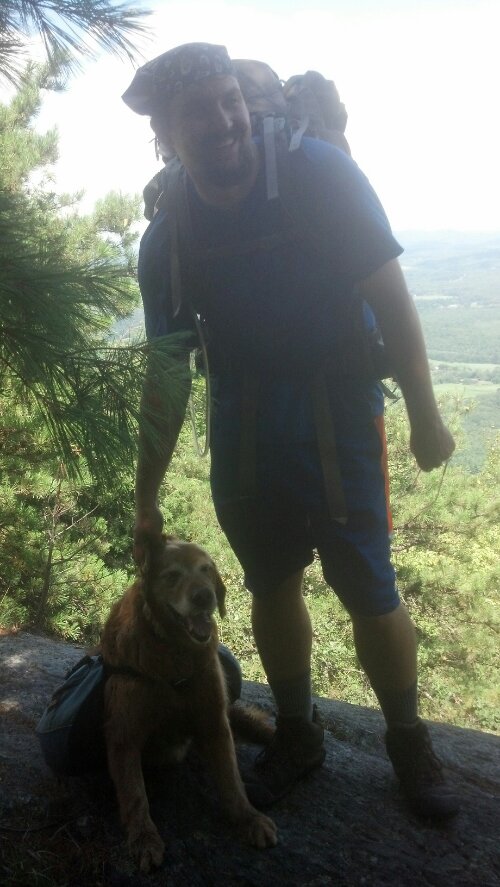 From there, it was all downhill to civilization, and very steep too. I resisted the temptation to turn aside at the road into South Egremont and the restaurant that was said to be nearby, being still rather well-fed from my trail vacation and having spent quite enough money for the time being, thank you. It was basically farmland and roadwalking from here. As I recall, the sky was dimming and the air getting somewhat oppressive when we finally re-entered the woods in a strange, gloomy stand of spruce. I didn't much feel like walking anymore, and the trees were perfect for hammock-hanging, so I decided to stop there for the night, within a hundred yards of a residence and fifty feet of the road.
Copper had made himself a bed and stayed right in it after we had eaten, so I turned in without bringing him in. When I drowsily heard him get up to go exploring later that night, I didn't worry too much, as he had wandered off and the later returned plenty of times already. Unfortunately, this time there was a difference of situation that made that assumption faulty.
When I woke up the next morning, he hadn't returned, so I ate and packed up first, and then I walked up and down the road calling for him, then I strapped his pack to mine and climbed the mile of trail to Home Rd. calling for him the whole way. No luck. I started back down again, a little more worried this time. Halfway down, I met another hiker. When I explained my cell phone was dead (probably because of my wasting battery downloading that audio track when leaving Salisbury), he let me use his to call my voice mail. Sure enough, I had a call from both a stranger and Mama, whom he had called upon failing to reach me. I called him back and told him he could bring Copper to meet me at the Home Rd. trail crossing.
It turns out he found Copper wandering around his house around 11pm, and had brought him inside and fed him and let him sleep there. Copper wasn't able to return by morning because he was trapped inside a stranger's house.
He soon arrived in a huge, enclosed work truck, with his son and Copper inside. I had decided already that it would be unwise to go on with a dead cellphone, plus I'd heard about, since my previous visit, a craft brewpub in Great Barrington, so I hitched a ride with the guy into town.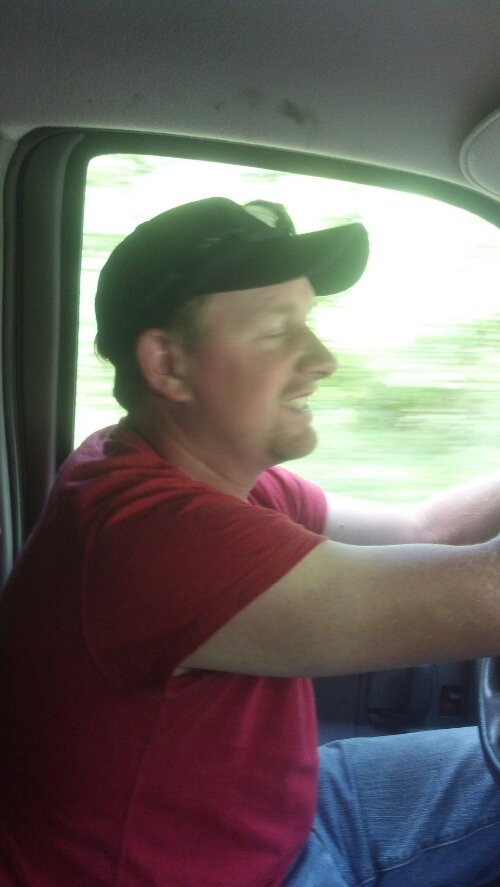 I had him drop me at the coffee shop area again so I could charge my phone, research pet-friendly hotels, and get a little blogging done. After lunch, we walked from there through town looking for one of the hotels that allowed pets, stopping once in a gas-station for an ice-cold Powerade to combat the sweltering summer sun. It turned out the Econo-Lodge did, and it turned out they had coin laundromat in the hotel and were directly adjacent to the brewpub. Perfect.
My day that started quite stressfully ended with a flight of beers, an amazing dinner, and a pile of clean clothes.
The next day, after a morning run on the grocery store for more snacks, Copper and I walked back into the main part of town.
The primary destination was the library. But I passed another independent pet store, and this time I was able to acquire some chicken-flavored Pill Pockets large enough to fit all three of Copper's antibiotics at once, which greatly reduced effort at future feeding times. I also chatted with an older hiker waiting at a bus stop for a long-distance bus to skip him up to Williamstown, at the Vermont border. As I recall, he'd hiked it before, and he just wasn't into Massachusetts. I wasn't much into walking back out to the trail, but I was very much into downloading more audiobooks, which occupied a good hour of my morning. Then Copper and I sat outside the Gypsy Joynt cafe. It was a very hipsteresque sort of cafe, but also very homey, with a huge photo above the counter with all the staff doing fun and silly things. They served smoothies, coffee drinks, craft beer, and amazing sandwiches on pizza dough. Most importantly, they had an outdoor seating area so Copper could sit next to me (and in the shade of the building). It was flanked by little boutiques, demonstrating it was primarily the place where the upper crust of the Berkshires could satisfy their need to shop gentrifically.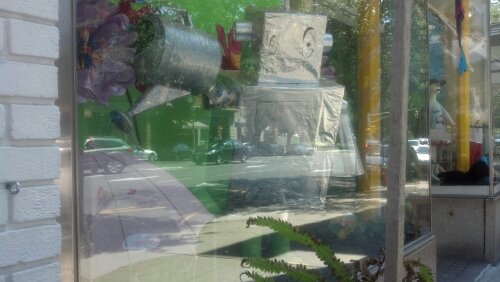 Finally, well-fed, fully-charged and resupplied, Copper and I started back toward the trail, passing the castle and the Indian restaurant where I'd eaten over a week before.
In fact, right when we reached the restaurant, I realized that I had forgotten to refill my water bag, so I tied Copper to the side of the res
taurant (which hadn't yet opened) and jaywalked over to the New York-style pizza restaurant across the street, where they let me fill up in the bathroom sink.
I wasn't really trying to catch a ride back to the trail as I walked back towards Home Rd., but Copper is a very persuasive argument with a certain type of person, so I was only a few hundred feet up Home Rd. when a lady stopped and offered us a lift and some bottled water. I accepted and gave Copper the water. Thank goodness she came along, because didn't really notice on the way into town how hilly the remaining mile I had left to the trailhead had been. Or rather, the fact that it was uphill most of the way.
Having been left at the trailhead, I started to put Copper's pack on him, when I realized the pad that went across his belly to protect it from the strap was missing. I tied up Copper and walked south on the trail (again!) back to where I'd camped the previous night, figuring it had fallen off while it had been strapped to my own pack, but saw no sign of it. So I climbed the hill again, where I stopped for a long drink and snack before hitting the trail in earnest. While I sat, another hiker–I believe it was Som'Peach, with Trillium close behind–came up to cross the road. I followed him into the woods, chatting as we went.
At some point, they stopped for a snack and a break, and I kept going, up and up and up to the top of East Mountain. The trail was beautiful and very interesting for a place so close to civilization. There were bridges between rock formations and a number of good views. At one point, I found someone sleeping in his tent beside the trail without his rainfly on, and hallooed at him. He was just in the mood for a nap, despite it still being a few hours until sunset.
The five miles to Tom Leonard Shelter felt longer than it was, though I moved quickly without stopping. I was the second one there that night, as the Indian guy who had spent the morning too stoned to hike (and apparently still feeling quite so) had arrived the previous night and never left. He was out for a week vacation from some high-powered computer job in Connecticut. Limey, Som'Peach, and Trillium arrived soon after me. Limey and I hung hammocks on the far side of a huge rock in a flat area near the edge of a steep dropoff. Then came Willow, Zeke, Dangerpants and her sister Gussy, Six, and Damselfly. I hope I remember them all. It wasn't the last time I would see most of them, and most of them will be mentioned again in this blog, possibly several times.
Let's start with Zeke, for we hit it off quite well that night. After some of the usual sort of trail talk and weather talk, we got to discussing the heat and the bugs. I mentioned I'd lost my headnet on Mt. Everett. He mentioned he'd found one there, and after deodorizing it, had been wearing it the past few days. He produced it and, after I confirmed it was mine  returned it to me. At this point, I decided he was possibly the nicest guy on the trail. He was just doing a section from the NY-CT border as far North as he could make it (Hanover, I think), and said he was taking it rather slow. Of course, his slow rapidly became much faster than mine, and I soon lost him. But that night we had a great time deconstructing classic sci-fi and cracking jokes.
Some crowd of college kids who'd been there the previous night had left a whole bunch of free food in the bear box, including some self-cooking MREs I'd never come across before. I think Zeke might have 0 been vegetarian, but I think Limey tried one of these too. They aren't exactly space- or weight-efficient, even considering you can cook them without any sort of stove, but they are convenient and delicious and have one other major benefit.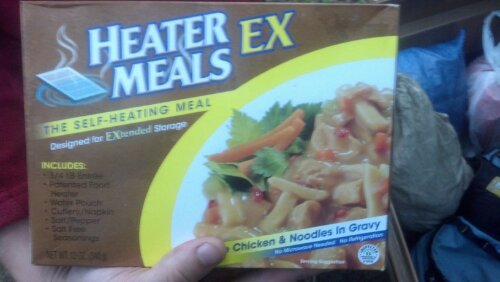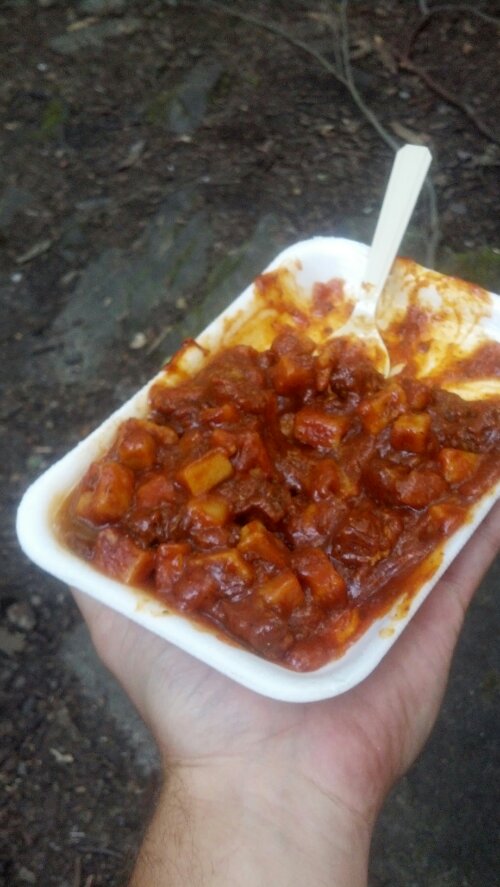 The iron oxide (if I remember right) pouch which (combined with water) provides enough heat to steam the food also, once allowed to dry a bit, burns really well. Spectacularly well. Like, well, fireworks, basically. Indeed, burning the outer box provides sufficient heat to set it alight, and once it's burning, it's practically cake to get a campfire going. So that's how I came to light my first fire since…well, I guess since the one I lit in Fresh Ground's camp north of Erwin.
It was well past hiker midnight by the time I turned in, having passed back and forth with Zeke a bottle of cinnamon whiskey. It was the first time I'd felt like it was a fun atmosphere at a shelter worth staying up for since Gravel Springs Hut in the Shenandoahs. In one night, I'd found free food, had returned a headnet I'd thought lost, found the cushion for Copper's backpack strap (someone had carried it as far as the shelter and left it under the table) and made several potential new friends. Not a bad way to get back into the trail spirit.
The next morning, I got out of camp apparently with little haste and much waste. Not too surprising really. I really liked the shelter's location, after all, and was loath to leave. Som'Peach and Trillium's tent, for instance, was on a platform perched on the edge of the cliff with a 180 degree view. I found no shelter more ideally situated south of Vermont.
Anyway, the plan was to get to Upper Goose Pond Cabin in two days, so I did have to get moving, and moving fast, eventually. There wasn't too much to see that day. Just going down East Mountain and then up Mt. Wilcox, stopping in at the new South Wilcox Shelter for a snack, walking around a pond and turning off toward Mt. Wilcox North to collect some water.
And the entire gang from the night before (plus one: The Voice) was already there, spread out across the tiny shelter and around the campfire cooking and chatting raucously. I decided to cook with them and learn more about them before heading on to the Shaker Campsite, hoping to beat the weather.
I probably could have squeezed in the shelter with them. I probably should have stayed. But I had only been seven miles that day, and I wanted to make some more in order to avoid having to do such a huge push to UGP the next day, impending storm and darkness be damned.
Well, Copper and I were barely 5 minutes back on the trail when the thunder started getting worryingly close. It started sprinkling as the sun set. Soon it was pouring, but we pushed on into the rain. Eventually, the dark and the rain was so disheartening, I turned aside at a likely tree-filled area out of view of the trail and set up my hammock as expeditiously as possible. I should have tied Copper to a tree while I was doing it, but it's hard to thing of everything when it's pouring and dark and every time you get the stake in the ground you pull it up by pushing up on the tarp with your head jumping up into the hammock and you have to get out again, stark naked, to put it back in the ground. So I was yelling pointlessly into the rain for Copper, who'd gone straight down the hill into an impassable thicket to find himself a bunker, until the lightning stopped. As soon as it did, he came back, and I put him inside the net with me.
At least the rain cooled off the night enough to make it easy to sleep, even if Copper didn't. And the misery only bought me a mile.
In fact, I slept well into the next day. I got a rather late start. All the others got up early and got moving. They were ahead of me by the time I left.
The next segment of the trail was mostly civilized leading through short stretches of farmland and skirting small ponds and crossing small creeks, and it was all easy hiking, but it was, nonetheless, nearly twenty miles to be done before reaching the cabin. Thankfully, the weather was gorgeous.

It was about an hour before dark when I ran straight into the side of Upper Goose Pond. The trail follows alongside it for a while before turning east to cross the Mass Pike, but there is a side trail that continues around the edge of it until reaching nearly the brook that joins it with (lower) Goose Pond on the western bank. You can see the Cabin's dock on Google Maps, though the Cabin is hidden in the woods.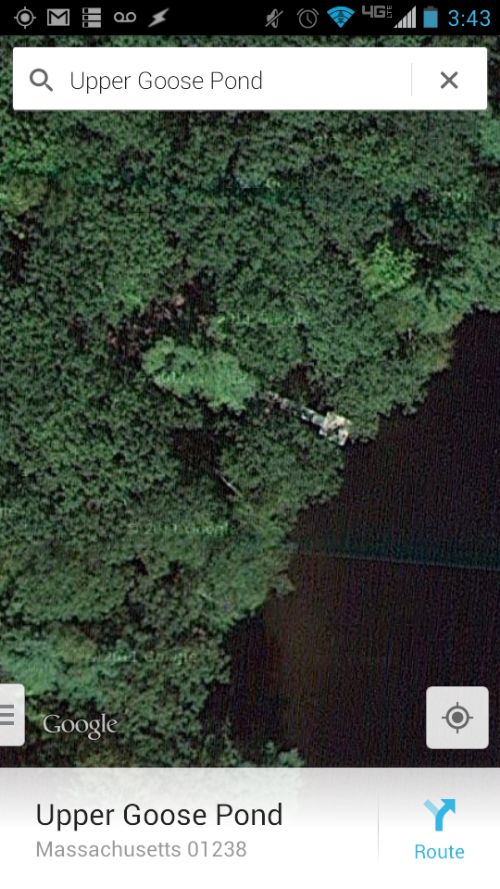 Of course, I noticed how pretty the pond looked, but I didn't enjoy it. I was racing desperately down the trail trying to get to privy at the Cabin before I exploded. I walked right through the campground to the privy, dropped my bag, and ran inside without a word of explanation to Copper. But he's a good dog when it's not thundering and just waited patiently outside for me to deliver his supper.
I went up to the Cabin first, where I was informed that the bunking area upstairs was already full, on account of how everyone who didn't crazily leave into a thunderstorm at dusk got up early and got their hiking done. They weren't in at the moment, as they were all out on the pond canoeing. Some (including Zeke and Damselfly and The Voice, as I recall) had even gotten pizza delivered to a dock in Goose Pond, to be picked up by canoe. I had enough time to take some of the provided water back to my site and cook and eat dinner before they all returned. They offered me Coke and pizza (which they received for free on account of their delivery being botched/late), but I'd eaten. Copper and I spent the evening downstairs by the fire with the caretaker and her daughters after all the inside guests turned in for the night. When they had to go to bed, they agreed to let Copper stay inside on the floor while I went back to my hammock and caught some Z's. While I was cooking dinner, another hammock hiker came in late and set up in the same campsite, so we slept just a few feet from each other, but I woke up much earlier, with good reason.
In the morning, I got up just after first light and hurried to the Cabin to get in on the first batch of blueberry pancakes.
There were enough people that the pancakes were syruped and downed within minutes of each batch arriving, though it did take a while before everyone got up and started eating, so a small pile did build up at first. The crowd had no trouble finishing them off though. We thanked the caretaker (who had finished her term of service that morning) by delivering our dishes to the wash area. After that, I decided to go down to the dock and get some pictures of the water while the sunlight and weather conditions were still favorable to photography. I had some ideas about how much hiking to do, but Zeke and others had said they wanted to zero at the Cabin, so I didn't feel hard pressed to make that many miles. I took my time on purpose that morning, though I still got a comparatively early start.
Given that my previous three days amounted to no more than 25 miles, this early departure was a good omen. In fact, it would lead to one of my biggest days in a month or more.
It started off almost immediately with the huge pedestrian bridge over I-90, the Mass Pike, which I had driven under in Nessie's car just a week before. It's probably the only dedicated pedestrian bridge over an interstate highway on the whole trail, and it is huge, as far as pedestrian bridges go. In fact, it's two bridges, one for the upper eastbound lane, and one for the lower westbound lane. The lower one does a huge spiral ramp back down to earth, much like the ramp up the Clingman's Dome tower. Afterwards, the trail follows the edge of a small lake right through the Berkshire Lakeside Lodge property, then across another highway and back into the woods, where there is little besides level trail and bog bridges for miles on end.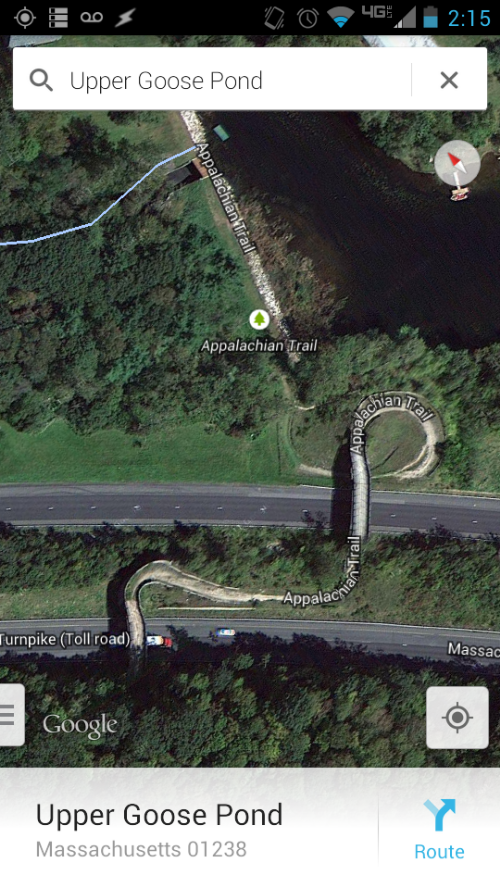 I stopped for lunch at the October Mountain Shelter, an excellent example of the fabulously luxurious "Mass-AT Shelter". The new North Wilcox Shelter where I'd had lunch the previous day was the same style as well as the Tom Leonard shelter from the night before that and every shelter I saw from there until I left Mass. Here's a photo from Tom Dunnigan that shows the internals quite well: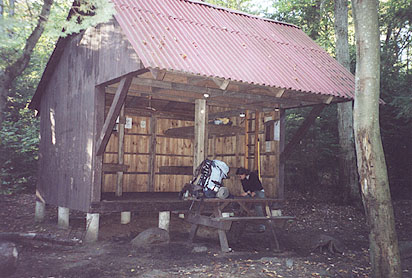 You can see that there is an upper loft that over hangs the picnic table, and four bunks inside with some floor space between them. Every shelter site in Mass also has a bear box, which frequently contain leftovers.
So, after lunch, again, the trail is mostly flat, mostly uninteresting, and I'm able to move pretty quickly. October Mountain Shelter would have been a reasonable goal on the Let Copper Recover plan, but we were five days back on the trail now, and he seemed to be his usual self again. There was a ton of light left, and it wasn't much further to the Cookie Lady's blueberry farm.
Just before the Washington Mountain Road crossing, I passed a campsite of a hiker doing trail magic. He had a little grill set up for hot dogs, some pasta salad in a cooler, his own dog on a blanket (whom Copper met but seemed relatively uninterested in) and some beer. He had set it up for some hikers he knew would be passing that way, but I ate some of it (the pasta salad) as we chatted. But I didn't want to stay, knowing I was so close to blueberries and the U-pick-em was closing who knew when.
It was only a two minute walk down the road. I dropped my bag at the garage door and got myself a basket when the old man came out to weigh out a departing customer. He let me plug in my phone while Copper and I wandered around the blueberry patch filling a basket with the biggest choicest berries. By the time the place was about to close, I had about 3 pounds, which cost about $3 a pound. I added in a couple of hard-boiled eggs at a quarter a piece and an ice cream bar and checked out. Then I went over to the tables where they keep the free cookies for hikers, but they were all eaten already. Although they offer work-for-stay camping on the lawn, I signed the log and headed out, not feeling particularly welcome, and knowing I could at least make it to the next shelter that night, what with two hours of daylight remaining.
A mile or two through yet more boring scrub woods walking on bog bridges brought me to Blotz Road, where a pair of two old true blue Mass Yankees were sitting in a car waiting for something after getting off work. They tried to convince me to detour toward an old plantation home owned by some famous revolutionary war personage whose name now escapes me (and Reddit's /r/TipOfMyTongue), but I pointed out I was already going to be arriving at the next shelter after dark, and even more so now that I had.spent several minutes chatting. They gave me a mostly-full gallon-size box of Goldfish before I left, which I emptied into Zip-locks and loaded into Copper's backpack.
It was nearing sunset as I reentered the woods, and I was starving despite the blueberries I'd sampled in the field and the ice cream bar, so Copper and I took a momentary break beside the trail near the top of Tully Mountain, one of two lovely views in this stretch of the trail, and shared quite a bit of the Goldfish. We couldn't stay long, though, because the sun was almost gone, and we still had a mile to go down to Kay Wood Shelter, where we would spend the night.
We arrived well after dark, hoping we'd have the place to ourselves so we wouldn't wake anyone up, but no such luck. There was already a pair there, a woman around my age who had convinced her mom and husband to take care of the kid while she dragged her dad out into the woods, and said draggee. They were cooking and he was getting a fire going. I claimed a bunk and then barely managed to pull together enough energy to get a proper supper made for Copper and me. We did quite a bit of talking, as her dad was an incorrigible snark and prolific storyteller. They weren't serious long-distance hikers yet, and had no trail names, and I don't remember their names. But I do remember one of the stories he told.
He recounted a time when, at quite a young age, he decided to gain status by showing off his gunslinging skills to his friends with a loaded pistol, and put a bullet in his leg. His friends were so sickened by the wound, he had to operate on himself, biting a stick while he pulled out the fragments, cleaned the wound with alcohol, and tied a shirt around it. Then, he had to go home and climb up to the attic and slip the pistol back into the closet just seconds before his dad caught him with it, meanwhile bleeding through a shirt under his pants. To explain the wound, and to get himself a ride to the hospital, he claimed he'd wrecked his bike and managed to get a kick-stand puncture wound. His dad never questioned the story (presumably in spite of the lack of other minor injuries, or telltale blood on said kickstand), and took him to the emergency room right away, where he had the good fortune to be admitted to the care of a former Army medic, who promptly dismissed his dad from the room.
"So you shot yourself in the leg?"
"Oh, no, sir! I wrecked my bike, you see, and the kick…"
"Are you sure you got all the fragments out? If you left even the tiniest bit of lead in there, it will most likely cause infection, and cause problems years down the line, and that's if you even get to keep the leg."
"Ah, fragments of what, sir?"
"Never mind. Try not to scream while I clean this out properly. If you're man enough to fire a pistol, you're man enough to take this without painkillers."
Sure enough, he managed to get several more fragments out before he properly cleaned and stitched up the wound. The doctor never told his dad the tale. And this story is what inspired me to give him the trail name "Painless" like the eponymous dentist in M*A*S*H.
Properly fed, I put Copper up on the bunk with me and climbed in behind him. He tried to escape during the night, presumably because it was too hot sleeping next to me, but it was too far a drop to the floor for him to do in the dark, and I managed to pin him down again until morning.
Morning was quite a circus for the other two, since they had a very strange system of distributing pre-made meals between the two of them, and apparently Painless had eaten some food he wasn't supposed to earlier in the week. For me, it was the same old routine. I was eager to get into Dalton, my first true trail town since Bear Mountain, NY (defined as a town where the trail where the trail actually runs past restaurants and stores and the like, rather than requiring a detour), because I had plenty of errands to run. However, I didn't have great aspirations to make big miles–I made 18 miles the previous day precisely so that I could spend more time in Dalton. Plus, it was only a few miles away and all downhill.
Nonetheless, I still managed to beat the other two there by more than an hour. What did I do there? This post is already prodigious, so I'll save it for next week, when I'll relate bagging another state high point, the performance of an unusual marching band, the making of a sandwich with bread, meat, and tears, playing a friendly game of Dominion, and hopefully, my passage into Vermont and onto the Long Trail.