It's fitting that the Vermont border is at the top of a hill. It was only 2.5 miles from camp to Vermont, but it seemed like more, partly because of the excitement of entering a new, higher state, widely held to be one of the most beautiful on the trail, but also partly because halfway up, I found someone I hadn't seen in about 3 months…going south. If you knew him, or remember things I wrote half a year ago, you'd realize who I must be speaking of instantly, but since it's unreasonable to expect that of anyone who wasn't there, I'll remind you.

As of 2013, Cody Coyote was into his third year of flip-flopping the trail (and turning his mistakes into gold), and three months had passed since I last saw him in the Shenandoahs. Yet here he was sitting beside the trail, snacking and reading a book. He said he went off trail in Rangeley to catch some free hiker banquet and then got back on going south, choosing to skip Northern Maine this time around (it being rather more sparsely populated, with reduced availability of magic).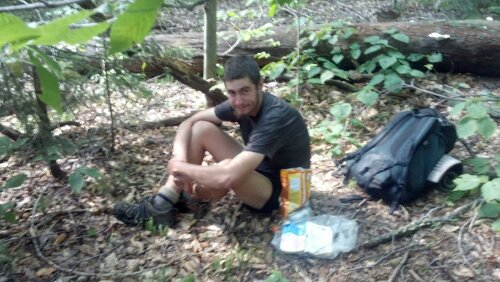 I couldn't stay and talk forever, though. There was hiking to do! We headed on.
Vermont, of course, is named for its little portion of the Appalachian chain, the Green Mountains. And once I crossed the border, I was in them, and on the Long Trail. As you might expect, the change is subtle. Although the elevation is about 1000 feet higher than Massachusetts on average, it really looks about the same at first. Nothing in particular caught my eye on that section of trail. I was absorbed in the Dresden Files and cruising along a level trail.
I stopped for lunch at Seth Warner Shelter. I seem to remember meeting Kobe (as in beef) there for the first time. He was Japanese and a bit of a loner who'd done a late night and was in for a nap. Interesting guy, but I only saw him a couple of times. Afterwards, I had to climb a mountain. It was only a short climb, but it was nearly as high as Greylock due to Vermont already being so high. At this point, things started looking a little more Vermonty, though I didn't notice it yet. The dirt roads to private camps were already numerous, but I had yet to reach any ski slopes.
I stopped in at Congdon(g) Shelter, just down the backside of the mountain. It was a very small shelter, but typical of Vermont, having two bunks which also functioned as seats for a central picnic table, sacrificing floor space to said table which could accommodate more guests. I guess Vermont sees fewer hikers at any given time than other places. They certainly don't see the South's AT rush in early Spring. (Actually, the trails aren't dry and clear in Northern New England until late May or later due to snow and the deep sucking mud it makes when it melts.) In any case, although I remember this shelter, I don't really remember spending the night here.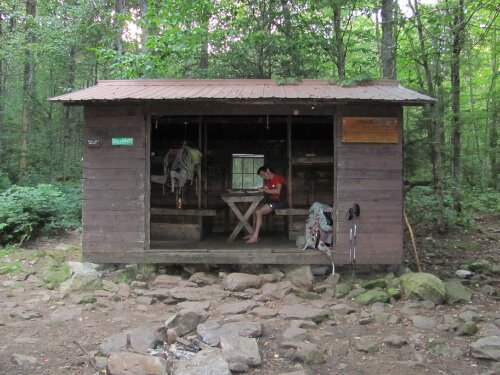 In fact, as I vaguely recall, the shelter was full and I hung my hammock somewhat away from it. I met a guy in the White Mountains named Sean (Shawn?) and he claimed to have met me at this shelter and I gave him the trail name Elegant Beast based on a conversation we had, as he was staying here with his college outdoors summit. Although I had remembered that conversation happening at a different shelter, this is seeming more and more likely as I consider it. And it would explain why the shelter was full and I didn't sleep in it.
The next morning I remember somewhat more vividly, though, as (after a late morning) it began with a climb of Harmon Hill, the last hill before the U.S. 9 crossing for Bennington. Several people had their hearts set on getting there today, though I was still set for supplies and planned to push on to Manchester Center in three days. However, I stopped to take a break at the hilltop, and chanced on a wild cherry tree. As I stood there sampling the cherries (which tasted as expected, but like most wild stony fruits, were mostly pits), another hiker came up behind and we did the usual trail chat, plus marveling at the wonder that was free food growing beside the trail. I don't remember her name, if I knew it, and didn't see her again.
Copper and I crossed the road at the bottom of the hill as soon as it was safe and started climbing again, but we'd barely started up the hill when we arrived at Melville Nauheim Shelter.
It was a crooked-looking lean-to with a grill that could be rotated over the fire, and a convenient place to stop for lunch, but it was also convenient to the road, which usually means popular, which usually means food scraps are prevalent, which definitely means rodent problem. We stopped long enough to read the logs and eat a bit and use the privy, and moved on, it being relatively early yet, and there being miles to go. I'm sure we weren't there alone, and I think I vaguely remember speaking to Dimples there for the first time.
I know I took my time the rest of that day out on Porcupine Ridge, because I didn't get to Goddard Shelter until just before sunset.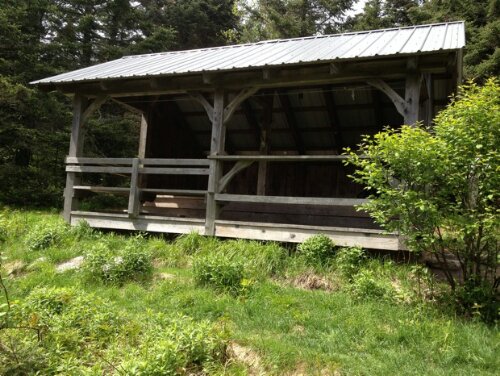 The shelter is lovely, with an enormous clearing before it admitting a decent view, and it was somewhat popular that night as well, though many had climbed the 0.3mi to the top of Glastonbury Mountain to camp next to the lookout tower. I offloaded my pack and claimed a spot in the shelter, then raced the sunset to the top of the mountain to get a picture from the tower. While there, I spoke to some who were up and about camping there, such as Dimples. When that was done, I finally made supper for Copper and me and pulled him up into the shelter beside me to sleep. I remember the moon that night being so bright at one point, I was wondering who was shining a light in the shelter, and what was making all these funny shadows.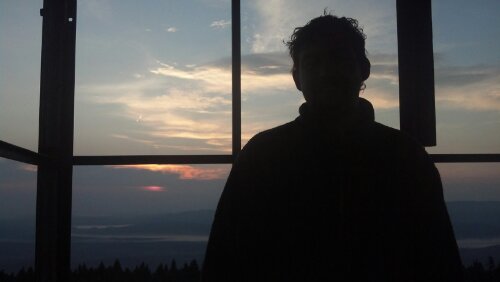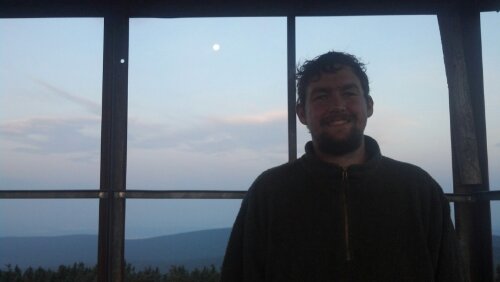 The next morning, I got up just before dawn and ran up the mountain again, to get a video of the sun rising.

As soon as I climbed down from the tower, Dimples came up and thanked me for the weather report. I hadn't realized my narration had carried across the entire mountaintop (though I should have guessed, based on how well I had been able to pick out individual conversations of the schoolchildren from the Culver Fire Tower) and apologized for waking her up. She countered by thanking me for waking her, as she wanted to get on the trail early again anyway, especially seeing as how I'd predicted rain in the evening.
Personally, I wasn't ready to hike out yet. The run up the mountain had shaken up my breakfast shake sufficiently that I was able to drink it while the sun rose, and both combined succeeded in awakening my bowels, so I went back to the shelter, found my TP, and headed down the hill to the privy. I only mention all of this because the Goddard Shelter privy has a longstanding tradition of being the only shelter to feature the entire text of Dr. Seuss's poem "The Zax", a poetic allusion to the "rivalry" between Nobo and Sobo thru-hikers.
I finally left the shelter with Copper mid-morning after everyone on top of the mountain had hiked on. We hiked for 8 miles non-stop, skipping a potential break at Kid Gore 4 miles in, arriving at Story Spring Shelter in a state of absolute misery. My feet were killing me, perhaps because the boots were too flat-bottomed and my feet were getting flat, but I was also just feeling generally achey and terrible. I stopped for lunch, and just decided that, since the trail went next straight up and over Stratton Mountain, and it was supposed to be pouring rain in an hour or so, and I don't enjoy climbing over mountains in a pouring rain seeking a shelter which is pay-to-stay, I would stay for supper too. And then all night.
Several others made the same decision. Willow arrived with her long blonde braids and set up a tent near the shelter just before the rain, and another guy around my age came up with his kid brother and set up some kind of floor-less teepee tent for four. Copper and I cooked and ate supper with them in their campsite, as "dinner guests" so to speak, until the rain actually started and we all went fleeing for shelter. After that, it was a very uneventful, but quite restful night.
The next morning we set out to climb Stratton Mountain, which is just shy of breaking the four-thousand-foot mark. Despite its height, it is unmarred by ski trails (except, perhaps, near the North Peak, not on the trail), and despite the proximity to Glastonbury, has its own fire tower. From the tower, I explain how Stratton has the unique title of being the inspiration for America's first cross-country interstate walking path:

There were quite a few people up there that day, not counting the rangers in the warden's cabin, and some of them were afraid to climb the tower. Many of them had brought their dogs and their kids with them. The weather at that height was a supremely annoying mix of warm sun and freezing wind, which made you curse every little cloud that came by. Nonetheless, I found a spot on a bench where I could sometimes be comfortable as long as I had my fleece on. I sat there and went through most of a block of cheddar with other snackable foods to celebrate being in the Green Mountains.
But Copper hadn't had a drink since we had left camp, and I was ready to take on a bit more as well, having drank a good bit with lunch, and the next spring was a hundred yards further down the trail, so we headed on. It was one of those brutal nonstop descents angling all the way down to the Stratton Pond area, where the trail forks and the Long Trail continues one way while the other way goes to the shelter/campsite and a trail around the pond itself. Out of the wind, it was a beautiful warm day, the water in the pond was clear and fresh with light ripples brushing its surface, and the caretaker had taken good care of the enormous shelter. I availed myself of every facility the site offered without actually spending the night there (and hence, avoiding the fee). I probably stayed for an hour or so before heading on.
We moved through the next, relatively level section at a quick pace, crossing the Winhall River (which is currently 3/4 of the trail distance from Spring to Katahdin, a milestone for hikers who actually started at Springer), bypassing the William Douglas Shelter entirely due to its location a half-mile off-trail. There was maybe an hour of sunlight left and it was only 3 miles from there to the next shelter (Spruce Peak).
But it was only a mile from the shelter side-trail intersection to Prospect Rock.
The trail joins a gravel road a little bit south of the viewpoint, and it was just about here I spotted a volunteer apple tree. I pulled off one of the low-hanging yellow fruits and gave it a taste and it was absolutely perfect. Vermont is full of apple trees everywhere, all along the Long Trail, and most of them have bigger apples or even apples that are vaguely turning pink, but not a single other one that I tasted could be eaten. They were all tooth-sucklingly bitter, like unripe persimmons. But this one…well, after a ten minute break here, Copper's backpack had at least twenty of them in it. I shared one with almost every hiker I met for the next week or so.
Prospect Rock was a lovely view at sunset, but its easy accessibility to cars left it somewhat trashy. In addition to two hikers who had hung their hammocks and were cooking supper on the rock, there was a small group of men (at least one was a doctor) who grew up in the Manchester Center area and were getting away from relatives by reliving some childhood habits. They had driven up to the view with a case of Keystone Light, and I drank one with them to be sociable. The most experienced hiker among them told me all about the mountain range which faced the view and the trails that went to and along it. It was pretty close to dark when I left them an empty can and crossed the street back into the woods.
It got dark pretty quick but I did that thing again where I avoid getting my headlamp out for a while until it's too dark. Which happened pretty quickly. Two miles later, I finally stumbled upon the Spruce Peak Shelter, which was pretty snazzy, with a wood stove inside and a barn door that could roll shut.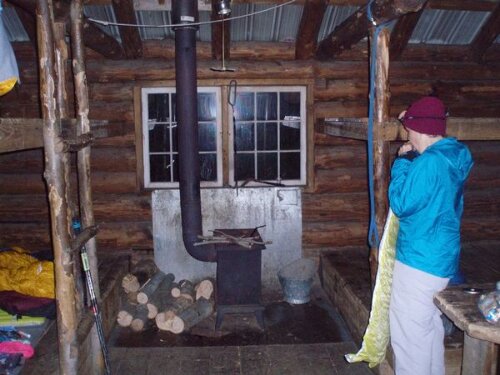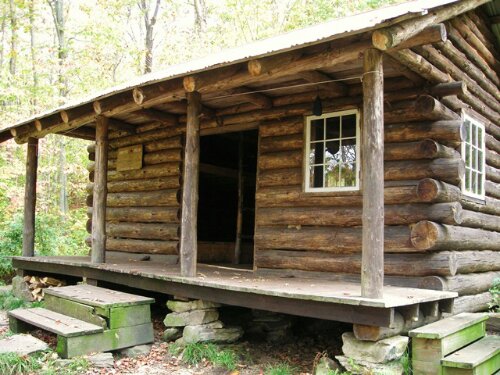 There were already three guys there who'd clearly been hiking together for some time and were very close (Duff, Abe, and Solo). Duff (I think it was) had spread his tent and rainfly all over the front porch to clean it and let it dry. I managed to wangle a bottom bunk for Copper and me and set about to hanging up my own wet stuff and making supper. It was cozy in there that night.
I want to insert this video from a 2011 hiker here which features someone who did exactly the same day I did this day and had a completely different experience due to that year's wacky weather:

In the morning, the shorter, more muscular guy (Abe) was stretching and doing pushups and pull-ups from the shelter eaves. He said he did it every day because he didn't want the trail to turn him into a T-Rex, but it was clear he was pretty fond of his body in general. Needless to say, the rest of us didn't join in. One of them dumped a pile of leaves in the middle of the tent that had been hung up to rain as a joke. Copper and I ate breakfast and tried to keep up.
It was 2.8 miles to the VT11 road crossing for Manchester Center, to which I had forwarded my food box from Dalton. I had seen on the map a lot of other opportunities for feeling townish, and was excited to go there. But I stood no chance against those other three guys, who raced down the hill faster than Copper and I could ever hope to travel.
We had to wait on the highway for about ten minutes before a nice lady picked us up and took us to the main shopping center in the middle of town. Conveniently located in a semi-circle around the parking lot were a Price Chopper grocery store, an EMS sporting goods, a Yankee Dollar store, a small barber shop, a theater and two restaurants. I arrived before most of it opened.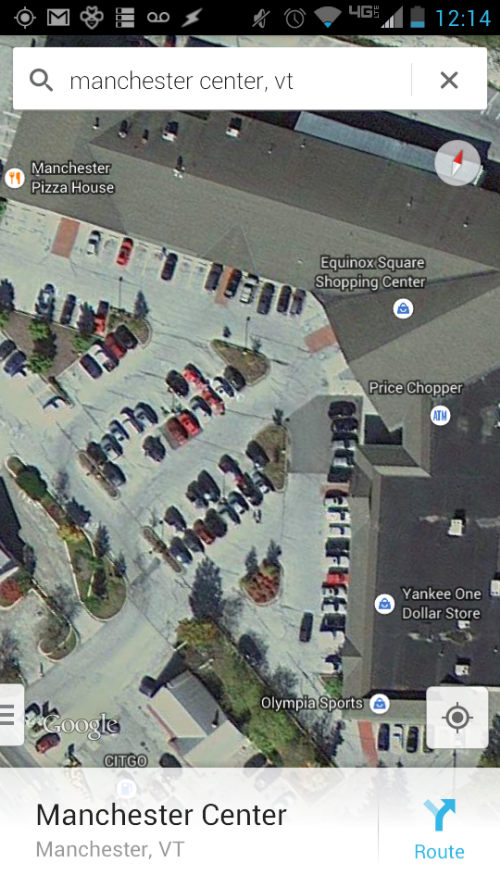 The Price Chopper was open, though, so I did my resupply, getting everything except what I figured I could get cheaper at the Dollar Store, which was open by the time I had checked out.
Afterwards, I swung by the barber shop, which had just opened, and was already doing quite the lively business for a Saturday morning, with both barber chairs full and all four waiting chairs full as well. I decided to come back later when the lines had died down.
When the EMS opened, I went inside to hunt for deals, though I wasn't in desperate need of anything in particular. I think there was a sale on Mountain Houses or something. I don't know what I bought there if anything.
Next, I went back over to the barber shop to find that the lines were only getting longer. I ended up waiting outside the door for about half an hour before one of the inside chairs opened up. Fifteen minutes later, I got my shot at a haircut, my first in months and desperately needed. Of course, since I'd come straight off the trail, she had to wash my hair first, but the sink was so tiny and had things sitting on it, it was clear they didn't do that very often. In fact, I had to squat in front of the sink, as there wasn't room in that tiny hole in the wall to put a chair in front of it. But the place was awesome nonetheless, with both stylists moving through person after person, helping fill the place with the sort of lively banter you would only get by packing so many people in such a small room (and probably only in such a small town where everyone knows everyone).
After my haircut, I decided to do something about the rip that had formed in my hammock, which had been my primary motivation for making it to and sleeping in shelters the past three nights. The stylists directed me to a store across the street called The Pin Cushion. So I carried my hammock over there, and the lady sewed it right back up for free. Wow! When I returned to the shopping center, it was time for lunch (and thus too late to get my box from the Post Office, which closes at noon on Saturdays–I later phoned them and convinced them to forward it to Hanover).
I got a box of Chinese food to go and went to sit with Copper at the picnic tables. Of course, I wasn't the only hiker who was hanging out in front of that particular parking lot on that particular Saturday morning. Icarus and Whisper were there, and Icarus, the free-spirited artist, was busily gluing plastic lizards to the crossbeams of the picnic table.
When they saw what I was eating, they expressed great interest and wanted to get some of their own, and so they decided to go buy pizza instead.
When I expressed an interest in seeing a movie (We're The Millers was showing), Icarus advised me not to waste two hours of my life watching something stupid. In fact, he said, there was an awesome bookstore up the street and a whole row of art galleries. So, I decided to follow him up the street. On the way, he pointed out a store called Friends of the Sun, where, to entertain a group of hikers following him and calling themselves Friends of the Sun God (because of his trail name), he had hidden a decorated box containing small bottles of liquor and texted them a poem describing how to find it. We also stopped in a woodworking shop with some very nice wood crafts, and, though I left Copper outside, he decided to walk right in among the shelves and crowd of shoppers. Of course, it was no problem, because everyone there loved him.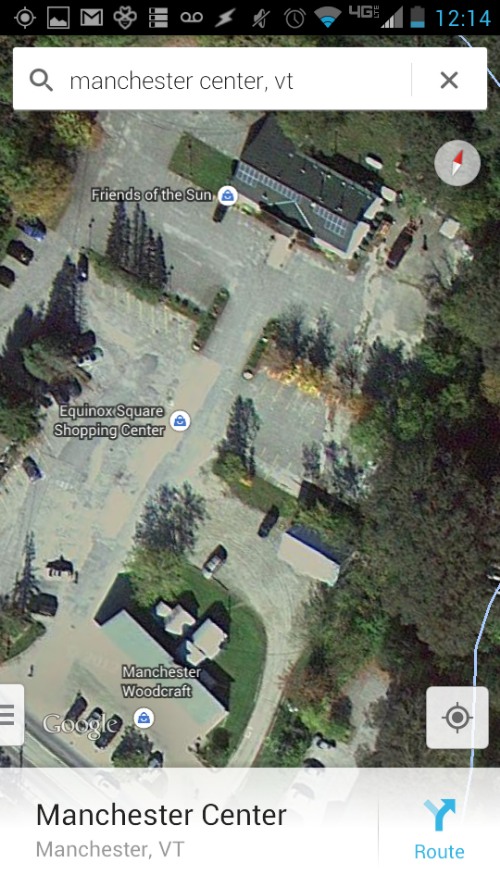 Further up the street, we arrived at the Northshire Bookstore, an enormous independent book and media seller twice the scale of Barnes and Noble. It's right at Manchester's main intersection and is quite possibly its number one summer tourism draw. I tied Copper up outside with some water and shade and took a picture of this engraved marble block set in the sidewalk before heading inside out of the now annoyingly hot sun: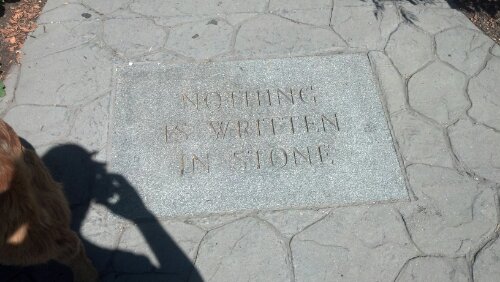 I explored the store for a while before ordering a coffee drink and sandwich from the built-in Spiral Bound Cafe, where I sat and internetted (and probably blogged) a while until it looked like the place was thinking about closing and my phone was thinking about dying.
Next, I walked up the road to the Radio Shack to get a replacement set of earphones. The fancy pair I'd been conned into spending $40 on in Great Barringtonhad started falling apart quite quickly, and could hardly be worn at this point without hurting, and the sound balance seemed to be failing too. I found a pair of Sonys that came with a 6 month warranty for half the price of the broken pair, and they lasted me all the way to Lincoln, NH, some hundred miles north. Next door, I went into the CVS for a Gatorade, some fresh headlamp batteries, and access to the exterior power outlet to get some more juice to my phone.
The previous afternoon I had called and reserved a place for Copper and myself at the hiker hostel in Manchester Center, the Green Mountain House. At this point, I called the proprietor, Jeff Taussig, and let him know I was ready for a ride out of town. Icarus (who had spent the night there two nights before) wanted to catch a bus out of town, and caught a ride with us as far as the bus station as well.
I was pretty excited because everyone said it was excellent. In fact, it was less a hostel and more an entire guesthouse given over to hikers. Dogs weren't allowed inside, but there was a small "Dog House" bunk room for dogs and dog owners at the back of the yard (which meant, in this case, I got the place to myself).
The rules were pretty straightforward: don't wear your boots inside the hostel, wash your own clothes in the laundry upstairs, eat a pint of Ben and Jerry's (included) and take a photo for the hostel's trail journal.
It was good to finally get a shower and enjoy some movies in the common room while my clothes were washing. I think Duff ended up spending a good bit of time messing around on the electric piano in there as well. The previous night's guests had held a photo shoot in which they waved a cowboy hat while sitting astride the bombshell which stood beside the fireplace a la Dr. Strangelove. Above the fireplace was this sign: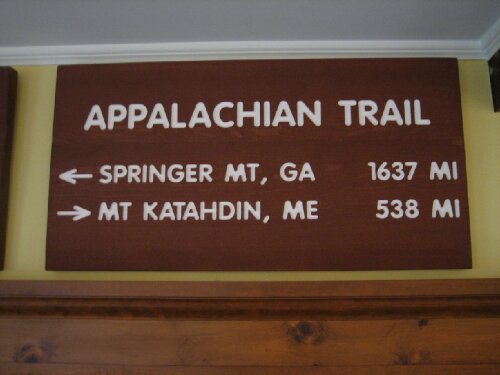 We had to decide at night when we wanted our ride back to the trail in the morning, and I took the early one in order to ensure there would be room on board for Copper. In the morning, I was in a serious rush to get myself and Copper ready to go, and I ended up misplacing a sock in the laundry room without realizing it. And I also accidentally walked into the hostel with my boots on when going in to fetch my fleece. In all the running back and forth between the house and the Dog House, pulling my boots on and off, I ended up making us—Breeze was on the same shuttle run—leave ten minutes late. Oops!
Back on the trail, the first task was to climb to the top of Bromley Peak, although I'm certain we took a break at Bromley Shelter just two miles in to do some log-reading etc., putting us on the peak around 11am, and we were not there alone.
Although it's on the AT/LT, Bromley is privately owned as a ski center in winter and a sort of amusement park in summer, with rides for kids (bungee trampoline, a number of alpine slides) and restaurants, and, of course, the chair lift to the top of the peak to see the view.


The lodge at the top is also open to the public even in summer, although it is powered down. Inside, I found both Six and Dangerpants, who had kept on moving through Williamstown, but gotten behind me when they left the trail for Bennington, and apparently spent a couple of days there. Since the chair lift is free for AT hikers (as long as they do the full loop back to the top), we dropped our packs beside the lodge and hopped on board a real ski lift. Of course, we all come from places where skiing is hard to get to and not as commonplace as a hobby than in New England, so we weren't exactly familiar with the workings of chair lifts.
Apparently, there is a metal safety bar across the platform that will stop the lift if it is knocked loose. We, of course, dutifully lifted our feet when we came to it, but, lacking any instruction from the attendant, failed to lift the lap bar/footrest over it. In all obliviousness, we shut down the entire ride within fifteen seconds of getting on. We avoided this mistake on the way back up, at least.

We left the mountain approximately together, meaning I was chasing Six all the way down to Mad Tom Notch, where there was a water pump to refill from. I was already good on water, but I pumped some out for Copper, and helped the other hikers get it started, because it was somewhat of a contraption. It had a water fountain type spout on it, but it also had a small collection tank, which could fill up with about a liter of water, to be dispensed all at once by pulling on a knob, in order to save you the trouble of having to pump and hold your bottle at the same time. The water it dispensed also seemed to have little flecks of metal in it, though it was supposedly clean. Someone on Youtube thought it was neat enough to take a video:

The rest of the day was up and down hills, but some taller than, but none so clearcut as Bromley. (Vermonters apparently prefer the term "ski trail" to "clearcut".) For instance, Peru Peak is nearly 200 feet taller than Bromley, but Bromley "feels" taller because of the view.
At the base of Peru Peak is Peru Peak Shelter where we stopped for lunch. It's a lovely little shelter a bit off the trail, with a long shelf and a tin roof, and some benches out front. I think I arrived just as Six was leaving, though there were a number of people there. I think this is where I first met Blockade Runner and High Tide. I stayed there for maybe half an hour, before crossing the little wooden bridge over the creek that runs beside it and heading on.
The highlight of the afternoon was Baker Peak. It doesn't look like much on the profile map, but it ends with a near sheer vertical climb up an open rock face. Copper and I plowed right up it, stopping near the top to enjoy the view. It wasn't quite sunset time yet, but in the mountains, the sun always starts setting early behind the mountains, so I could pretend. While I gazed, I heard Blockade Runner and High Tide making their way slowly and stately up the mountain, as befit their age. Copper and I waited there for them so that they could get our picture made in front of the view.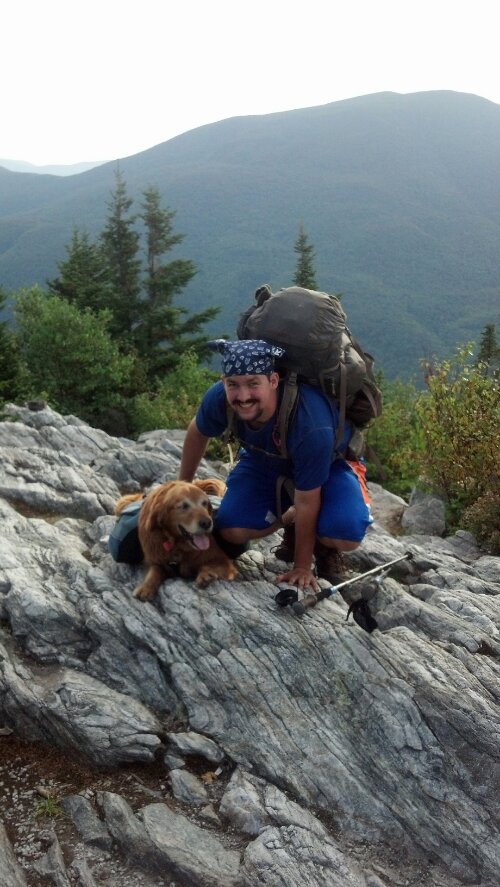 From there, it was an easy cruise into the night. Abe, Duff, Solo, Six and Dangerpants had all said they'd be staying at Big Branch Shelter, and I was still about two miles from it when I noticed the sun was setting. I remember flying past the Lost Pond Shelter at top speed on level ground and being hailed by someone I'd met in town. I don't remember his name, but I do remember: 1) he was a Friend of the Sun God, 2) he had olive skin, and 3) he carried and frequently played a ukulele as he hiked. I told him I couldn't stay there, despite the nice fire they were getting up, as I wanted to get to Big Branch. I told him that Icarus had caught a bus on ahead of him, since he'd not heard from him, and then kept right on running down the trail. One and a half miles of level, but rocky, trail later, I crossed Big Branch, turned and quickly trod out the last two-tenths to the the shelter, not even pulling out my headlamp despite the light having fairly well disappeared. I had thoroughly exhausted myself and my water supply, and I was astounded by the number of people at the shelter. It was overflowing and surrounded. Six and Dangerpants were sitting on the ground in front of the shelter while Abe, Breeze et al. sat inside. A herd of college freshmen out on a peer-bonding adventure filled every other available space.
While I was a bit sad at having used myself up completely on the 11-hour 16-mile run, yet still having to actually set up my hammock before bed, I wasn't upset about the crowd, really. I was still feeling quite sociable, and I figured I'd feel better about all the work I had yet to do before bedtime if I just got some food in me. So I dropped my pack, fed Copper, sat down next to Dangerpants, and started cooking.
As it turns out, I could have just waited. Those college kids were making stuff like pizza and tater tots and they were making way more than they could eat. I did end up tasting a little bit of it after I'd eaten, they'd eaten, I'd hung my hammock over a bog next to the shelter and climbed the rocky, muddy bank down to Big Branch to collect some water, but it wasn't really all that exciting on a full stomach and most of it got thrown away.
Some of those kids had never been in the woods before whatsoever, and couldn't even figure out how to find out a good place to pee on their own. I had to lead a pair of them once when I went, well into the night. What with the chatting and the fire, and all those college kids one-by-one trickling away to crowd under a long tarp hung up the hill behind the shelter, I stayed up much later that night than one would have expected given my early start. I turned off the aches of the day with the help of an invention of mine: the Trail Piña Colada.
Trail Piña Colada

16oz water
1 long squirt Pineapple Coconut Dasani Drops
1 airplane bottle of Captain Morgan
With its help, I was probably one of the last five people to go to bed. And I certainly wasn't the first to wake up. In the next few days, I'd take Copper on the water, finally break 4000 feet in elevation for the first time (and first of many times) in almost three months, explore a fairy village, do a crossword, play a game of Mafia, and leave the Long Trail for good by way of Irish Pub. But all that is for the next post. For now I leave you with two more portraits depicting folks mentioned in this post.
Limey was mentioned two posts ago when we stayed together a Tom Leonard Shelter. Enoch will be mentioned about three or four posts from now once I the story reaches the White Mountains.
I don't remember seeing Whisper again after the day described above, but Blockade Runner and High Tide will show up again several more times in the next post.