The weather and the trail coming away from the Nolichucky and Erwin were both nice, if cold. What with how nice it was, I was surprised to see Pilgrim marching back south saying "I've been praying all morning, and I'm ending my hike here. God is telling me my true purpose is providing to trail magic to the other hikers." I never met him before, but it's always sad to hear a thru-hiker is quitting.
It was only around 5 miles to the first shelter, and we had no intention of staying there, but the sky opened up and a nice day turned rainy as we climbed the last stretch to it. A large group was there waiting out the rain and eating lunch, including a guy who was crazy enough to be carrying 60 lbs. up the trail, a third his body weight! But the only one who stuck around when it stopped was Crow, a Hawaiian guy who was "taking the day off" by only walking to the first shelter and spending the night there. One interesting thing about this shelter was a hiking challenge inscribed on it with several rules, but the gist being that two hikers sharing a pack must leave no earlier than 5pm from the shelter to go to Rocky's pizza in Erwin, order 2 large pizzas upon arriving, and bring them and a 12-pack of beer back to the shelter before dark. Clearly a challenge for summertime.
Cop and I couldn't end such a fine day so soon, so we went on, planning on stopping at Indian Grave Gap. Coming up the side of a ridge just shy of the road, we saw a sign and heard some people moving about a campsite just off the trail. Fresh Ground had just arrived and was setting up his Leap Frog Cafe. Of course, I didn't know of Fresh Ground, but he had been serving up hot dogs and sodas at the bridge below Davenport Gap shortly after I passed there and at several points further south. Some folks have come upon him four times as he leap frogged his trail support services northward. I accepted a hot dog and some cheetos and a Mountain Dew before offering to help him set up his camp. I decided to pitch my tent in the site, and watch over the stuff and build a fire while he went to Wal-Mart. Nate passed through while I was setting up my tent and I made him a hot dog before he pressed on, refusing to spend the night there with us. Later, Ember and Passover (so named for the nosebleed that left her tent door stained with blood one night) came in, having had to wait, as Nate had, for the mail to come in to pick up their new trailrunners. They decided to set up and stay for breakfast. I cooked them hot dogs as well. With a little more effort, I managed to get the fire roaring in the pit just in time for Fresh Ground to come back with supplies. We helped him unload and set up the cafe, then sat around the fire drinking the beer he picked up for me and the whiskey that E+P (NOT a couple, JUST FRIENDS) had packed in from Erwin.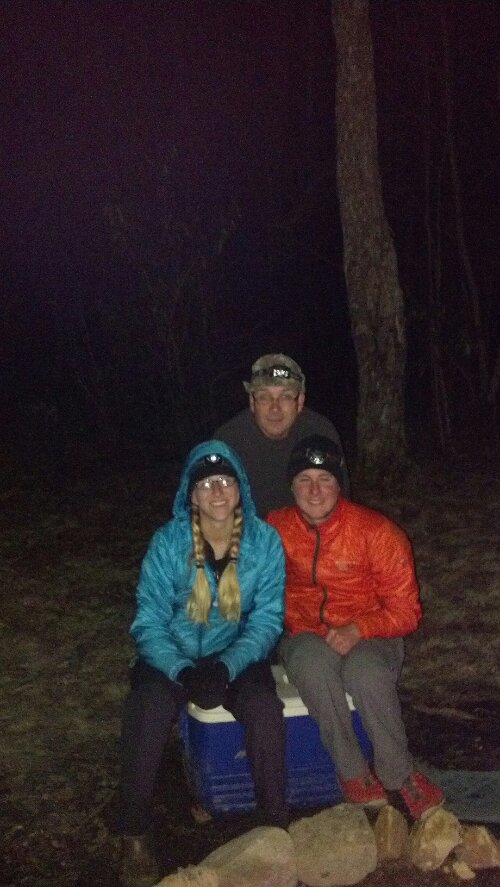 The next morning, Fresh Ground got up early and made us coffee and scrambled eggs and pancake-like concoctions on the stove, then we all packed up and were off again.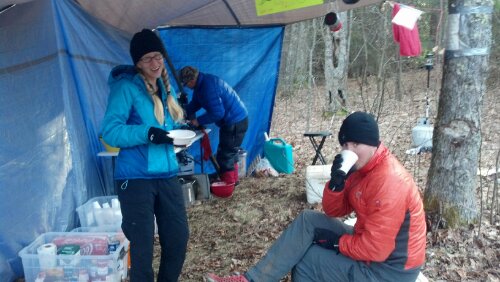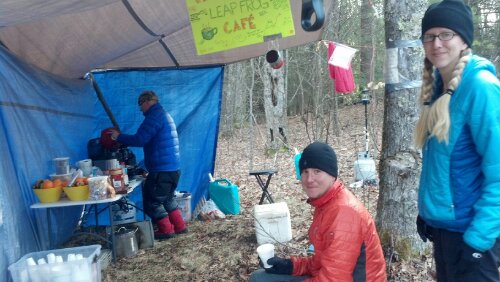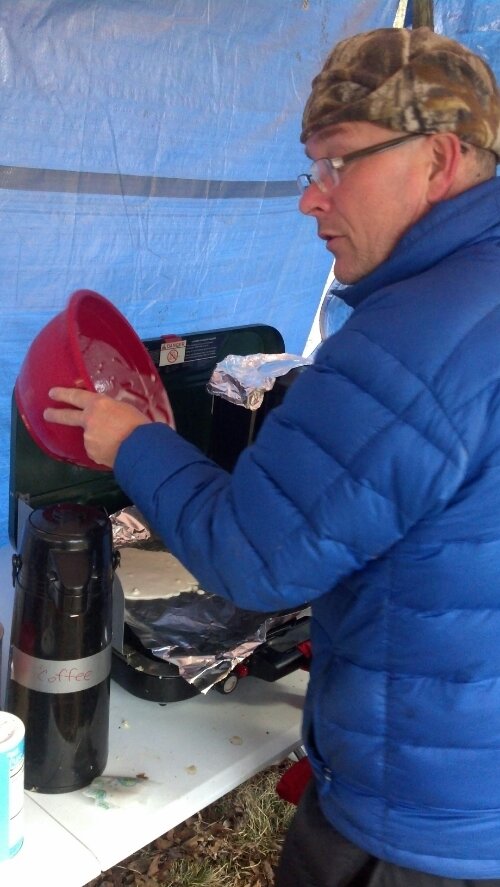 TMost of the hike that day I found dull and uninteresting. There was nothing to see on the trail, and the weather was boringly perfect. Unaka Mountain was another ice and spruce covered high place that didn't hold my attention. Crow passed me somewhere but I caught him again at Cherry Gap Shelter for lunch. I didn't stay long because it was early yet, the weather was nice, and I'd planned to make it to Iron Mountain Gap. I convinced him to head out too and he passed me on a climb just after I left. Copper decided it had been a long, hard day when we were just shy of the Gap, and stepped off the trail to lie down. I took his cue and set up camp in a relatively flat spot just down the hill. There was a spring just around the corner to one side and the road to the other. I figured he chose well and there we stayed until quite late the following morning.
When I finally poked my head out of the tent, I saw a blue-hatted someone already speeding by down on the trail. Someone shamed at sleeping so late, it still took us more than an hour to get breakfast, business, water collection, and packing out of the way.
But if we had gotten up early, it wouldn't have been for much. The trail was even more uninteresting and the weather even more clear and perfect than the previous day. I was downright bored for most of it. We did stop for lunch at Greasy Creek Gap and chatted with a pair of trail maintainers from the Tennessee Eastman Club, about why there were no privies and cables at their shelters and how AT clubs get funds, which was pleasant. They asked me if I was hiking with a black guy, and I told them I hadn't seen a single black guy on the trail since I started. They informed me that the blue-hatted man I'd seen climbing out of the gap when I'd arrived had been one.
I caught up to him later, at Clyde Smith Shelter, where I had a bite and watered Copper and complained in the register about how boring the day had been on the whole, and while I was there some of his friends showed up. They were setting up tents behind the shelter, despite how early it was, because one of their number had gotten turned around for a mile back on Unaka Mountain. Then a small sortie from a large group of high schoolers in an outdoors club in Asheville (called TASK) came to visit the shelter. We left soon after to catch a last few miles before dark.
Soon enough, Cop was leading me straight up the side of a hill. It was Little Rock Knob, and it was the first time that day the trail got interesting. The climb and the views from the top lifted my spirits in the space of an hour. We caught up to the outdoors club on a ledge with a great view to Buladean.


We passed them again on the way down the other side, but they caught up again right at Hughes Gap. It was 6pm. We all had a choice. We could push on the last three miles to Ash Gap, straight uphill as darkness fell, or we could find a campsite nearby and climb Roan Mountain in the morning. They elected to try the former, and not knowing how many tent sites would be available in Ash Gap, and definitely not relishing the prospect of setting up in the dark, I started looking for water nearby. I couldn't find it (because I was looking the wrong direction) nor could I find a very good spot to pitch a tent, so I got out my phone and called CeeCee down at the Greasy Creek Friendly, who said she could ride me and Copper to her place for just eleven dollars. This seemed quite reasonable and when she had come and brought us back, she said that Copper could go inside if he wouldn't climb on the furniture, so we elected to spend the night indoors. I picked a bed in the bunkhouse, but left most of my stuff inside her house at her request. She had a lot more rules than usual (I had to change into camp shoes first, wash my hands any time I touched my gear, rinse my cans before recycling them, etc.) but I was her only guest that night, so I got all kinds of attention, and got to hear all kinds of stories.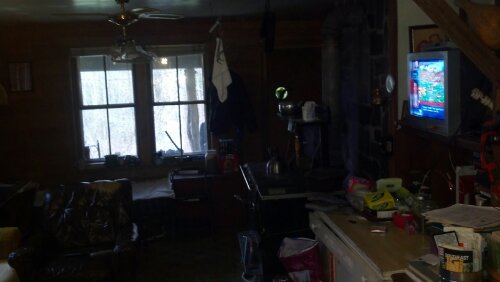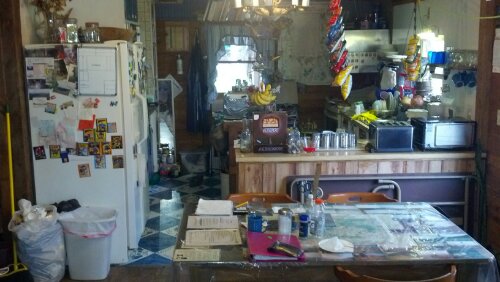 She told me how the creek got greasy (iron ore washing down from Iron Mountain) and how the old women in the novel she's writing (which eerily resembles her life) say the creek got greasy (all them b'ars they killed up thar and all the fat runnin' off 'em into that crick) and all about her crazy old paranoid neighbor (who is constantly posting signs along the trail saying that the hostel is closed, shining lights at tenters to annoy them, and once, taking a sledgehammer to her water pump and reservoir then filling it with marbles so that she has no water pressure anymore), and how Clay and Karla (from back at Hemlock Hollow) had called to tell her they were getting off the trail (due most likely to Clay's injured IBT). She cooked me a white bean chili while I watched a NOVA special on the Antikythera Mechanism on her TV. I ate that with a beer she gave me. I left Copper in the house to sleep next to the stove while I went out to sleep in the bunkhouse.
In the morning, she turned the Jimmy Dean turkey and egg breakfast sandwich I pulled from her freezer into a breakfast masterpiece, toasting the muffin separately and adding mustard and mayo. And when she totalled up the stay and the two shuttles and all the snacks and drinks I'd taken, it came out to $39.27. I gave her $50 and told her to pass on the extra to the next guy. Even with the huge tip, I don't expect to see prices that good anywhere again. She drove us back to Hughes Gap as the rain started to climb Roan Mountain in a wonderful winter storm.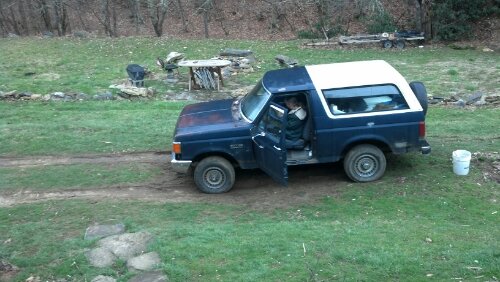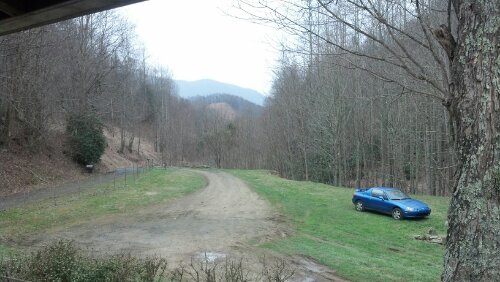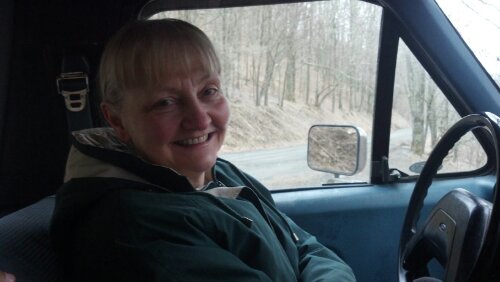 The first three miles up Roan Mountain were an easy, gentle climb around a multitude of switchbacks. No trouble even in the rain as far as Ash Gap. But then the switchbacks disappeared and the trail decided to go nearly straight up the side of the mountain, through mud and ice-coated rocks. It was like Mt. Collins all over again. And somewhere halfway up the weather decided it would be a good time to switch to snow, and then to back off and just go with sleet for a while. Of course it would do that…I was climbing up past 6000 feet after all.
The wind was whipping across the road when we reached the site of the old Cloudland Hotel, a summertime mountaintop retreat for elites (for who else in the 1880s could afford the steep $2/day price tag?) which straddled the state line. The marker said it had the border painted right down the center of the banquet hall so that guests could easily tell which side of the room to stand on while they had their cocktails; that part of North Carolina was dry at the time, and a local sheriff was said to occasionally stand around the room waiting for a drunken guest to step over the line into his jurisdiction. Nothing remains of the hotel now but a foundation and a chimney. We ducked back into the protection of the spruces (but carefully as the trail was still an ice slide) as soon as I'd had time to read the sign.
The next section of trail was a road piled with snow and ice, but it was just a half mile to the treacherous ice slide that climbed up into the spruces to the converted ranger cabin now known as Roan High Knob Shelter. It was the nicest shelter I'd seen since the Smokies or even at all. It had four walls, a loft, and a front door. Just the things to protect me from the winter storm whilst I ate my lunch. Although it is said to be the highest shelter on the AT, as you can see, no stoners could be found inside.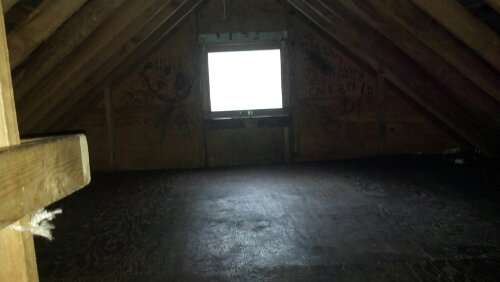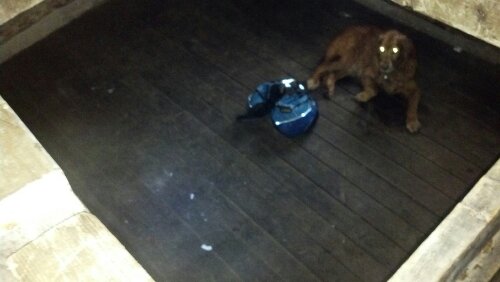 Soon after I ate lunch, and was deciding whether to go out and brave 7 more miles in the storm, EJ arrived. He was the black gentleman in the blue hat I'd spoken to at Clyde Smith. Turns out he was from Tifton, GA, working as an x-ray tech in a hospital, and his friends were doctors. I started changing and preparing to bed down to wait out the storm that night (because the shelter was so cozy) when two more of his crew showed up. They had the same plan I did, though apparently their fourth went on ahead, having missed the memo about stopping there. Two or three others arrived much later from as far back as Cherry Gap Shelter, but they all found spaces in the loft. I slipped into my sleeping bag and slipped on earphones to listen to my stories until 6pm safe from the hailstorm raging outside, at which point Copper and I had supper. There was a flurry of activity then as the others all fetched water and cooked. I had plenty of water from CeeCee's bathroom faucet and didn't have to brave the ice slide in the storm. Everyone decided the needed to take pictures of everyone then.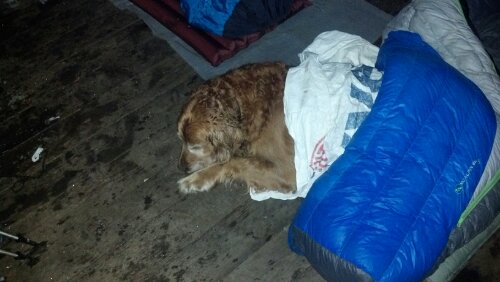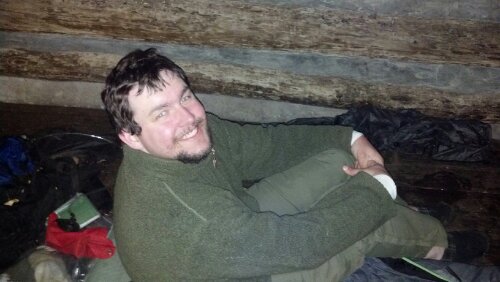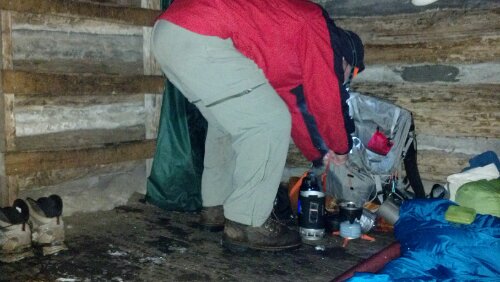 The next morning we cleared out by 9:30 or so, even though most of us only planned to cruise the 7 miles to Overmountain Shelter, just because we were so happy the storm was over. Of course, the skies weren't clear yet and it was still bitter cold out, but the trail turned much less treacherous after we crossed Carver's Gap. What followed was a series of balds from which one could see whiteness and silhouettes as far as twenty feet away if one were willing to stand in the chill wind long enough to look.
I tried to get one of the doctors to get my picture standing on the summit, but he took several pictures of his fingers instead, then suggested that the lens must have fogged up before turning to go. I took this picture of him heading on as soon as I had my phone back:
The next few miles to Overmountain Shelter were about the same, and we didn't really stop or talk to anyone after that except a small group of guys who had spent the night there and gave me a moon pie for no reason. One piece of the trail was quite interesting because it was covered in a layer of icicles about an inch thick on average. Walking on them was like walking on enormous Cheetos, the way they crunched. I really need to convince someone to have Cheetos thrown at their wedding instead of rice.
Further down, we found out where all the icicles had come from, as the same came falling out of the trees. I wish I could have had a picture of Copper diving for cover as a particularly large artillery burst hit him. I told him to go on and quick if he didn't like getting hit in the head.
Two guys were already at the shelter when I arrived around 1pm. One left and hiked on before I could get his name and the other was Rock n' Roll. After lunch and a change of clothes, I started working on getting a fire going, but gave up after my pile up twig embers refused to catch the wet branches that had been collected. I tucked away in my sleeping bag for a bit and RnR gave the fire a go but had no more luck than me. Then, suddenly, the sky opened up on a clear, sunny day, and he was suddenly eager to be hiking again. He swiftly packed and left. I started calling random people to chat because I had pretty decent reception in the barn. While I chatted, a whole horde of hikers rolled in, including Cricket and Trixie Yayblaze with their puppy Roscoe, with whom I'd chatted in their cabin back at Uncle Johnny's. Copper reintroduced himself.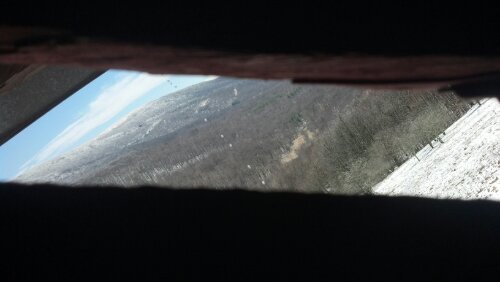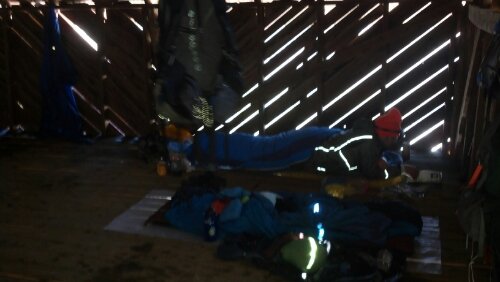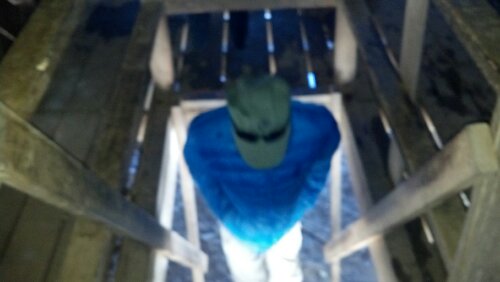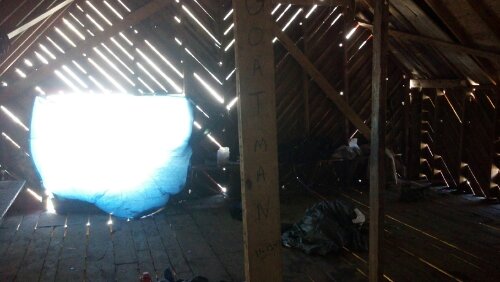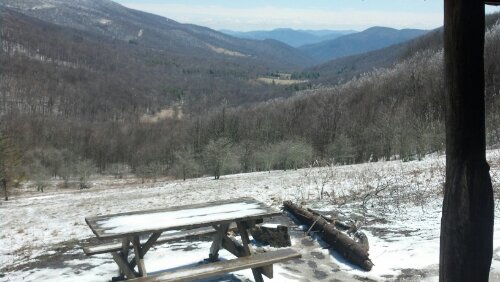 There was a lot of activity that night. Dragon built a fire outside, and some section hikers with a Great Dane tented down the road. Two of the doctors stuck together in the corner, though EJ had gone on to the hostel at US19E. I cooked and ate and put in a word here and there but mostly stayed in my bag. It was still awfully cold out and the old barn was rather drafty. Copper spent most of the evening on Trixie's mat, and when I put my fleece on him and covered him up, he quickly walked out of the covers and spent the night at the other end of the barn. My phone ran out of battery while charging on the mobile battery for three hours that night so the entire next day was devoid of pictures.
Which is a pity, because the next day was gorgeous and quite fun. For me anyway, though not for Copper. Someone informed me soon after I woke up that Copper had spent a good long while throwing up his entire supper that night. They showed me the piles, and I fetched the dustpan to sweep them up and dump them in the bushes. While I went to investigate one of the Tennessee Eastman Club's few privies, Cricket gave him some water and he threw it all up again. I carried him downstairs and gave him a Benadryl and he attacked the stream by the shelter as if he hadn't drank anything all day. He did the same when I went to collect water, and then when we were leaving we stopped and had a bloody-looking diarrhea. I gave him a couple of Metrinidazole and not too much further down the trail he dug a hole and threw up again, but I found no trace of the pills in the pool he made, so I assumed they were still in effect. A group of real oldsters out of Charlotte (but speaking with German accents) came hiking up Little Hump behind me and we chatted for a bit. They said they did the hike up Hump Mountain twice a year because the openness reminded them of the Alps. Three of the four went on ahead (as the fourth was too out of shape to continue climbing), though I passed one of those. The two that couldn't keep up were the native-born Americans. The Germans were halfway up Hump when I crested Little Hump, and had been sitting on the summit of Hump eating lunch for half an hour by the time I arrived.
The climb up Hump Mountain was quite a workout. It was just about straight up for a mile and I couldn't even see the real summit as I climbed so I had to guess at my progress despite there being no trees at all on the whole bald. Copper was eating every patch of snow that we passed, desperately trying to keep down some water. He didn't vomit again from the top of Hump all the way to the hostel down at 19E, but he was cruising on empty, having climbed two mountains and walked nine miles on an empty stomach. I had to force him to follow me the whole way, because his choice would have been to pass out on the side of the trail. Upon climbing the stairs into the Mountain Harbour bunkhouse, he promptly flopped onto the floor and didn't move all evening, ignoring the food and water dishes well into the night.
I carried my dirty laundry up to the house and caught the five o'clock dinner shuttle, which delivered a small group of us (Bob, EZ, Lamia, and I) to Smoky Mountain Bakers, where I had an entire wood-fired pizza plus some and about five cups of unsweet tea with lemonade.
When we returned to the bunkhouse, Copper had not moved. Sometime around 9pm, a lady came in saying she was a vet (and she was really there to look at a pregnant bitch about to have a litter, I think; Harbour Mountain is both farm and hostel/bed-and-breakfast) and after I discussed Copper's symptoms, she told me to watch him to make sure he drank, and make sure he got a full five day course of the Metrinidazole, even if he got better. I gave him another pair of pills right then and there.
Now I'm in a spot where I've got 4G for once, so I'm uploading what I've got. There'll be more in a couple of days when I get to Damascus.