Clay, who, with his wife Karla, played spades with me and Katfish my last night at Hemlock Hollow, taught me how to make panoramic pictures with my phone that night, so this post will be full of them. Hope they fit on your screens.
I woke up early that next morning and got my coffee and breakfast, settled up, and packed. Around 9:30, I got a free ride to the trailhead. It hadn't been snowing too long, as there was only around an inch on the ground. For the first couple of miles, the only footprints were those made by me and Copper until we were passed by Zippy and Ditto, who had spent the night at the last shelter before the gap. I caught up to them at Little Laurel Shelter and we chatted over lunch. I told them I'd be pushing on to Jerry Cabin Shelter that night, and they made noises about doing the same. We also discussed the upcoming decision of whether to take the trail along the exposed ridge the AT follows over Fireskald Mountain, or to take the Bad Weather bypass trail because of the snowstorm. I knew I would be staying off that ridge, but apparently I was the only one who avoided it, because I was snowblazing the bad weather trail (or Packgrabber Trail, as it should be called because of all the low-hanging laurels I had to duckwalk under) when I got to it.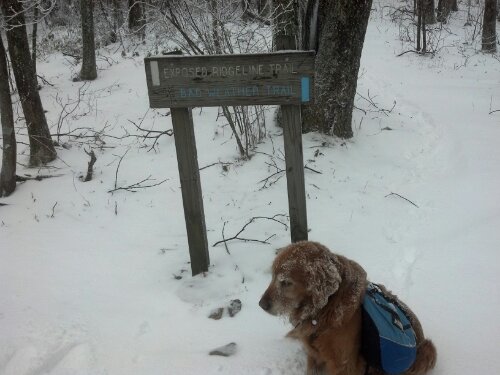 I nearly froze my fingers off taking and posting that picture because the wind was tearing over the ridge. (By the way, no one wins the contest…I get to keep the prize!)
When I made it to Jerry Cabin, it was deserted. I checked the log, and the others had stopped in for a snack and pushed on. Everyone's faster than me. But the snow was pouring down, even blowing into the shelter and the temperature was dropping, so I pitched my tent inside and put Copper in there as quick as possible, cooking by sticking my arm out the flap.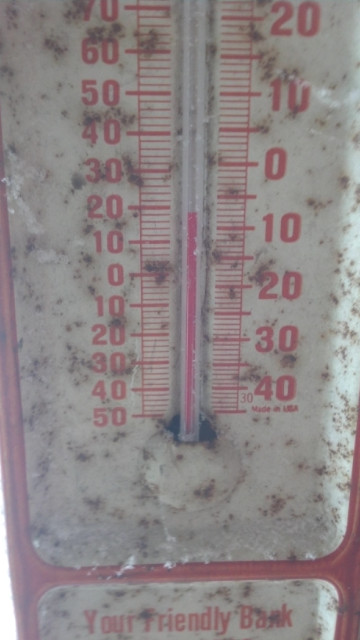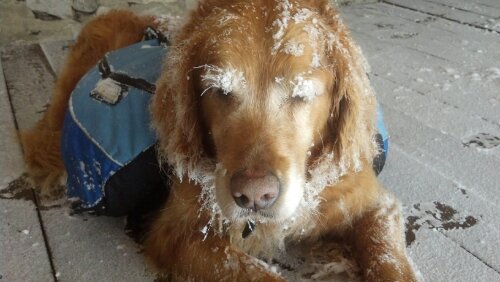 The thermometer read 16°F when I awoke, and I didn't much feel like leaving until it hit 20. I took my sweet time melting snow and using the privy (three times because my bowels were being weird) and packing up because I was only planning on going 6 miles to the next shelter in this awful weather. Also there was this one crazy bird that just kept hopping around the shelter, coming right up to me, then flying out and coming back later.

I finally pulled out at 1pm with the temperature stuck at 18°F and not budging. It snowed all day, and I had to find the trail under a foot of snow. It wasn't always difficult, since it was usually the whitest snow that it followed, but the blazes were sometimes hard to come by, especially with visibility as low as it was.

Copper lost one of his front boots right off the bat and I doubled back to retrieve it and put it back on. It was slow going because he stopped every 15 ft. to lick the snow off of them. After a particularly tricky rock scramble coming up to the top of Big Butt Mountain (hard to find the trail when the blazes are on the rocks), the trail joined a wide avenue that went down the hill for a mile and a half. Halfway down, I saw he'd lost his boot again. I walked back a bit and didn't find it, and gave up, figuring if he couldn't keep them on his feet he didn't need them there anyway. Right after the trail turned off this road, it passed a strange little cemetery plot next to one of those flags you put in your yard that said "Welcome Friends" with a picture of a raccoon. That little patch of red flapping in the breeze was easily seen in the distance amongst all that snow, but it looked to me like someone poking their head out of a tent at first. Everyone who saw it agreed it was very strange to see out there in the middle of the woods.
One long downhill and one short painful uphill later, I was at Flint Mountain Shelter. The log showed Zippy and Ditto. had stayed the previous night there, but I again had the place to myself, so again I set my tent up inside and dragged Copper in out of the cold.
The next day was about the same, though I got out of the bag earlier because it would be a ten mile day. I still took my time melting snow and going to the privy, but this time when I came back to the shelter I wasn't alone. Some German guy with poor English was there unpacking a stove to make himself a soup lunch. He informed me that Jerry Cabin had housed 15 people in and around it the previous night, and by the time I had taken down my tent and packed up, I had met at least ten of them, arriving in ones and twos. I was glad to see them, knowing they'd get to blaze the snow out of the trail for me and Copper that day. One of them even returned Copper's boot from the top of the mountain. I also had the good news that one of the guys was getting a ride to Asheville out of Devil Fork Gap, and his dad might be leaving some double cheeseburgers there. I left around 11 and it was much easier going without the snow falling and with the drifts mostly trampled down. And there was, in fact, a feast laid by the trail marker at the gap, with a cooler full of Double Whoppers, a box of Mountain Dew, water bottles, and candy. It was just the fuel and motivation I needed to go ahead and climb that next hill, and I took an extra Dew and some candy for later.
And it was nice to occasionally see something other than white. When the sun broke out, somehow it made the snow look gray, because my eyes had adapted to the entire ground being bright.

Of course, the snow was still piled high and deep everywhere, despite the sun, and it was still treacherous at times. Along the ridge leading up to Hogback Ridge shelter, the drifts were occasionally four feet deep, and I was thankful to have packed-down footprints to step into. Copper was thankful that his backpack served as a sort of snow buoy, letting the drifts take some of the weight off of him while he slogged through. Nonetheless, he followed all day, and at quite a distance sometimes. I took the boots off his front paws, which made stop a bit less often, but he still wanted to lick his front paws on occasion, which would have caused us to get there in the middle of the night if he had accompanied it with his normal pace. By staying far ahead, I was forcing him to jog to catch up every time he stopped, which, though tiring for him, allowed us (with a Mountain Dew-fueled final uphill push) to reach the shelter before dark. Not before everyone else that passed me, though. The shelter was packed lack sardines when I arrived, so me and SoFar set up tents nearby. Of course, this meant digging a 6′ by 6′ hole in a foot of snow first, a task of most of an hour, so it was pretty much dark out by the time I got the tent up and Copper inside so that I could start cooking. It was a much warmer night of sleep, however, since we had the earth below us and the wind was light enough not to be noticed. SoFar just packed down the snow with his feet and set up his tent right on top of it, and spent the night freezing his butt off.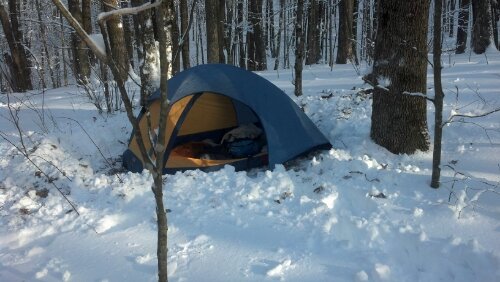 I was the last out of the shelter in the morning due to a variety of cold-related problems. But I did learn the trick of sitting on frozen boots to make them more pliable, and the privy did have a most excellent scenic view.
It was only a few miles downhill to Sam's Gap, where the trail crosses the interstate, and there was yet more trail magic waiting. Trash cans on one side, and a box of Dew and Pepsi and a bag of chocolate chunk cookies waiting on the other. Copper and I both had a cookie, I drank a Dew and took another for the trail, because the next task was to climb Big Bald. It was a long slow incline for the next few miles, but the snow was no longer a problem, except where it had packed into ice or melted into mud, because of all the feet that came before mine. Much more bothersome was the cutting wind above the treeline, which caught me without my fleece on because it was much too warm to climb a mountain in. All in all, it looked about like Max Patch, except with more snow on it.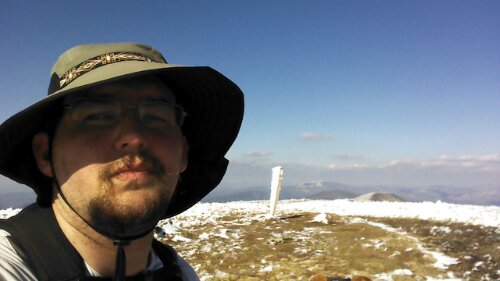 When climbing up Big Stamp (the next hill after Big Bald), I realized Copper had just recently lost a hind boot, and turned back down the hill to get it. Dirty Mike, who'd been in the group who took a day in Asheville and been returned to Sam's Gap, was coming up behind me carrying the boot. We took each other's pictures at the top.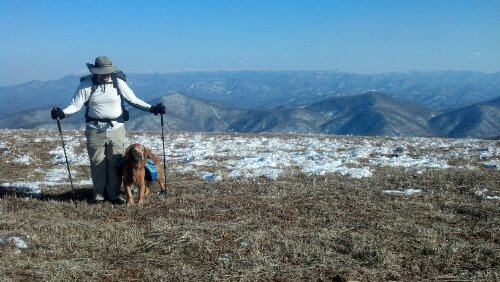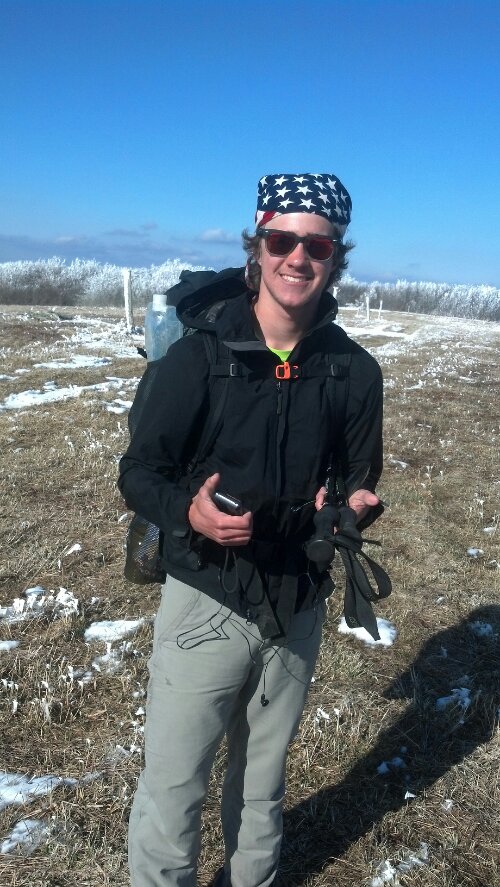 He ran on ahead down the last half mile to the Bald Mountain Shelter, while I took it easy, having already fallen several times that day. I slowly made it down to the shelter, adding only one more spill to the tally. When I arrived around 5pm, several folk were already there, but I found the ten-man double-decker accommodations plenty capacious. Furthermore, I was greeted by a friendly snowman, which became ever more elaborate as the night approached. And several of the people decided to push on to Erwin in the dark (holy crap no not me) leaving plenty of open slots to fill in the shelter.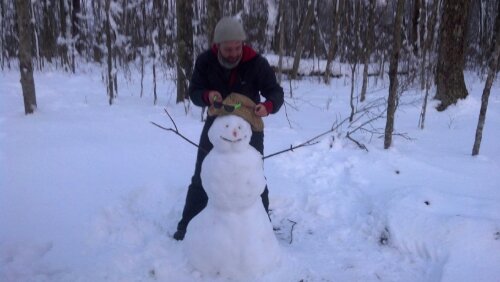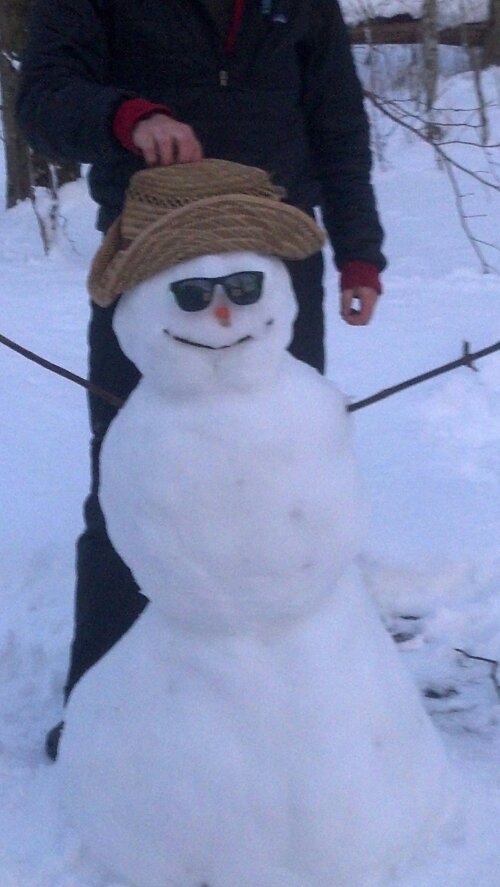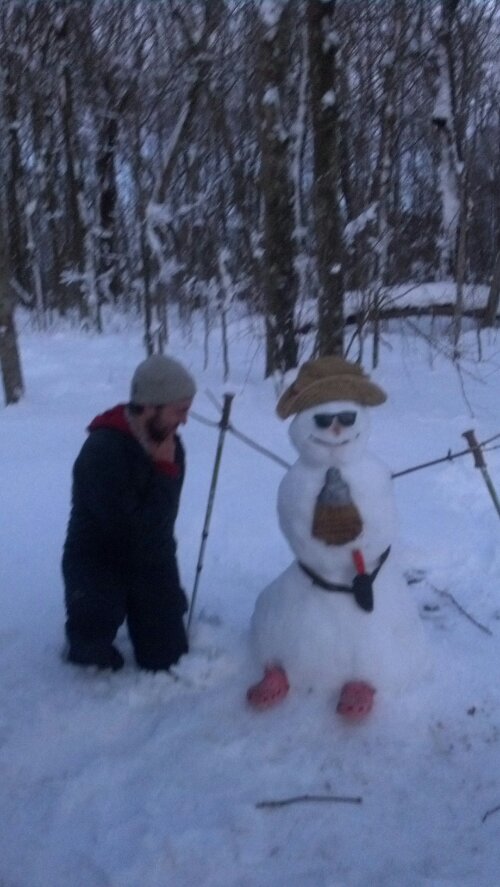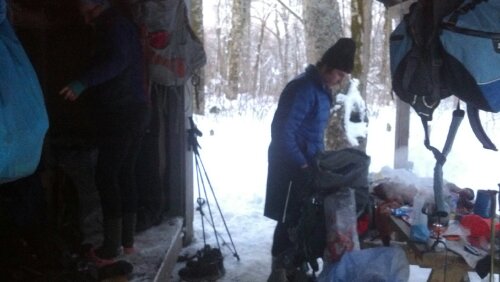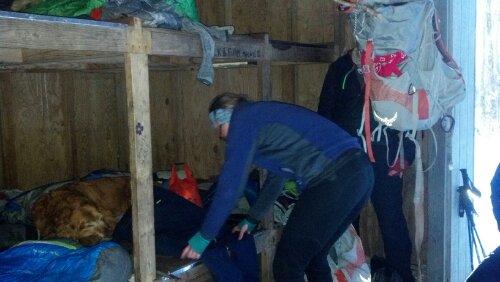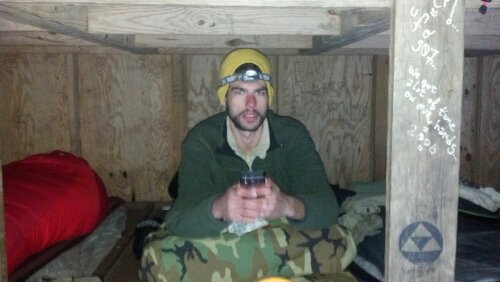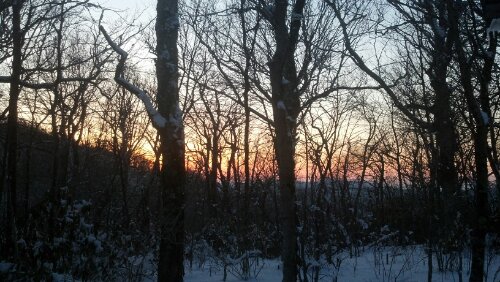 By invitation of G, a girl who really wanted to cuddle him, and unanimous approval of the lower level of the shelter, Copper slept next to me in the shelter during that Night On Bald Mountain.
The next day I managed to only be second-to-last leaving the shelter, but I didn't care, because it was all downhill from there.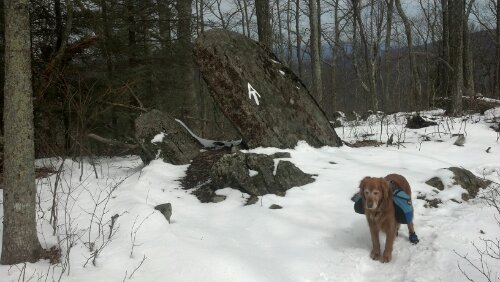 The climbs were all less than 1000 ft. The hardest was up High Rocks but it was well worth it because the views make it an excellent place to lunch. Copper may have been disappointed he couldn't come out on the ledge, though, since he couldn't come through the crack with the pack on.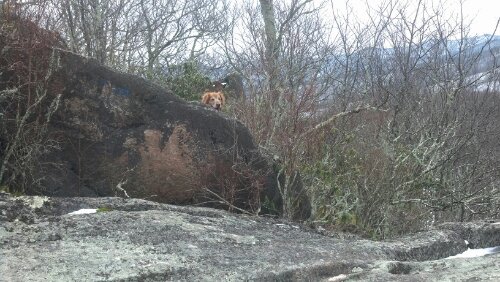 Soon after High Rocks, there was no snow left in the trail at all, only mud, and it stayed that way for the rest of the day.
I stopped at a nice little brook just before Spivey Gap to refill my water bags and soon Hobbit came down from the road looking for thru-hikers, offering sandwiches and soda and fruit and junk food and even beer. I didn't take a beer, but I did take a sandwich and a salad, and then filled Copper's and my packs with as many of the various treats as I could to carry up to the shelter. Along with Ponch's Nalgene of Hawaiian Punch Copper was carrying (which had fallen on the trail), we brought a lot of good karma up the next 5 miles to No Business Knob Shelter.
It slept 6, which meant Norseman, G, Carjacker, Ponch, me, and once Sunflower left with her fiancee to night-hike into Erwin, Nickelodeon (who arrived after me, having pulled a monster 20 miles over the Balds from Hogback Ridge). I rehydrated and ate the chili given me by Hobbit's wife (along with some of Ponch's dried jalapeno). Norseman had his iPod on, playing tunes for the whole shelter all evening. Copper slept between G and Norseman, with me at the opposite end.
The next day I managed to make it out third-to-last by waking up before everyone else. It was an easy six mile glide down into Erwin.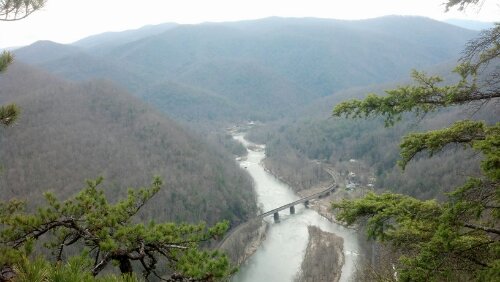 I came out onto a road, crossed it, and checked into Uncle Johnny's. Our cabin wouldn't be available until 1, so I rented a bike and rode to Pizza Plus, the all-you-can-eat pizza and salad buffet.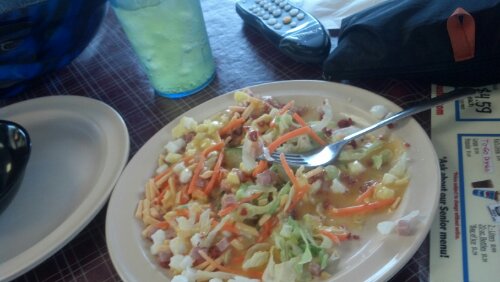 When I pedalled back from a long, gluttonous lunch, my cabin was ready, and I was pleasantly surprised to find it had a tv/vcr with a huge vhs library, and a mini-fridge!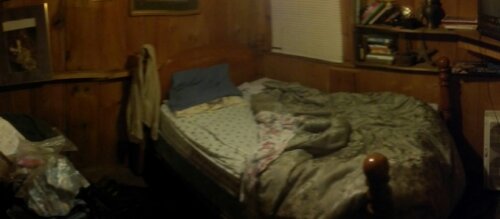 I had just enough time to shower, throw my stuff inside, and tie up Copper before I caught the shuttle into the center of Erwin. My goal was the Food Lion, where I got enough food (and beer) for the two days I planned to stay, and some more food and treats for Copper. I also grabbed a razor so I could shave in town. (I actually bought 5 razors an hour before at the Dollar General, but they fell out of my pocket as I was peddling back, so I bought another, this one with shave cream included.) Then, back in my cabin, I chewed through piles of junk food while watching movie after movie. People were informally gathering in random places and I did step out to visit some on occasion (for instance, Cricket, who was hiking with her sister and her puppy Rosco, but had to interrupt watching Dances With Wolves to go to Easter Vigil in some random house basement due to Erwin's lack of a Catholic church), but gatherings formed and dissolved quickly, and "staying up late" for hikers means going to bed at 10pm.
Today, I got up in time for the 9am shuttle back to the coin laundromat. I did my laundry, ate lunch at the all-you-can-eat KFC buffet, and did a proper trail resupply at several different stores. I caught the 3pm shuttle back to Johnny's so I could be with Copper during the promised t-showers. I watched another movie and played a game on my phone, but mostly things have been really chill tonight. Ate shrimp and popcorn and lots of other junk while I organized my food for the trail. It's going to be a heavy pack to carry out of here tomorrow morning. At least I can start with a shower.