I may or may not have mentioned this, but Mary at the Mountain Harbour B&B makes the best breakfasts on the AT. Copper needed a day off to recover from his illness, and that was as good excuse as any to get to participate in this smorgasbord two days in a row.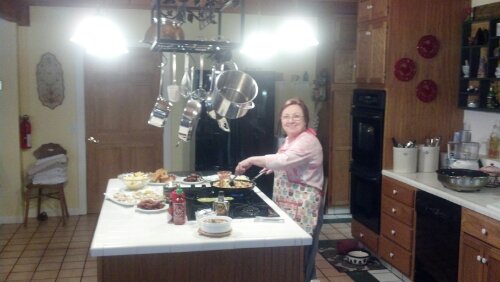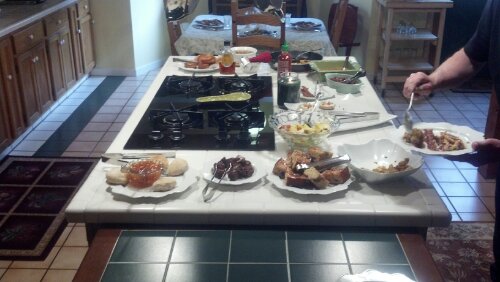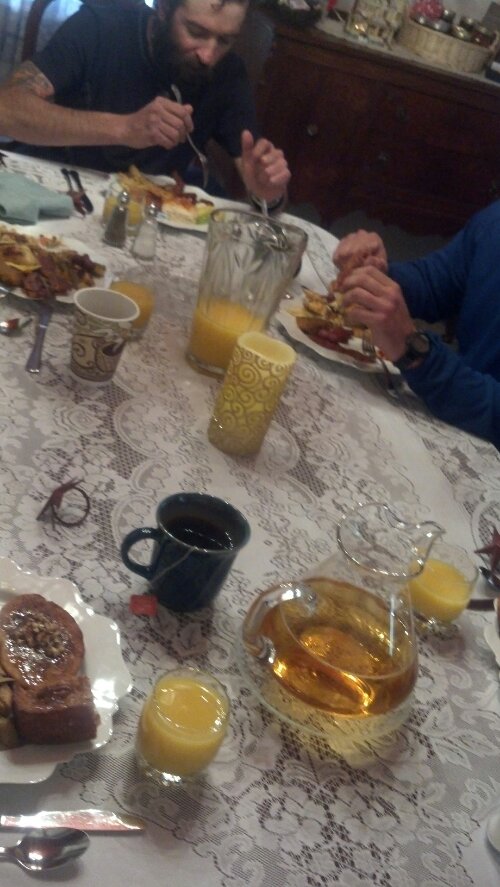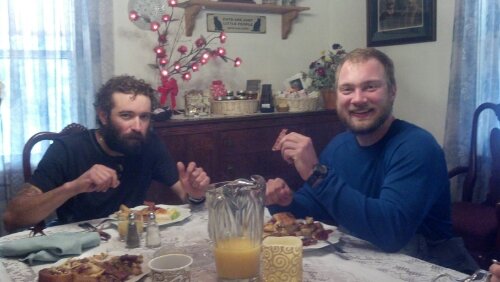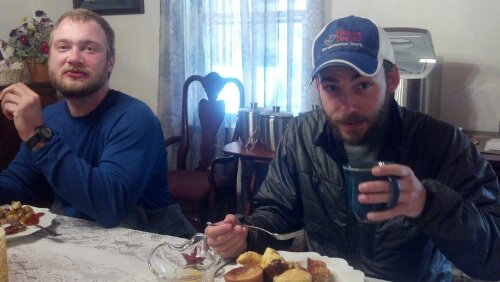 But I had no reason to rest. I only did the nine miles into town the day before, and had two huge meals in a row. It was time to go slackpacking! Mary gave me a ride to a spot 10 miles north of 19E and dropped me off. Hiking without a pack is always wonderful, but this couldn't have been a better slackpack. The weather was mild and sunny, and the section of trail I was hiking was absolutely gorgeous. Just a couple of miles in, I arrived at Mountaineer Shelter, where Corduroy sat writing, having battled all night long the stomach flu that's come up from Erwin. And the water trail for the shelter led to the top of Mountaineer Falls. When I found a place to climb down to the bottom of the falls, I found myself back on the AT, having skipped a fifty yard switchback. I shrugged and went to get some pictures of the falls.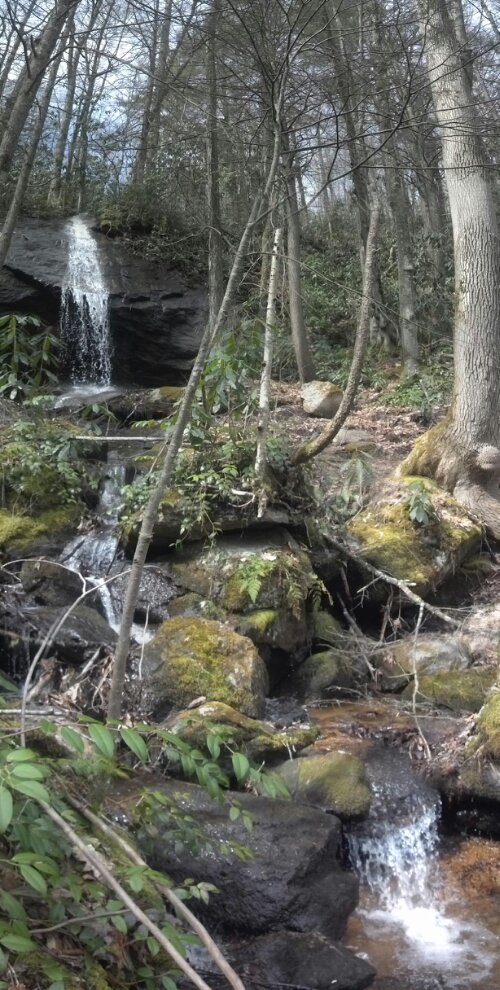 Just a few miles later, the trail edged up alongside the Elk River (the small one in North Carolina, not the big one in middle Tennessee). A side trail went off towards it and a group of four local boys and girls were coming up with fishing poles, and they told me there was a huge rapid in the river at the other end of the trail. I decided to take a look.

The trail followed the river around a long oxbow and then up away from the river to the top of a 20 ft. cliff. The AT did a U-turn and ran away from the river, so I dropped back to the river on a side trail, having seen the same group I'd talked to before head down that way. When I talked to one of them, he said they weren't catching anything, and were about to head back up the road to Elk River Falls, a half mile away. Having a good five hours left to hike and only 6.5mi back to the road (and no pack!), I had no reason not to go check it out. It was easy enough to find, as when I arrived some more locals were climbing up from it with stringers of foot-long brook trout. Clearly the others hadn't been fishing in the right place. I spent quite a while sitting below the falls and enjoying the mist on a warm day, wishing the water were warm and I had a swimsuit.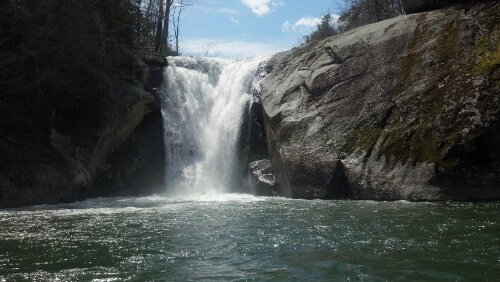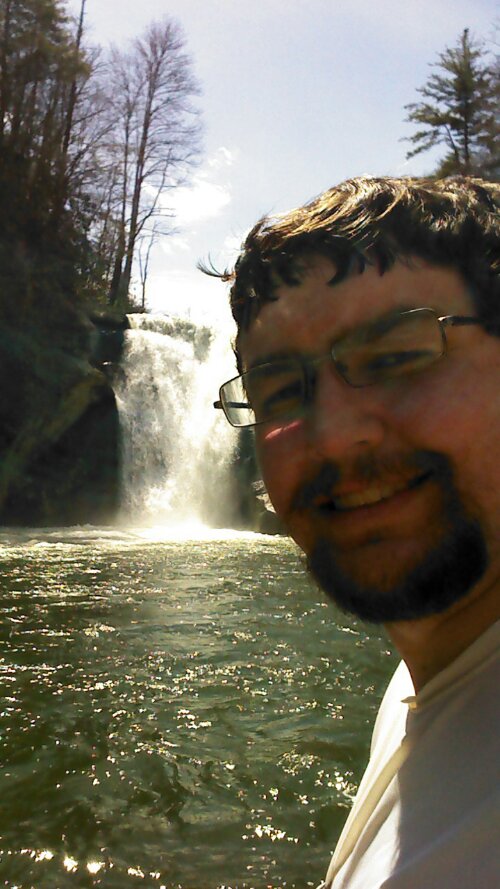 In the next section, I passed Lauren and EZ heading north before arriving at Jones Falls, which was about a tenth of a mile of the trail, and had a small path all the way to top.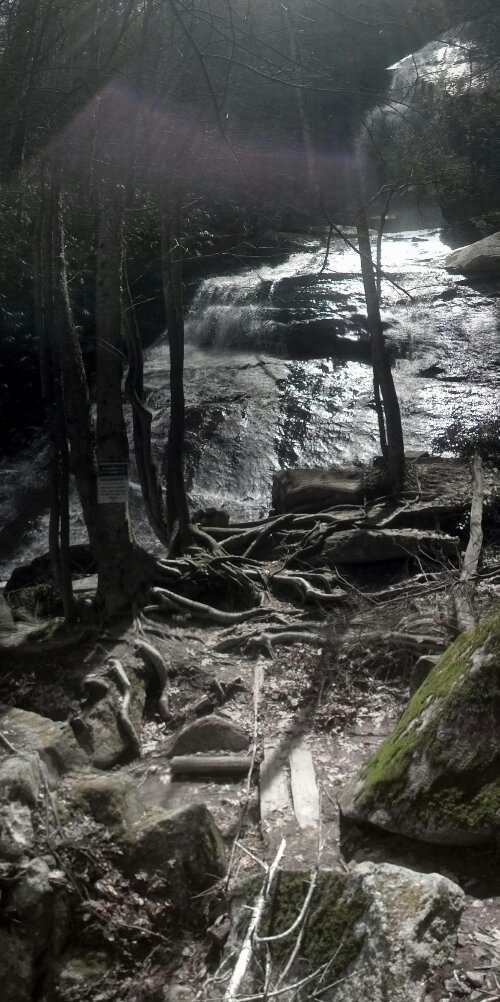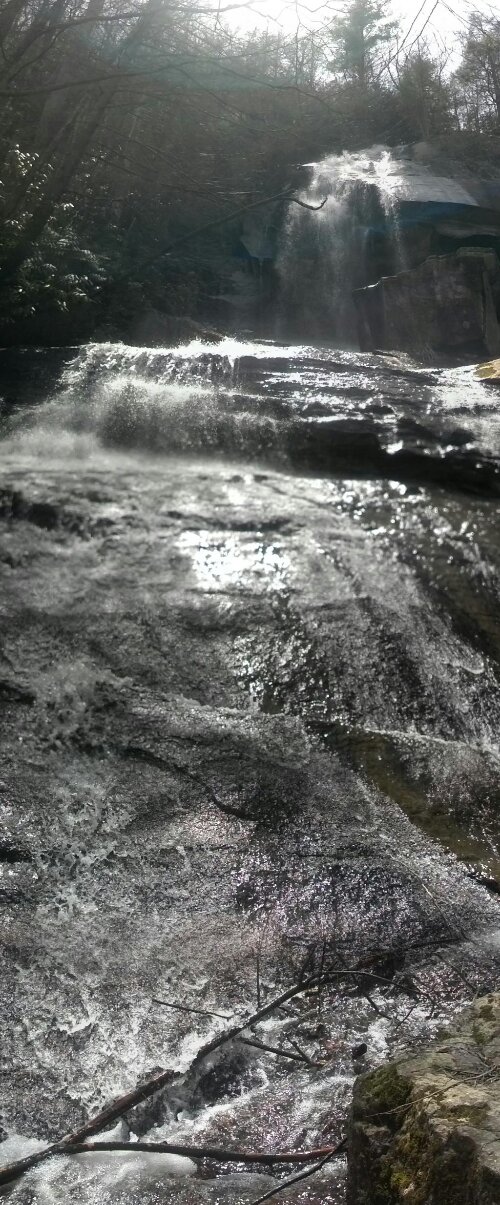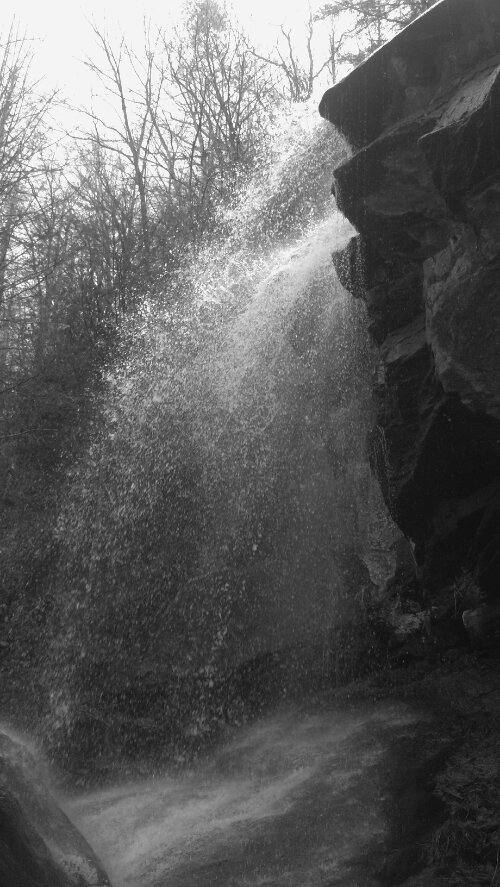 I may have gotten a bit artsy for a moment…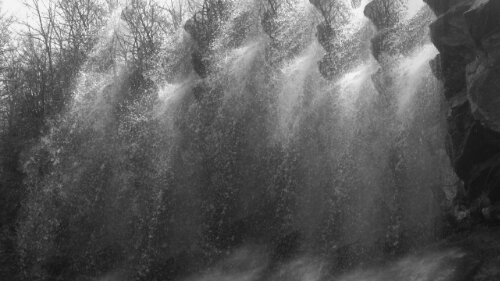 After I climbed back down, I had just 3 hours and 6 miles to make it back to the road, half of it uphill, so I couldn't play around anymore. I chatted a moment with Grace and Gloria and I Do (Medicine Cabinet) who were doing their first section of a two week section, and having trouble reading a new watch. I passed Sweet Tea and Baker further down and an old woman with three dogs who lived just off the trail, but mostly I ran, only stopping to get a snack for energy. I walked down the driveway back into Mountain Harbour at 4:45pm, just in time to feed Copper and grab the dinner shuttle. This man (I'll add his name when I remember it) who'd agreed to watch Copper while I walked was the only other one in the shuttle. Terry drove us to town in his truck and Copper was overjoyed to ride in the back. We went to the store for a bit of resupply (not including dog food since Mary gave me a few days worth as a gift) and then over to Bob's Dairyland, a restaurant that's been serving burgers and shakes for generations.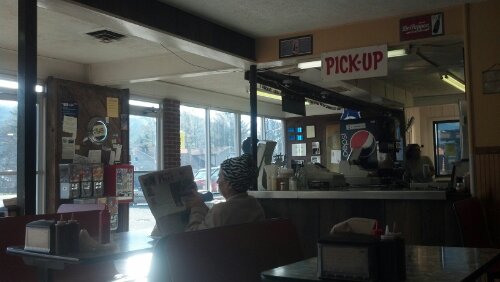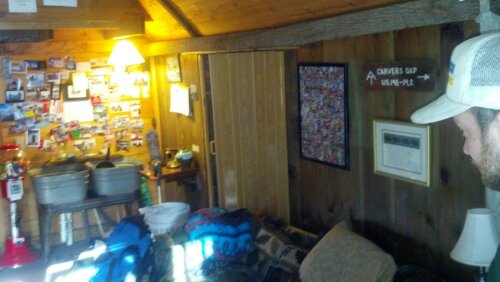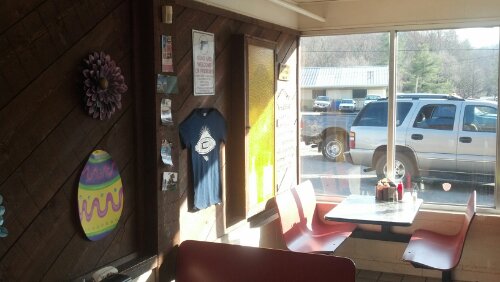 The next morning I again got to fill up on a huge gourmet breakfast, of course, before Terry carried back out to Walnut Mtn. Rd. I said goodbye to Mountain Harbour with a few pictures.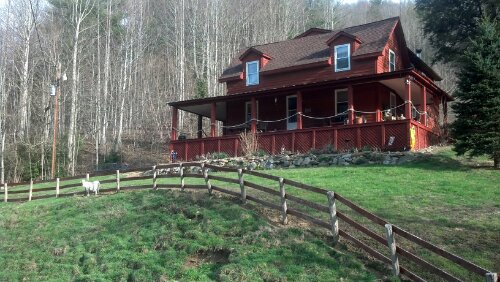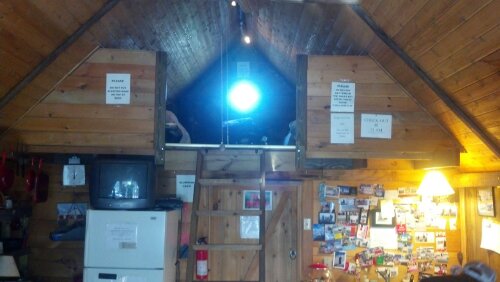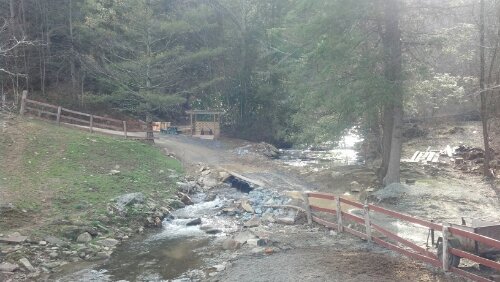 Since I was full of calories, the weather was nice, and Copper seemed back to his old self again, I figured we'd do a 14-mile day all the way to Dennis Cove Rd. and the Black Bear Resort there, and do the first 8 miles to the Moreland Gap Shelter in four hours without stopping. It was a really easy section, and about 3 miles in I passed G+G and I Do sitting on a bench in front of an overlook. They tailed Copper and me as we passed Upper Laurel Fork Falls, but we pulled ahead on a climb and when we stopped for lunch from 2-3pm, they never caught up. I wasn't worried though, because I received some comfort on the shelter wall.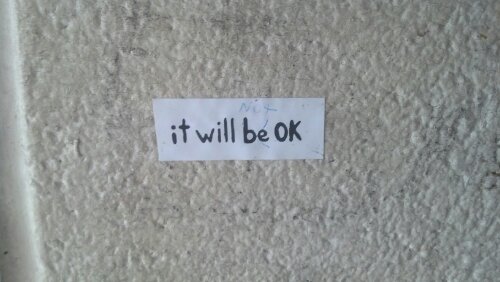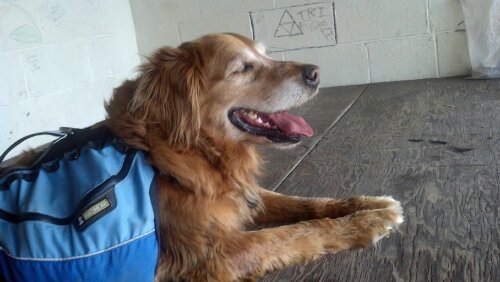 The last three miles were largely downhill, and at the start of the last half-mile, G+G's husband met me, asking me how far back I thought they were. I guessed an hour. I walked down to the road with him and his toy poodle, and he gave me and Cop and a lift to the resort in his truck.
I got a bed and a french bread pizza for supper. I tried to post the last blog post, but they refused to hand out their wifi key and they had secured they're computer too well to steal it. Instead, I bought a can of Guiness and went down to the creek to sit with Joe at his enormous fire. He gave me more beer when mine was empty, and I returned again after calling mom. We discussed every question in the universe but came up with no answers. I slept quite well that night and got up just after sunrise.
I filled up on sweets and jimmy dean biscuits in hopes of a repeat performance of the previous day's 8 miles before 2pm and 6 miles after. I got a shuttle to the trail with a pair of section hikers from Florida at 9am. The first couple of miles were easy walking and absolutely gorgeous, wandering lazily near the bottom of the Laurel Fork Gorge. There were so many enormous bridges, I doubted I was even on the AT.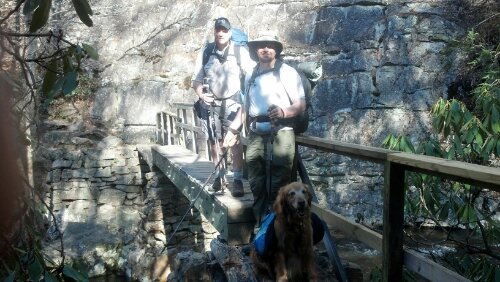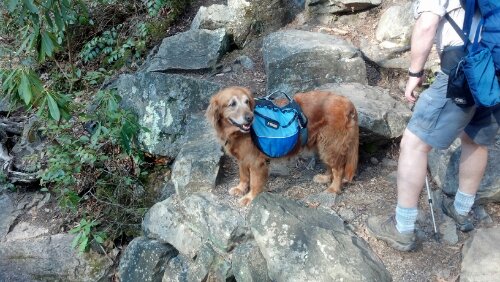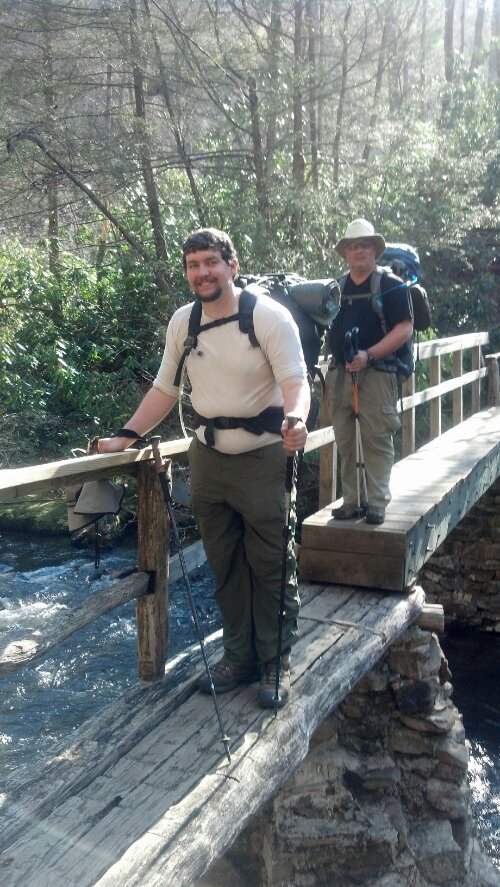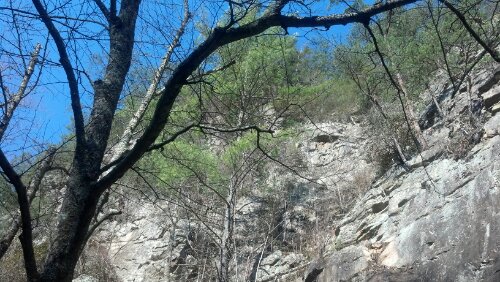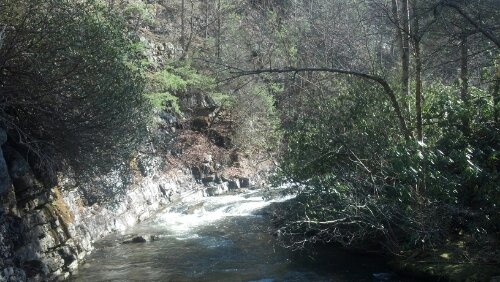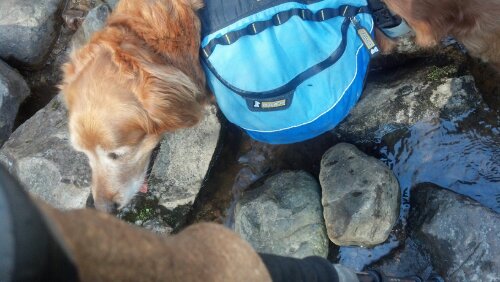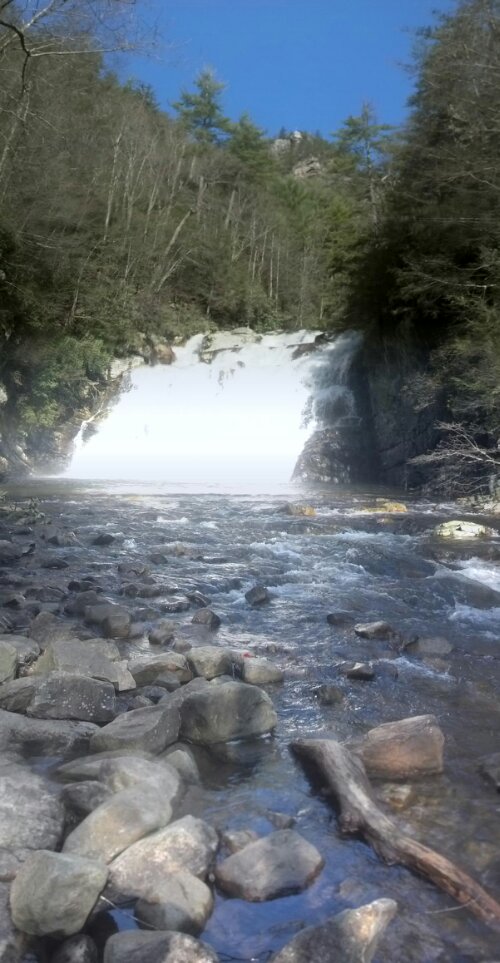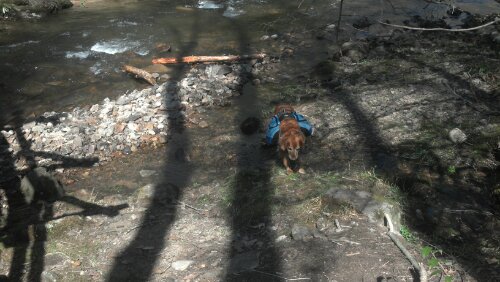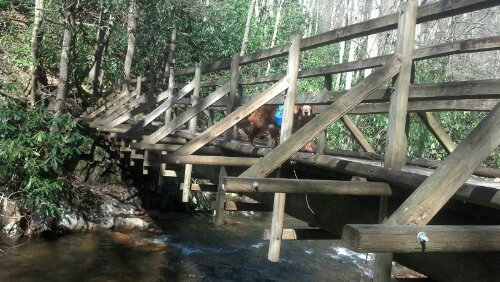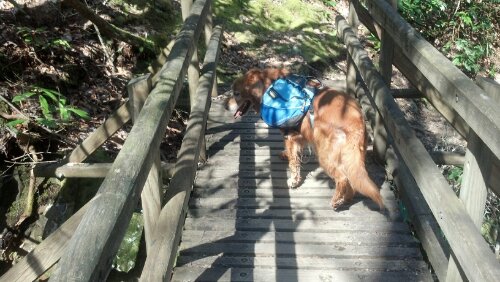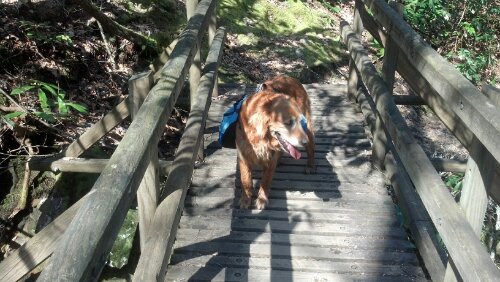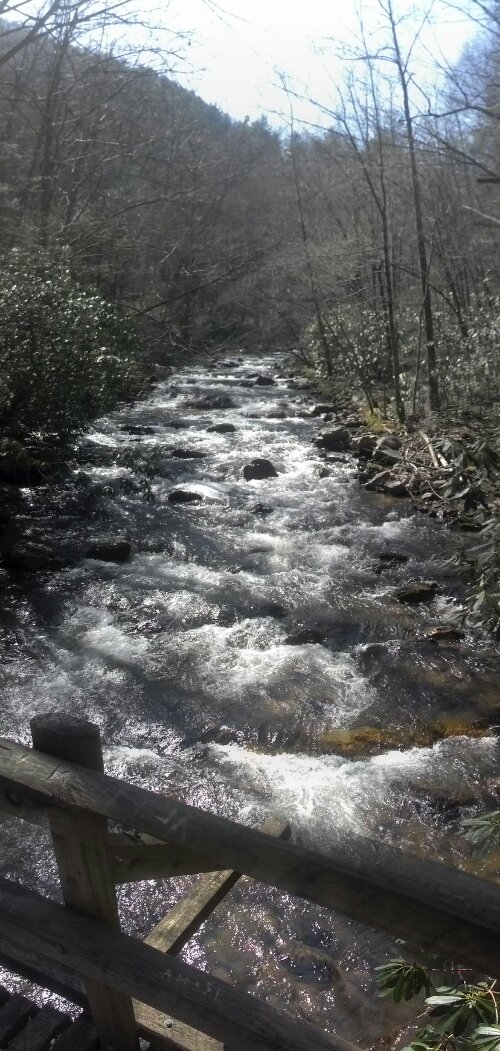 Then the fun ended. The trail turned and went straight up Pond Mountain. I stopped to eat an energy snack and took Copper down to the river because the temperature was climbing into the 80s and there would be no more water on the ground until we reached the top. The Florida guys went right up when they got there, and Biscuits and Gravy passed it by, taking the side trail into Hampton for resupply. Then I resolved myself to the inevitable, popped in my earphones, and started climbing. Halfway up, Copper decided it was too hot for walking and laid down under a tree. We took a good 10 minutes there, but still managed to pass both Floridians on the way to the top. Two long hot hours later, we reached Pond Flats and the spring where Copper refreshed himself. On the way back down the other side, I passed both Lauren (with whom Lamia had been hiking, and who was doing a 75-day nobo hike starting from Erwin) and EZ slackpacking the other way back to Kincora.
It was 3pm by the time I reached my lunch destination, the Shook Branch Recreation Area on Lake Watauga. I came upon a strange group of three there. A boy who looked 21 but was nearly 28, his ex-wife, and another (girl?)friend. But they let me change in the trunk of their car and gave me a beer to go with my lunch, so I can't fault him. The boy said he lived in Atlanta and worked as an assistant to a makeup designer for The Walking Dead, but had grown up in the area and was visiting family. He showed me where the water was less cold and took a video of me plunging in (briefly!) to the colder part.

I was here at the lake, with four bars of 4G, when I uploaded the last post. Later, as I was drying off and packing up, I realized Copper had slipped his collar somewhere along the beach, but I searched all over and couldn't find it. Then, close to 5pm, a larger group of college students from the local university showed up and offered me a fruity malt beverage before I begged them to be on the lookout for a collar and left to continue my hike around the lake. Perhaps the trail does provide.
I passed the Floridians in the woods less than a mile into the woods, and then I found Crow sitting in the Watauga Lake Shelter, annoyed at being unable to hike due to a pain in his knee that had barely allowed him to walk the mile from the road. I left him there, and went two more miles to the dam. I stopped for some photos and another phone call before climbing the road to the top of the hill.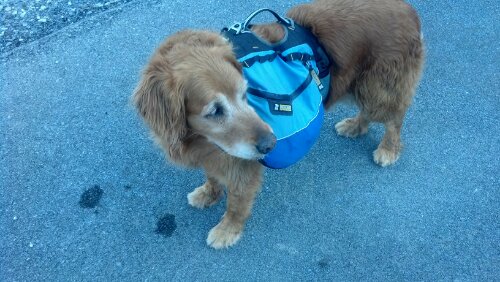 It being well past Copper's suppertime, we posted up in a flat spot striped with sideways concrete pillars right where the trail left the road, and I pitched a tent while Copper ate supper. Once I had everything settled and my boots off, I realized I was nearly out of water. Not enough to make supper, for sure. I checked my map for a nearby spring, and then put on my slippers and started down the road. The water shown on the map turned out to be more of a dry spillway, but further down the road merged with another where a man was walking his dog down the hill. He told me there was a water fountain and bathrooms in the recreation at the bottom of the hill by the lake about a half-mile down. I walked down to the picnic area in my slippers and happened upon a man about to leave. He said he'd give me a lift back to the top of the hill after I filled my water skin.
When the skin was filled at the fountain, I turned around to find Copper had disappeared. I searched all over shouting for him, but a minute later he came strolling slowly up the hill all covered in water. He couldn't wait for me to get the water. Impatient dog. I put him and me in the back of the man's (wife's) truck and rode to the top of the hill, then returned to my tent to cook and sleep. I slept naked half out of my bag that night, as the temperatures were still hovering in the high seventies well past dark. Not temperatures for a zero degree bag, for sure. I think we ended the day having done a little over 11 miles. I decided we could easily make it the 13 miles from there to Iron Mountain Shelter or beyond the next day, it being a basically level trail all day after the first 3 miles.
I didn't wake up until probably 8:30 the next morning. I packed us up and we hiked the next mile down to the Dam Road on the AT (running over the top of the ridge and around for a half-mile more than it would take to reach it on the blacktop), stashed our packs on the other side, and carried my skin back down to the recreation to take advantage of the facilities and fill my skin all the way again. It was going to be another hot one, even worse than the day before, and no lake to jump in at the end.
Fortunately, halfway back up the hill, I thumbed down the same man that had given me a ride the night before in a different truck. (His was just as white as his wife's, but had more junk in the bed.) He took us back to the trailhead and I gave him my card. I believe he said his name was Tom Bishop.
We didn't get back on the trail until around 11, and by then the first of the Floridians had already caught up to me. We climbed up the ridge for five miles or so, making fairly good time, but stopping frequently in the shade of the rhododendrons to take long breaks. By the time we reached Vandeventer Shelter, we had downed two liters of water. I had to refill. Can't Wait caught up to me while I was eating and he went and scouted out the water source 0.3 mi. straight down from the top of the hill. Meanwhile, I took some pics of the Bob Peoples graffiti in the shelter.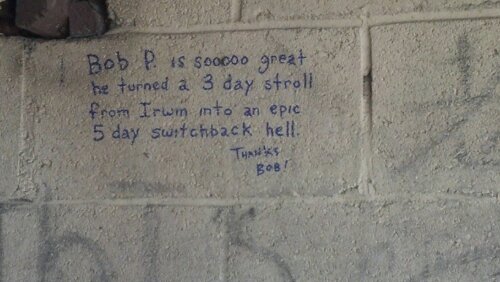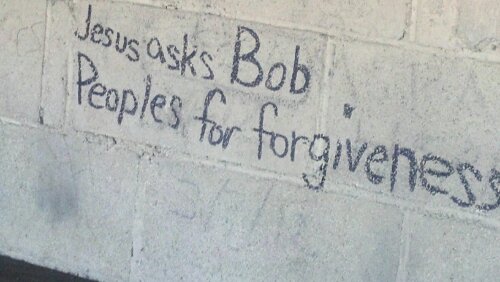 Eventually, I went down to the spring myself, and spent a good twenty minutes filling my skin and rearranging the spring so that the water would fall farther coming out of the pipe. By the time I reached the top of the hill again, I was panting as much as Copper did all day.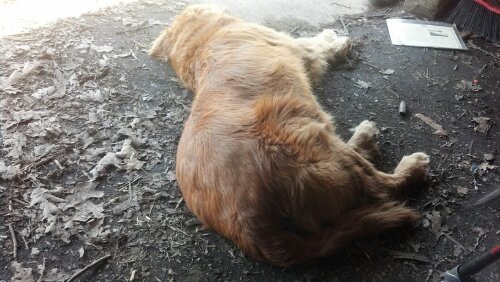 I had to take another long break and down a good bit of the water I'd carried up. While I was doing this, Biscuits and Gravy and the first Floridian (Steve?) caught up, so we chatted for a while. They intended to stop at a campsite and spring 4 miles further on and 3 miles short of Iron Mountain Shelter. B+G passed me halfway there and was already setting up his tent when I arrived. It was time for Copper's supper, so I fed him, then got out the Jetboil and started cooking for myself. During this time, the Floridian caught up and started making camp. When I finished, it was almost dark and almost back down to ideal walking temperatures, so I fired up the headlamp and walked another three miles, mostly downhill, to the spring below the Iron Mountain Shelter. I filled up again for night water and the four miles I would do the next day, then walked up the hill to the shelter. Lauren, Can't Wait, and EZ were already in there and down for the count, but happily made some room for me.
EZ is the noisiest sleeper alive, and snored until I fell asleep, then woke me up in the morning with an hour of rustling around restlessly in his bag. When he got up to pee, I noticed the sun was rising and immediately reached for my phone.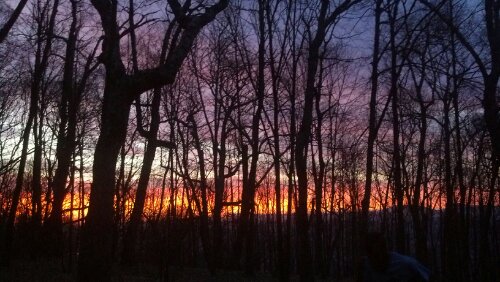 After taking the picture, I texted my mom to say I'd be at the road at nine instead of noon, packed up and started walking. It was only 4 miles to the Cross Mountain Road, and it was cool out and fairly easy walking. We walked out into the road and I called to say I'd arrived, then we walked to the end of it just in time to meet the arriving car. And then we headed off to Damascus for a few days' break.