I wanted to do another magic this year, and we had one all set up to go the weekend in April before I left for Europe, but unfortunately, with it going to be miserable squeezing in the preparations for it with all the other stuff that was going on then, plus someone who wanted to come having to cancel, plus the weather going sour, that plan was dropped. And then, because my European vacation was such a scheduling nightmare for my center director at work, I couldn't get permission to go to Trail Days in Damascus, VA. Maybe next year! However, I was guaranteed to get Memorial Day off work, because it was a holiday, so I decided it was my last chance of the season. I asked Dangerpants, of whom I am unendingly jealous because she got to go to Trail Days, to ask the hikers there about where on the trail most of this year's hikers were. Most of the people she spoke to had either hiked as far as Erwin, TN or Damascus. Even though I was personally as far as the Shenandoahs last year (and so my instinct had been to set up magic on the bank of the Tye River south of Waynesboro, VA), I realized there were quite a number of people who didn't leave Springer until April, and that we could save a lot of gas money by just going a trail-week up from Damascus to the Mt. Rogers Visitor Center in Marion, VA.
This plan worked well for me and my mom, but unfortunately, not for Dangerpants, whose uncle has just passed away. His funeral conflicted with the magic. Undeterred, Mama and I decided to go on without her. Mama has a Sam's Club membership, so we spent this past Thursday shopping for food for hikers. We were able to get a ton of just about everything hikers want for rather cheap. Boxes of chocolate milk, several boxes of soda (these from Kroger), several boxes of Capri-Sun, a giant tray of brownies, bags of Starburst, coffee, huge bags of bratwurst, tons of eggs and sausage, coffee, several large bags of salad, oranges, watermelon, variety packs of beef jerky, variety packs of chips, and sundry trail magic-related supplies. We did all this before I went to work that day, despite having been up late the night before going out to a movie. And I still had enough time to gather up the chairs and tables and cooking equipment and load them in the Tahoe. The thing was packed solid with food and supplies from the back hatch to the back of the front seats.
I didn't really get myself fully packed for the trip before late Friday night, procrastinator that I am, and managed to forget to set aside outdoors shoes and an extra shirt. I did my blogging early so that I could get a good night's sleep, and then stayed up until 2am for no reason anyway. I can't be saved! I also never got around to checking the Tahoe's air and fluids for a long trip, what with having to do last minute pants shopping for the next day's wedding plans. So Saturday is when everything for us has to start coming together. We got up about 7:30am. I had to go to work, while Mama had to get right to Athens to do the bride's hair. I got straight home from work and had ten minutes to change into a wedding suit before my dad drove us both to Athens. Copper had to stay home—there's no way to logistically incorporate him into any of this weekend's plans, and there was certainly no room left in the Tahoe for him to go see the hikers. But he went with us in spirit, his hair travelling stuck to the backs of the truck seats and, eventually, to our suit jackets.
Upon reaching the church in Athens, we spent the first ten minutes plucking hairs off our coats. Fast-forward five whirlwind hours, involving breakfast for dinner, dancing, and an open bar, until we headed up to the hotel room for my mom to get a shower, then left Athens for the lakehouse. (The hotel room was put to use that night by my sister.)
Since Marion is five hours from Athens, it would have been tiresome, at best, to travel the whole distance in a day in either direction, so we decided to spend the night at the lakehouse both going and coming, which brings the long part of the trip down to three-and-a-half hours. Plus, there are certain things I forgot to buy which were already at the lakehouse. Not to mention the spare shirts that live there. We arrived a bit after 11:30pm, and I had to get in some blogging before I could sleep, so I went to bed about 1am. I woke up with the sun about 6:30, went to the bathroom, went back to bed, and got up at 7:30 to start preparing for a long day.
We got the lakehouse shut down and left a bit after nine, and met my friend Wryen for breakfast at the Anderson, SC exit. He gave me some games to play with the hikers and some books for me to read, and I topped off the oil and coolant and tire air in the Tahoe. We spent a half-hour or so chatting at the Huddle House, where we ate pecan waffles and I had an amazing bacon-stuffed omelet. Leaving there, it was time to start our long haul. We broke it into pieces for our sanity. A third of the way, we stopped at a Wal-Mart for a bathroom break, shoes for me (since my dad's sandals weren't very comfortable) and some pancake mix for the hikers. Further up, when the interstate ran through Erwin, we had to swing by Uncle Johnny's to see how business was. (It had, as expected, entirely fallen off. All the sane Northbounders are in Virginia by mid-May.) Here we saw a muskrat on the side of the road (one of two we saw that day). Wonderful when the wildlife sightings come to you. Finally, we had to stop for gas and a drink at the last gas station before the Mt. Rogers NRA headquarters, and we were there.
All together, this driving and stopping took us six hours, which meant we arrived at the Visitor Center a minute before they closed the gates. We asked if we could drop the food and coolers near the shelter, but the ranger needed us out immediately so he could close the gates and go home. He told us to park across the street from the gate. He basically gave us carte blanche to do whatever we wanted after hours, as long as we did it across the street. So there we parked.
I ran up to Partnership Shelter to see who was around, and met Grizzly Bear From Maine, who was hanging up laundry. Slim Pickens was wrapped up in his sleeping bag already, but when I mentioned a hiker feed, he was up and ready in no time flat. They explained that some twenty-odd hikers had headed into Marion to check out the AT Homecoming event they were putting on for hikers as part of their Memorial Day celebrations. I thought this meant we wouldn't get to see too many folks, but everything came together in the end. I asked them to come help carry the food up anyway. I led the pair I'd found across the street, and decided we could just set up right there on the side of the road since we were all there anyway, and save having to carry anything. In five minutes, we had the table and chairs out, the grill lit, and some brats cooking.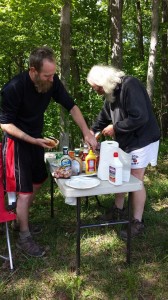 Over the course of the next hour or two, a good solid crowd showed up, some coming off the trail, some hitching or taxiing in from Marion, and most everyone staying around for the food and social time. Here's a video introduction to everyone we met in that first group:
When enough people had arrived to make it interesting, we had a champagne toast.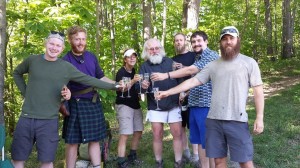 We spent some time discussing the origin of some of the names as well. Craftsman whittled his own engraved spoon from a bit of wood (and also wore iron mail of his own construction around his wrist). Ol' Grizz had a much longer name, like Old McGrizz the First, which had a long and complicated and embarassing history, but involved being mistaked for a grizzly bear. Slim Pickens started out carrying almost nothing. The other stories were somewhat less interesting.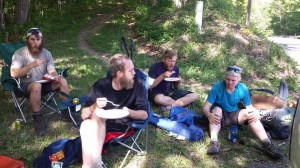 Some of the hikers were sponsored, so we also got some product samples and recommendations. Of course, that always happens regardless of sponsorship. Hikers like to talk about the stuff they like well enough to carry, because that's really a glowing recommendation from folks that try to carry as little as possible.
That was the first group. By running up to the shelter to invite more people, and by some crazy winter southbounders showing up, and with some folks giving up and heading to bed, by the end of the night we looked like this:
When it started to get dark, everyone had gone back up to the shelter, so we repacked the truck, and headed down the road a bit to get a wireless signal. I still had hopes that I might get back and get in some fireside chat or a game of Cards Against Humanity once I reported my blogging hours. However, when we came back up the hill, grabbed our camping gear, and walked up to the shelter a few minutes later, half the people were asleep, and they were already decided on letting the fire die. So, I quickly gave up on that idea, and started setting up our tent as fast as I could. John Deere came over and offered to help me set up the tent, and we got it done in no time. I felt a bit bad about turning on our air pump for our mattress with someone in a tent five feet away already tucked in for bed, but I wasn't going to sleep on the roots, so I smothered its whirring with pillows and got it done. After ten minutes or so, Mama and I had both gotten ourselves situated for bed, and I could start my blogging for the night. I was ready to nod by 10:20pm or so, with the frogs and the owls singing me to sleep.
The mattress had already deflated to the point my butt was on the ground by 4:30am, and Mama moving around woke me up. I was wide awake and uncomfortable, but I tried to adjust and go back to sleep for half an hour or so. Eventually, I gave up and decided to get up and go set up for breakfast. I dressed and went back to the car, pulled out the table and chairs and cooler again, set up the gas stove, the brownies, starburst, plates and utensils, the watermelon, realized I didn't have a knife or enough water and went back across the street. When I got back to the tent, Grizzly Bear from Maine was already up and getting ready. I went in the tent and got the knife, asked Mama to take down the tent and leave it in the shelter when she got up, told GBFM I was about to put on the coffee, and he said he'd be down in ten minutes. On the way back, I filled up my water bag again, put it in a big steamer pot, and started it boiling. While it cooked, I sliced up the watermelon and mixed up pancake mix. Just after the water started boiling, GBFM arrived, so I filled his cup. I had forgotten the sugar, but he had brought his own. I started cooking pancakes, and he had the first two off the pan. (Let me tell you, GBFM is a prolific eater. He may have eaten twice as much as every other hiker, and from the moment we set up to the moment he left the next day, he stopped eating only to sleep. He's also the only one who'd hiked the entire trail before, between '96 and '99, and was full of stories.)
A few minutes later, Kettering Stryder arrived, and had a few pancakes herself. Then Mama arrived with an armload of stuff from the tent. Then a serious discussion started when GBFM asked her why she was on the trail. Turns out she's a retired and recent divorcée, whose husband was cheating on her. GBFM could sympathize, because he was divorced for the same reason decades before. She was also a teacher for some 36 years, and this led into a long discussion about education, which I couldn't pay attention to because I was switching over to sausage.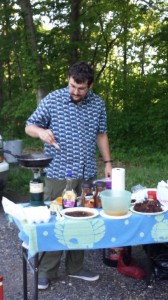 Soon, several others who had camped with us started arriving. First, the older ones, such as Slim Pickens, then the Germans (who, without a word to us, packed up our tent and carried all our stuff down to the truck and loaded it in the truck!), then all the late-sleepers. By 8:30am, every single person who'd been at dinner was at breakfast. Several of them got into my breakfast burritos. I even offered to make scrambled eggs instead, but Sassafras insisted upon the burrito. I ran out of stove gas before I ran out of pancake mix, so I borrowed some alcohol from John Deere (as I had used up all the lighter fluid the previous night) , fired up the coal in the grill, and kept cooking pancakes, while Mama ran out to Wal-Mart to get some more fuel and alcohol. While she was gone, the visitor center opened, and a number of the hikers were very interested in going inside. Sassafras wanted to charge his phone and GBFM wanted to video its interior for his hiker friends from 1997. Slim Pickens hitched a ride into Marion, before 9, knowing he had to get to Atkins to meet a friend before noon. Soon after Mama returned, the Germans took off up the trail, barely stopping long enough to let us refill JD's alcohol and get one last picture.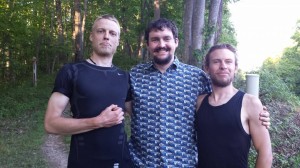 The grill had burned out, so when the fuel arrived, I finished off the rest of the pancake mix on the stove. The last two went to a retired Army guy who just arrived that morning, and I over-watered them a bit. As a result, they didn't cook quite right, got very sticky, and ended up turning into doughballs, which were ugly, but still tasted great with syrup. A pity he didn't arrive earlier to witness the perfect pancakes I'd been making all morning. So then, I cooked up the last three brats in the pan, which went to various folks as they were heading out. GBFM returned from checking out the visitor center, and took one just before heading down the trail. Not one of them needed a bun or condiments. They just grabbed them with their fingers and shoved them in their mouths.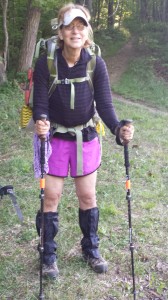 Soon, another crowd showed up, having hiked in from Trimpi that morning. They sat a spell, ate a decent amount of what was left, and hiked out.
Two minutes later, a man showed up saying he was related to a boy who fit the description of Schweppes. (And since Schweppes was from the nearby town of Chilhowie, he was the best candidate for someone having relatives nearby.) So, I started running up the trail to catch him. I was flagging halfway to the top of the hill, and caught up to the back of the pack there who passed the word forward. I was totally sapped by the short climb, having lost all my stamina since I got off the trail. When Schweppes and I got back to the road, the man had disappeared, telling Mama he was going to "cut him off", even though he'd seen me run into the woods to catch him. Schweppes went back up the trail, saying we could say whatever we wanted to the man if he showed up again.
Since no other hikers were in evidence, I took the opportunity to head up to the visitor center myself, to put a charge on my phone, buy another copy of AT Guide 2013 (lost in Europe) and use the facilities. While I was away, one more hiker showed up, an Air Force guy. I missed out. Mama was already cleaning up when I arrived back at our picnic site. In addition to the Air Force guy, she mentioned that the random dude had managed to head off Schweppes and he'd come back by and forced her to take a dollar on behalf of Schweppes for the magic. She suspects Schweppes had chewed him out for running off on me. Anyway, we got the stuff in the car with only one mishap, when Mama tipped to cooler to pour water all over the back seat. Another section hiker crossed the road just as we finished, Bethany and her boxer Ziva, so, of course, we had to pull a couple of snacks out of the car to send her off. (I'd already spoken to her about the trail ahead for a few minutes outside the Visitor Center.)
We drove through the Visitor Center to toss the trash we'd generated in the dumpster and then stopped at the bathrooms to brush our teeth. Then, finally, at around 2pm, we set off for the Grayson Highlands. Mama was feeling a little queasy as we arrived at the park, and we both were feeling very sleepy. I'd actually gotten close to nodding off during the half-hour ride to the park. Entry to the park was a reasonable $5, and soon we were parked at the Massie Gap parking area. We loaded some waters and both of our hammocks into a cooler, which I was tasked to carrying the quarter mile up to the gap. Mama climbed the hill very slowly, as she was so sleepy she "felt like she was dragging lead bricks behind her", but it was only a few minutes before we crested the hill next to a small group of ponies. We walked right up to them, and they were mostly not interested in us, except when we went fishing for a camera in the cooler, at which point they became immensely interested up the point they could see we had no food to give them. Then they went back to tolerating our presence but otherwise ignoring us.
We knew that there had to be more than four ponies in the park, as there were already some visible running on a hillside near the park boundary a ten minute walk across the gap. Plus, there were trees in that direction that might be suitable for a hammock nap. Halfway down the path, we met some folks heading the other direction, who told us that most of the ponies had gone over the ridge to the left, so we turned off the trail and headed straight uphill. Sure enough, we found a small group of ponies with a very playful foal clustered under some perfect hammock-hanging trees. One of them had hair quite a lot like Orlando Bloom's Legolas.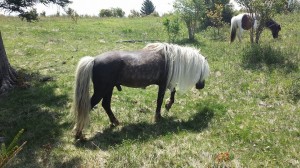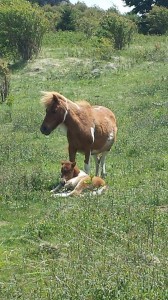 By approaching them to take pictures, we managed to make them uncomfortable enough that they vacated the shady hammock-hanging trees, so we proceeded to hang our hammocks there, side-by-side. We weren't along there, though. A number of other tourists were climbing around on the ridge with us, and one informed us there was several dozen ponies just on the other side of the hilltop, so, before lying down for our afternoon nap, we headed over there, and sure enough, walked right into the midst of some fifteen ponies, several with foals, and with just as many in view on the other side of the fence. All told, I counted at least three dozen different wild ponies in the gap that afternoon.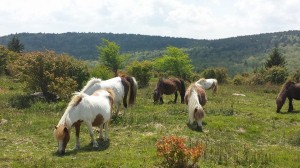 With some effort, we found a way to lay in our hammocks comfortably, except for the frequent gusts of wind which chilled our backs. Given the stifling sun we'd hiked up in, being cold was the last thing we expected. Nonetheless, we laid for at least an hour, I with my book, and Mama on Facebook, and the ponies constantly wandering back and forth around us. I never quite nodded off, but felt rested afterward nonetheless.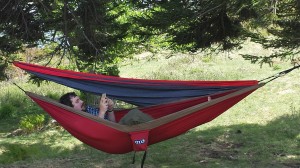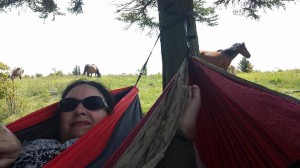 Around 4:30, we noticed most of the crowds had trickled away, and decided to pack up and head out. We were hardly back on the trail when my fitbit informed me I'd made my 10,000 steps for the day. I was starving at this point, as my breakfast burrito had unexpectedly abandoned me after a mere 8 hours! So I dug into the leftover salad, which I prepped on the hood of the truck. Mama added some leftover cheese. We both agreed it was wonderfully delicious. Next was the boring part, a four hour drive back to the lakehouse. But, the shortest route out was not the shortest route in: the fastest way back to 85 was through Sparta, NC, and there is so much beautiful terrain and farmland between the state park and Sparta. Once on the interstate though, everything was predictable. Up until, of course, Mama had to get off the highway to get a DQ milkshake. DESPERATELY. (Strawberry with no whipped cream and extra cherries, of course.) So I decided to try a new Blizzard, a disaster they call "Strawberry Shortcake". What a disappointment. Don't even bother.
We arrived back at Anderson around 10:20pm to give Wryen his games back, but the car was so packed full I missed two of them and had entirely forgotten them. Oops! Wryen, if you're reading this: I'll get you your Dutch Blitz and We Didn't Playtest back to you next time I'm at the lake! By 11pm, I was crawling under the lakehouse in the dark to turn the water on, and then, after Mama got hers, it was finally time for my shower! After two full days, I was finally clean again. Then, I worked on this blog post until my laptop was about to die and went to bed. I slept until probably 11am the next morning. Nine hours of sleep to refresh after a very long weekend. Then it was just the long boring drive back home to be followed immediately by a headlong rush through a number of small chores and bathing and dressing for work all in the space of an hour. I was two minutes late getting to work, but hey, it was all worth it for the hikers, right?