It took me the better part if a month to get through New Hampshire, because there is no doubt that it was the most grueling section of trail I hiked, not necessarily because the trail was the hardest trail I hiked(it was the second hardest), but because it was the hardest trail Copper hiked. I will not deny that the Whites are a major challenges when stacked up against any section of trail further South: as high as the Smokeys, as rapid in elevation change as southern New York, as rocky (at times) as Pennsylvania, the worst weather in the world (in some places), and as little chance to truly prepare for this challenge as for hiking the trail in the first place. On the other hand, I can't deny that when they are good, they are absolutely flabbergastingly amazingly mind-bogglingly thought-stoppingly astounding—the highest highs and the lowest lows. I have no idea how anyone ever decides to do the trail Southbound, to attempt Maine and the Whites on fresh legs, and worse, to "eat dessert first" and end with the rather uninteresting-in-comparison Georgia terrain. Rollercoasters have to start with the best and end with the least, but if we had our druthers, would we not choose to do it in reverse?
But I can't say that all of this assessment is retrospect. The few Southbounders and previous hikers freely talked about how amazing—and how difficult—the Whites would be, and by the time I rolled into Hanover, I was practically gushing over with excitement at how close I was. Less than a week from that moment, I knew I'd already be on Moosilauke, and bagging my first 4000-footer in the Whites. And I knew my pace would be slowing dramatically.
But I also knew it'd been days since my last shower, and that I would be in this town for two more days at least. Might as well take the time to mentally prepare myself for the challenges ahead. Eat some good hot food. Do some slackpacking. Drink a beer. Or two. Or three. Maybe hang out with Six and Dangerpants, whom I knew had gotten there ahead of me. In some sense, I guessed that I had never truly hiked before, even after some 1400 miles, based on what people were saying. That one can't really say "I'm a long-distance hiker" and be taken seriously until the Whites are behind them, but I hadn't really internalized it. The excitement was forefront. Now that I've done it, I can say: I know that I know that I know that it's true.
I wasn't the only one crossing that bridge into New Hampshire at that particular time and place, but I can't pin down for certain who it was. It might have been High Tide and Blockade Runner again. Or it may have been random non-hiker strangers. Either way, they were nice enough to take our picture.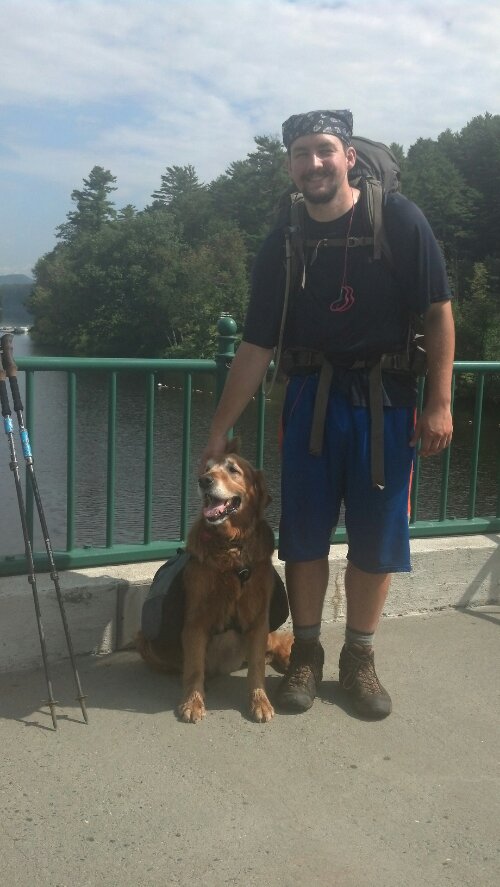 Which is a lot better than what I was able to do without their assistance: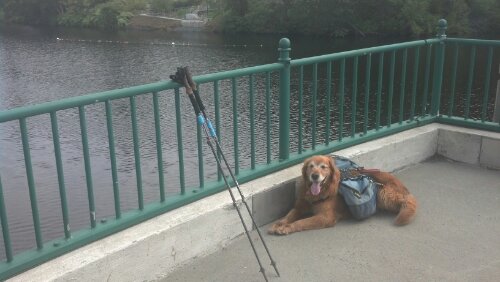 Anyway, I walked another half-mile or so to the main intersection of Hanover, right across from the Dartmouth Quad, where they mark the Appalachian Trail via a sidewalk plaque:
Adjacent to this spot was a coffee shop called Dirt Cowboy, and this is where I decided to get my first town food, another cellphone charge, and plan my attack on Hanover.
First, I had to arrange a place to stay. I called Warren Thayer, one of the names on the list (chosen for allowing a medium number of hikers and being okay with dogs) and he said he could get me from town that afternoon, but right then he was out and about, planning to head over to EMS. He asked me if there was anything I needed, so of course I requested a new long-handled spoon.
From here I went to the Baker-Berry Library on the Hanover Campus, which again called for tying Copper to my pack outside the door, like I did in Williamstown. (Normally, the Dartmouth Outing Club allows hikers to store their packs in their building beside the Green, but Labor Day Weekend is Orientation weekend, and the DOC, which maintains about 50 miles of trail to either side of Hanover, needed all its space for promotion.) I downloaded a few more Dresden Files to my mp3 player, and went out to explore the town a bit more.
Hanover has a lot of freebies for hikers. One of the most popular is a free slice of pizza from Ramuntos. Since Ramuntos has outside dog-friendly seating and beer, I decided to have lunch there and use it as a base of operations for the evening. The pizza was pretty good. I probably spent my time there chatting online rather than blogging…which is part of the reason you are reading this now instead of then.
Leaving Copper tied up there, I ran around from store to store, looking for a place that had dog food so Copper would be able to eat supper. I must have run to three different places before I found some in a gas station convenience store… that part of Hanover isn't big on groceries.
Around 4:30pm, I called Warren back to tell him I was at Ramunto's and he said he'd be by shortly to take me back to his place. He picked me up at 5pm and he took me back to Norwich. Turns out we'd walked right past his place on the way into town. It was at the very steep tip top of Elm St., and it was huge and gorgeous. He had dogs too, but they stayed upstairs. The basement was given over to hikers. There were a few cots, a TV, and a pool table.
Upstairs was the kitchen, where I got to sample on of the cookies his wife was making for a banquet. Rabbit (another hiker who would wind up staying there with me—not the same Rabbit from VA/WV) was already there, talking with Warren's teenage daughter, who wanted to hike the trail herself. (As I understand it, she will be starting at Springer within two weeks of my posting this.) Warren handed me my new spoon and a towel, and directed me to the shower.
With myself clean and my clothes getting there (while wore some loaners from Warren), I headed downstairs to get Copper his supper.
I had set up on one of the cots, and I was gonna try to get a bit of blogging done, but it was tough, because Rabbit wanted to watch TV. In fact, he was agonizing over whether he wanted to spoil himself watching the latest Breaking Bad, or saving it until he finished his hike so he could catch up on the ones he missed first. I found this agonizing—and the TV—somewhat distracting, and got up to play pool with him. Soon, we had decided to walk into Norwich and get a bite and a brew at the Norwich Inn.
Now I can't say that Rabbit is the kind of person I would choose to hang out with if I hadn't been thrown into the same room as him. In fact, he seemed lacking in some certain basic etiquettes, and the way he seemed to think and the things he talked about would class him as a stereotypical douchebag in my mind. For instance, he had told Betsy he'd stay with her, before he changed his mind and decided to stay at Warren's, though he didn't call and tell her this. This led to a bit of a confrontation coming down the steep hill into Norwich. We came out onto the road (I in my borrowed shirt and too-tight rain pants, and him carrying one of the cans of beer we'd found in the hiker minifridge) and saw another pair of hikers down the hill a bit, and decided to run after them. Because the hill is so steep, I just let go and let my feet fly. I must have come down it at 25mph, and those old rain pants couldn't stand up to it. I ended up spending the rest of the night holding closed a long and inconveniently-placed tear. When we reached the Maislen driveway to say "hi" to those other hikers, Betsy was there at her mailbox chatting with them. And I think she recognized Rabbit, and had been wondering what had become of him. He was super-embarassed, but he came off looking to her like a complete jerk, and probably a lush too.
At the Inn, we got places at the bar so as to be far from the more respectably-dressed customers, and we got some small food and beer, and then I watched TV while he spent most of the meal on the phone talking to friends I didn't know about some party he was missing and other events I hadn't been around for. Can't say it was the most stimulating conversation I had on the trail. Anyway, I think he got a bit more tipsy than me, and when we started to walk back in the dark, he decided to turn around at the Elm St. intersection and run back to see if Dan and Whit's was still open and get some cigarettes (I think it was). I just kept walking, and arrived back at Warren's alone. There was lightning on the horizon, and I figured Copper might require my presence soon.
Actually, the storm that night wasn't that bad and Copper didn't get super-bothered by it. I was in bed when Rabbit got back, and he wanted to tell me all about the lady at the store he ended up going to. I don't remember the story, and I don't think it's worth retelling anyway. I told him I had an early day planned the next day, and we both put ourselves to sleep by the glow of our phones' LCD screens.
I successfully managed to wake up around first light the next morning, quickly threw together a day's worth of snacks and water for Copper and me while Rabbit slept, and walked us into Norwich.
Dan and Whit's is the hub and lifeblood of Norwich, and it was a busy place even before 8am. The exterior wall facing the parking lot is covered with posters and flyers where it isn't blocked by newspaper machines, ice machines, and kerosene tank lockers. It's all ads for events and services, like stand-up paddleboard yoga lessons: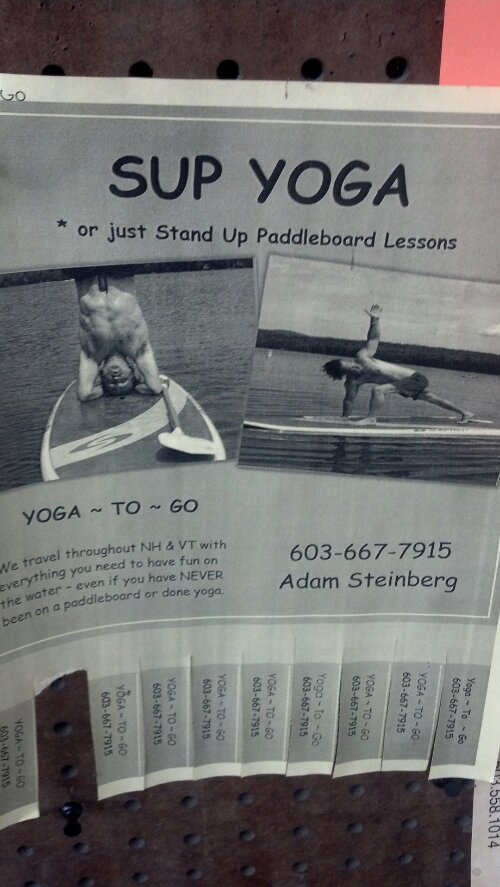 It also had a built-in metal ring specifically intended for tying off pets and a convenient bench for things like eating and waiting.
I didn't have a plan in place yet for how I was going to get some Labor Day slackpacking in, but I had figured I could throw something together over breakfast if I got to it early enough. I grabbed a breakfast sandwich from D&W's deli and a small chocolate milk in a glass bottle (which I was able to recycle and reclaim the 50¢ deposit on as soon as I finished drinking it by walking around behind the deli and down a narrow hallway into the tiny hardware store to see the boss man), and called Marilyn Hunter to see about a ride out to the trail so I could walk back into Hanover southbound. It turned out she could come immediately (and only immediately, because of some appointment later in the morning), which was amazing, and she didn't mind bringing a dog. (If that hadn't worked out, I would have entertained the possibility of walking northbound out of town and getting a ride back into town later.)
She showed up in her little gray Taurus about twenty minutes later, and we got out of town headed east before the Labor Day 5K/Fun Run started and had the street closed off.
It was actually a much longer drive than it seemed like it would be. She knew where Goose Pond Rd. was but not exactly where the trail crossed it. After driving some ten or fifteen miles to reach it, we drove down it for some five miles before we managed to spot the A.T. (with no help from my phone GPS, which couldn't get cell service to download the map), so we had plenty of time to chat. We talked about her life and community, and what she thought of Hanover. I remember she told me she lived in so/me fancy retirement village with available in-home care, and that such communities were becoming increasingly common, which created a feedback loop such that Hanover was an increasingly popular place to retire.
I got my trekking poles and our packs out and sat down beside the road, and she went on to her appointment. I put Copper's pack on, put in my earphones, put on some Dresden Files, and started climbing Moose Mountain.
It was a rather wet and muddy section of trail at first, presumably because of the previous night's storm, but it was a sunny day, and the evaporating mud became a weighty humidity that lasted the whole day.
We stopped for a snack at the Moose Mountain Shelter, even though it was only 3 miles in because I couldn't resist opening the crackers I'd bought to combine with cheese. While I was there, Blockade Runner and High Tide showed up, managing to get in and out of Hanover in just a day. That was the last time I remember seeing them.
Down the other side of Moose Mountain, the trail just kind of levels out and meanders around wetlands, across roads, and sometimes past houses. The first paved road it crosses tempted me with the prospect of a deli just under a mile away, but it seemed ridiculous to hitch a ride to a hot meal (or walk an extra mile and a half) when I was ending the day in Hanover again anyway. Who ever heard of going off-trail to pay for food when slackpacking? (Never mind what I did in the Shenandoahs…)
Past the next paved road, I randomly decided to stop and sit down and zone out behind a large, unusual rock formation. Copper and I just chilled for a half-hour or so, then hit the trail again, since the weather channel app confirmed that it would rain again that afternoon, and I wanted to be back in town before I got soaked.
Eventually, the trail decided to stop meandering across the valley floor on a residence-avoiding route and reenter the woods proper by starting the slow climb up to Velvet Rocks. But, just as I was about to enter that section, I had to cross a field of high grass, and I, utterly without warning, was stung by a wasp. Two minutes of agony ensued before the pain ebbed and disappeared, and I warned a lady walking her dogs to be careful going into that field. She said she'd turn around when she got there.
Then it was up, up, up, then down suddenly into a hollow, where the trail soon forked. I decided to take the right fork, leaving the A.T. to take the back route to Velvet Rocks Shelter.
It was a rather strange route, as it immediately went straight up the side of a hill steep enough to require a hands-on climbing posture, and then climbed up to the top of the ridge, then ran along the ridge down slowly until coming out right behind the Velvet Rocks Shelter (a small affair, but well-lit by a plexiglass roof). I imagine the left trail stayed level the whole way and required not near as much effort while still getting to the same place, but I didn't know.
There was one person in the shelter asleep, and a whole crowd of Dartmouth kids trying to set up at tarp. I sat down in the shelter (next to the sleeping chap) and ate snacks while I watched their Keystone Cops bumbling, making helpful pointers here and there.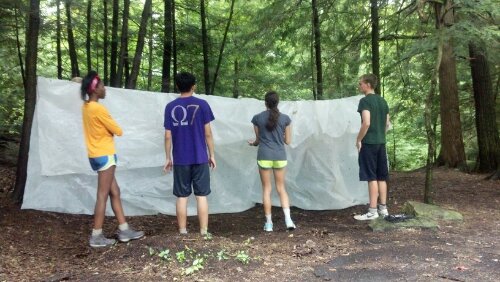 I found a flyer in the shelter advertising a pancake breakfast for hikers at the Ice Cream Man's house. I recorded it to share with others, despite knowing that I wouldn't be able to make it, having already gone past that point by the time it would happen.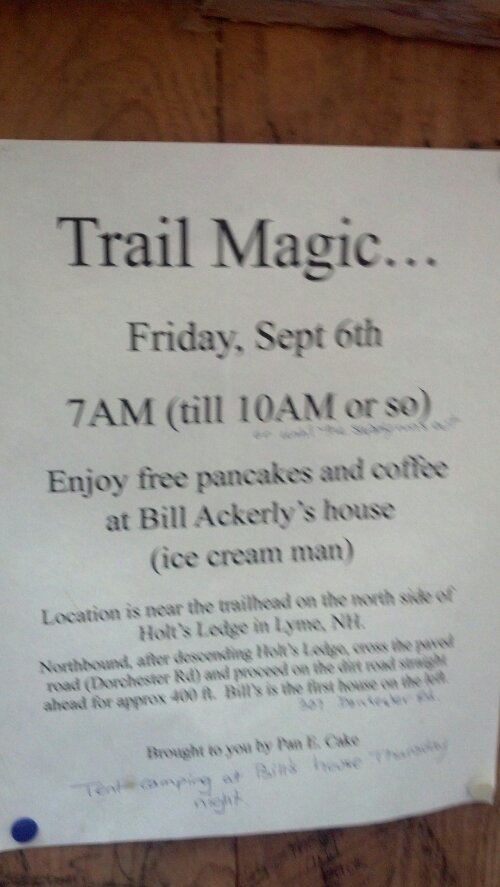 Eventually, it came the time where I had but an hour to make it back to Hanover if I would beat the rain. I left the college group still trying to figure out how to make their tarp into a passable rain shelter. I hope they stayed dry that night.
Down the hill and into town we flew, arriving behind a baseball/soccer field within an hour. Plenty of hikers had erected their tents in the woods within view of the fields. It was clearly a popular stealth spot. It may have been sprinkling a bit, but by then, but it definitely wasn't raining hard. I set out to find a new place to eat.
As I recall, I looked into the Jewel of India (closed) and a new place near C&A Pizza (not open) before winding up at Molly's for a margarita.
With enough time left in the night for some proper entertainment, I tied up Copper with some food and water under the eaves of the town hall and went down to the movie theater to get in line for a ticket to The World's End, another hilarious Simon Pegg movie. I'm sure it did a lot of raining while I was inside, but Copper and I both stayed perfectly dry.
It was dark out when I came back to get Copper, and it turned out he'd been noticed by an employee of the adjacent hipster bar, who, it seemed had brought more water. I talked to him a bit while I packed Copper up again and prepared to walk back to Warren's house. It would have been nice to have hitched a ride here, but no one I waved at stopped, so we walked the two miles back in the dark.
Rabbit was gone that night, so I repacked most of my pack and went to bed early and slept fine, with no plans or reason to get up early in the morning.
When I got up the next morning, I cleaned up as best I could, packed up what was left and walked the two miles into Hanover again. All I had on my to-do list was to get my mail, now that the post office would be open again, arrange a ride back to the trail, and buy some more dog food…the proper kind, enough to last a while. I think I left too late for breakfast at Lou's, which is a pity, as they give free donuts to hikers. So, I grabbed something quick from Dan & Whit's on the way.
I went ahead to the Post Office first. I had slept pretty late so it was probably 11 by the time I picked up my boxes. Some was the food I'd sent from Dalton (and had forwarded from Manchester Center), but most was supplies from home, including the tent and Thermarest I'd sent home with my mom when she left me in Front Royal after the Shennies. I sat on a bench in front of the P.O., unpacked my pack and the boxes, repacked both (to send home my hammock, Kelty chair, and the used maps), and then left the homeward bound box inside.
Then, I went to Subway for lunch and pulled out my list of angels to start calling and texting people to see who could get me out of Hanover. Not a single person could do it that night, so I went out to the baseball field and set up my tent in the woods with the other hikers. I got in contact with Kate Harrison who said she'd be able to get me at 8am the next day. Then, I went to the Co-op and bought some groceries, including some more, better dog food.
Soon, I received a text from Kate saying she just remembered she had to stack firewood with a friend in the morning. I said I could wait until she was available, and she responded that I was demanding and ungrateful, and so I answered that I had been misinterpreted and was, in fact, trying to be flexible, so she agreed to take me in the afternoon instead.
I left the groceries unpacked in the tent, tied Copper to a tree, and headed down to Salt Hill Pub for supper and a drink. While I was there (focused on my phone, because that's where the majority of the above text conversation took place), a DJ came in a set up for karaoke. It turns out karaoke night at the Salt Hill has a bunch of regulars. One was an older gentleman who couldn't carry a tune in a washtub, being completely tonedeaf, but only mostly rhythm-deaf, yet still treated by the DJ without a bit of contempt. I guess he hears it every week. Another was a college-age Vietnamese girl who sang perfectly  the entirety of Rapper's Delight without even looking at the screen. And she looked good doing it. Once my stomach was full to bursting and I had put a decent buzz on, I walked back to the baseball field and crashed.
The next morning, I made no extreme effort to get up early, but I didn't sleep in forever either. It did take me a while to pack up, since I still had all that food loose in grocery bags, and my tent takes longer to set up and take down than my hammock anyway.
I headed back over to Dirt Cowboy to get my last town breakfast and spent the rest of the morning there, with Copper waiting right outside, for ? to come pick me up. She did, and we loaded up and left. This time, there was no difficulty finding the trail, since I'd been there already. We talked about how sore her arms were from stacking wood and the kind of jobs available in Hanover. Apparently, the most lucrative profession available is geriatric care. Yes, despite its quirky College-town feel, Hanover is now primarily composed of retirees.
Eastbound (northbound) from Goose Pond Road was far more interesting than the majority of the trail between there and Hanover. It finally started to feel like the Whites. Nearly instantly after we got back on the trail that afternoon, we were climbing up to Holts Ledge.
I don't think we stopped to check out the cliffs though. It was already afternoon and miles to go so we came quick down the other side to the road which is famous for being the home of Bill Ackerly, the Ice Cream Man. His house is practically adjacent to the trail, and all hikers are welcome to come sit a spell and eat an ice cream bar or sandwich on him, even dogs. He's a pretty old dude, but he does seem to enjoy hugging much younger women, as he did with Sparktwofire, whom I first met when she showed up there by car while I was visiting. He was ready to do that pancake thing in a couple of days, and offered to let me stay there, but I'd hardly hiked at all, and had a few more hours of daylight left in the afternoon.
We left his house and his visitors still chatting, and started up Smarts Mountain. Walking nonstop for the next four miles, we came out on top of Lambert Ridge just in time to catch the sunset and a few pictures.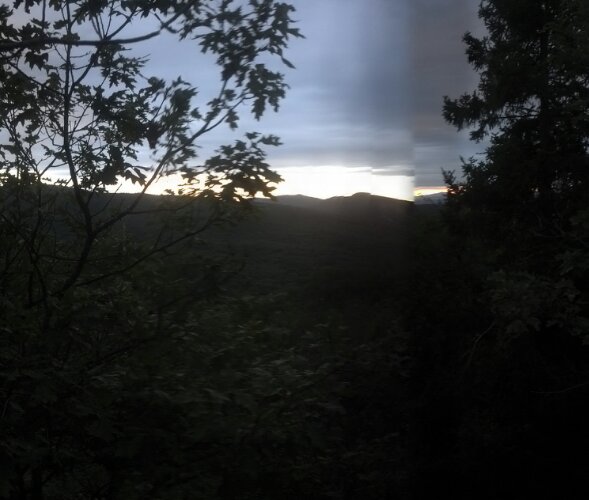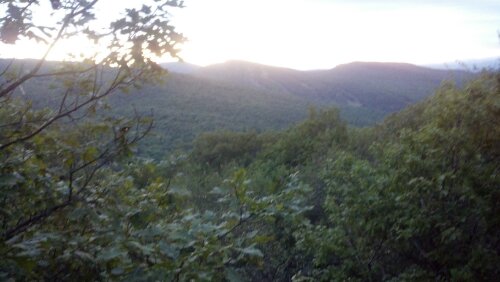 Just a little bit down from there, I found a small stealth campsite surrounded by lots of branches and low spruces, and finally gave it up for the night.
The next morning, I hurried to get to the top of Smarts Mountain, where stood a fire tower and a trashy old building with a.clear rat problem known as Fire Warden's Cabin, but clearly mostly used as a hiker shelter. I dropped my pack there and went to find what I'd primarily come up there for that morning: the privy. It was an interesting one, built without any fasteners that I could see. It all fit together with flanges and planks and pegs so that it could be easily disassembled, like a life-size lego structure. As a result, one of the walls was missing. I tried to prop the sheet metal up against the back of it to cover the hole and keep the flies out, but it just fell down again, so I had to suffer the flies.
Back at the cabin, I met Quinoa, a thru-hiker who was also, as it happened, a Hanover resident. He'd taken a few days off with his folks when he'd walked into his hometown, and now was getting back on the trail again. He'd soon lose me, but I'd catch him again in Lincoln. Him and everyone else.
There was also a fire tower here, but there was nothing to see from it: it was too foggy that morning.
We came down from Smarts Mountain a bit after noon, moved quickly past the Eastman Ledges, and hurried to get up to the Hexacuba Shelter for a proper lunch break. I assumed the Cuba part came from Mt. Cube, but I had no idea what Hexa could mean, until I saw it: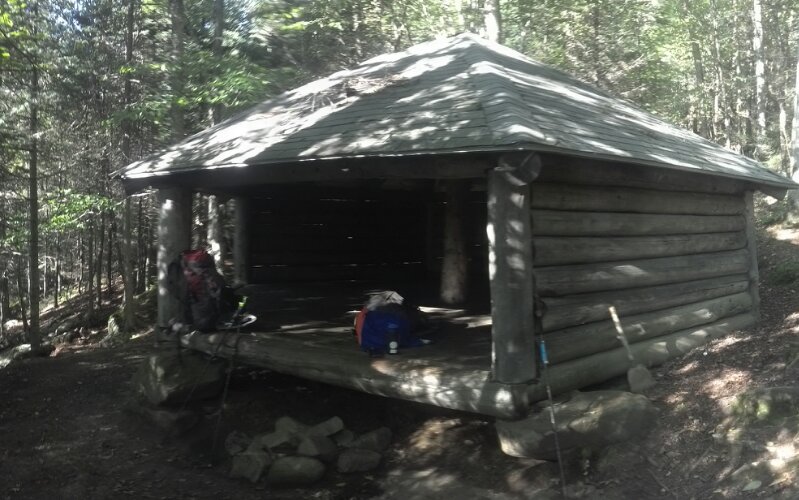 In case it isn't clear from the picture, the shelter has a hexagonal layout that's open on two sides. If they arranged themselves right, I think 20 people could sleep there. I had no intention of sleeping there, as it was but 5pm when I finished snacking and logreading and such. Plenty of time to make it to the top of Mt. Cube by sunset. As you can see from the picture, I wasn't the only one there at the shelter that evening, but even though I saw whoever it was at least twice that day, I have not the foggiest who it was.
Anyway, packs back on, we trundled back up the steep rocky trail that connects Hexacuba to the AT, took a right, and headed straight up the side of Mt. Cube. Coming up towards the top, one can see most of the mountain, and I saw a wide open rock face that looked like it would have an incredible view. When We arrived on top of the south peak, it was clear that that was not the spot I'd seen, and I couldn't resist getting a proper sunset picture with a view.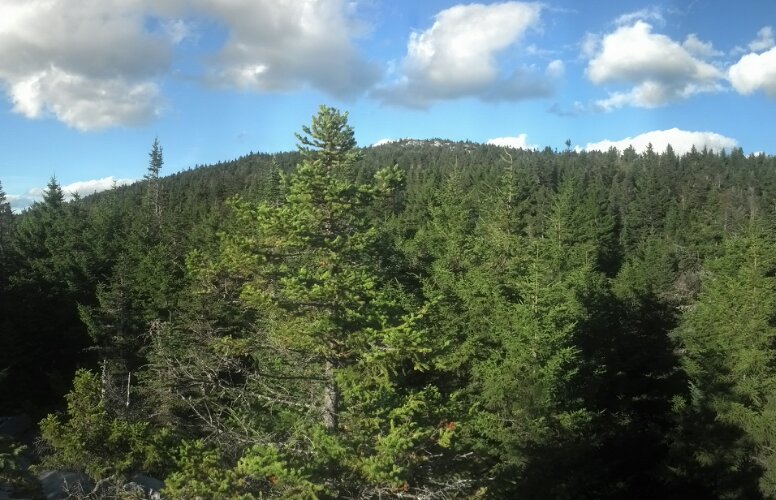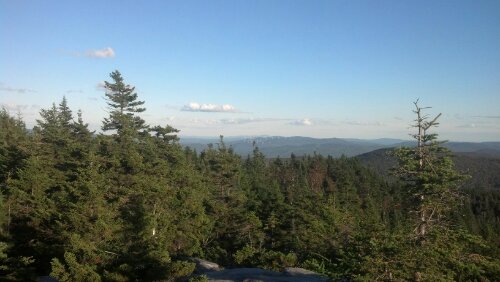 So, of course, I took the crazy side trail to the north peak, and I'd recommend it to any one else visiting Cube (and have done so many times already). It's a lot of running up and down rocks, or off ledges, over or around mud, but when it opens up, it gets truly panoramic.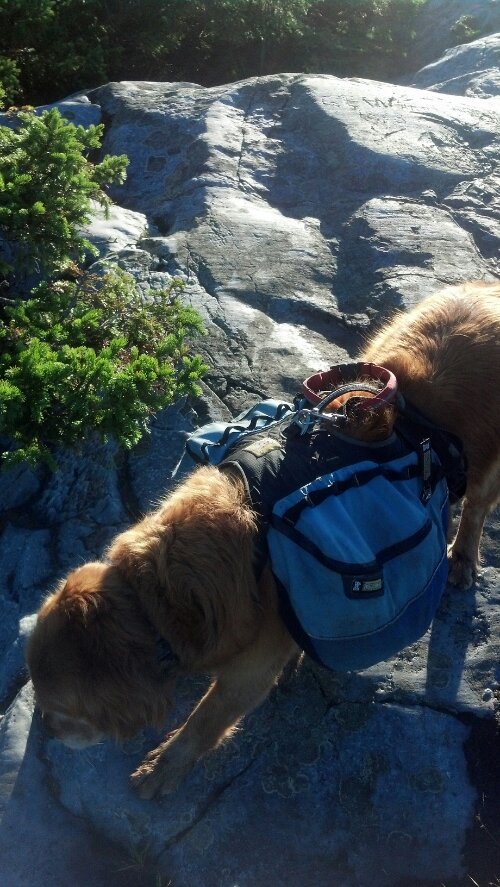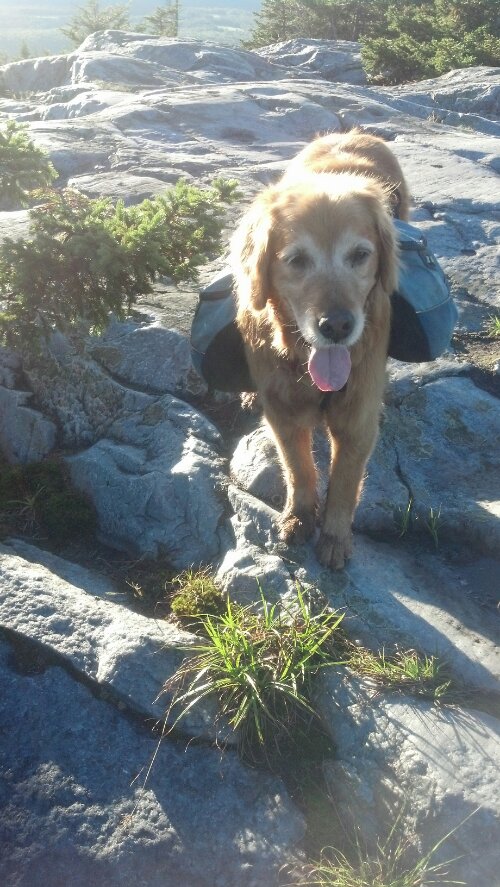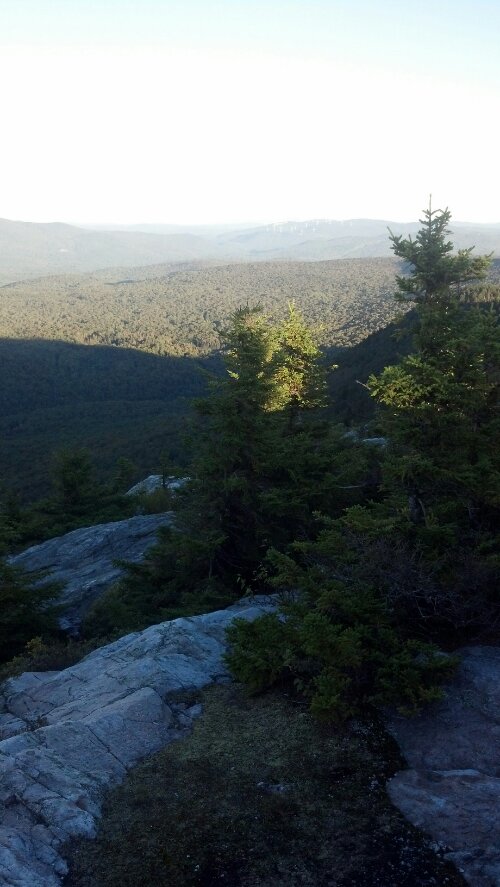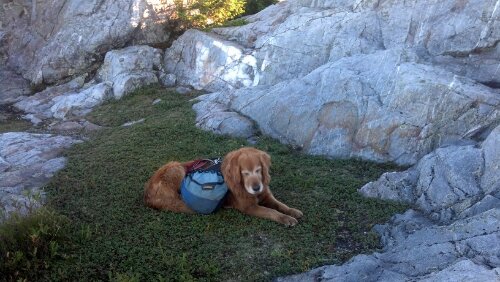 The sun was still up when we headed back to the trail, but it was clear it was going to be gone pretty soon. Headed downhill, it was getting gloomy fast, and I had to pay extra attention to keep from tripping. This is always a problem going downhill with a pack on, but diminishing light makes it worse.
My original plan had been to go find the Cube Sugar Farm, where hikers have been allowed to stay for free, but I saw how far away from the trail it was and how dark it was getting, and ended up just pitching my tent in a small clearing above a stream. It was just barely exactly the size of my tent, and called for clearing out some briars and putting up with sleepingon a root, but I slept soundly, and only noticed the sore spot on my side when I woke up the next morning. If it weren't for that root, I may not have ever wanted to get up. I took advantage of the tent design to pee right out the side without getting up; it's pretty hard to do that with a hammock! I lazed a bit making breakfast before I was forced to run off into the thick woods nearby to dig a hole. When we finally got packed it was already somewhat late in the morning, but we only had 11 miles to go over Ore Hill and Mt. Mist, both no more than lumps in the trail compared the mountains around them.
The Ore Hill area is actually a Superfund cleanup site, as it was once an mining operation which caused heavy metals to leach into the soil. (I collected no water after I left camp that morning, so no worries.) This fact has resulted in one of the best maps of the White Mountains I've found, though the high quality version is only available as a PDF. Here's the low-res one from the government website documenting the cleanup efforts: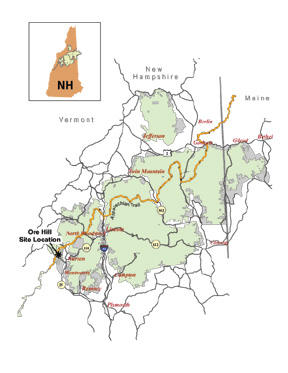 Around 5pm that afternoon, we arrived, finally, at New Hampshire Route 25 in Glencliff, where we took a right an walked a quarter mile to the Hikers Welcome Hostel, about which several hikers had already told me, as far back as Hanover.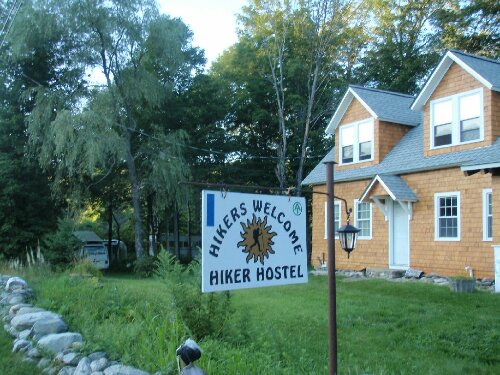 I had had some extra supplies (which weren't ready in time to arrive at Hanover) shipped to Glencliff in anticipation of my stay there. Most of the guests were not back from slackpacking yet, so Packrat helped me settle in, pointing out how to find a bunk (upstairs) and where and how to take a shower (under the tent behind the house), what food was for sale (small microwavable pizzas in the freezer) and then went off to cook and do other things. The hostel could hardly be called "tidy" or "polished". In fact, it looks well-trampled and slapped together, but it does have every amenity. It has extra sleeping space in a tent behind the house (one girl slept there the night before I arrived, indicating I had just missed a huge crowd—she'd left her thick downy sleeping bag out there, and said she had still been freezing most of the night, and I could believe it as it was already cold again that night), a washer and dryer and dishwashing sink under the tent, and even a giant wall in the backyard with rocks behind it to pee on. Once I had my shower, I cooked my own supper on the tables under yet another tent out back. (Which doesn't mean I didn't buy snacks—I bought quite a number of sodas during my stay there.) It was quite cold out, but there were plenty of folks around arriving back from slackpacking in congregating in various places. I didn't know most of them, and never saw many of them again.
After I ate, I found some folks sitting in the main lounge watching Office Space, and I sat for a bit until Packrat returned, at which point I accosted him about plans for the morrow. I wanted to take part in his southbound Moosilauke slackpack opportunity, but I needed to get my package from the post office too. He said that the Glencliff Post Office knew him well, and he picked up packages there for hikers all the time. He'd get my box while I hiked over Moosilauke. Problem solved? I went to bed and did some blogging until I fell asleep, planning to wake up early enough for pancakes and a day full of amazing photo moments on my first four-thousand-footer in the Whites. The easy part was over, and my trip was about to slow to a crawl.