April Johanssen, a 35-year-old single mom, is turning her life around by getting back to nature. After years of rarely leaving her house in Chicago, she became obsessed with Harper's Ferry and drew on the support of local and online communities to fund a break-out camping and hiking trip. It's almost a week into that trip now, and her funds, those she didn't spend on food and gear, are running low. So, she starts volunteering in exchange for her site at the hostel, and, because she's got to work four hours a day, she's not getting to much of the hiking she came to do. The debilitating migraines don't help either. And when she does have time to hike, after all that work is done, for one reason or another, she just doesn't feel like it. She's not getting done the thing she came to do. She wants to try a longer trip with the backpack, but her tent is too big to carry, and she's never even done a day hike with the pack on. She needs some practice, and a push.
So she had to climb up Weverton Cliffs with me. It's only a couple of miles, after all, and I need someone to take my picture in front of that gorgeous view anyway.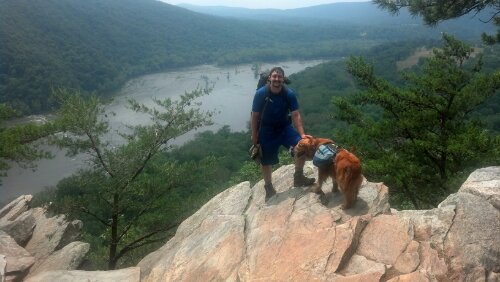 She had no trouble with the hike and decided to spend the rest of the day relaxing at the overlook. Copper and I, on the other hand, needed to get some miles in, so we set off at top speed. We stopped at Ed Garvey Shelter for lunch with Puddin' and Pattycakes, who we'd last seen going southbound from Jim and Molly Denton Shelter, then pushed on.
A few miles later, the trail descends a ridge and enters Gathland State Park. It was 4:30pm when we arrived, so the museum was open. I tied Copper up outside and went in to find out what the place was about. The park preserved the lands once developed by a wealthy nineteenth century journalist and writer, George Alfred Townsend (Gath). The museum was housed in the last standing piece of his estate, which he called Gapland, presumably for its location at the top of Crampton Gap. The lady in the museum was obsessed with the man and wanted to tell "the real story" about he wanted to start a dynasty to pass down to his children, and how he desperately wanted to be remembered, even when most of his readership was old and dying. She had saved a carload of photos and memorabilia when the museum had been rebuilt, and driven around with it for months, just so she could put it back in the museum. The most interesting piece in the museum, in my opinion, was Gath's weather vane, which was shaped like a quill snapping a sword in two.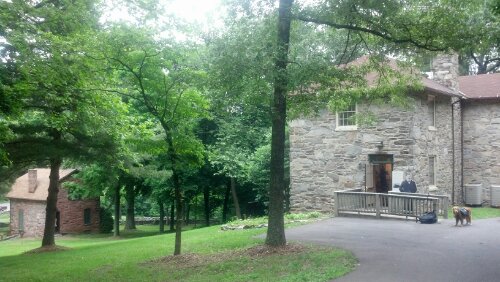 In order to be remembered after he died, Gath built the Civil War Correspondents arch, dedicated to all the journalists, who, like him, had anonymously penned descriptions of battles and troop movements throughout the Civil War.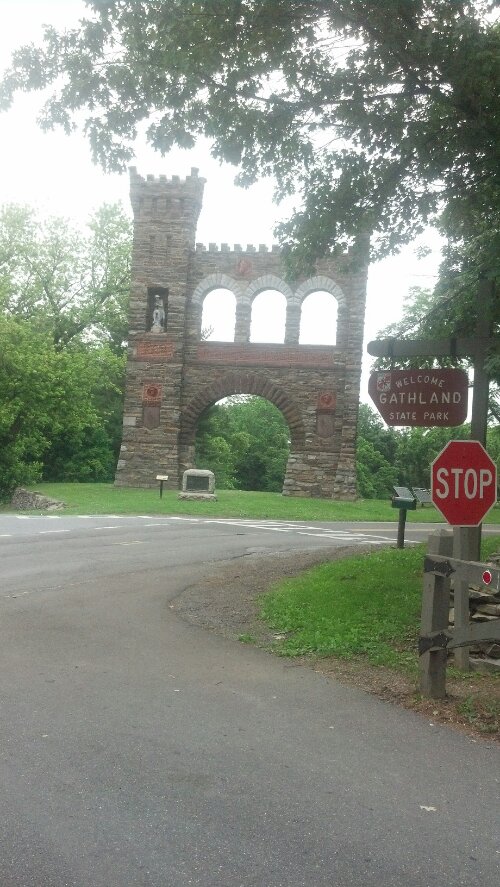 It started raining as I left the state park, but luckily the Crampton Gap Shelter was less than half a mile away. There's only one guy in there, he's in his 60s, has a radio going, and seems reticent to talk. Copper and I climb in and set up at the opposite end of the shelter. I cook as the sky opens up and dumps buckets all night long. Eventually, Paul with Bunyans(sic) opens up and turns out to be full of stories and chatter, but we get to sleep early that night. The next morning, it's still raining and raining, and we just lay around all day in the shelter, him reading and me listening to my audio book. Not much talking, just comfortable silence, like Copper likes it. I even managed to fill up my water bag with rainwater leaking from the gutter in about fifteen minutes.
Eventually, in the afternoon, the rain started to let up, and hikers started arriving. One group which arrived fairly late was an extended family, some of whom called themselves the Florida Flip-Floppers. The thru-hikers in this group were Toothbrush, the mom, and her adopted Chinese daughters, Badonkadonk and Beast Cub. The rest were hiking a big section. The family took over the entire deck area when they all arrived, and were eating and discussing whether to stay or hike on to the next shelter. It was clear they weren't going to tent, and would fill the shelter to capacity if they stayed, so I cooked supper, then started packing, all the while trying to convince them to go to get them out of Paul's hair, but they were like an army without a general and it was clear from their eternal debating that they would end up staying. Oh well. I got the hell out.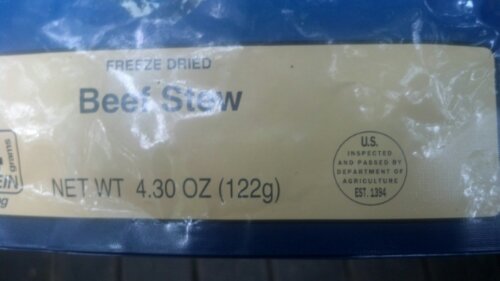 It was like five miles to the next shelter, and the sky opened up again and rained pretty steady for the last mile-and-a-half, clearing up again around the time I arrived at the Rocky Run shelters. I asked the crowd at the new shelter if anyone was at the old shelter, and they informed us that Copper and I could have it to ourselves. It was a good old shelter too, high and dry and cozy, with a water source just yards away. My plan was to take off all my clothes before bed, but Jeremiah came up to share the old shelter with me just ten minutes after I arrived. I shoved Copper out of his way and got him to turn around while I changed into my compression shorts and we had a dry and uneventful night.
I got up before dawn the next morning eager to hike, since the Dahlgren Backpack Campground was just a couple of miles away. I left camp around 6am and was in the bathroom at Dahlgren before eight (which almost wasn't soon enough…). I was surprised to find two folks sleeping in there, one across the sinks and one on a wooden bench that had obviously been dragged in for the purpose. They woke as I was getting into the shower, and I gathered that they were drunk when they'd brought the bench in and that it had been "really easy". I couldn't see how they'd managed it all given the shape of the bench and the layout of the bathroom. It took them the entirety of the time I was in the shower to figure out how to get it out again.
As I came out of the bathroom to give Copper his breakfast, I was pleasantly surprised to see Timber and Little Engine rolling into camp from a town stay. They were hiking with her sister, and left ahead of me.
There was a lot to see in Maryland. Two miles past the Dahlgren campground was the Washington Monument, a tower built by the citizens of Boonsboro in the early 1800s in honor of George Washington (the first such monument built, in fact), pressed into service as a signal tower during the Civil War, restructured many times, and restored to original form by the CCC. There is a commanding view of the Boonsboro valley from the peak of this 30-foot-high solid stone structure.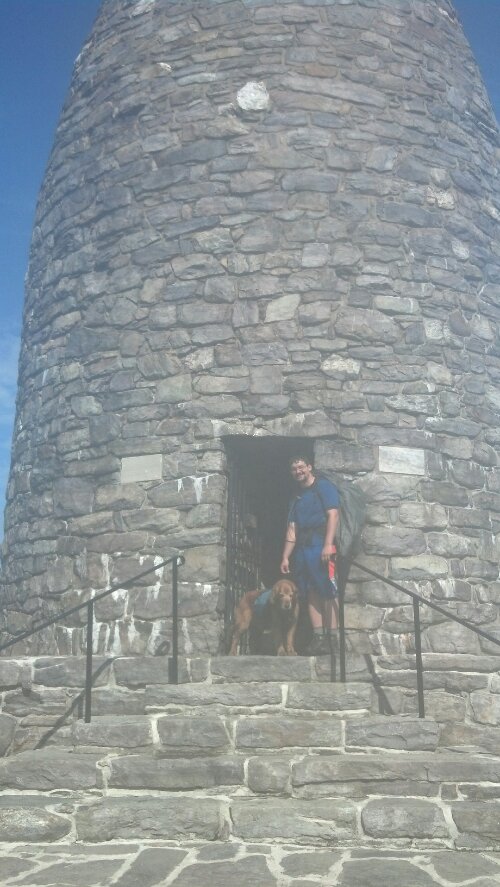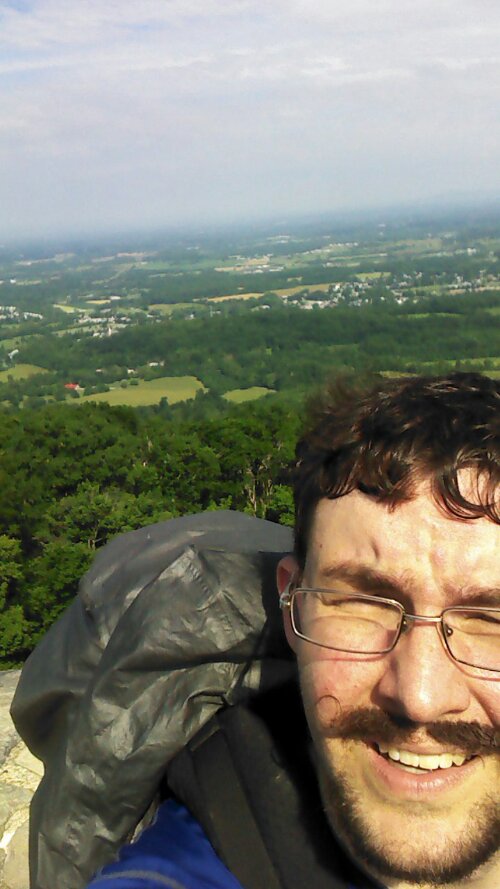 I left Timber and Little Engine and her sister napping in the picnic shelter there, while Bamboo and Morning Kid, who passed me on the way up, easily outstripped me and went racing ahead.
We landed on a road a couple of miles thereafter, and the trail ran along someone's yard and down behind their shed to a staircase that dropped onto a pedestrian-only walkway over I-70.
The humidity was stifling, so I stopped and took a phone break under a road overpass a bit down the highway, despite the echoing traffic noise. Then, we set out up a wide path leading to a popular day hike spot called Annapolis Rocks, though one could not see Annapolis from there. We followed an ATV the whole way that had a huge tank on the back. A couple of guys from the state park service were out to fix the privy, which was apparently a major problem inside, though I didn't stay to check it out. In fact, there were two campgrounds and two privies there (one for large groups) and further down was the spring that I walked to for Copper's sake. We checked out the view for a few moments during a snack break on the way back.
Then it was about a mile and a half of easy strolling to Black Rock Cliffs, where there was another, different view and some recently graffitied rocks. We stopped for a while, and a family up for a day hike came up there as well with their small children. They left me a bag of white grapes when they left, a welcome treat.
After that came a flat and uneventful five miles on a wide smooth trail, minus a short section that was nasty rocky, ending with a quick staircase climb and a sudden steep half-mile downhill. Then, I went across the road, through and muddy, twisty section of trail, and down a hill to the Ensign Cowall Shelter, where there was already a fire in the pit. Who could it be? Well, I've met several hikers who always start a fire, and all of them were here. Steve-O/Sasso and Bill-J were in for the night along with Paul With Bunyans. I stopped long enough to change shoes and tie Copper up, before setting off for the road and down the hill into Smithsburg, where I had been informed there was a dollar store, a deli, and a liquor store all adjacent to each other.
So I got a pair of steak-and-cheese footlongs (supper & breakfast) and some hunter sausage from the deli, some toilet paper and other essentials from the dollar store, and a six-pack of Dale's Pale Ale to be drunk and shared for supper. I walked halfway up the hill with my grocery bags before the lady who fills and runs the truck (possibly the owner) for American Sparkles Water Services (water delivery for pools) picked me up right off the side of the road and ran me to the trailhead.
My sandwiches and beer didn't top Sasso and Bill-J, who had been feeding everyone hot dogs during my absence in preparation for cooking their own steaks slathered in peppers and onions over the fire. I tasted a leftover piece that night, and it had truly been marinated well.
The next morning, we were almost the last to leave, with Misery and friend just ahead, and Sasso and Bill-J having left a while before. I passed all of them taking breaks near Foxville Rd, with the stoner dudes saying they'd just finished smoking with a cop that had been parked there. I kept moving quick, essentially racing two of those guys all the way to Raven Rocks, where they passed me while I waited for Copper to catch up for the road crossing, and then I passed them again when they informed me that Raven Rocks had no good views.
It was about a mile from there to Raven Rocks Shelter, a new and fancy shelter where someone was just sitting there reading a magazine, not wanting to talk. We all had lunch there, and soon the shelter maintainer came up to check out the carpenter ant damage and pack out our trash. With this flurry of activity, the quiet man started to get up and do things. He said he was called Packman, and when I pointed out that we were all technically Packmen, he asked if I had carried an 80-pack through Georgia. I pointed out that I had not yet hiked through Georgia. He said that he'd been given many names, including Renaissance Man, because he could do so many things: commercial driving, building, plumbing, electrical, engineering. I asked if one of the things was literature, or perhaps classical latin, thinking that these were perhaps the more common domains of those men once dubbed "Renaissance." When I suggested that perhaps a more suitable moniker might be "Jack", he rightly asked if my trailname happened to be "Smartass." I immediately apologized and explained I thought "Jack of All Trades" should be considered a compliment, as long as the "Master of None" part was not added. He indicated that "Master of All" might be the formulation best applied to him, at which point I asked him how to get to the spring.
Copper and I went the 0.4 miles down to the old Devil's Racecourse Shelter (now deprecated) and the adjacent spring, stopping to talk to several hikers along the way, especially about the potential incoming storms. When we returned, Packman was doing yoga. He finished around the time I finished packing up. I left in a hurry around 2pm, worried I was going to get dumped on if I were out much longer.
A couple of miles later was a thoroughly graffitied staircase to the top of High Rocks, located next to a hang glider launch ramp. It was yet another majestic view onto the valleys of Pennsylvania. Just behind it came a nasty climb down a boulder field.
I slipped and fell almost immediately. It was one of those dramatic twisting slow motion falls, where you keep twisting and reaching and finding another rock to put a hand onto to slow your fall, but realizing by the time you've planted it that your pack has momentum too and it wants to go sideways now and so you try to pull back and have the pack the brunt of the impact, but your wrists are still in the straps on the poles, so their placement is limited. All in all, it was a really good fall. I managed not to bang or scrape any body parts on any of the multitude of rocks. Of course, my gear wasn't so lucky. Somewhere in that slow motion madness, I had completely snapped a carbon fiber trekking pole.
Copper laid down to wait while I dusted myself off, assessed the damage, collapsed the broken pole, strapped it to my pack, and descended the rock climb with only three legs to stand on (which, when you're used to four, takes a lot longer). At the bottom, I found a perfect walking stick leaning up against a tree, and continued, a bit sullen, down the long slow hill into Pen-Mar Park. One guy standing by a boulder with his wife insisted I take a stick of gum, so that helped a bit with the fuming.
When I arrived in the park, I immediately noticed the vending machines in the center of the park, so I dropped my pack and started walking up there. Copper, of course, followed, so I was accosted by an old man in a golf cart who informed me that dogs were forbidden from the park by a city ordinance. I would have to restrain him back at the picnic table where I had left my pack. So I had to walk all the way back down, tie him up, and come back again before I could get at the tasty Powerades. Sasso and Bill-J were already up there chatting with the golf cart guy. He explained why there were strange signs all over labeling the playground as a miniature train and the bathroom as a concession stand and so forth: the park had been an amusement park with rides and games and such in the late Nineteenth and early Twentieth Century.
When he left, Sasso and Bill-J discussed splitting a hotel room, and then we walked down to the old trolley path over the train tracks, where the state border was. I got them to take our picture there.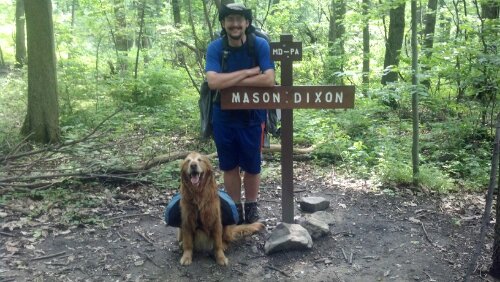 Then, we started walking down the road into Rouzerville. They got picked up by a passing truck about halfway down the road into town and they waved to me as they passed. That was the last I saw of them. Guessing from the logs, they returned to the trail that night rather than staying in town, then got off the trail for unexplained reasons some forty or fifty miles later.
I was offered water for Copper by a man coming out of his house just for that purpose, but I explained I was carrying water just for that purpose and walked on.
When we got to Rouzerville, I walked into a bar called Blondie's for information, but I went in the wrong entrance and missed the part that was open, and ended up wandering through a deserted restaurant, bar, dance hall, and patio. While I sat outside looking at a map and pondering how to go another 2 miles into Waynesboro without having to walk, a man came up in an crew cab truck, walked into a random side door, walked out with a six pack, and asked if I needed some help getting to town. He put me and Copper in the truck and handed me a beer, which I drank while he drove me past Gus and Ted's ("some kick-ass chicken") and up to Day's Inn. He said he lived right next to the trail and often drove hikers into town. I thanked him for his hospitality, checked in, got a shower and some water for Copper, then went out with my phone for Gus and Ted's. I went in the dining room side, which at that early hour had only two other occupants. I got some beer, a half a chicken fried, a loaded potato, and a huge do-it-yourself salad for less than fifteen bucks. I also got an order of "their hottest" hot wings to go. Then I started to worry. How was I going to get to the post office tomorrow to get my package from Steph? Would I be able to get everything I needed and get out of town the next day without getting totally drenched by Derecho? Or would I have to stay and spend another 80 bucks on the hotel room? You probably already know the answer to these questions, but if you don't…you'll have to read the next post to find out. You won't have to wait long.