My mom and her friend Renea were expecting to meet me in Hot Springs two days after I arrived at Standing Bear, with four mountains and some thirty-odd miles between the two, so I got up as early as I could and ate a nuked sausage, egg, and cheese croissant with the orange I had been gifted the night before and a juice box. It took quite a while to get everything squared away and make a plan, including climbing a hill to get enough cell service to discuss plans for Hot Springs. I figured I could hike all the way if I could make it to Roaring Fork Shelter by nightfall. Of course, that meant climbing two balds that very same day. I grabbed a can of Vienna Sausage and an Oatmeal Creme Pie for lunch on the trail, heaved my pack onto my shoulders, and set off down the road.
The first task of the day was to climb Snowbird, which started with a very steep climb right up the side of a hill, and then slowly leveled off into a gradual two mile climb. Altogether, I rose around 1500ft. in two miles. When I got to the top I was surprised to see an FAA radar station.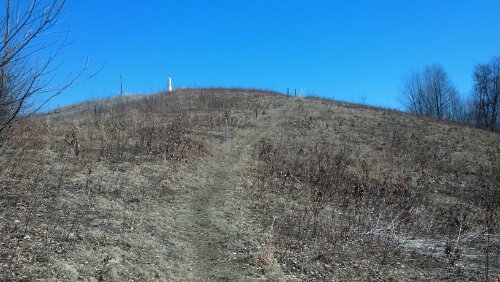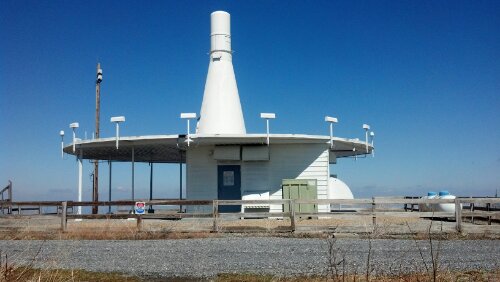 I wasn't surprised I could see everything else, including Max Patch, which I had to climb that afternoon.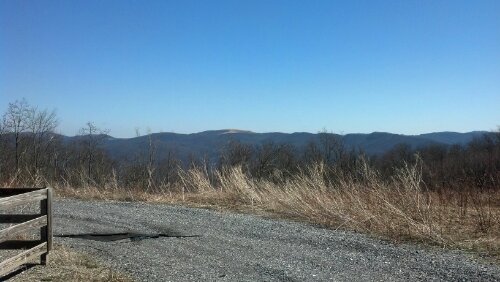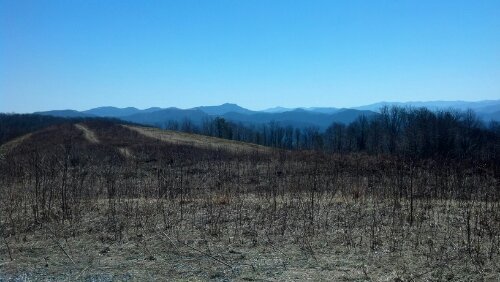 I had spent the climb up Snowbird making calls to my mom, finding out about the status of Copper, who'd visited the vet that morning, and what I needed to know about caring for him on the trail. The vet sent me a powerpoint about wilderness first aid for dogs and gave me a number so I could call her for advice any time. The checkup and this service cost $321, the price of a round trip airfare to NYC, which I have decided I won't be leaving the trail to visit. In any case, all these calls and checking emails and such had taken the entire morning, so it was 2 pm by the time I reached Deep Gap/Groundhog Creek Shelter. Seeing I had 7 miles yet to go and Max Patch yet to climb, I considered staying there for the night, but not long. I would have had nothing to do for five hours and would certainly be unable to make Hot Springs the next day. I ate a snack and pressed on.
It's a long walk between Snowbird and Max Patch, and there are a lot trees blocking the trail. It was especially annoying climbing around the downed rhododendra in the mud. The sun was nigh to setting when I achieved the summit.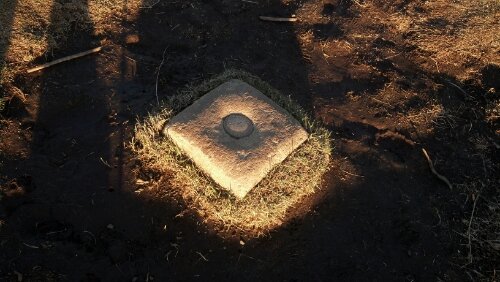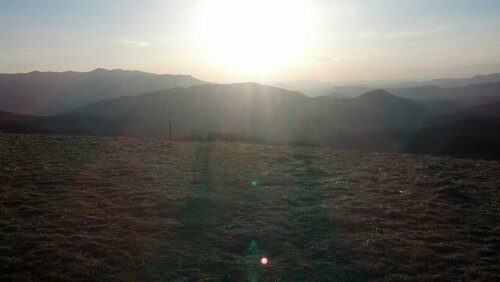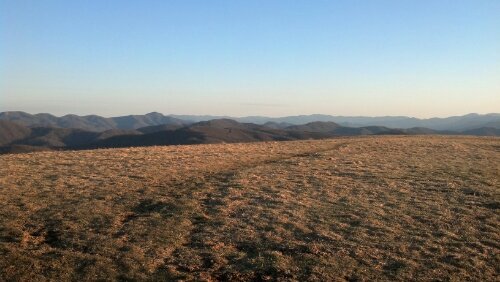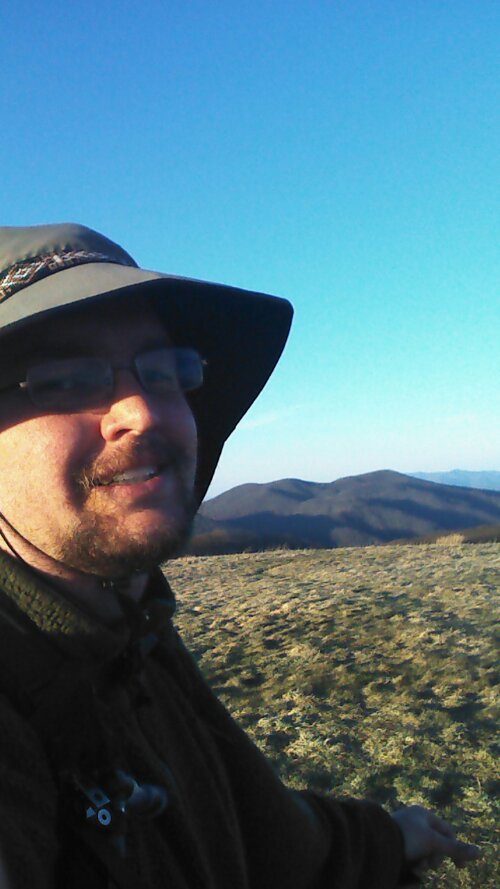 Fortunately, Roaring Fork Shelter is literally right down the hill from Max Patch, and I not only made it to camp with sunlight to spare, I cooked and ate and hung my bear bag all before a headlamp was required. All the shelters maintained by the Carolina Mountain Club are quite nice, with privies and bear cables, and the one guy I was sharing the shelter with made it even nicer by hanging a fly across the front for a windblock and letting me sleep with my head behind it.
The next day was a pretty similar day. I had two mountains to climb, but they were far less interesting than the balds the day before. The first (Walnut Mtn.) was made interesting only by my desperation to reach the shelter atop it. Despite having used the privy before I left, I had suddenly to go again halfway up the mountain. On the top of the second mountain (Bluff Mtn.), I stopped for a snack. It was 3pm, and I had 8.5mi to go to Hot Springs. Since I had a good signal, I called my mom, and suggested that if they'd like to see me before dark, they should pick me up at Garenflo Gap, a fairly easy-to-access crossroad, and drive me to the cabin.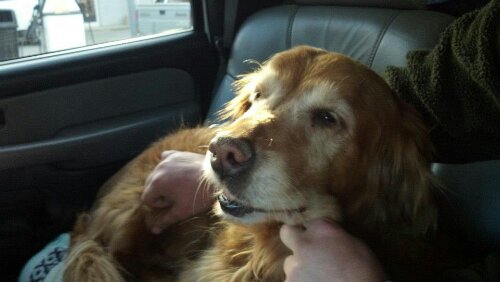 On the way down from the mountain, I saw the only interesting thing I saw all day. I liked the look of this brook better than most of the springs I've seen along the trail.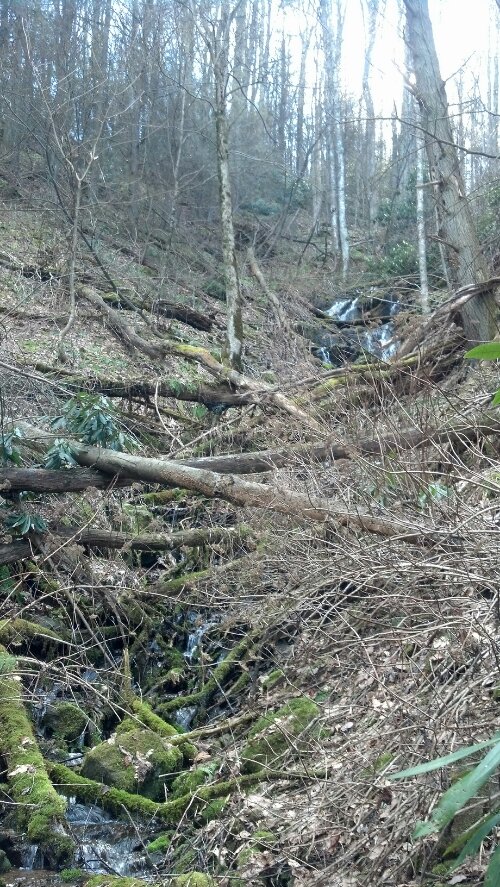 That night, I was treated to a feast of pork spare ribs, baked beans, cole slaw, bread, and canned plums while sitting next to a bonfire behind our tiny cabin overlooking the French Broad, but we got run off from the fire when it started snowing.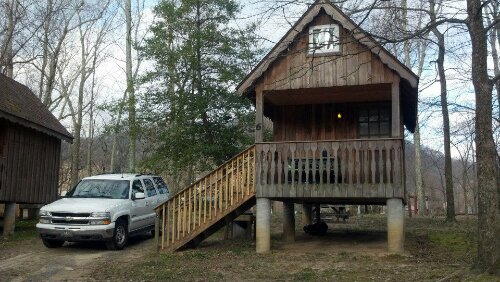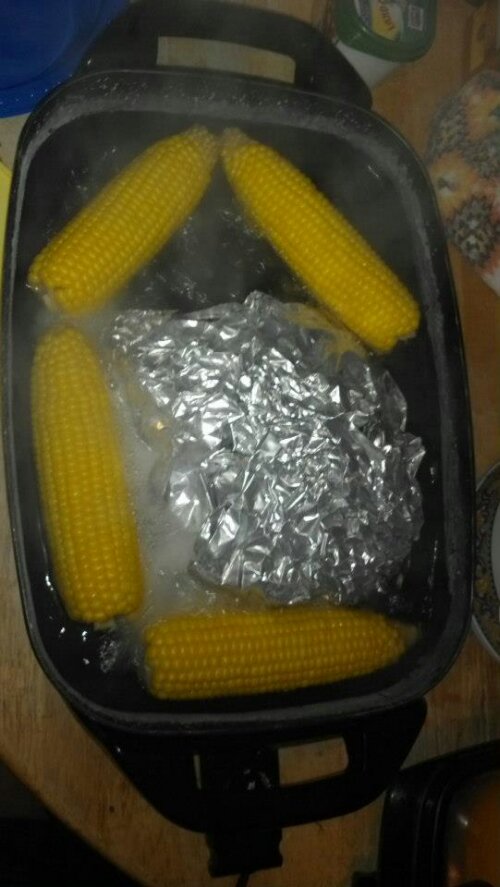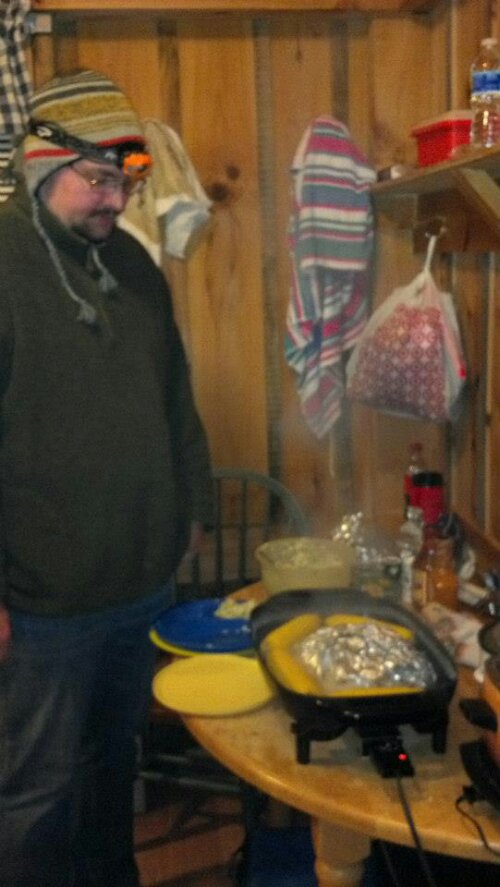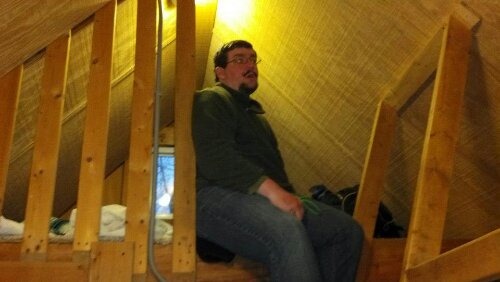 I invited Renea to slackpack the 6.8 mile section between Garenflo Gap and Hot Springs with me and Copper the next day. My mom was gracious enough to get up at 8am and drive us to the gap.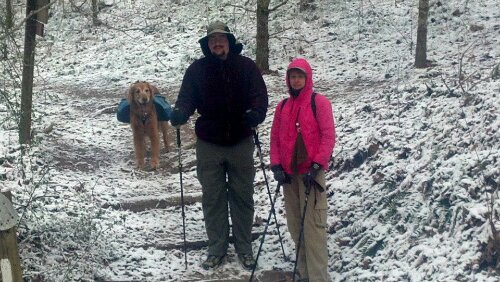 I decided to put Copper's boots on when I saw he was going to have trouble with the snow building up on his paws.

For the most part, it was an easy and uneventful hike, but the snow made everything look like a painting.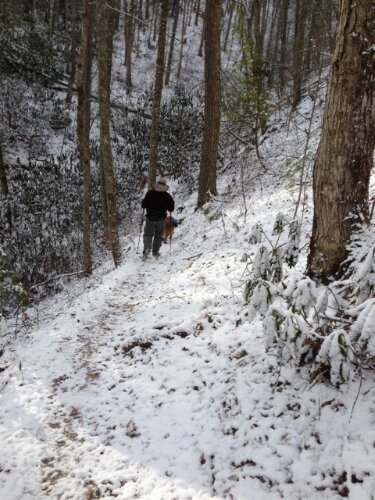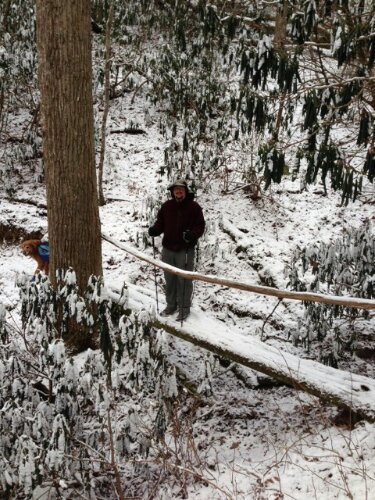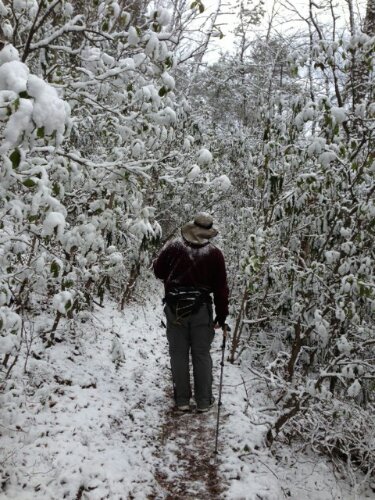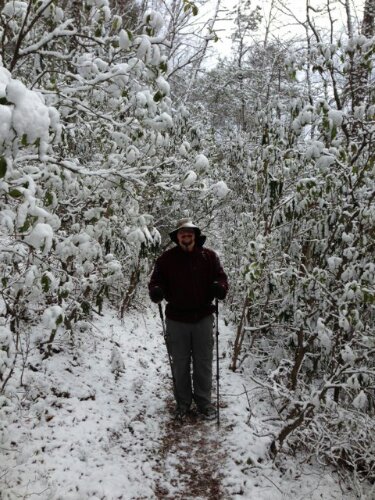 When we came to Deer Park Shelter, we stopped for a late morning snack. We hadn't eaten a proper breakfast, but we were expecting a proper brunch, and besides, we'd had a huge supper and weren't all that hungry.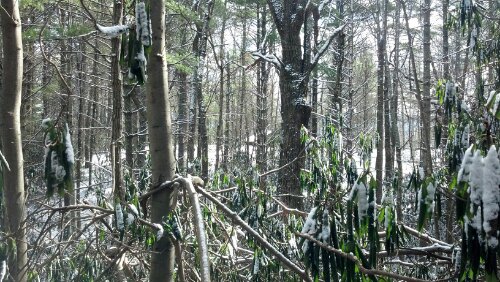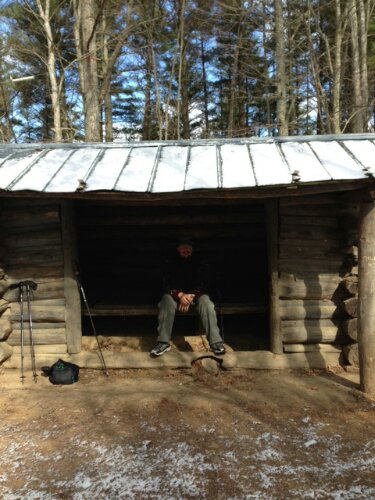 We got back into Hot Springs a little after noon, and back to the cabin by 12:30.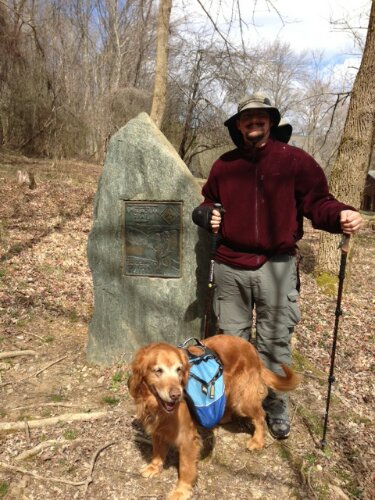 When we arrived, a huge brunch was waiting courtesy my mom. Piles of bacon, gobs of grits, and eggs frying on the electric frying pan.
After brunch, we made an appointment for a massage at the Spa (a late birthday present) and while Renea was kind enough to wash and fold my clothes at the laundromat, I went to sit and drink at the Iron Horse Station while I futzed about with this site trying to make it accept larger file sizes (though I still can't directly embed videos for some reason). Meanwhile, I drank a coffee, four cups of Mountain Dew and a Ninja Porter from Asheville Brewing Company, which I had never heard of…apparently they do not distribute far from Asheville, and nibbled from a huge plate of Garlic Parmesan Fries, though I was still full from breakfast.
Next came my deep tissue massage, which featured Janette, my masseuse, drilling my calves with the point of her elbow to get them to unknot a bit–a treat every hiker should take advantage of, if possible. After that, Mom and Renea arrived and we shared a private hot tub full of the famous Hot Springs mineral water (coming up from 5000 ft. below the surface at 110°F) and overlooking Spring Creek.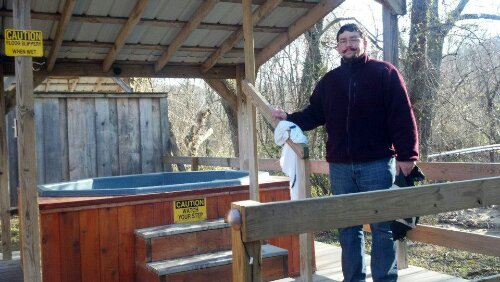 After the hour was up, we dried off by the fire, went back to the cabin to feed Copper, and then headed over to Spring Creek Tavern to sip some microbrews and listen to the live music–a lone country singer with a guitar playing what seemed to be mostly original songs. Meanwhile, I took advantage of their wi-fi to upload some videos to Youtube (including the one of Copper above). My mom left with Renea soon after Renea picked up the tab (thanks) in order to cook supper. I stayed to finish uploading, but they texted me to let me know it was ready, so I left my phone in the bar and walked back to the cabin. Supper was italian sausage and beans and asparagus by the fire and every bit as good as it sounds. I got a lift back to the Tavern to pick up my phone, and didn't stay out to enjoy the fire any further. My plan was to get up before the sun and start prepping for the hike to come.
I got up at 6am and took my constitutional and a nice long shower, then starting packing up stuff. The others started to get up around the time I got back and moved my food and clean clothes inside along with all of Copper's medicines. My first task was to replace my pack's buckle (thanks to dedicated reader Jimmy Clark and McMaster-Carr for providing a working replacement), and then to choose an assortment of food for the section to Erwin, briefly interrupted to eat an enormous and delicious country ham breakfast sandwich. I was barely packed and put together by the 11am check-out time, and threw Copper's pack together at the last minute. I figured six nights to Erwin, and tossed in the leftover ribs, baked beans, cole slaw, and the second can of plums for the first night. I also packed some dozen brownies.
Upon leaving the cabin, of course I had to go take a picture by the Welcome to Hot Springs sign as payment for the royal treatment I was given. Cop and I didn't hit the trail until well after noon.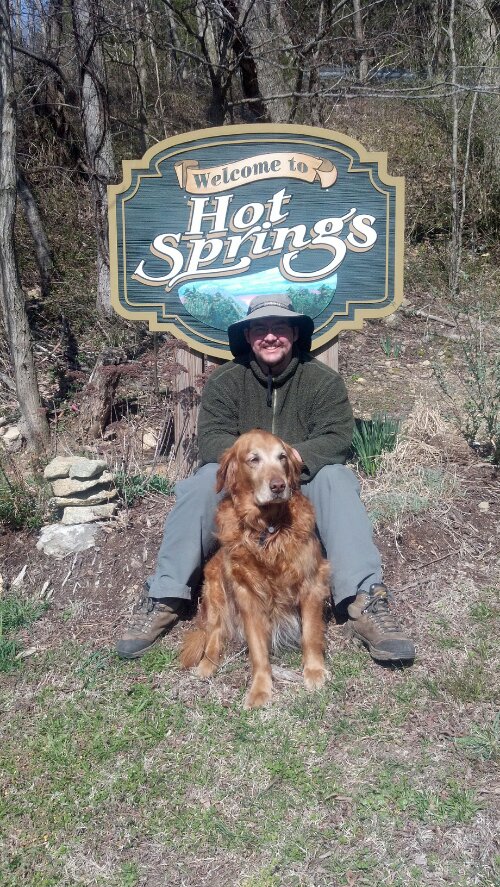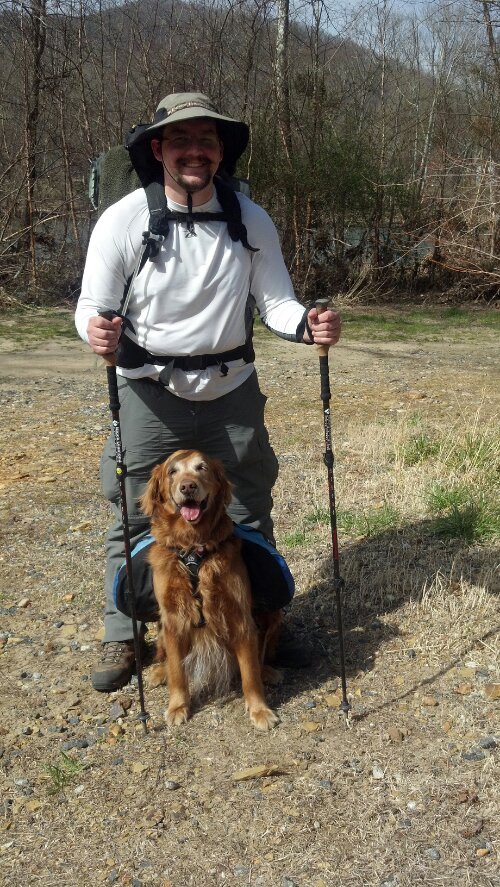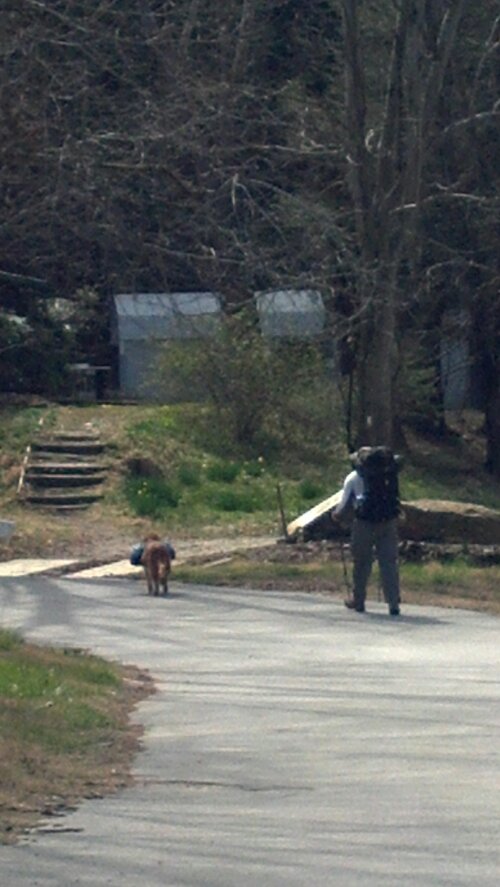 It started with a pleasant stroll along the French Broad, but quickly turned off into a hellish climb up the side of a cliff. Halfway up, I realized I had to poop (again…the grease in that sandwich?). The hillside was a 35° slant with narrow switchbacks all the way up, with easy views to the river all the way up to Lover's Leap, and day hikers love to make the climb. There was literally nowhere to go. Of course it isn't comfortable hiking while fighting your bowels, but it surely motivation to climb as fast as possible. Of course, I was carrying a tent now and some of Copper's food and six nights worth of my own. My pack is much heavier than it was in the Smokies, and the hill was killing my calves and gluts, so even with the added motive to reach the top, I still couldn't keep up with Cop and his measly ten pound pack.
As soon as I reached the top of the ridge I dropped off the trail and found a good log. I spent maybe fifteen minutes and climbed back up to the trail. Later, I stopped in a campsite along the top of the ridge to see if I could get a good wireless signal, but nothing was doing very well. Really I just wanted a break from the pack and all that climbing.
A little further down the trail, I came upon a little old lady with the Carolina Mountain Club, eating an apple, halfway through her round of pruning her section of the trail between Tanyard Gap and Hot Springs with a pair of long-handled garden clippers. We chatted for a bit about the trail and the weather and hiking clubs and Copper before I went on.
Just before Tanyard Gap, I had to take off Cop's tick collar and pack because he cannot resist a large body of water–one of the trail's few ponds is here. A pleasant spot with benches to take a break.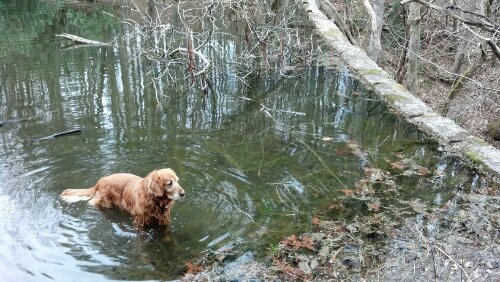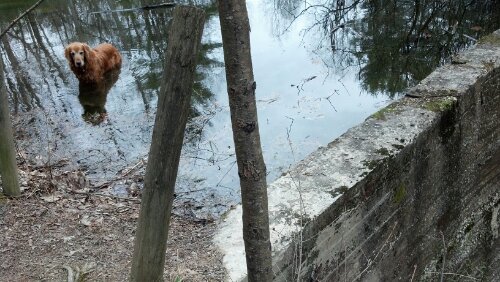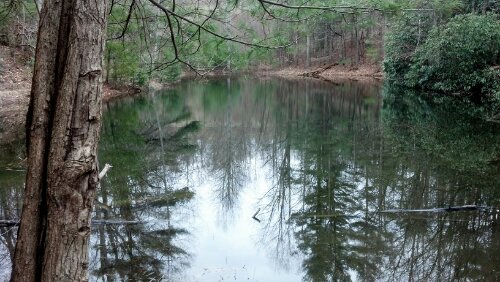 Although I had planned to make it as far as Spring Mountain Shelter that night, all the climbing had worn me out and Copper kept trying to step off the trail and lie down. Snow had started to lightly flurry, so I settled for stopping at the campsite on the ridge under Rich Mountain, setting my tent up next to another whose inhabitant had already battened down the hatches for the night. He peeked out once while I was hanging my bear bags, and I explained to him how I'd broken down the branch while hauling them up the first time, dropping everything on my back. He just said "That happens sometimes" and was back in his tent minutes later.
It rained all night while I slept, and I tried to keep my legs on top of Copper to keep him warm, but he moved up beside me in the night until he was laying up against the tent wall…the surest way to be cold. When I awoke in the morning, he was shivering. I left my sleeping bag on top of him while I went off to do my morning business and collect water. I had to build a sluice to fill my water bag because I'd dumped my pump in hot springs, figuring iodine pills were lighter. The guy in the other tent had not stirred when I let Copper out, but Copper was bounding and ready to go, so we climbed up to the top of Rich Mountain and I climbed the lookout tower there.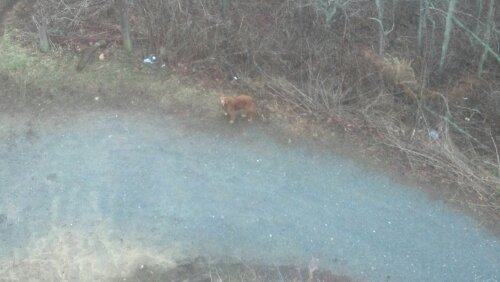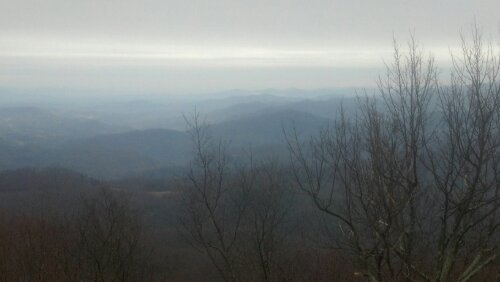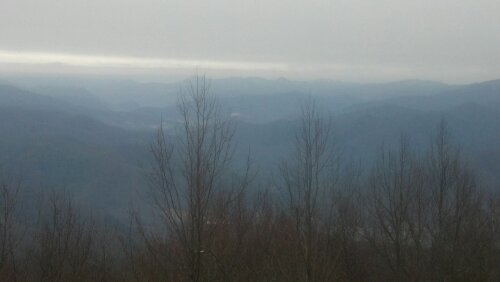 The overcast lent an eerie glow to the landscape that was beautiful in spite of the visibility being lowered. We decided also to visit a campsite below the tower where a small group of weekend hikers had spent the night. They were friendly enough and it looked like they'd been up late with a hell of a fire. It was still glowing even at this late hour as they were packing up.
When I got back to my campsite to pull down my bear bags and start packing up, the guy in the other tent had still not moved, and I left him there in his tent still apparently asleep when Cop and I were ready to roll out. Down at the spring, half the couple who had spent the night further down the ridge was collecting water while the other half sat in camp atop the ridge. I waved as I hiked by.
It was a brief downhill and then a few miles of uphill to reach Spring Mountain Shelter. At the last upward push, Copper was leading by 500ft. and ran ahead when I told him to wait disappearing over the ridge. Of course it was because he'd smelled or heard people to meet, because just over the ridge was Spring Mountain Shelter, which was occupied by an entire boy scout troop when I arrived, eating lunch, so they made me a space and I sat down to do the same. We chatted about trail life a bit before they packed up and headed off toward town. I stayed a few minutes more, enjoying my summer sausage, cheese, and brownies. I took off my undershorts to go commando. I also noticed that someone in the Carolina Mountain Club had a sense of humor.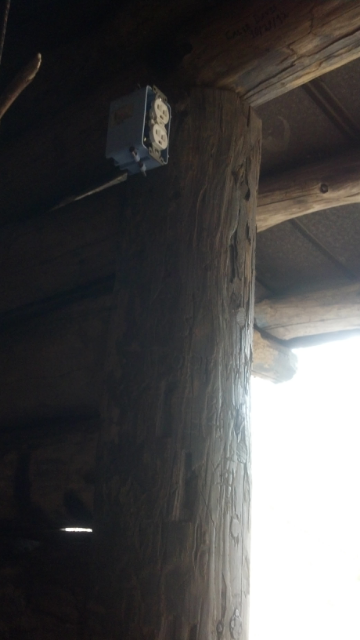 Then it was mostly downhill to Allen Gap, and it was 4:30ish when I crossed the highway. I sat in the trail and put on a dry pair of compression shorts. Nothing was working for the sores between my legs. While I sat there eating a snack, Copper laying near my feet, the guy who I'd left in the tent that morning came up and introduced himself as Hambone. I told him I had been trying to reach Little Laurel Shelter and might see him there, but it wasn't far into the uphill section following where he passed me that I decided I didn't want to end the day with a 2.5 mile uphill slog, and Copper would benefit as much from warm room as my legs would from a shower, so I would take an extra night at Hemlock Hollow Inn, a hostel not three-quarters of a mile from the next road crossing.
When I arrived, they told me it wouldn't matter if Copper slept in the bunkhouse with me and everyone, and then they showed me the bunkhouse, and sitting inside was none other than Dovetail and Caribou. I dropped my stuff and went back to the Cafe/Restaurant for a few sodas and a seat by the heater with Catfish, who was working for stay with his dog, Lu, and was my guide for the moment. I sat a while and then took a few pictures, then went back to the bunkhouse to plug in my phone.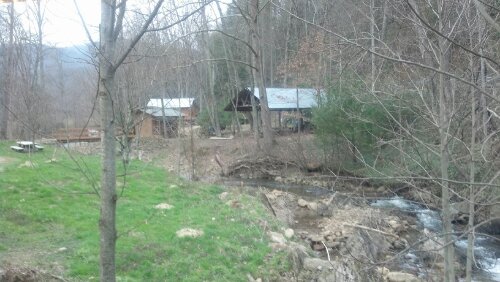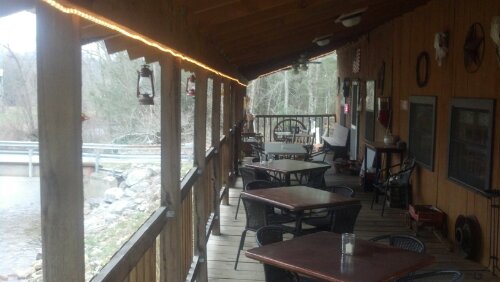 The fact that it was dead and that walking with it plugged into the mobile battery for 3 hours had added no more than 5% charge was a large part of my decision to stop at the hostel. I shared my leftover ribs with D&C (in exchange for a bottle of Sierra Nevada Pale Ale) and then left to bring Copper his supper. I followed Catfish back to the bunkhouse again on his mission to bring the dinner message to the guests, and accepted an offer of a piece of cheese to embed Copper's arthritis pill in. When I carried it back and fed it to him, dinner was served. Ravioli and salad with spinach, romaine, and cucumbers. (I put my tomatoes in what would be Dovetail's bowl when he arrived.) I ate it with a coke, and then led Cop back to the cabin to eat the last of my brownies. I shared some Twizzlers with the others, and then laid down, but stuff was still going on for hours. People were chatting and smoking and drinking on the porch until 11pm or later. But Copper and I slept before they quit, and in a warm, dry room too. Of the two of us, I was the only one worried about the foul weather the news had promised for the next day.
When I woke up, it was pouring, and I didn't much feel like walking in it. Breakfast was served in the cafe: eggs, bacon, biscuit, homefries, and coffee. I'm taking a zero here today since the forecast says it'll be snow tomorrow, and snow is much nicer to hike in than rain. Several days of snow to follow. There should be a few nice days at the end of the week but it'll be rain again by next Sunday. By then, I should be in Erwin.