I learned something about my phone when my last post uploaded: it can drop from 70% to 10% in the space of ten minutes when the radio is running. I also learned something about the usb cable that came with my mobile battery: it can't be used to charge my phone. As a result, for two days after my last posting, I was completely without use of my phone, and I didn't have paper to take notes on either, so this update will be covering 5 days from memory.
From Spence Field, my next target shelter was Silers Bald, which meant crossing the (usually) most difficult piece of trail in the Smokies, up over Rocky Top and Thunderhead, down to Derrick Knob and then doing the first half of the long, slow climb to the top of Clingman's. Rocky Top is supposed to have about the finest view in the Smokies, but the visibility was poor all that day, as a fog had rolled in following the snow that morning. I made it to Derrick Knob by 2:30, and decided to change pants and eat a bite. Burt (Wildcat) and Roy were already in there putting together a fire to warm the thru-hikers. Wildcat is an old notorious triple-crowner (AT, PCT, CDT) who works at an outfitter in Maryville. He gave me a piece of peppermint chocolate, some cheesesticks, and a trail name: Blast. Roy let me try to charge off his mobile battery, but,  of course, it was unsuccessful, though I hadn't figured out why yet. Of course, because the temperature was below freezing all day, my hose to my waterbag had frozen solid, so I melted it in front of the fire before I left. Of course it refroze within minutes of leaving.
I left an hour later and made it up to Silers Bald by dark. There was only one guy there and he'd set up his tent in the shelter. He wasn't fond of talking, so I nibbled something, crawled into my sleeping bag, and let A Game Of Thrones send me to sleep.
The next day was still cold, so that I had no desire to leave the shelter, but much clearer. My lot was to hike up and over Clingman's Dome, the highest point on the AT, but the trail was treacherous.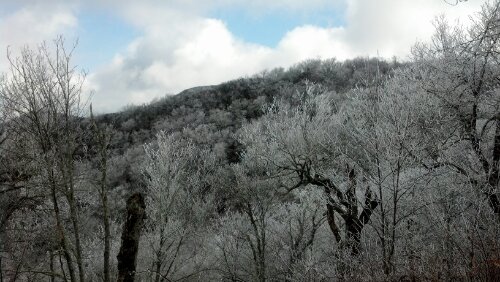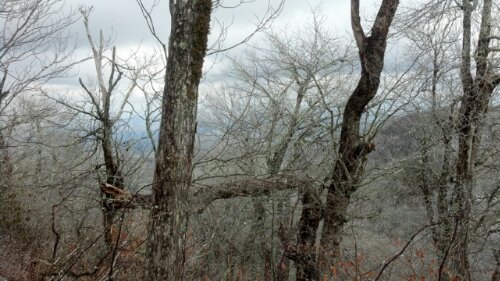 Some spring breakers were just leaving Double Springs Gap shelter when I arrived. They pointed out the spring, so I stopped to pump some into my empty bag. Of course the valves on my pump were fouled with ice, so I had to get out my stove and boil the filter until it worked. Then, when I was ready to head on to Clingman's, I put my hat on…and the strap broke. So I had to get out the needle and thread on sew it back on before I could go, which meant a solid five minutes sawing away with my knife at the mass of duct tape which encased the needle. All told, I probably ended up spending an hour there before I could head off to surmount Clingman's.
The view from the tower was as clear as it could possibly be, and I could see for fifty miles or more. If my phone had not been dead, I would surely have taken a picture, but no worries if you want to see: it's such a popular spot, you'll surely find thousands of photos if you google it.
I made another fajita under the ramp to the tower, but the chicken was laced with icicles, so I ate half and stuck the rest in my pocket to thaw on my way down to Mt. Collins shelter. This section of trail was surely the most treacherous I encountered since I started, with the snow packed down to solid ice slicks. Where I could I walked in the fluffier snow beside the trail, since postholing is easier than falling, although I did a good bit of that too. In fact, after one such fall a group of hikers caught up to me to hand me my raincoat, which had fallen off my pack. Soon, the forest changed to one of tall, straight spruces, utterly different from the southern end of the park. When I arrived at Mt. Collins Shelter, I had to tell the leader of the group that had passed me that the raincoat he had secured to my pack had slipped off yet again, and might be permanently lost this time, as there was no way I would climb that section again. Fortunately, this group of spring breakers had a fire going in the shelter to stave off the cold. Also staying with me in this shelter was a loud and opinionated thru-hiker called Villa.
I would describe him in lieu of a photo, but all I remember is his beard.
The next day was an easy four miles downhill to Newfound Gap, or it would have been were the trail not just as treacherous as ever. I found Villa among the throng of tourists at the Gap posing for photos and begging for a soda. After a few minutes, I persuaded a family to carry me in the bed of their truck to the park office 13 miles away. I couldn't find a single kind soul who would take me to Gatlinburg from there, however, so I borrowed a phone at Backcountry Permits office to hire a cab to the NOC outfitter there.
At the outfitter, I bought a poncho (to replace my raincoat), some gas, and some fancy organic lip balm, then took their recommendation to sup at the Smoky Mountain Brewery, a restaurant a block away. It was there, while drinking a beer and waiting on my chicken and white pizza that I found I couldn't even charge my phone from a wall socket, thus finally narrowing down the problem the USB cable. I went from the restaurant and down the main street of chintzy, cheesy, tourist trap Gatlinburg, past the Ripley's Aquarium and the 5D theater to the Walgreen's, which was somehow just as crowded as the streets. There I bought a usb cable for my phone and some powerbars. Back at the NOC, I allowed my phone to charge for a few minutes before calling my cab and my mom, then allowed it to charge some more while I waited for an hour for the cab to come. Because the calls drained it faster than it charged, I left for Newfound Gap again with around 30%.
I realized when I got out of the cab that I had forgotten to fill up my water bag at the NOC, so I spent a good ten minutes trying to catch some of the trickle coming from the side of the rock wall that supported the highway. Then I took advantage of the actual flush toilets provided at the Gap and headed off uphill to Icewater Springs Shelter just 3 more miles into the park. The way was paved with day hikers instead of ice, so the trip was quickly accomplished.
The shelter was again filled with spring breakers, quite amiable and building a fire. Their leader was just filled with stories and ideas. Here he is, looking upset that I shined a light in his eye, though I do not recall his name: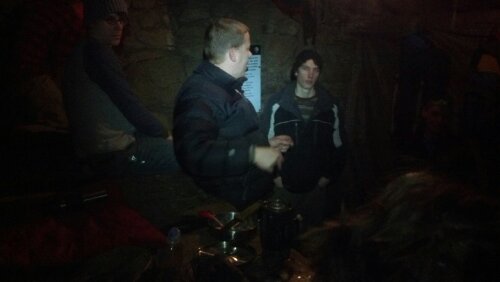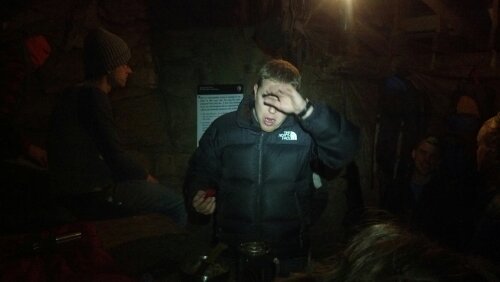 Sleeping next to me was a girl called Jugs who had already defeated the PCT in 2011 and was handily knocking down 20 mile days on the AT. She reported a bear sighting near Spence Field, where she had hiked from that morning, but refused to sign the log for some reason. I doubt I'll see her again.
The trail from Icewater to Tricorner Knob was easily the prettiest and most fun section of trail in the Smokies. Just a mile from the shelter was a short little side trail that went over Charlie's Bunion, an absolutely spectacular rock outcropping backed by and overhanging a cliff face. The rest of the day's trail seemed to mirror it, running along the tops of ridges that were frequently no more than five feet wide with sheer drops to either side.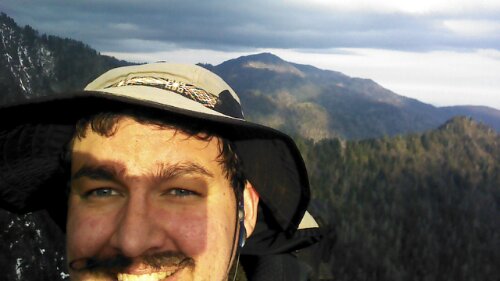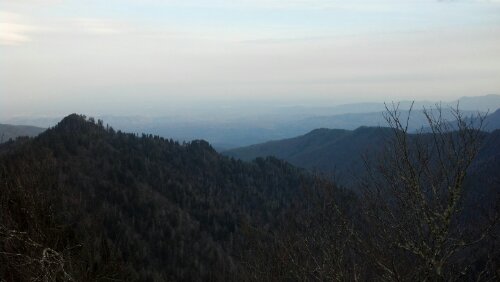 I stopped in at Peck's Corner for lunch and to strap some duct tape across my inner thighs in an abortive attempt to prevent the growth of the rashes that had been slowly growing there since putting on some too-small compression shorts on the second day. Three guys were down there building a new privy, so I supervised them for a moment and got the time before rushing on to Tricorner Knob Shelter, which lay in a snow-laden spruce forest, fairly treacherous to access due to ice.
There were only two others there with me that night. One was Porkchops (Frank) a Mainer raised in Colorado recently employed at Acadia NP, and Fizz (Jeff) a retired journalist from Knoxville. Turned out that Jeff was a close friend of Burt's, and told me several stories about him, which are only funny when delivered in impersonation of Burt's low drawl. He also told me about how a man had been found dead of hypothermia in that very shelter this January. I ate a pot of spambalaya and went to bed. In the morning, I ripped loose the ineffectual duct tape and decided to see whether I'd fare better hiking straight commando.
The next day was all downhill, and I was just out of camp when Agent D passed me. I told him I was planning on stopping after the eight miles to Cosby Knob, but it was only an hour later when I caught up to him about noon, lunching at the Snake Den Trailhead, so I stopped to de-layer and have a snack as well. No sooner had I gotten my pack open than a small group of spring breakers came up the hill saying they had spent the night at Cosby Knob. I immediately bombarded them with questions about the trail conditions and weather forecast. They showed us a printout of the forecast (40% chance rain that afternoon, likely showers the next day) and claimed that the trail was utterly ice-free all the way to park boundary. Upon hearing this, and seeing how quickly I had come that first five miles, I decided to shoot for Standing Bear Farm (a hostel a mile past the interstate), I decided I'd like to spend the night in a proper bed having eaten a hot supper in order to celebrate my third cubic birthday. I left my home address with them in case they should happen to spot my raincoat on their way up to Clingman's and sped off down the hill at high speed.
A couple of hours and a few miles later, I stopped off in the Cosby Knob shelter to consume a few more calories for the next five mile push to Davenport Gap shelter and found Agent D there doing the same.
Although it was all downhill from there, it was horse trail, and full of loose rocks, so I had to carefully watch every step for my ankles' sake and couldn't move that quickly. I went audiobook-free to increase my speed, but it only helped so much. By the time the trail cleared up and smoothed up my feet were killing me and my inner thighs were on fire, but I really wanted to make it to the hostel. I told myself that if I made it to Davenport Gap Shelter before 6pm, I would push on to the end, and otherwise I would stop there to avoid hiking in the dark and possible rain.
When I got to Davenport Gap Shelter, with very little mental energy left to commit to anything but the smoke rising from between my legs, Agent D had already unpacked and informed me that it was 6:15pm, which meant I would be staying the night there. It was an old shelter, apparently the only one in the park that still had a chain-link fence across the front of it and no bear cables. Outside was a group of young men from a private Christian high school in Knoxville gathering a heap of firewood. A good bunch of kids out on their senior trip planning to do the park southbound. They gave me an orange and a Mountain Dew to celebrate my birthday, and got a sizable fire burning in the fireplace. Their teacher and chaperone was a previous southbound thru-hiker, and had some kind of hiking skirt on that would turn into shorts with a bit of rearrangement.
I attempted to salve my wounds with a triple antibiotic and pain reliever ointment, but it only made them burn worse. I walked around camp like a 90-year-old man until I finally went to bed pantsless. I had already decided to take a nero at Standing Bear to give them a full day's recovery and mentally prepare for Snowbird and Max Patch. Sleeping didn't do much for me this time: it still hurt when I woke up. I actually woke up several times during the night, not sure whether the sun was rising or whether it was just the false dawn of distant city lights. This actually happens every night, but never before was I so eager to be off as early as possible (to get to the farm before the thunderstorms rolled in). Eventually I came up with a plan: I would get up when I could clearly make out the wood on the bottom of the platform above me, since at that moment I couldn't, and only a rising sun would change that. Several times I thought I could see it, only to reach up and not have it be where my eyes told me it was. When my eyes and hands finally agreed, I got up. Agent D and his old friend got up soon thereafter, informing me that I had gotten out of the sack at around 6:30. For the first time, I was the first one out of the shelter this morning.
Of course, I was the last to make it to the hostel. Agent D decided to go on down past it, trying to make it to Hot Springs in two days, while his friend passed me at Davenport Gap and had been chilling out there for a solid hour by the time I arrived. At Davenport Gap, I also passed a van where an old guy was talking to a group of four high schoolers. He was Curtis, one of the proprietors of Standing Bear, dropping them off there to hike the same direction as me. He told me it was just three more hot, painful miles to the hostel and drove off. I soon passed the high schoolers coming down the last few hills to Pigeon River, but they passed me when I made a wrong turn after the bridge. They showed up at the hostel again several hours later when one member of their party couldn't hack it and insisted they go back.
When I finally arrived at the Farm, Curtis was standing out at the end of the driveway. He gave me a brief tour, and I claimed a bunk.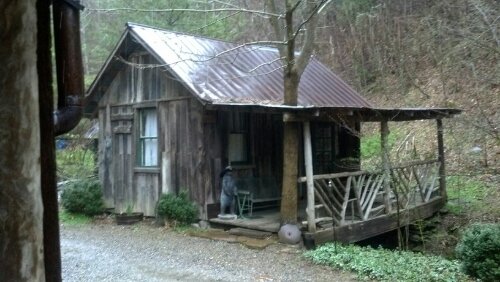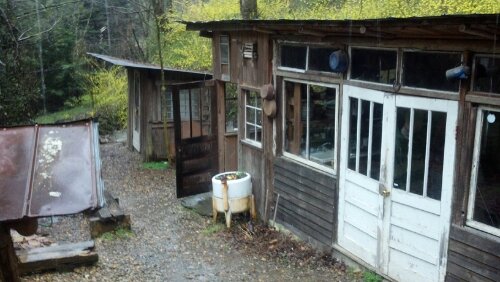 I've spent the day eating, bathing, doing laundry, charging batteries, reading, writing this, and more than anything else, chatting with folk. Rocket seems to handle most of the accounting of guests while Curtis is out running shuttles. Gator, a Floridian who is an old friend of the Farm, just arrived recently and appears to be paying for his stay with assorted labor, building fires and making coffee and moving fence.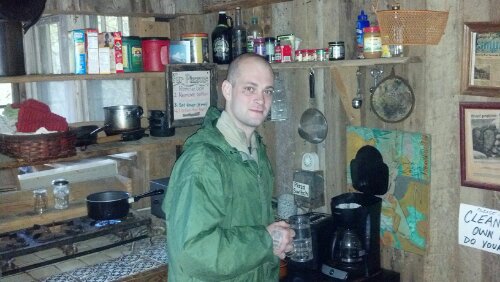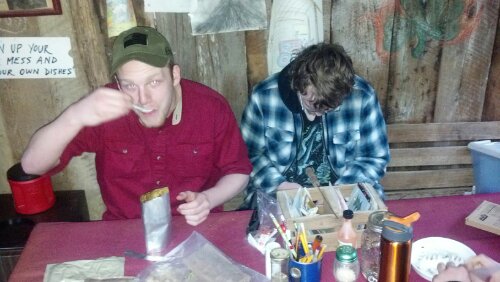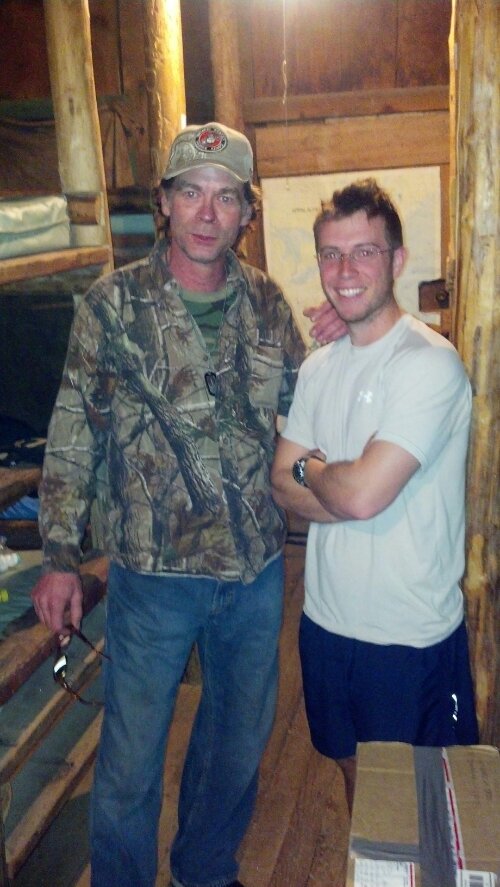 I split a pizza with the only other guy staying here besides Gator, going by the name Sweet Brown (because he had to backtrack once in Georgia to avoid freezing in a storm and Ain't Nobody Got Time For That). When the lights were finally out and things were winding down, a random dude came up into the bunkhouse (thru-hiker '08) and plopped down a bag of oranges and two six packs of Yuengling, and proceeded to tell us his life story in ten minutes. I don't much like Yuengling and I'd already paid for and eaten an orange for lunch, but I got up and smiled and thanked him for the after-dark trail magic regardless. I'm saving an orange to go with breakfast tomorrow.
If I can hack, I'm going over Max Patch tomorrow and will be in Hot Springs by Wednesday. Otherwise, I'll be there by Thursday. I'll post again when I get there.