We all got out of the Graymoor Center reasonably early, despite the vast field that had to be crossed to get to the porta-potties. We all wanted to beat the heat. Toast and Rusty left as soon as there was enough light to travel by, hoping to make it to the Appalachian Trail Train Station in two days in order to get to NYC, and I left not too long after, maybe around seven. Noodle and Candy Pants were hot on my tail, as was evidenced by them catching me eating snacks on a rock at the first road crossing, pondering where I would find that day's lake to swim in. Candy Pants had gashed open her knee something awful, bleeding all the way down to her socks, and stopped to clean and bandage it and decide whether or not to keep hiking. She insisted it was worse than it looked and they went on. I had made up my mind to turn off the trail at Canopus Hill Rd and head down into Putnam to the deli there, over a mile off trail. This was almost certainly one of the hottest days of the heat wave, and the fact that the town was situated on the shore of Lake Oscawana didn't hurt my decision. The directions in the guide were confusing, and I ended up missing a turn and heading a mile in the wrong direction. Consulting Google Maps, I found that I could get to the market by going about a mile down another road without backtracking. It turned out to be much sooner to get to a deli, since there was a smaller but better air-conditioned deli a half-mile short of the Putnam Valley Market I had aimed for. I bought a delicious sandwich and a pickle and a pile of snacks and a Hubert's Strawberry Lemonade then headed over to the market. There I got a gatorade, a bag of grapes, an italian ice, a six pack of beer, and a bag of ice. I stuffed myself to the exploding point and packed up the rest, putting a large portion of the ice in my water bag to drink during the heat of the afternoon and threw the bottles into the ice bag with the remainder. After an hour or so of digesting while my phone charged, I set out toward the side of the lake the locals had told me might get me to a beach without getting arrested for trespassing (for all the lakeshore was privately owned).
First, I tried walking to the end of a road that the map said ended at the lake. It ended at a tiny roped-in "seaweed"-filled muddy swimming hole fronted by a no trespassing sign. I dropped my pack behind the sign, removed my boots and went to the little beach and dipped my toes. I couldn't bring myself to swim in it, especially when I could hear childern laughing and swimming just a little ways down the shore. I booted up and loaded up and hiked back up through the neighborhood, then went to the next neighborhood over. This time, I found an obvious beach access behind a small parking lot where a van stood with some kids around, drinking water and digging holes. They were building a new staircase down to the beach for an Eagle Scout project of one of their number. They lived in the community of which the beach was a part, and invited me to go for a swim. I did. It was a bit awkward at first, since it was just me and some small children, their sitter, and the lifeguard, but soon the scouts left off the construction and decided to go for a swim themselves. So we chatted about the trail and jumped off the floating dock and got nipped by minnows and mostly just floated around getting cool. Every once in a while, I'd climb back up to the picnic table to make sure my sweat-soaked clothes were in the sun, eat some grapes, and surreptitously drink some delicious IPA (which I wasn't sure was allowed at the beach). A woman there told me her ex-boyfriend Pat Young was doing something for hikers somewhere in Connecticut and she'd text me his number. She never did, but on the trail, it doesn't matter.
After everyone had started climbing out (and the lifeguard had gotten her fill of riding around on her boy toy's back), I managed to swing a ride back to the trail with an old man who had come down to bring gas to the jet skis. He dropped me right back at the top of Canopus Hill, and I hiked my leftover grapes and beer a mile up the trail and hung my hammock and went to bed.
The next day, there was no one around when I got up or when I got hiking or when I came to Ralph's Peak Hiker's Cabin, where I got to see my first "This well has been tested to contain coliform bacteria" water pump. I stopped for a break, sure, but I didn't collect any water. I spent a couple more miles in the woods until I came to the Canopus Lake road crossing, the last few of which were miraculously broad and flat, as if part of an old logging road or railroad bed. Some folks I came across there were taking the AT in to seek a jumping-off rock they knew, but I had sent Jone a message the previous night saying I expect to be at the Lake around noon, and I was already pushing it. I checked my texts right as I got to Canopus Beach and saw that she had said she wouldn't be able to make it, so I sent her one back saying I'd be at the beach all day and stay at Fahnestock State Park until tomorrow, then settled down at the beach and spread out all my clothes (not just wet from the previous day's swimming but also with sweat)to dry on a picnic table.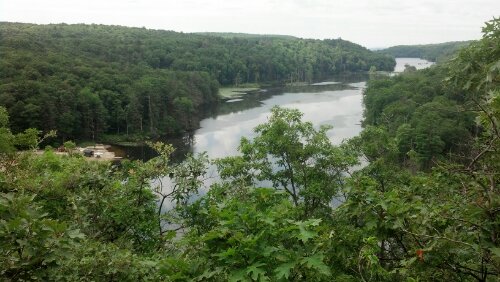 All those hikers I'd thought had passed me had gone into Stormville and arrived that afternoon. I bought another bag of ice at the snack bar, some fries, lots of Gatorade for the heat and suddenly found myself being called for by a park staff member who said "my ride was looking for me" and "she seems rather upset." Indeed, she was quite hysterical, wondering where I'd been all day and why hadn't I been on time and why hadn't I answered her texts (what texts?) and literally crying that she was going to flunk out of school because she was missing class…and I had had absolutely no warning this storm of emotion was headed my way.
She left Copper (groomed, washed, coiffed and sporting a new collar), two collapsible water bags (which happened to fit my Sawyer) and a gallon of water, then drove off without hardly giving me a word in edgewise. I didn't get a chance to compensate her for the gas and she didn't bring me the warranty replacement cellphone (the cellphone I'm writing this on) that I'd had mom ship overnight to her house. I had to talk the park staff into letting Copper hang out next to the beach and then tried to go for a swim. I walked out into the swimming area, and by the time I got to the ropes, ominous clouds came rolling over the lake, and it was clear the rain was about to come. I knew all my stuff would be doing the opposite of drying if I didn't get it packed up quick, so I beat the rush out of the water and managed to get my pack cover on by just about cloudburst.
It dumped buckets for a few minutes and all the other hikers left. Candy Pants held Copper while I went inside the concession stand to get the phone I'd left charging, and then we stood together under the awning trying to stay as dry as possible.
Then I walked past a group of hikers who had stopped by the highway to hitch a ride out and went to the campground across the street. I hung my hammock in a random campsite that seemed relatively secluded and started charging things in the bathroom. I knew that Fahnestock State Park allowed thru-hikers to spend a night for free, but I could find no information except that I needed to go a half-mile down the highway to register, and I had no desire to do that.
Eventually a ranger drove through, and he told me that thru-hikers were supposed to camp next to the weekend-check-in kiosk, but that if no one else came and rented the site I was set up in, it would be fine to stay there, so that is where I ended up spending the night.
The next day, I had to walk back to the beach to get back to the trail, which meant once again convincing the rangers to let me take Copper near the beach, but they let me since I was just passing through. Since most of the hikers around had headed into town, I had a mostly boring day once we were back on the trail, but I was happy to have Copper back with me. The highlight of the day was walking down the hill at a late afternoon highway crossing in Stormville to get to the Mountain Top Market Deli for sodas (including a NY-original coffee-flavored soda, which tasted exactly like sweet bubbly coffee) and a bag of ice and ordering a pizza at the adjacent Fortuna Brick Oven Pizza. I ate in a light drizzle on the picnic table outside and I was stuffed to bursting with pizza and snacks when I left, so there was no need to cook supper that night. We came in late that night to Morgan Stewart Shelter and I hung my hammock right next to another hammock with a dog in it and a guy making a cell phone call and talking loudly. I let Copper bed down wherever he felt like, as it was too warm to force him into the bug net.
I got out the next morning fairly early, but still probably second to last of the ten-odd people there. Soon after I started, I walked around a beautiful little public pond called Nuclear Lake. No idea how it got that name, but swimming was not allowed so I kept walking, and that's how my a-swim-a-day tour ended. I may have taken Copper's pack off in case he wanted to wade, but I think he took a sip and was ready to go on.

I stopped for a short snack at Telephone Pioneers Shelter (which I gather was built by Pioneers Int'l before they shortened their name) and descended the short hill to the series of road crossings that would end my time in New York. I was looking for the one where stood the Dover Oak, the largest and oldest oak on the AT, and ended up taking pictures of a couple of other large oaks in the area.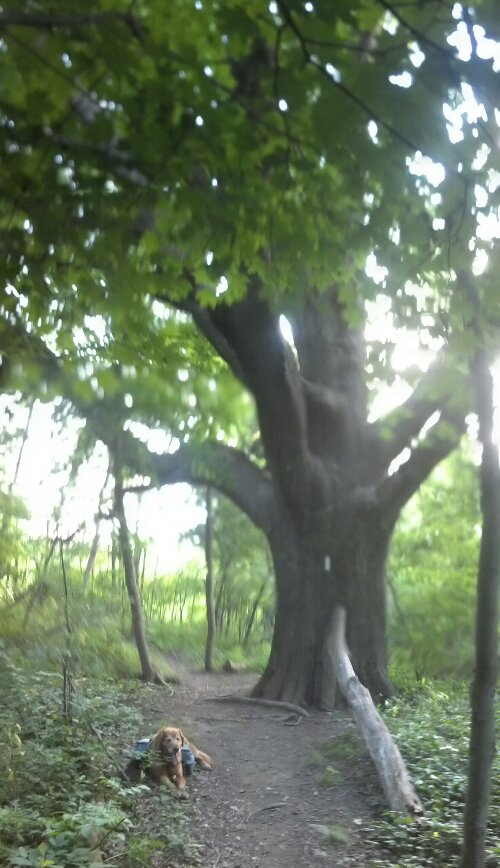 I finally found it with a large group of hikers standing around it who had gone into Poughquag and were just standing around doing nothing.
I think Aviator was there and Candy Pants and Beast and several folks I had never met before. One guy had a skateboard. It was like a roadside hiker party. Probably a lot of yellowblazers. I took a pic of the tree and kept walking.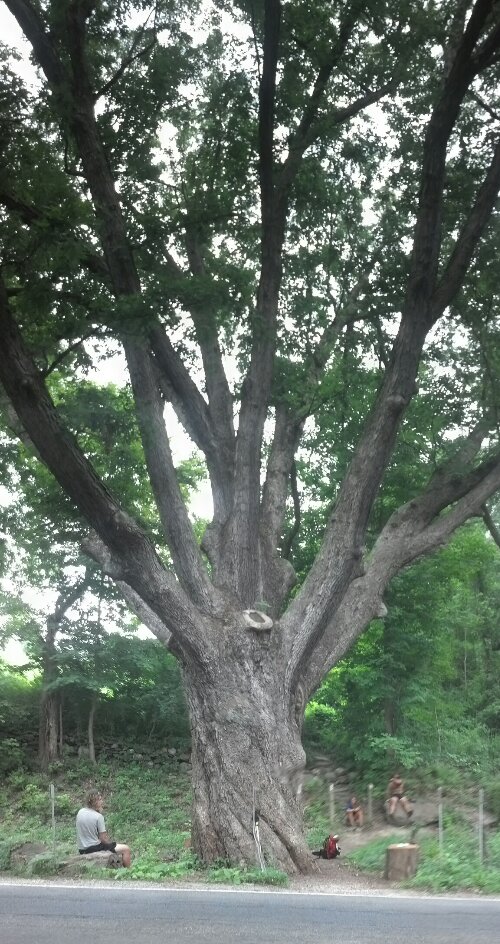 It was another hill or two and a beautiful new wooden walkway over a swamp before arriving at the AT Railroad Station (where you can take a ride to NYC on weekends) and the Native Landscapes Garden Center, where I tied Copper up and gave him some water from the hose and plugging in my phone there before beginning my walk 0.6 to my deli for the day: Tony's.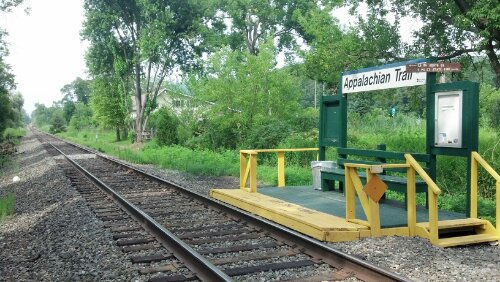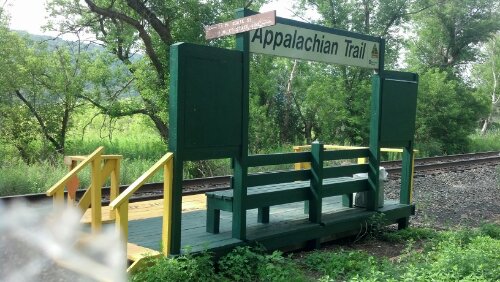 About halfway there, some guy randomly pulled over to give me a ride there. I don't remember his name, of course, but he told me a story and that he frequently picks up hikers when he can. He offered to take me back to the deli if he caught me going to other direction, but I didn't spend enough time there.
I got the biggest and tastiest turkey sandwich I believe I've ever had at that deli, in addition to my standard bag of ice, gatorade, and miscellaneous snacks. I don't know why it is that New York delis do it better, but I wish the South would adopt a more deliferous attitude. Every deli I've ever loved back home has failed.
When I walked back to the Garden Center, it looked as if their planned event for the Warrior Hikers was about to move inside. Rob, the only one of the bunch I met, had arrived the same time I had, but they hadn't even had the chairs set up yet. When I got back, a crowd of local vets and media folk were gathered at the railroad station and beginning their parade into the building. I got in and used the bathroom and grabbed my phone, then got back on the trail as quick as possible. Another Golden had arrived at the Center's porch while I was away, so I stayed just long enough for Copper to meet him, but I suspected a major rainstorm was on the way, and had to cut the conversation with the owners (also hikers I think) short.
I wasn't exactly upset by the prospect of rain that night. Actually, I welcomed it. Mosquitoes don't tend to be as active in the middle of torrential downpours, and I would be able to sleep in the shelter and save the hammock setup and takedown times. But I was hoping I'd get into the shelter before it started. About a mile before the shelter, I saw a skunk hopping around near the trail, so I stopped and called Copper up and held onto him as we passed. True to form, he attempted to haul off and catch the skunk, but this time, both the skunk and the results of Jone's efforts bathing Copper survived.
Exactly as I had wished for, five minutes after I made it into Wiley Shelter, it started raining, weakly at first, but building into a fairly sizeable thunderstorm. I was overjoyed to sleep (almost) alone in a mosquito-free shelter for just one night this summer, while Copper spent most of the night huddled under the platform away from the thunder. I don't know about him, but the sounds of the storm made it a very restful night's sleep for me.
The next morning, the overcast and drizzle was continuing well into morning, but I felt it would clear up, so I took my time packing. Shortly before I was to leave, an older thru-hiker called Two Socks arrived, having spent the night in his tent in the rain a mile away from the shelter, not realizing how close he was when he stopped. That skunk had spent most of the night traipsing round his tent as if it owned the place, which, given who holds the power in a human/skunk confrontation, he did.
When I left, the rain had stopped and the sun was coming back. It was only a few miles downhill to Hoyt Rd., the NY-CT border. A bit later, the trail crosses a rather interesting foot bridge over Ten Mile River, then proceeds to follow the river for a few miles before abruptly turning off into the woods. As it was my goal to reach the Bull's Bridge, which crossed the same river, to get to my deli for the day, I stayed on the blue blazed trail which continued to follow the road. The pile of garbage bags and welcome sign for the warrior hikers indicated that they were going to be directed the same way.
At the end of the trail was a road, and just up the road was another side road which crossed a bridge. As this bridge was not a covered bridge, I went the other direction.
Copper and I probably walked a mile without seeing a AT crossing or a covered bridge. Eventually, I caved and checked the GPS. I was going the complete opposite direction of my goal in every way, heading back into New York, even though we did pass a number of interesting farms and houses exploiting their proximity to Bull's Bridge. We got to see them all again going the other direction. The correct course was across the non-covered bridge I had earlier spotted. The covered bridge was further down.
Over the river and through a parking lot to a gas station convenience store run by an Indian family we went.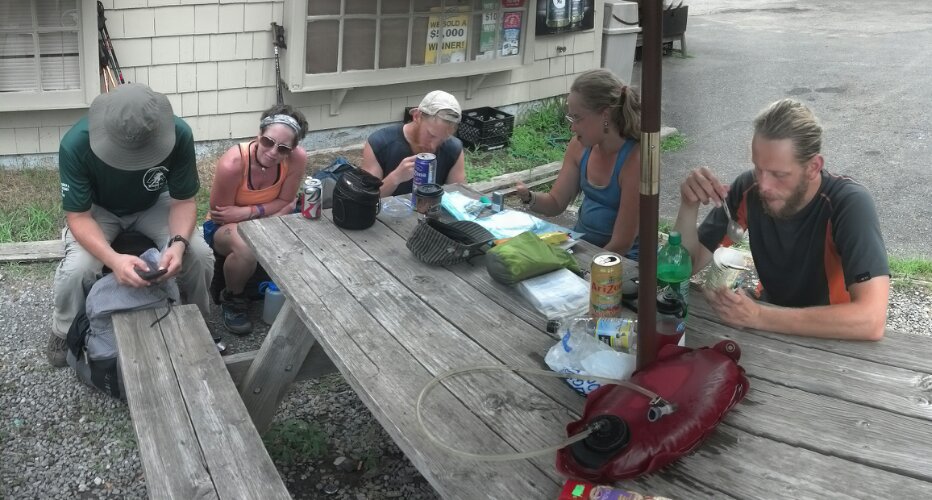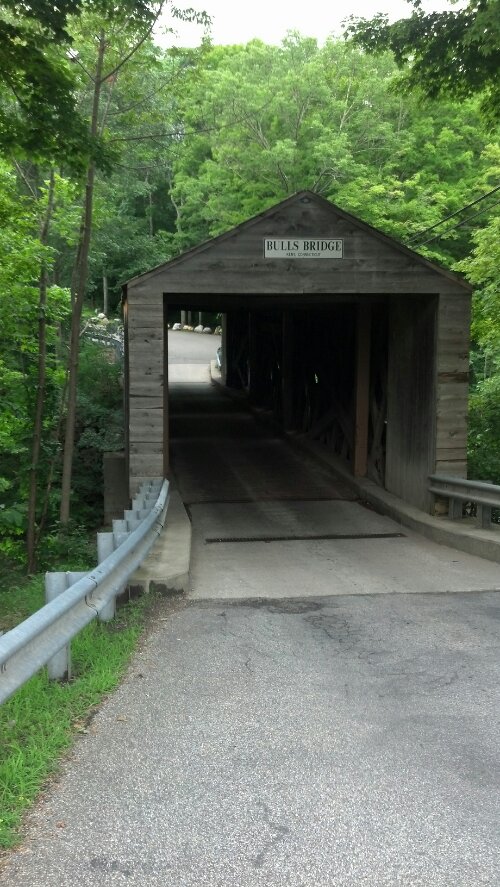 It wasn't a deli at all. I guess that doesn't extend into Connecticut. But there were cold drinks and ice and premade sandwiches and ice cream and I don't think anyone came through without spending some money there and sitting at the picnic tables outside. Two Socks was already there holding a competition with Aviator to see who would be the last to buy something. They kept alternating going into the store and getting one more thing. I was stuffed long before they stopped.
We all started leaving in the early afternoon, seeing storm clouds gathering even though the weather channel app promised dry conditions would continue. No such luck. We got drenched climbing up the hill from Shaghticoke Rd. onto the ridge the trail followed in lieu of a long roadwalk. It's pretty obvious the trail was once on that road. The new trail had no sites to see and was annoyingly rugged. Seven miles of walking in wet clothes and shoes and socks (for my Keens from Maryland were full of holes and the soles were falling off) over nasty rock ledge boulder things which were themselves wet from the rain (which stopped as soon as it started) was enough to tear me apart. It was not what I had expected from looking at the profile. At one point, I walked up to a climb down a slick rock ledge and said to myself "Self, you're going to fall climbing down that!" But it was the way the trail went, so I carefully lowered one foot down to the first rock step, carefully lowered my weight onto it, slipped and landed with a pointy rock jutting straight into my butt cheek. The bruise lasted for several weeks. Also, at some point, the bottom 2/3 of a trekking pole fell off. Just fell off. Not from falling on it, nor from anything extraordinary. It is just a design flaw with the new Black Diamond Alpine Carbon Corks: they fall apart with normal use. I duct-taped it together and kept grumbling my way to the shelter. Copper didn't seem too much the worse for wear for all that, though. He arrived in much better spirits than me.
It was a full shelter at Mt. Algo that night. Full of gear hanging up to dry, that is. Very few of us gas station vagabonds actually slept in it. I hung my hammock behind it and went to sleep. Thus ended the deli tour and began Copper's battle with Lyme disease.