I woke up in Boiling Springs fairly near first light, or at least well before Packman and friend woke up. The other fellow in the campground was up about the same time. He finished packing up before me, but then, he didn't have a dog to feed. Copper finally got an opportunity to see Boiling Springs, and since I was in no rush to get to beer this time, I took advantage of the morning light to get some good pictures of the Children's Lake and its surroundings.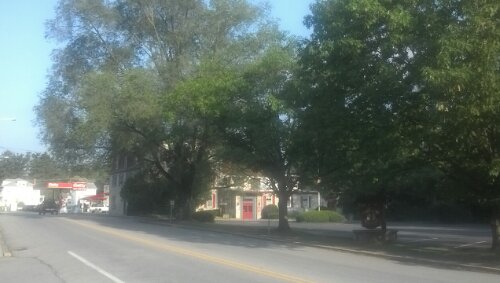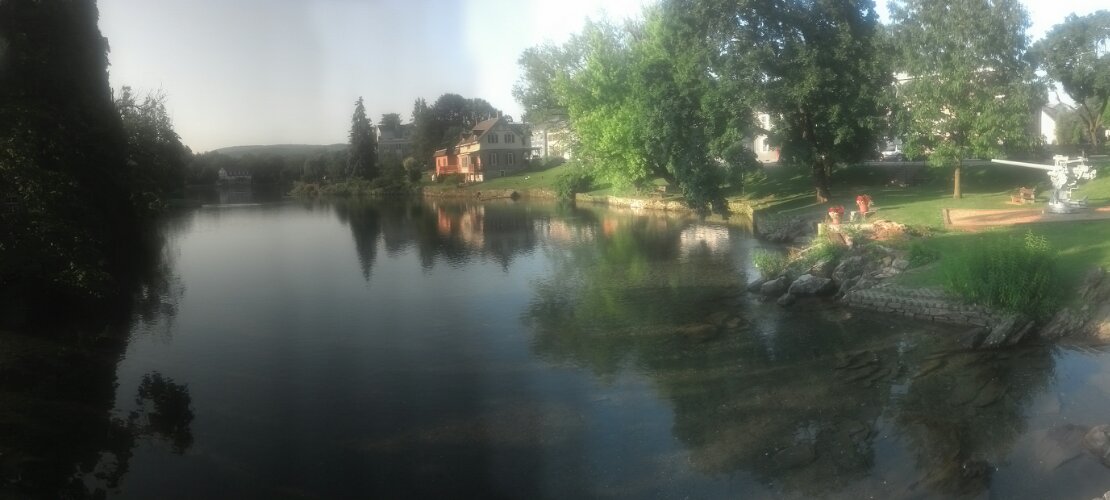 Even though it is around 3 feet deep from end to end and surrounded by ramps down into the water, I never saw any children swimming there. (Why would they swim with the ducks when the Boiling Springs Pool had three chlorinated pools full of kids just down the street?) In fact, though, it is one of the oldest features in Boiling Springs. The iron mill you can see at the very end of the pond was the reason the pond was dammed, and the 30-odd springs in the area manage to dump some 22 million gallons per day into the stream below the mill and the river beyond.
I stopped into Caffe 101 for the special hiker breakfast, which was extraordinarily filling. Eating like that every morning would easily prevent my losing any more weight.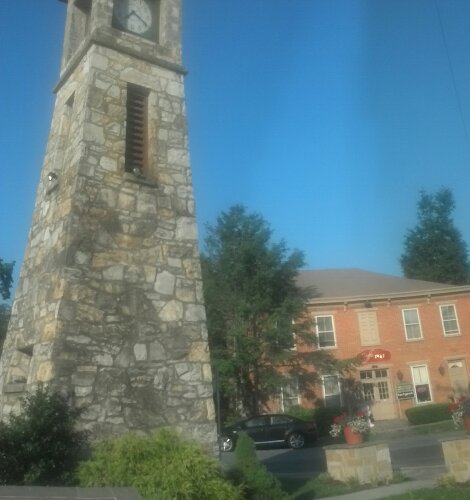 Then, before I headed back to the ATC office to fill up with water, I took a look at the spring which gives the town its name.

Then I filled up and headed up the street, leaving town before all but one person. Because of this thread, I thought it was Hike Naked Day (though it was only on June 20 in 2012 for some reason, whereas it is usually on June 21). In any case, I stopped in the woods to strip, hung a towel from the back of my back and my shorts from my hip belt so as to not scare passersby too terribly and set off at high speed. From the front, it actually looked like I was still wearing shorts.
It was my intention to do the 26 miles to Duncannon all in one day, since the first 13 miles were completely level going across the Cumberland Valley. I stopped for a few minutes beside a railroad track while BMW and several others I'd seen in town passed me by. Then I went off again, crossing three major roads in a row (all with my shorts on–I'm not that much of an exhibitionist) including an interstate (I-81) that I'd crossed about 500 miles before in southern Virginia. Then I slipped and fell on a loose hay covered hill crossing a farm into the woods surrounding Conodoguinet Creek. It was a hot and sunny day and the waters looked so inviting that Copper and I went skinny-dipping.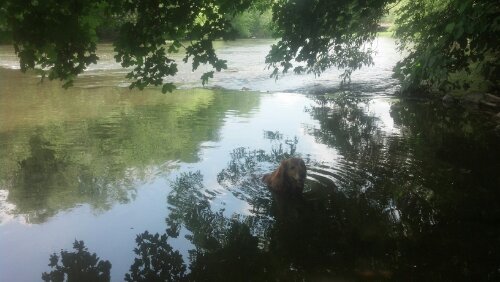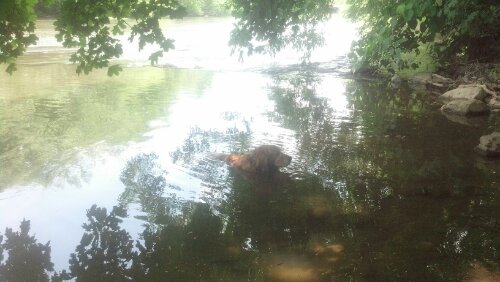 I spent so long sitting in the water (swimming pool temperature and bathtub depth) that I pretty much demolished any hope I had of reaching Duncannon that night, so I set my sights on Cove Mountain, the last shelter before town.
The next shelter after the creek was Darlington, and it was up on the ridge at the end of the Cumberland. Lots of people were climbing up to see the view and it was fun standing to the side of the trail to let them pass, pretty much naked behind my draperies and none of them noticing. I stopped at the shelter and made supper and hung out with Hot Dog and Apple Butter and Muffin and Corn Dog and … hell, I can't remember everyone's name anymore. About 12 people were camping near the shelter. Also near the shelter was the self-proclaimed "Taj Mahal Privy" which more resembled a garden shed than an outhouse. It was big enough to sleep six by itself, if they didn't mind the smell and being underfoot for the morning rush.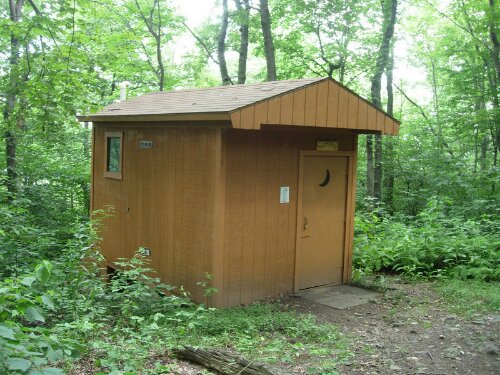 When I was packed up again and ready to set out for the next shelter with a bit of night-hiking, Copper halfway stood up, barely managed to take one step, and flopped back down again. In other words, his left front paw had gone from morning annoyance to severe pain. I decided to spend the night in the shelter.
The next day, Copper was still in a bit of pain as we managed the last 11 miles to Duncannon. Having been informed that it was actually Hike Naked Day that day, I started out walking as I had the previous day, but this time I started getting chafed long before I reached the next shelter and gave up. But I did draw a (tasteful) picture of myself hiking nude in the shelter log (where I passed a few hours with Packman). Coming down the rocky ridge into town, I took a photo of it, laid out along the Susquehanna River, from Hawk Rock. I could hear a large group of people below and I assumed they were coming up, but the voices never got closer. I climbed down to them and found out they had gotten tired and stopped on the outcropping there for a break. There were about 20. I had to tell them they were a mere 50 feet from the overlook, because they were about to give up reaching it and go back down.

At the bottom of the bridge, the road-walking started. The AT follows each of three parallel ridgelines across the corner of Pennsylvania, beginning where it emerges from Pennsylvania. The ridges tend to be about 300 yards wide and perfectly flat on top, at about 1000 feet above sea level.This ridgewalk continues all the way to northern New Jersey. But in some places, the ridge has been cut through by rivers, and the ridge was cut here precipitously by the Susquehanna. The nearest bridges across the river were at the far end of Duncannon, miles away, so the trail went along the roads right from one end of town to the other. The trail might be greatly shortened by a footbridge like the one over the James, but the Susquehanna is much wider, and no one in Duncannon much wants to see their hiker traffic disappear. The coal and iron is all gone, and the trains have little reason to stop there anymore, so hiking and fishing are their biggest sources of income. And the hikers wouldn't much appreciate it either, because of the Doyle.
I walked under the highway and stopped at the first restaurant I came to: Road Hawg BBQ. They are located underneath a beer store, but they don't serve beer, nor do they have a BYOB license. In fact, they seem to only be open a few days a week, but I caught them on one of those days. They make a decent pork sandwich for a Yankee state, but their pickles were as terrible as every pickle I'd eaten thus far since I'd entered PA. I came to assume that Pennsylvanians had either lost the art of pickle-making, or had terrible taste in pickles.
Then, when Copper and I had eaten, we went to the Doyle. Packman was already there when we arrived, so we decided to split a room. A pair of bed-bug-ridden beds cooled by an oscillating fan for 16 bucks a piece. The Doyle owners run an excellent kitchen and bar, but they could care less about the hotel part. The building has been there for more than a century, without being remodeled, repaired, or condemned, and pretty much looks how you'd expect. But it did give Copper a place to spend the day with a fan blowing on him, and it did give me convenient access to the center of town.
Although I spent far longer than I should have playing Organ Trail and taking a shower &c., my main goal was the laundromat. I ran one set of clothes through the wash, changed, and came back to find Packman had eaten half a hoagie and didn't like it. Being from Philly, he was rather picky about his hoagies. So, I got supper for free. Then, I put the other set of clothes in to wash, came back to the bar at the Doyle, had a couple of ciders, and went back to the laundromat just before it automatically locked. I put my clothes in to dry and sat until the lights went off. I knew the alarm cut on at 10:30, so I pulled my clothes from the dryer at 10:20 and went back to head up to bed. I ended up sleeping in my bag with the fan aimed straight at my head to simultaneously fight the heat and the bugs. Packman curled up with his knife and talked nonsense to himself all night.
In the morning, I packed and left before Packman got up (since it takes awhile for Packman to do the verb his name contains) and walked Copper up the center of town to the campground, where they confirmed I could hang my hammock on the trees at the corner of the bathhouse (since Smokes and Smiley Virgin, who had passed me by the train tracks two days previous, had taken the best trees already, hanging their hammocks precariously with 550 Paracord in a brazen act of death defiance that would make Doc proud), a privilege for which they charged me only 5 dollars. They lent me a huge plastic drawer hold a few gallons of water, and I tied up Copper next to it. Then, I walked across the bridge to the Pilot station which had a Subway inside to buy a couple of sandwiches for the day's slackpack. When I came back to the campground, I told the guy who ran the place (presumably the husband of the lady that ran the place) I was ready to go. For $25, he took me up PA325 to the trail crossing, from where the hike back to town would total 18 miles. I sat down and ate one of the sandwiches and set off south.
It started with a gentle 1000′ climb, of course, and there were basically no views the whole way, but the rocks were a lot less nasty than I thought they would be, so mostly the trail was boring. I came to Peters Mountain Shelter (Peters Mountain being the name of this particular section of Low Pennsylvanian Ridgeline) just 7 miles in, having completely zoned out on the whole section of trail. Because the climb down to the water source at Peters Mountain is so long and steep and tiring, anyone who went filled up a packload of gallon jugs that had lived in the shelter since May. They were unfiltered, but they were clean enough to drink as is. I topped off my water bag and poured a good bit over my head as well. When BMW (Bavarian Man Walking) showed up a bit later and started eating lunch, I got out my second sandwich, even though it was a bit soggy already and I was less than hungry yet. Sometimes you have to force yourself to eat.
The next seven miles were slightly rockier but even less interesting than the first. I only remember crossing a foot bridge over a road at one point, looking down and wondering where the trail came up before the bridge had been built. But soon enough, I was smelling smoke and I looked off to my left to see a bear box down the hill. It was the Clarks Ferry Shelter, and the fire was manned by none other than Paul with Bunyans. I wanted to get back before dark, so our last meeting (he was turning south from there) had to be cut short, but it did at least feel final. He was confused about the direction I'd come up at first, thinking I'd done the in-and-out sort of hike he liked to do, and told me there was a blue blaze that went straight down the hill instead of all the way around the point. I suspected the AT had some reason to go so far out of the way, and I was right, though, of course, I had quite a number of nasty rocks to climb as soon as I'd left the shelter. But I passed the germans I set my hammock next to along the way, and they informed me that the woman camped next to the hiker site had complained that my hammock was blocking her kids' path to the bathhouse, and had the owner take it down. Which was both ridiculous on her part since her kids were so energetic I couldn't get them to leave me alone for half a second when I was in camp, so clearly walking a few extra feet on the way to the bathroom would have hardly bothered them (so, obviously, she was the one who wanted the path to the bathroom), and poor business on theirs in agreeing with her since they had expressly told me I could hang a hammock there. Indeed, when I returned to the campground, the hammock I'd spent 20 minutes hanging that morning so that I wouldn't have to deal with it after a full day of hiking had been wadded up, tangled up, and tossed up against the bathhouse.
The sun had been setting as I crossed the highway bridge, and I had stopped at the bar on the way back and gotten a six-pack of Smirnoff Ice Mango, then at the Pilot for a Gatorade (I felt dehydrated), some Mios, and a new pair of headphones, so it was dark by the time I got back to rehang it there. Then I walked around the campground looking for any easy-to-yogi food, but everyone had already finished supper. I sat on the roots of a tree growing out of the river and made some texts and drank the Smirnoffs. There was a huge group of guys that fish the river every year drinking and making a lot of noise, and I talked to one of them for a while until those who were awake decided to head off to the bars or strip clubs over the bridge. That's when I went to bed.
The next day, Copper was still in no shape to walk, so I decided to take a zero and figure out something to do with him. I stopped at the ice cream place on the way back into town and had a scoop, and then I went to the Doyle to try their Buffalo burger, which was as good as promised. I used the computer there to put some music and some more e-book files on my mp3 player where the ones I had had been corrupted, but it turned out it couldn't read .m4b's and I hadn't managed to get ffmpeg installed on the vps yet. I did a bit of blogging, and then I started making calls. The only response I could get on Sunday that said they even had a bit of availability was Llewellyn Kennels in Lehighton (props. Harry and Alice Weaver). They eventually confirmed that if I could drop Copper off there, they could keep him until the 29th for $15/day incl. food, then deliver him back to me on the trail on the morning of the 29th.
So, then all I needed was to arrange a ride the 80-odd miles round trip to Lehighton. The first shuttle I called would have charged me $176. It was late that night when I finally got in touch with Trail Angel Mary Parry, who initially said she'd do it for $80 (which was insane) but later, after studying the route, raised it to $125, as long as I could give her cash and we could get back by 11am (which meant leaving by 6). I had carried a six-pack of Perpetual IPA back from the Doyle with me at the recommendation of the witch-next-door's husband, and I carried them down to the river and this time I got pictures of the riverfront.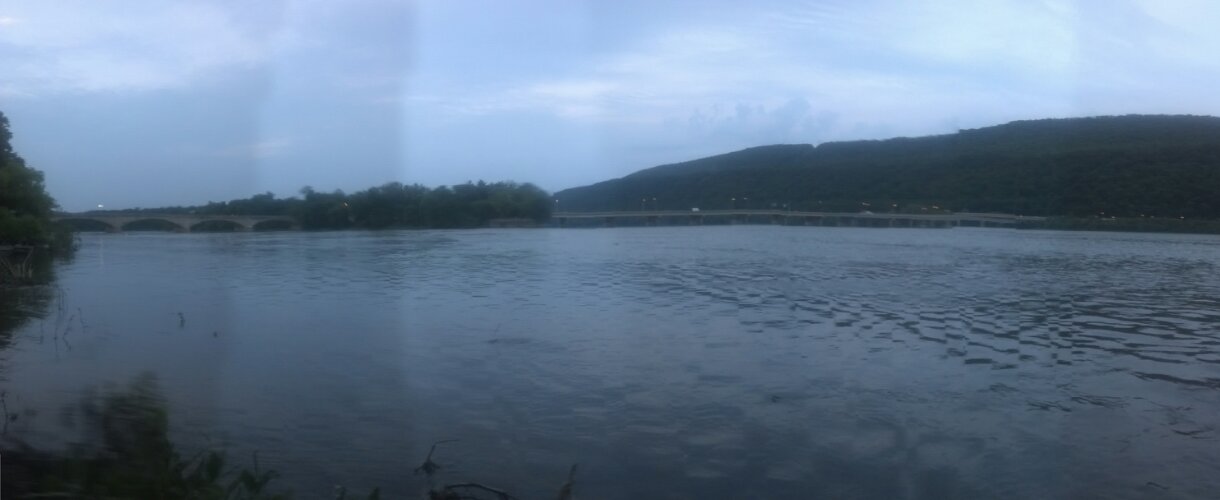 I couldn't finish the beer. I was too tired, and Mary called me back at midnight to say I could have until 7am to leave (because she had been drinking all evening at the VFW). I don't think I managed to get to sleep that night until 1am. I set an alarm for 6am to make sure I was ready at 7. I got a shower, then walked over to Sheetz to use the ATM (thanks Mom for making sure the money was there) and get some breakfast burritos, and was packed up by fairly close to 7am. At 7:20, she still hadn't come, so I called. I woke her up. She came twenty minutes later in a poor, sleepy mood and a cloud of smoke, but polite enough. We stopped at the Doyle to pick up her friend Matty and take him to the store, where she used the pile of cash I gave her to fill her luxury Ford van's cavernous fuel tanks.
Then, we went back to her apartment to get Packman. As I mentioned in the last post, he has been a commercial driver and has a passenger cert, and he had spent the previous night in Mary's apartment. Since she had overslept, there was no way she could make it to work in The Pub by 11 if she drove me to Lehighton and back. So, Packman was paying for his stay with a drive. But first he had to have a cup of coffee. Since it was clear it was going to take him an hour to be ready, I ran down to the gas station for a thing or two and took a picture of the Doyle while I was there. Unfortunately, the sun was right behind it, so it's hard to make out.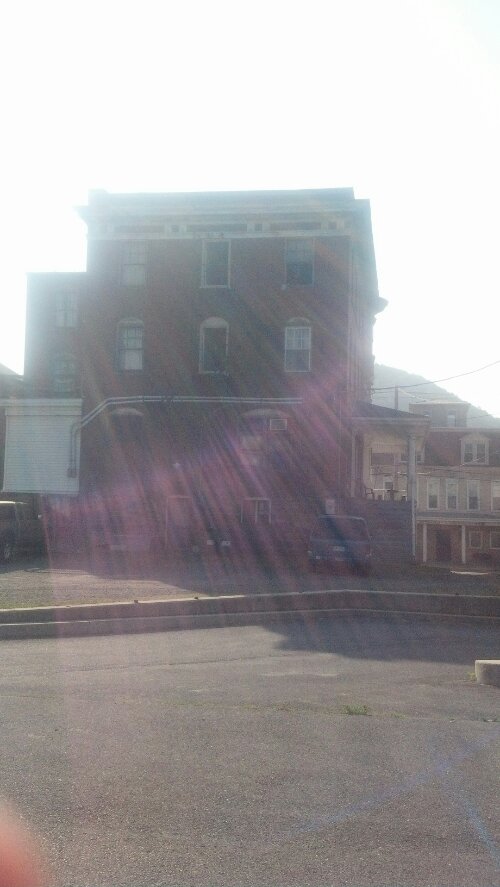 Our drive took us first to Hamburg, where we missed an exit and ended up going to Cabela's on our way back. It's pretty much the biggest Cabela's in the country, and looks very similar to a Bass Pro Shops Outdoor World. I got some new socks and a new stuff sack, and then we left. We passed Jeff on the road just down the hill from Cabela's, and gave him a ride up to the store and one of my leftover beers, which is downed before leaving the car. Seeing him there, I knew he was already two days ahead of me.
Then, we drove through Port Clinton and on into the Lehigh Valley. It was a long slow way out into the middle of nowhere, another hour to the road where the kennel was.
Because they had no sign in front of their house, we ended up driving all the way to the end of the road, past a vineyard and a strange campground, turning around and coming back the same six miles. At this point, we were seriously worried about getting Mary's van back to her by 2pm.
It didn't take long to put Copper in the kennel and give Harry his instructions and get back on the road, so we misjudged the distance back and decided to go to a McDonald's 3 mi. in the wrong direction for lunch (because the McD's in Hamburg had still been serving breakfast and only breakfast at 10:45. Ridiculous!). Then we took a long sequence of backroads through the valley to I-78, and as soon as we got on it, we got caught in a traffic jam caused by a nasty wreck, which set us back probably another 20 min. Though Mary had said "Go the speed limit!" Packman started panicking and taking the 45mph backroads at 60 on the way back to the trailhead. It goes without saying it was well past 2pm when we reached the PA325 trailhead. When I got out, I saw there was some trail magic going on down in the parking area by the creek, and was so thoroughly distracted that my eyes glazed right over the Cabela's bag when I looked to see what I had left. (That evening, I called Mary to convince her to mail it to me in Palmerton.)
I got some cookies and a hot-dog-to-go and some creek-chilled water from the group doing the trail magic before heading on up the trail. It was a roadbed sort of trail going up the side of the ridge for miles, and within a couple of miles (right after I crossed the rusty-red spring), it started raining. As soon as I came to a campsite carved into the side of the trail, I set up my hammock and sacked out. I had already gone some 9 hours on just 5 hours of sleep, and was ready for a nap. A few hours later, it looked like it was about time for dusk to come on. I packed up and hiked on into the dark. Just before the sun set, I came upon a porcupine crossing the trail. I knew they were in the area because the last few shelters had been modified to try to keep them out and warned hikers not to cook in the shelter and to write any sightings in the logs. Cove Mountain had had every bit of wood in there chewed through for the salt before they'd removed the stairs and put sheet metal on the front lip to keep them from climbing up. And porcupines climb really well. This one was in the tree in seconds.

It was cool and the trail was easy enough, though I was constantly batting at the moths. At one point, I thought I saw a campfire or a headlight or a flood light through the trees, but when I walked toward it, it wasn't showing any signs of parallax. Eventually I got a clear enough view to see it was the full moon, and I was completely in awe. Finally, I spotted the matching hammocks of the couple that had passed me on the ridgeside that afternoon, and pitched my hammock in the same campsite, assuming that I was finally in Rausch Gap, the place I needed to be to reach the Lehigh Valley area by the 29th. That was midnight on the 24th, a very very long day.