It was just five miles to Brunswick from the place where the AT and the towpath parted ways, all of it in view of the Potomac. Copper only went in once for water, and other than that, it was quick, easy motion.

On the other side was the canal, and in this section, it had water in it. In fact, it was practically a swamp. There were tons of turtles, and some huge catfish lurking just below the surface.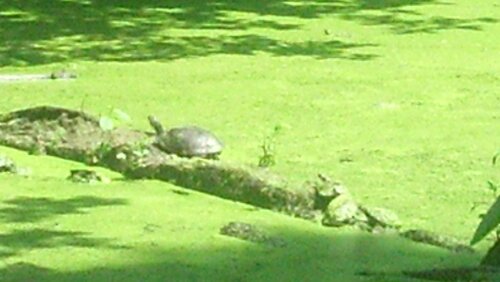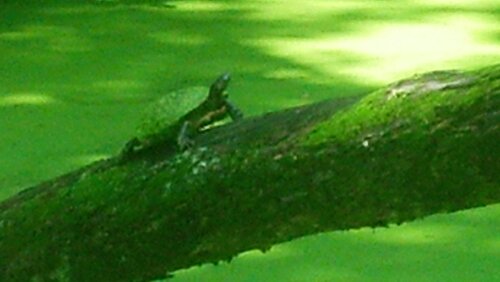 I even crossed paths with a sizeable owl.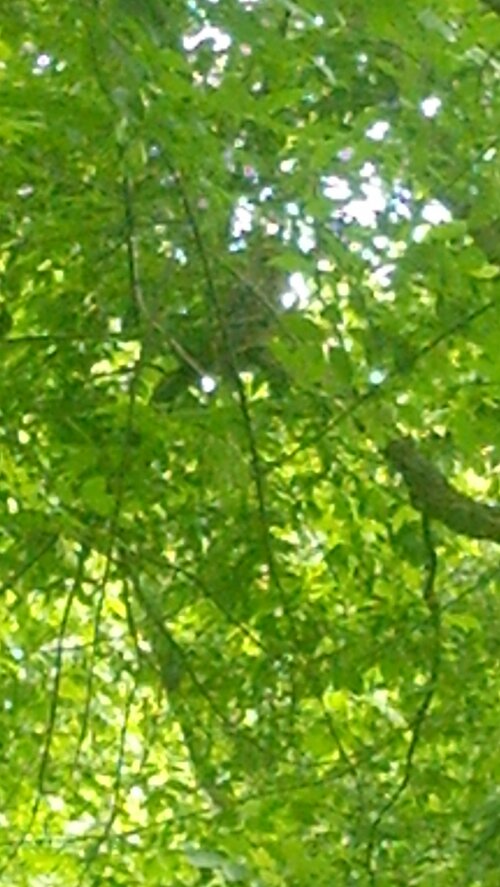 When we got to the Brunswick road crossing (where, for a half-mile, cars are allowed on the towpath in order to access the Brunswick Family Campground), we turned off into town to look for a wings and pizza restaurant. But it was going to be a mile, and we came to a BYOB taco joint almost immediately, so I called it good enough. They told me I could buy a B to B at the store around the corner and they would keep it cold, so I went there first and got myself a DFH 90min IPA 4-pack. Then I went back and ordered an enormous barbecue burrito.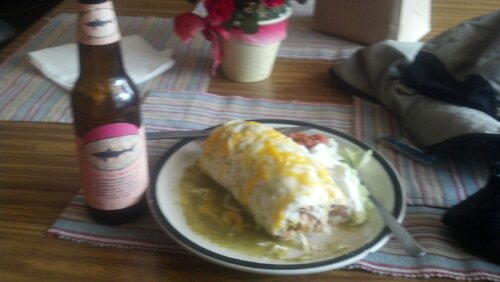 Copper had to stay outside and drink water from a styrofoam bowl while I worked my way through two more beers, ordered the special, and ate another meal with the last beer. Around this time, a cyclist stopped in who was attempting to ride the entire towpath in one day. He'd started at around 2am and was only 60 miles away from the end by this time (around 4pm), but it looked like he wasn't going to get to finish because his mom wasn't able to find a hotel room at the other end. He got a call right before we left together that confirmed he could get picked up at the end of the trail, which overjoyed him. By the time Copper and I had arrived back at the towpath, he went past us on the bike at a pace much more reasonable than I would have expected given the nearly 300 mile distance he was attempting.
Just past the Brunswick Family Campground, I came upon a very interesting piece of architecture. The Catoctin Aqueduct was built to carry the canal over Catoctin Creek, which was at least 12 feet lower, but it's clear that the architect wanted to leave an impressive monument as well.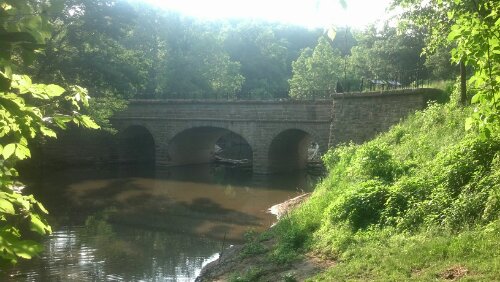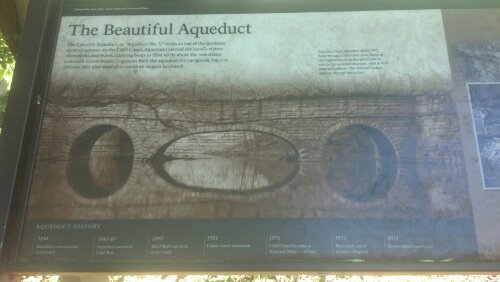 It was falling apart by the 70s, as you can see in the latter picture, but it was thereafter restored to its original condition with the help of donations in the form of individuals buying every stone that had to be replaced or restored.
Just after the aqueduct was the Bald Eagle campsite, where I had planned to stay. It was already occupied, but they had no problem with me hanging my hammock nearby, and our dogs seemed to get along just fine. No sooner had I set up than Yiannis brought me a plate of chicken and rice and a potato. I had told them I was full from the taco place, but a hiker eats what's put before him. Then they offered me a beer or three, because they had a cooler full of Coronas and Guinnesses. A hiker hardly turns down beer either.
These kids had just moved from Washington to D.C. and had found this campsite randomly online, and they thought that they would be able to car camp there, but once they arrived, they realized they were going to have to carry a carload a half-mile down the trail. It took them two trips, but they had already been there most of the day, and gotten a good bit of fishing done. She (I rehearsed her name every night for a week and still I've forgotten it) threw a line out once and immediately hooked a tree. I waded out to drag the tree branch in but it was too muddy and too strong a branch, so the line had to be cut. It only had a bobber and a cheap sinker on it anyway. Later, their dog treed a muskrat to complete uselessness with the trees all so close together.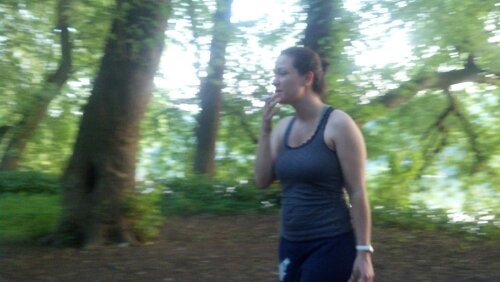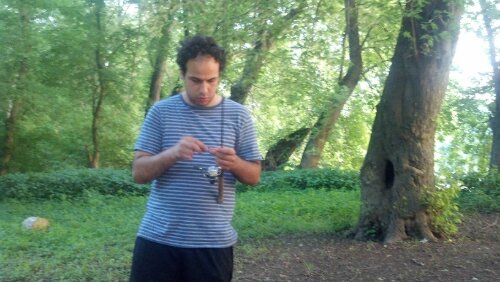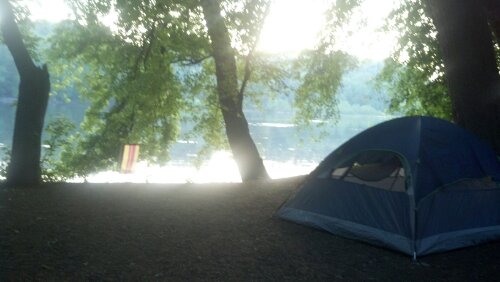 The campsite was fifty feet from the railroad tracks, and the trains kept coming through all night long, blowing their whistles. Eventually, I could tune them out and fall asleep. But they woke me up in the morning. Because I was hammocking, I slept late, but I did manage to get out of camp before the couple finished packing.
I was a bit worried because I noticed Copper was already running out of food, but I figured I would pass another town along the towpath pretty soon. It wasn't far to Point of Rocks, which is famously the site of the years-long legal battle between the C+O Canal Company and the B+O Rail Company for right-of-way alongside the river. (The C+O won, but lost so much of their capital to legal fees that they granted the B+O a strip of land directly adjacent to the canal in exchange for funding to continue building the canal. They are literally feet apart from each other through this area.)
There is also a MARC commuter train station here. We turned off to go look for a restaurant, but there was nothing within sight of the train station. We returned to the towpath and continued south. I considered stopping to swim in the Potomac when I stopped for lunch at a boat ramp, but I looked up the store at White's Ferry and it said it closed at 6pm, which meant that we had to move as quickly as possible the remaining distance to reach it before it closed. I gave up any dream of swimming and walked on. (The river near the boat ramp was a terrible place to swim anyway.)
The canal was dammed up and filled with water south of here, and I saw a blue heron chilling next to it, and huge catfish swimming near the surface.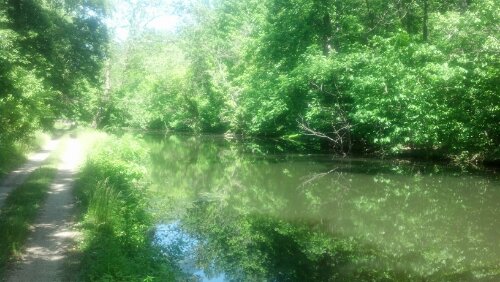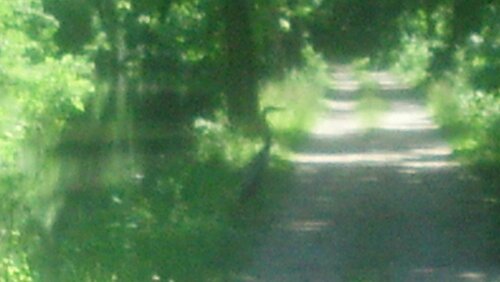 I arrived at White's Ferry at about 5:30pm, after four hours of continuous motion. I had to change into my camp shoes for most of it, despite the rocks in the trail, because the flat ground intensified the toe-pinching that my new boots were getting up to, and my toes were falling apart and the nerve damage in them getting more serious.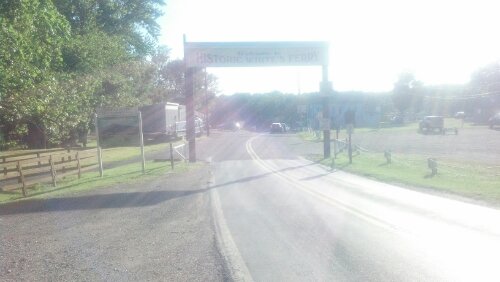 The guy in the store said the grille had been closed, but he still made me some southern-style fried chicken wings (no sauce) and a boatload of fries. He also gave me some turkey meat for Copper. So Copper had turkey and fries for supper and I saved his food for breakfast. I also got a Snapple and a tuna salad kit and some other junk food. From there it was less than half a mile to the next campsite.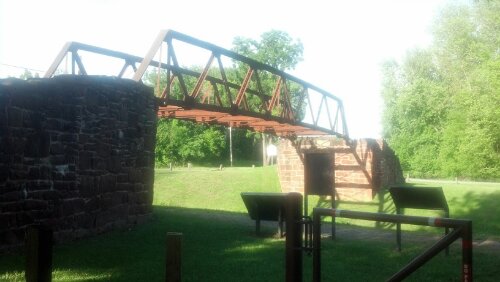 I had the place to myself, which is probably because of the huge stagnant puddle in the middle of it breeding mosquitoes. I spent the evening inside my hammock tent.
I should mention that these campsites were actually quite nice, with wide mown areas, water pumps, and porta-potties. But they were definitely designed with tents in mind, as they were sparsely treed.
The next morning, after feeding Copper, I was completely out of dog food, so I walked the three miles to Edward's Ferry, stashed our packs in the woods behind a barrier of stinging nettle, and set off down the road towards Poolesville, four miles away.
It was a very long walk down long winding country roads, and it was nothing if not hot. It took a good two hours of road-walking before we reached town. We passed the high school first, and found out the students still had another week of school left. Which means school years in Maryland are shifted a month compared to Georgia's. Then, I stopped in the first cafe I came to and got a crab cake sandwich and a beer. I grabbed a couple of Mountain Dews from the gas station across the street before walking further into town to the CVS to buy dog food and random small snacks. From there, it was over four miles again back to Edward's Ferry, and once again into the stinging nettle again for our packs, but it was only 300 yards from there to the next campsite. I almost couldn't find a pair of trees close enough to camp in this one, but found them right on the edge of the overgrown undergrowth. I texted Steph and told her where I was, that she should wake me up, because my phone was dead.
I got up the next morning and went to the bathroom before going back to the hammock. I didn't fall asleep again, because I heard her coming into the campsite before she announced herself. I got up and started packing.
We drove from Edward's Ferry to Great Falls to check out the Potomac's Fall Line, which was incredible and indescribable. I would have taken a million photos if my phone weren't dead. Check out the panorama here, and note that we stood on an island in the middle of that.
From there, the goal was food. Namely, hot wings. We went to the Greene Turtle, and I had wings and a brew. She had wings too, on me.
Then, Steph wanted ice cream, so she drove to Maggie Moo's and got the blue cotton candy stuff. I was full and got nothing. I couldn't have eaten it anyway, because I had to hold her bowl for her so she could eat it while she drove home. Then, getting out of the car, she dropped it, and spattered the driveway and her legs with blue.
Once inside, Copper met Cookie, and I tossed my Nalgene in the dishwasher and my dirty clothes in the washer. Steph gave me the grand tour of the house, then her Grandma came home and we were introduced, and then, finally, I got a shower. When I finished, she was playing Skyrim, and I passed the rest of the evening watching her do that.
The next day was errand-running day (and also Super-storm Andrea day–all of the following happened in the rain). Steph graciously played chauffeur, taking me to Wal-Mart (for resupply and a new phone charger cable) and REI (where I swapped my painful pointy-toed boots for a pair of Keens with a wider toebox, and used the price difference to buy Copper a new collar and a new bowl), then to the comic book store, then to Annapolis Seafood Market where she bought a dozen crabs for us to split and some excellent cole slaw. She ended up eating most of the good backfin meat while I ate a lot of claw meat, but even so, I was about to explode by the time we stopped.
From there, the liquor store for some craft brews, and then to her friend JJ's house, where her boyfriend was already hanging out, and then in their car to her friend Moeday's house. We played some Taboo, stretched out on the carpet, and watched Tremors with Kevin Bacon on Netflix (with our own MST3K style commentary track for the lulz). I put down a lot of quality beer, but they didn't like it, and really only drank nothing but Mike's Hard Lemonade. Cretins.
Rather than go to bed after we drove home like sane people, we sat up and watched cartoons until 1am. I only got four hours of sleep before my alarm went off. I tried to go back to sleep, but Steph came in and sat on the bed and informed me they couldn't keep Copper, so I, feeling absolutely wretched, got up and threw my stuff in my pack and lugged it down to her van. Of course, I was too groggy to remember my Nalgene in the dishwasher or my spare set of clothes in the washer.
We had to leave by 6am in order for Steph to take me back to Harper's Ferry and then get back in time for work, but the trip to the Harper's Ferry hostel was a lot quicker than expected, so I bought us both a donation pancake breakfast and I made pancakes for both of us, which she had enough time to eat before our tearful goodbye. Then, I ate a bowl of leftover spaghetti, just because it was there. Somehow, in all this excitement, neither of us thought to take a picture together.
When she left, I went and set up my hammock in the same spot at the end of the volleyball court next to April's tent (yes, she was still there, having become engaged in a work-for-stay to stretch her funds). There was one hiker there, and he was headed into Harper's to The Outfitter to get a new pack. I asked him to grab me a new stuffsack for my hammock while he was there, since my 3-gallon Hefty zip-lock was starting to bite the dust. Then, I showered, and napped until he returned. When he woke me up, I got up and walked to the mini-mart up the hill for some pizza and a burger, which I sat at a table outside and ate, and then continued to sit until the sun was starting to set, just messing around on my phone. When I returned, these two city girls who came out to car-tour and shop Harper's were getting ready to go into town, so I persuaded them to pick up some more food for Copper while they were there. They got enough for about a day, which meant I had about two days worth of food for him. Good enough. I planned to leave the next day.
Of course, I spent the entire next morning (after the obligatory pancakes) blogging, and didn't leave until the afternoon…but I did convince April to leave with me. But that's a whole other saga, and Copper's waiting for his supper….