This is probably going to be a long post. It covers a week and a half, but all that went by very fast because I hardly stopped for anything, so I doubt my part will be particularly long, but when added to my mom's account it will surely add up.
So, of course I slept late the day after I was picked up in Rockfish Gap. I barely caught the tail end of the included breakfast buffet at the Residence Inn. I had thought to walk 15 miles this day from Wildcat Ridge trailhead, but it was so late by then time we got into the park, I shortened it to 10 miles. I think I was dropped off at Sawmill Run Overlook at around 1pm to slack the 10 miles back to Rockfish Gap by 6pm. Very little happened aside from the walking, which, as the south end of the park is so narrow, mostly ran adjacent to (and frequently crossed) the Skyline Drive. The Skyline Drive is actually the same road as the Blue Ridge Parkway, having been built as part of the same project in the same fashion, but for some reason it gets a different name while it is inside the park.
I stopped in to Calf Mountain Shelter to eat the leftover pizza I'd packed in, and found the fire going, which I knew meant that Cody Coyote would be there cooking lunch. I managed to catch up to him because someone had gifted him a large quantity of alcohol and so he had holed up in the abandoned motel at Rockfish Gap until such time as the alcohol had all been drunk, which meant about four consecutive zeros for him. This is why he goes no faster than me despite doing nothing but twenties when hiking.
On my way out, I bumped into Lauren, who you may recall I spent the night with in Iron Mountain Shelter. I asked her how she felt, because I'd read her account of her and Sweet Tea's bout with the stomach bug in the Wolfe shelter log. They'd had to zero there because of it, and she zeroed again in Waynesboro to recover. She still looked a bit worse for the wear, and I didn't want to touch her since some strains leave one contagious for up to two weeks, but I have to admit I was somewhat glad to actually be catching up to people I thought had long since left me behind.
The only other events that marked that day were passing a huge patch of Pink Lady's Slippers on the back side of Bear Den Mountain (a hill with a cluster of cell towers on top) and passing Broken Pack just before making it back to Rockfish Gap. I hopped back in the car just before it started raining. I only took one photo the whole day: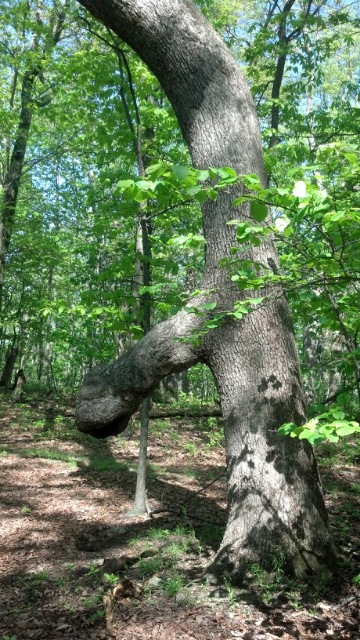 What Copper did that day…well…you can read about that later.
We discussed going to a brewpub that night but it was too far away and closing too soon. Instead, I got a shower at the hotel and we went to a mexican restaurant for margaritas, followed by a quick shopping run at Wal-Mart. That ended up taking up all the time needed to get work done. I needed an early night because I had a much bigger day planned for the next day. I think I was tucked in by 11pm.
I got up a half-hour before breakfast started the next morning. We got out as early as we could. My goal was to slack from the Sawmill Run Overlook north to the Ivy Creek Overlook, but when I set the GPS this time, it tried to send us up some Fire Road that was closed to the public, and so we ended up detouring up through Swift Run Gap park entrance. We identified my destination at the Ivy Creek Overlook. Then, because of a bathroom emergency, we stopped in Dundo Picnic Area for a half hour and met Jericho stopping to dispose of some trash before returning to his usual 20mi.-a-day pace. Finally, some time after 9am, we arrived back at Swift Run Gap and I headed off north this time. Lauren managed to pass during another (more wilderness-oriented) bathroom emergency, so when I caught up to her I ended up hiking right around her for five minutes before deciding to lay on the speed (in order to finish my 22 miles in time). She caught up to me again on my hour-long break at Blackrock Mtn Hut (where I stopped for ham and cheese sandwiches with Cody, Shrek and some German guy) and I met BP coming right as I was leaving. Blackrock Mtn. was the only real hill I had left to climb that day, and its peak was just a pile of boulders that someone had poured sand into in order to form a "trail". It was 85% downhill from there to Ivy Creek, which I arrived at around 7pm, having already called to signal I was an hour from my destination. I spent a good 20 minutes there soaking my feet in the creek (and most likely here acquiring the tick I later found on my foot) before pumping out the last two miles to the Overlook by sunset. The sun was just about gone by the time Mama pulled up. She had a sub sandwich and a Coke waiting for me in the car.
That night was the "work night" in which I helped Mama pack her backpack, and then we did a great deal of sewing on the new bug net I had purchased for my hammock in order to make it the right length. We planned to both stay at the Bearfence Mtn. Hut the next night since the Residence Inn reservations had run out. I managed to get to sleep before midnight I think, because the next day was to be another long day, 22 miles from Ivy Creek Overlook to Lewis Mtn. Campground. I don't remember too much about this day except that I was feeling a little tired all day and was certainly way behind schedule, that I found a copy of Steve Martin's "Shopgirl" in the Hightop Hut I took lunch in (where Cody Coyote also happened to be), and when I stopped on a mountaintop to refuel with two consecutive packs of Powerbar Blasts, I started feeling sick to my stomach, and so, when I got to the next picnic area, I convinced some students on holiday from William and Mary in Williamsburg to yellow-blaze me up to Lewis Mountain. I bought a soda and a snack and waited. An hour after Mama arrived, the thunderstorm started, and when we had given Copper his comfort and waited long enough to see that the storm wasn't going to let up, we managed to swing a last minute reservation in one of the cabins across the street. I finished "Shopgirl" that night before going to sleep. We still planned on hiking together the next day, but we had to save Mama's wilderness camping experience for the following weekend.
The next day, we put together slackpacks and eventually managed to get out on the trail by late morning. It was an eight-and-a-half mile section of trail (in terms of credited miles), but it was only about a half-mile to the first Hut, and we stopped in to read logs and use the facilities.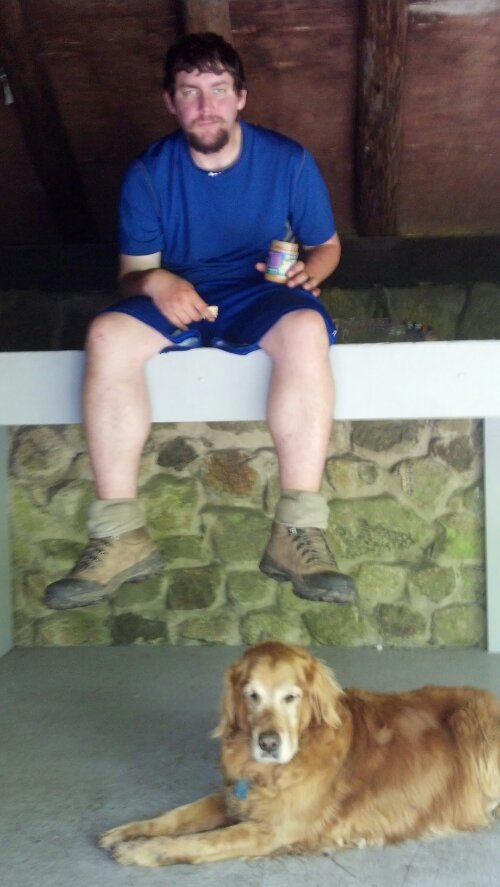 A few miles on, it rained a bit, and several times Copper and I got way ahead of Mama (he goes really fast when he hears thunder) and stopped for a half-hour to let her catch up.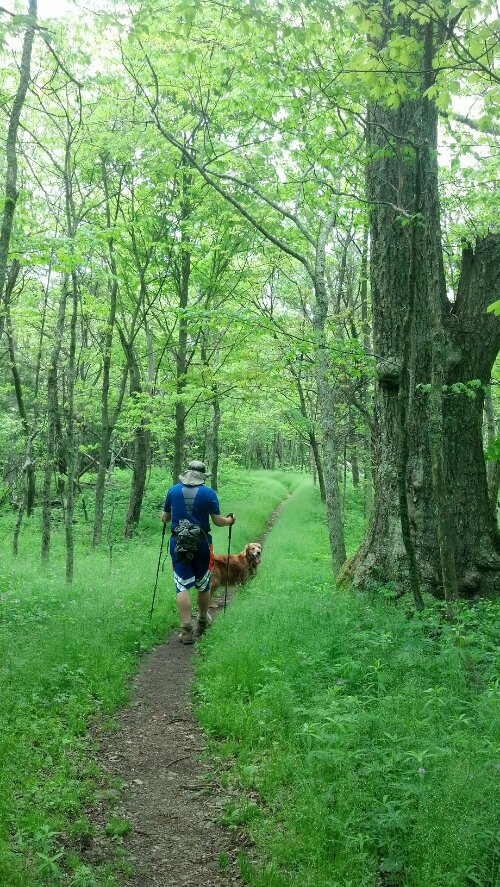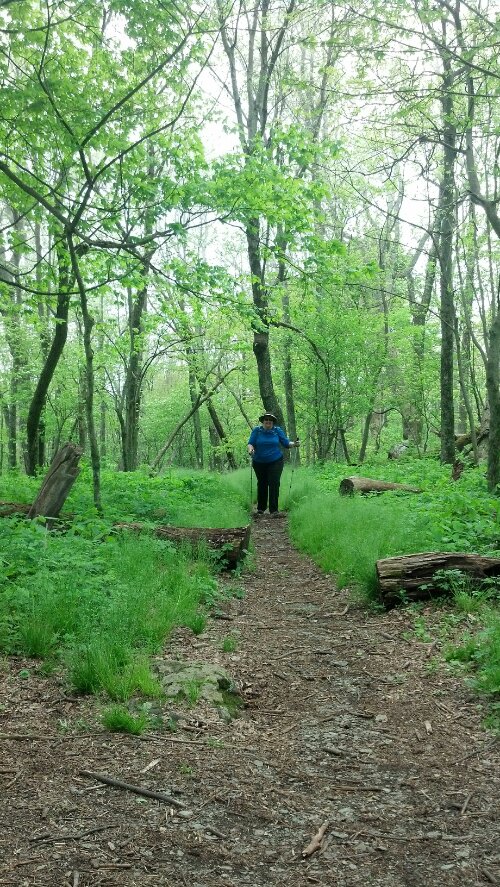 I beat her to Big Meadows Lodge by at least a half-hour, so I went ahead and checked in, put Copper in the room with a bowl of water, then went down to the Tap Room for an order of wings (called an appetizer) for supper and a Jack-and-cran to relax.
The next morning, I ate the sausage-and-pancake-on-a-sticks I'd saved from the Residence Inn before getting a ride back to the picnic area where I'd left off two days before. I had to take Copper with me this time, but I was back at Lewis Mtn. Campground before I knew it. I got an ice cream and a hard cider from the camp store this time, and Mama picked us up and took us to the Big Meadows Wayside for early supper. I had a somewhat disappointing burger to go with my amazing blackberry milkshake. We discussed how to get me out of the park in three days and how to get her a chance to sleep in the woods, and then BP showed up and she bought him a meal also while he regaled us with the story of how he'd been stuck at Blackrock Mountain for an entire day with the "gack". Not normally what you want to hear about when you're eating, but common enough hiker chat, as nothing diminishes our appetites. Then, we left to check into our room at Skyland so that I could spend the rest of the evening drinking and doing basically nothing in preparation for an early morning's hike.
I was to start up at the Jeremy's Run area, where a horse trail crossed the AT. It was 15 miles from there back to the Skyland Lodge where I was to spend the night. It was Memorial Day weekend proper this time, which meant crowds, but the weather was cool, windy, and clear. Perfect hiking weather. I finally saw Spider Mac again right at the beginning of the day, having always been hiking the section just behind him theretofore. I saw my favorite section of trail in the park that day, which was the climb up the Pinnacle immediately after crossing Swift Run Gap. (Before Swift Run Gap, I was stopped by an old man who was watching a deer and wanted to talk about how many more bear sightings there were back "Before the Climate Changed" until I had to dismiss myself as politely as possible so as not to be late.) I didn't bother to go see Mary's Rock, as there were plenty of views all along the ridge. Just before arriving back at Skyland, I found this natural wishing well on top of Little Stony Man:

As I walked that day, I managed to get in range of the NPR affiliate for a good RadioLab, and then A Prairie Home Companion just as I was getting back. I met Mama in the lobby and we listened to APHC together in the Skyland snack room over dinner (though they wouldn't let me bring in my own beer). Then, when I got a ride down to our new room (for it was lucky to be able to get two nights at the lodge on Memorial Day weekend at all, and two nights in the same room would have been far more than possible) we finished the show out and started a memorial day blues tribute together while huddling under blankets on the balcony watching the sun set.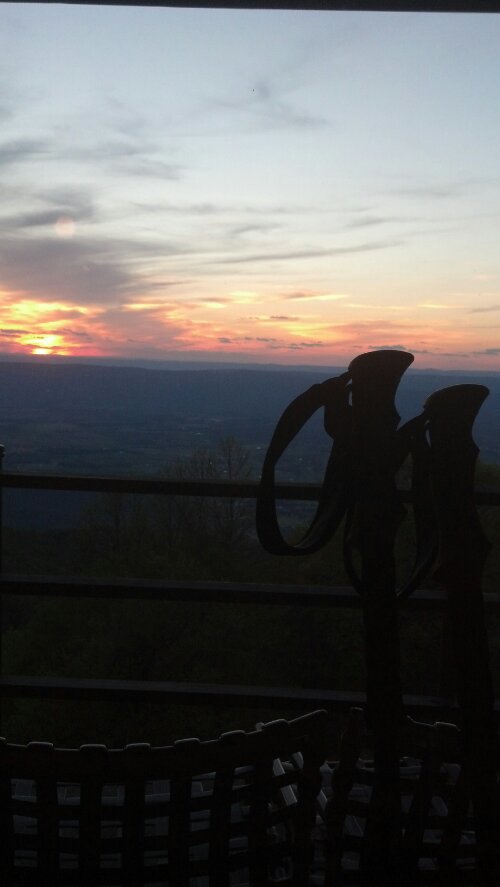 The next day I didn't quite get out as early as planned, and not quite as alone as planned either. As soon as I'd gotten a little food in me and out the door, Copper came bounding out begging to go with me, so I acquiesced. Since I was running late, Mama drove us back up to the trailhead so Copper and I could do the first part, connecting Skyland back to Big Meadows, together. It took very little time and the radio was good, except that it died on me just as Car Talk was getting interesting (describing the previous Puzzler). There were just as many people and the weather nearly as good, though the trail was easy and mostly boring, showing the same view over and over again and never crossing the Skyline.
We ended that section with Mama meeting us at the Big Meadows Lobby a bit late but with lunch in hand from the Wayside. It came with a lot of extra fries as a reward for her having to wait half an hour due to their inability to handle the Memorial Day weekend crowds. I wolfed it while I rode to Jeremy's Run to start off in the other direction, this time without Copper, and with a different battery in my mp3 player. Apparently, the battery I put in had not been fully charged as it died within. a few minutes too, so I was glad that it was only a few miles to the next Wayside. Mama was there at a picnic table yelling "Blast!" to identify me to everyone. Doc and Lauren were there, having chosen to hike the Skyline that day and somehow in the process leaving Boon behind. After I got myself a blackberry sundae and some snacks (and some AAAs for the mp3 player) from the Wayside, Mama introduced me to Wiki, who was busily yanking ticks off Copper's hide and squashing them to spray blood everywhere. He said he quite enjoyed doing so. As soon as I finished my sundae, I excused myself, as I had 7 more miles to go and I wanted to make it before dark. Wiki left not long after me, but Lauren, Doc, and Boon didn't leave until 7:30, and Mama graciously offered to slackpack them to the next shelter we were all going to.
I easily made it before dark, and best remember climbing over Hogback, the most impressive Overlook the trail passes. Before heading up to the parking area near the Gravel Springs Hut, I went down the steep climb to the shelter to see who was there. There were already 10 people at the shelter proper, and more hiding in the woods beyond. It was going to be a popular place.
Mama was waiting at the parking area with Copper to get our packs loaded up and carried down. As we were about to head down some rangers arrived and opened the fire road to drive down to the shelter and talk to the people in it, probably making sure none of its guests were squatting there multiple nights in a row. We followed them down the fire road to avoid the steep hill. Mama convinced them to carry her back up to get D, B, and L's packs and drive them back down. Meanwhile, I unpacked some of my gear and started hanging my hammock. I had to interrupt that when Mama came back to help her hang hers, since it was getting dark and the good hammocking spots were dwindling.
Then, we spent some time around the fire, cooking supper and other treats. Mama went to bed after an hour or so, but I stayed up with Wiki, Lauren, Doc and Boon until probably near midnight, drinking enough whiskey on the way to get a bit loud. But none of the snorers in the hut complained. Heavy sleepers.
The following morning, I probably rolled out of bed around six, which feels late when you're hammocking, and started doing all the morning business of tear-down, eat, pack-up. I was 30 minutes from being ready to go when I had to go wake Mama up. Apparently, she was trying to sleep late.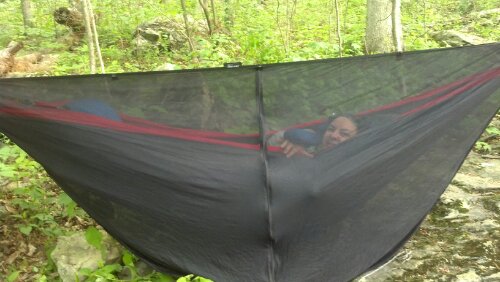 Doc also was trying to sleep late, so Boon and I threw pebbles at his hammock, but when he finally got out of his hammock, it wasn't because he was ready to get up. He got up the hard way on the wrong side of the hammock. In other words, the hammock split right down the middle like the Joker's smile, spilling him onto the ground 3 feet below, where a rock lowered his speed from 9.5mph to zero in a split second by absorbing all of his hipbone's momentum at once. This quite expectedly resulting in some cursing and accusations, but it didn't take long for Doc and Boon to kiss and make up (minus the kissing).
After breakfast, we carried our packs up to the car and I got my slackpack together for the 13 mile push out of the Shenandoahs. I asked her to meet me four miles in with some lunch from the Wayside, but there was no parking area where the book said there would be, so I ended up reversing for a half-mile, then walking a mile down the Skyline to an overlook where I could sit in the car and eat the grilled chicken sandwich. Then, she took me back to the trailhead and I walked that half-mile for the third time. This delay gave Boon and Lauren enough time to catch up despite their late start. They passed me on my only real climb of the day and last climb of the Shenandoahs, but then stopped again so I got ahead. Just on the other side of Compton Gap, I encountered my first and only bear of the park. A small one not much older than Copper leisurely walking away down a fire road. No picture, of course, because my phone was off, but Mama got a few bear pics as you'll see later in this post.
Just past the border of Shenandoah NP, the trail suddenly and dramatically returned to its pre-Shenandoah behavior, with a sharp climb down a rocky crag. A little bit after this, I came to the next shelter, and the drizzle that had threatened all morning turned briefly into a proper rain. Boon and Lauren caught up again and we ate lunch together in the shelter. Boon annoyed Lauren by singing songs about killing rabbits (such a harmless silly thing).
I left them there still waiting for Doc and just bounced easily down the last couple of miles to the road, where Copper and Mama were waiting on the boardwalk with a Sobo who was having shoe trouble. We drove straight from there to Harper's Ferry, avoiding Front Royal altogether.
That night, we stayed in the Canal House on Harper's Ferry's High Street, and I got a spaghetti dinner to go with my beer, but the wifi was broken so I could make no blog post.
The next day was a typical zero day with all its repair work and resupply, except that we also visited the AT Conservancy's HQ visitor's center to get Copper's and my photo put into that year's log book. We spotted a number of folk I knew in the book, including Medicine Man and Kudo who had come in earlier the same day. (I doubt I will see them again, as they are surely at least two weeks ahead of me by now. Sorry to whoever found this blog while looking for them….)
Then, after a long search for a parking place, we all walked together over the bridge to Maryland, where we got some fun videos to appear in the second half of this post. That night, Mama made more pot roast than I could eat, and I ended up carrying so much food with me on the trail the next day. But first we went to Panera to eat tasty foods and spent some time getting A Feast For Crows onto my mp3 player and writing that last post. Then, it was back to the Front Royal trailhead to actually complete the section from there to Harper's Ferry. But that story will have to wait. Now for Mama's version of these events…
Mama:
I started my journey towards the Shenandoahs on a warm Saturday morning and enjoyed my drive to the mountains.  I stopped off in North Carolina to spend the night and then moved on to Virginia to pick up David and Copper at Rockfish Gap at the entrance to the Shenandoah National Park at 8pm.  As luck would have it, the fog set in and I couldn't see two feet in front of me and had great difficulty finding Rockfish Gap.  But, a kind elderly gentlemen offered to lead me right to it through the "pea soup" fog.  David and Copper arrived shortly thereafter in a muddy mess.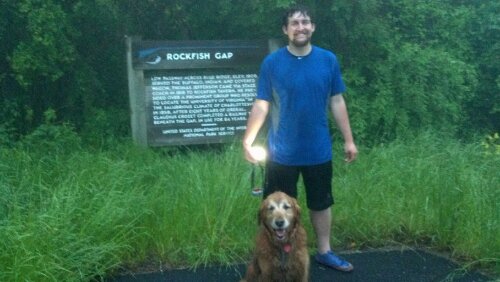 So we put muddy boots in plastic bags and muddy paws on washable seat coverings for our drive to Harrisonburg.  We stayed outside the park for the first two nights since David planned to slack pack the next two days. As we arrived in our hotel, David's first stop was the shower.  He got Copper squeaky clean and then proceeded to run out the hot water enjoying the luxury of a hot shower!  We ordered in a pizza, bread sticks, and lava cake so he could pack in those hiker calories.  Then, he and Copper were ready for bed.
Early the next morning, I shuttled David back to Rockfish Gap so that he could log some big miles.  Copper stayed with me so he could rest up and we did short hikes on the AT.  We were privileged to run up on some trail magic at Beagles Gap but did not partake so as to leave it for the real hikers.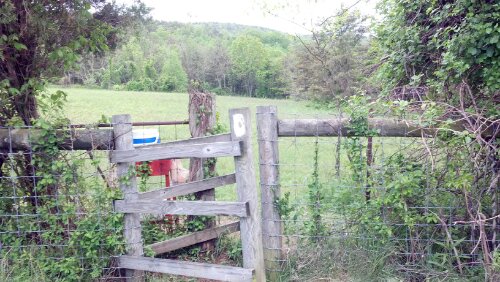 Then we headed back down the mountain to pick David up.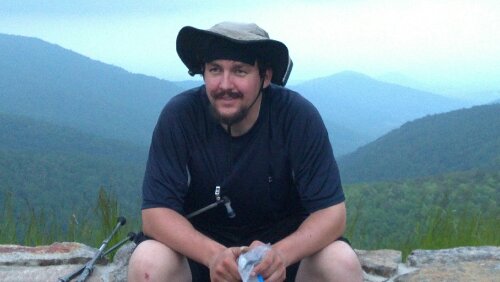 As we were driving today, I had the privilege of seeing a mama bear and her two baby cubs.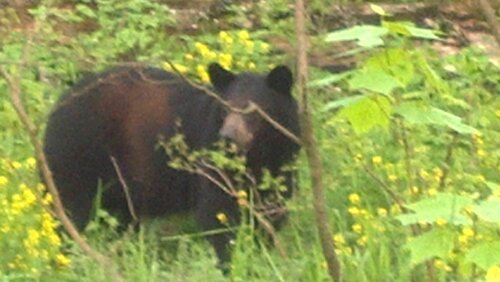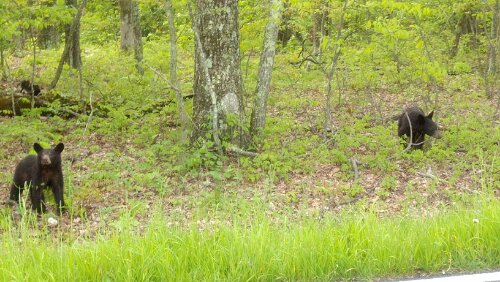 The park ranger later told me that they were only 2-3 weeks old.  They were so wide eyed!  The next day David slack packed again and Copper and I hiked down to Dark Hollow Falls.  I made two mistakes this day.  First, the sign plainly said, "No pets allowed" but I didn't see it until the hike was over. OOPS! Thankfully, no one complained since there were very few people on the trail.  The second mistake was not believing the sign when it said, "VERY STEEP TRAIL".  Wow, I was dragging myself back up on the last section!  I had the privilege of meeting one of the thru hikers today.  His name was Jericho.  He came up out of the woods at a little picnic area where Copper and I had stopped.  He said, "Well, hello, Copper!" and I turned to see him.  We engaged in conversation and as it turned out, he had spent several nights with Copper and David in shelters. Nice Guy.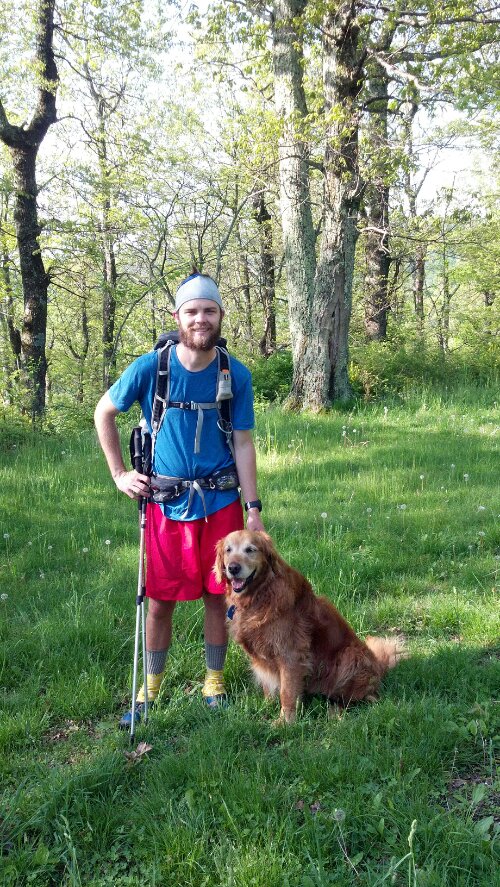 The third day was my first day to hike with David and spend my first night in the shelter.  I was to meet up with him and hike to Bear Fence Mtn. Hut.  So we met at the appointed time but soon after, the heavens released the waters, and nature's fireworks began!  It was quite a storm!  We waited and waited and waited for it to pass because even a veteran thru hiker has respect for nature's wrath.  After waiting several hours, we finally decided that it was safer to sleep indoors this night so we were fortunate enough that one of the Lewis Mtn. Cabins was available and we slept inside with the storm raging outside.  We awoke to a beautiful cool day and hit the trail.  The hike was up and down the mountains but I was feeling strong.  About 2 in the afternoon, I "hit the wall" so to speak.  Why?  Because I had failed to follow the unwritten rule of the trail.  I forgot to eat Lunch! Of course, David, being the veteran hiker, had already eaten three times as he walked!  So, I stopped and ate lunch on a log.  About 30 minutes later, the door to the "wall" opened and I felt great again.  We continued walking through wide open meadows with beautiful wild flowers and gorgeous birds to our predetermined lodging.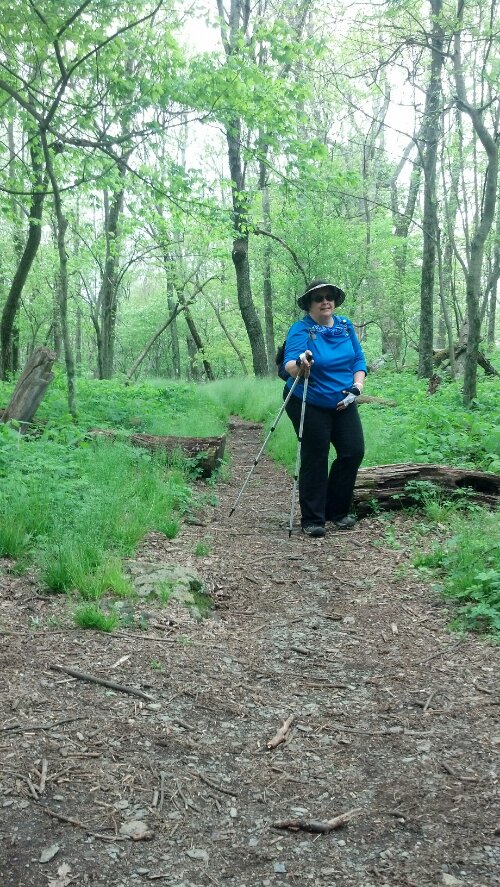 David and I both wanted to spend the night in Big Meadows lodge which is a historical building built by the CCC in the 30's.  So, after a ten mile hike, hitchhiking to my car, and driving it back to Big Meadows lodge, I settled in for another rainy stormy night.  (Just for the record, David won't let me count this as a ten mile day because only 8 and ½ miles were hiking ON the AT.  The rest of the hike was an approach trail and blue blaze trail to the shelter. But, my feet and my Fit Bit confirmed that it was definitely 10 miles!)  The next few days I hiked smaller miles while David put in some big mile days.  We again spent the night at one of the historic lodges, Skyland.  David and I both appreciate the history of these lodges and in David's words, he "appreciates the luxury of sleeping indoors"!  We enjoyed a beautiful sunset that night even though it was 32 degrees!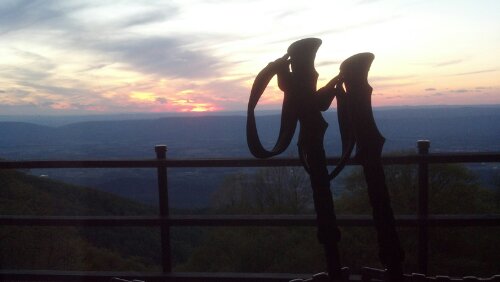 Today was the day I had waited for….I was finally going to get to sleep in the woods!  It was a beautiful day, a little chilly, but no major storm.  So, we hiked to our shelter that night and I had the pleasure of visiting with some of the thru hikers that I had met earlier in the day:  Wiki, Doc, Lauren, and Boon.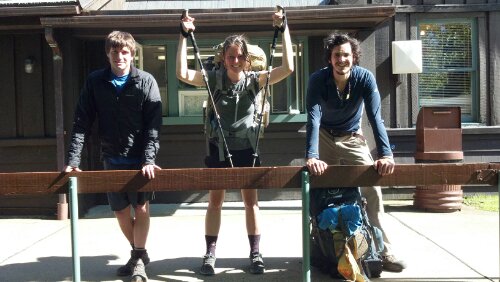 (One of my favorite parts of the adventure was visiting with the thru hikers.  They are smart, adventurous, open, intriguing, tenacious, and physically strong.  I am in awe of them and the physical and mental toughness they display all while having the adventure of a lifetime.)  As we arrived at the shelter, we hung our hammocks and then David sent me to get water from the stream and he started dinner.  I visited awhile with the hikers and then retired to my hammock.  It was a beautiful clear night and the stars were twinkling.  It was easy drifting off into a deep sleep even though the owls were having a little bit of an argument that night.  David woke me the next morning and we packed and hiked out. (It seemed strange for the son to have to wake the mom up!)  David wanted to do some big miles so he slack packed that day and Copper and I did some smaller miles just to keep his legs strong but let him have a little break.  Copper and I saw another mama bear and this one had triplets!
David finished hiking out of the Shenandoahs and I picked him up at Front Royal.  The next day was to be a ZERO day for him and we had rented a historic cottage in Harper's Ferry, West Virginia.  He agreed to jump ahead so that I could have the experience of visiting the Appalachian Conservancy with him where they have an AT Visitor Center and where all of the Thru Hikers get their photo made and put into a photo book for history. This is the emotional halfway point for the thru hikers.  David and Copper made a striking photo and they even allowed Copper to come in and rest in the hiker's lounge since he was a thru hiker too!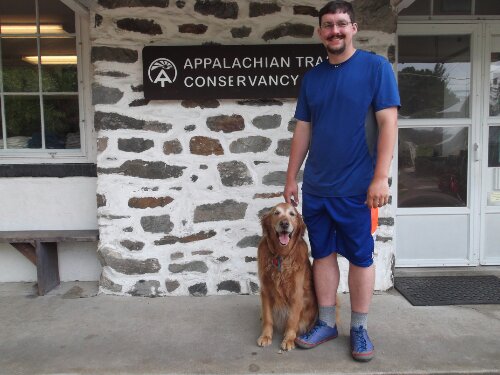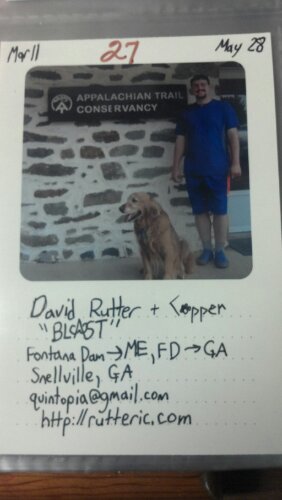 We spent our time in Harper's Ferry enjoying the history and relaxing.  I had bought lots of food and cooked him 3 homemade meals with enough left over to take on the trail.  One night I cooked spaghetti, salad, and garlic bread with purple plums and ice cream for dessert.  The morning meal consisted of eggs, pancakes, bacon, juice, fruit, and chocolate milk.  Then, the last meal was a traditional post roast with carrots and potatoes.  He eats a ton of food but has lost so much weight!  So, I wanted to send him back on the trail with calories to burn.  We spent the last night resupplying, fixing his gear, and relaxing after we had walked from West Virginia to Maryland along the C&O canal. This is a great video of Copper as he learned to walk on metal grates for stairs.  It was so scary for him because he could see straight through to the water below.  He was a brave trouper though because he did it!

We also got a video of a beaver in the C&O canal.

Then, came the day that I dreaded.  I had to take David back to Front Royal and say goodbye to him and Copper as they hit the trail northward once more.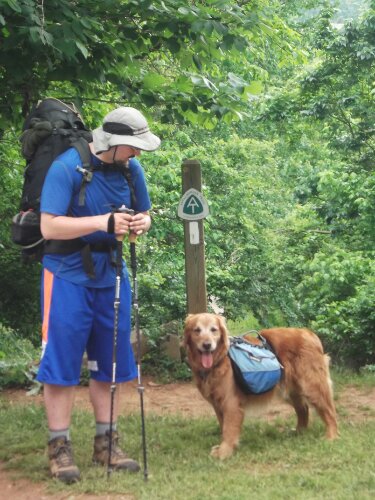 I cherish the time I had with David and the experiences that I had along the trail.  I am blessed to have a son who allowed me to enjoy a small part of his grand adventure. He was considerate, helpful, and patient as I learned the ways of the trail.  I will forever be appreciative of his kindness and cherish the memories that we made.  Hike on, Blast and Copper!  Be safe and enjoy the adventure!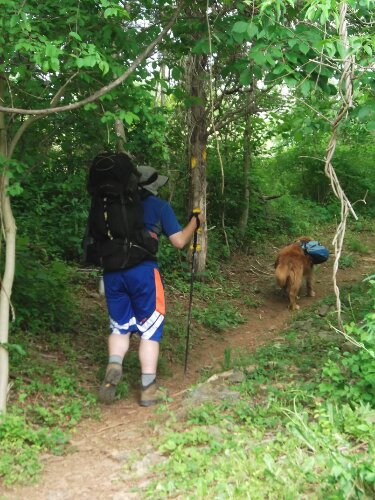 And that concludes this post and brings us up to May 29th. I wish there were more time for blogging! But the next post won't be for 2 or 3 more days. I really must be off…