I'm now at the Lodge in Fontana Village. Today was mostly uneventful, except for lunch at the Dillard House. It was easily more than my mom and I could eat in a single sitting, but we took a good bit for supper too. Behold and be jealous of my last minute carb-loading: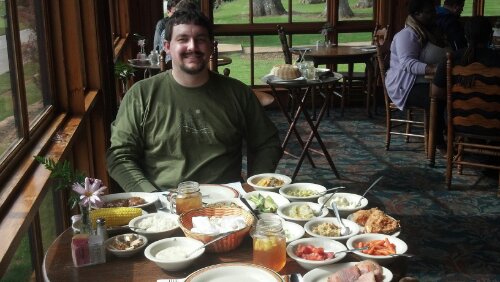 Sometime after arriving, I decided to pull out everything I was packing and reconsider it. A few things didn't make the cut, but the tent will be going. I don't expect to have to use it, but I need to get used to carrying it since I will need it once I get out of the Smokeys and Copper joins me. Take a look and see if there is anything here you would do without: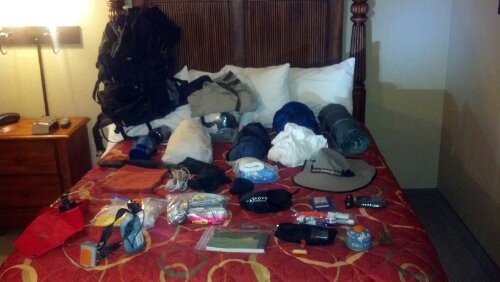 There are very few hikers this far north. Four are staying at this hotel. The two from Oregon are waiting for a package, but the two from Pennsylvania will be hauling themselves up Stecoah with me in the rain tomorrow. I'm only planning to go the first ten miles to Mollie's Ridge tomorrow after a satisfying last real breakfast for at least a week.
The hardest part is going to be hiking without the dog. This will be the first overnight hike without him since before we adopted him. I miss him already!